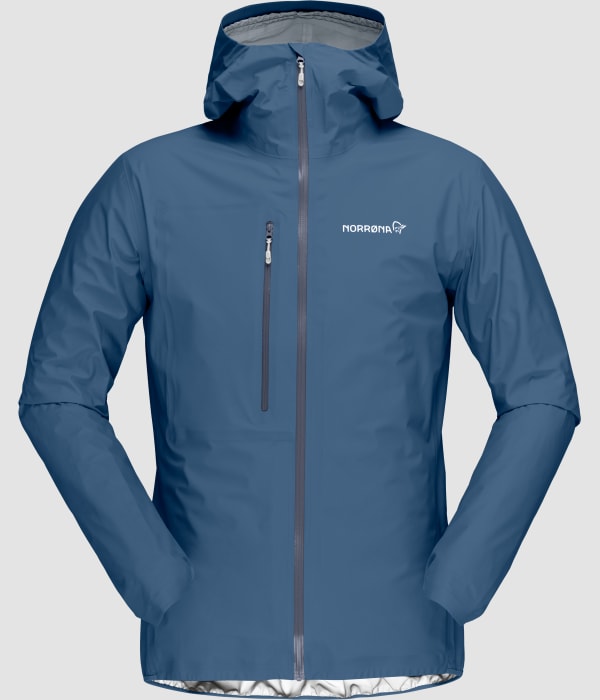 Confectionnée en tissu GORE-TEX® Active, la nouvelle veste bitihorn Gore-Tex Active 2.0 est la plus durable de nos vestes shell légères de la collection bitihorn. La veste à 3 couches offre une excellente protection contre les intempéries et est hautement compressible pour un volume d'empaquetage minimal. Elle est dotée d'une coupe athlétique, avec une capuche de protection qui s'adapte à un bonnet, une poche de poitrine minimaliste, des éléments réfléchissants et des poignets élastiques. C'est un excellent choix pour ceux qui cherchent une veste super légère suffisamment résistante pour l'alpinisme léger.
Autres utilisations
Trail la course nature
Ski de randonnée
Vélo tout-terrain singletrack
Activités de plein air générales
Ski de fond
Spécifications
6

Coupe-vent

Coupe-vent

Scale from 1 to 6 where 1 is not windproof and 6 is totally windproof.

6

Rapport chaleur / poids

Rapport chaleur / poids

Scale from 1 to 6 where 1 is not waterproof and 6 is waterproof.

1

Isolation

Isolation

Scale from 1 to 6 where 1 has no insulating properties and 6 is our warmest insulation products.

4

Respirabilité

Respirabilité

Scale from 1 to 6 where 1 have very little or no breathability and 6 is our most breathable and moisture wicking products.

3

Durabilité

Durabilité

Scale from 1 to 6 where 1 is fragile products and 6 is the most durable products we have.

6

Légèreté

Légèreté

Scale from 1 to 6 where 1 is heavy and 6 is among the world's lightest of its kind.
Empreinte
Tissu certifié Oeko-Tex

Tissu certifié Oeko-Tex

Oeko-Tex® est un système de test et de certification indépendant et cohérent au niveau mondial qui garantit que l'utilisation des produits chimiques est conforme ou supérieure aux réglementations et normes nationales et internationales.

Usine ouvertement cotée

Usine ouvertement cotée

Ce produit est fabriqué dans une usine répertoriée ouvertement sur norrona.com.

Usine inspectée

Usine inspectée

Ce produit est fabriqué dans une usine inspectée par une tierce partie indépendante et suivie par Norrøna.
Composition
GORE-TEX® Active 2.0

Les vêtements fabriqués en tissu GORE-TEX® Active sont durablement imperméables, coupe-vent et très respirants. Il s'agit du tissu le plus respirant de la gamme de produits GORE-TEX®. Répondant aux fortes exigences des athlètes de haute montagne en matière d'aérobie, ces tissus sont la solution idéale pour les activités aérobies d'une journée, même par mauvais temps. Les vêtements fabriqués avec le tissu GORE-TEX® Active sont légers et doux, et offrent un excellent confort à même la peau, grâce à une gestion fiable de l'humidité. La construction de ce tissu garde votre corps au sec en réduisant l'accumulation de sueur, pour que vous restiez au frais durant l'activité et au chaud durant la récupération. Avec le tissu GORE-TEX® Active, vous pouvez enfiler le vêtement, le garder sur vous et vous concentrer sur l'expérience plutôt que sur votre tenue. Spécifications techniques : Imperméabilité : min. 28 000 mm* Respirabilité : élevée, pouvant aller jusqu'à 3 RET** Protection contre le vent : 100 % * test ISO 811 ** test ISO11092
Détails techniques
Rated

5

out of

5
by
Anonymous
from
take it everywhere!
I bought this as a rain jacket for mountain biking. Its a very good waterproof jacket thats incredibly breathable even without the need for under arm vents. I stash it in its pocket in the back of my bib shorts during enduro races and bike rides in case the weather turns bad and never notice it as its so light weight.
Date published: 2018-09-13
Rated

5

out of

5
by
Le Baron Rouge
from
Cracking Light Weight Jacket
I bought this looking for a light weight packable spring/summer jacket - I wasn't disappointed. It packs down really small and is comfortable to wear only with a T shirt underneath. The elastic stretch wrists are neat and work well.
Date published: 2019-07-15
Rated

5

out of

5
by
Reine
from
Light and breathable
Nice and light jacket that is easy to pack and always bring along just in case. Its good to have a gore-tex layer instead of a pure rain one so you dont have to sweat from within but stay protected from rain and wind. I use it for both hiking and biking.
Date published: 2019-05-27
Rated

5

out of

5
by
AllanErnstsen
from
Lækker løbe/cykel regnjakke
Købte jakken til et lang offroad cykelløb langs vestkysten i Danmark. Utrolig let og fylder ingen ting. Har efterfølgende brugt den til løb og her er den fantastisk. Hatte kan strammes således den fungere som en hat så den sidder fast.
Date published: 2019-05-18
Rated

5

out of

5
by
Olivier212
from
Great jacket for trail running in wet, cold weather
This is a great jacket: pretty rainproof and reasonably breathable... a premium product at a premium price (unfortunately). It kept me dry and warm during a sunday morning run in a downpour in 45F degree weather. Be aware that it does it get pretty warm in any weather much above 60F but that is unavoidable. The fit is fine for me: I am 5"7 and 135lbs (175cm and 65kg) and the size Small fits perfectly with enough room for light layering if need be but keeping a sli fit. Great product overall!
Date published: 2019-05-13
Rated

5

out of

5
by
s_h_m
from
Very solid for the weight
I am really impressed with how solid this feels for the weight. This combination makes it seem like a great option for a wide variety of activities. I bought it for mountain running, but I have also used it for ski touring, which I really did not expect it to be suitable for.
Date published: 2019-04-25
Rated

5

out of

5
by
Adventurer
from
Lightweight and effective
This product was purchased to be used as an outside waterproof layer on top of a poofy jacket. This product has not once ever let my under jackets get wet and I have about 15 days using these products 5 of which have been in storms. The cuffs on the jacket work really well with Hestra gloves It also does pretty well-keeping heat inside the lower layers and the best part is that it is so lightweight and thin that it takes up next to no space in your pack. Would highly recomend this jacket.
Date published: 2019-04-04
Rated

5

out of

5
by
Skiguru93
from
Good jacket
I reAlly like thisnjacket! Only negativ thing is that its small for the size.. ordered mine in L but when i tried it it was like M- , but i use it and thing its very good!
Date published: 2019-03-20
Is it durable enough to use with a backpack? I've used a bitihorn dri3 before and the waterproof layer came off at the shoulders.
Yes, but it is a lightweight jacket so it won't be as durable as a heavier one, so keep this in mind if you want a harder wearing one. I specifically wanted a lighter one for skiing, day hiking and short trips when I have a light backpack. And this is perfect for that use.
Date published: 2019-01-29
Hello, What is the mm rating for this jackets waterproofness? all the best Bjørnar
Hi, The water column for new generation Gore-Tex Active is 28 000mm.
Date published: 2018-07-18
Hi there is there a stotm guard/flap behind the main zip? Thanks Pete
yes
Date published: 2018-06-05
D'autres ont également consulté