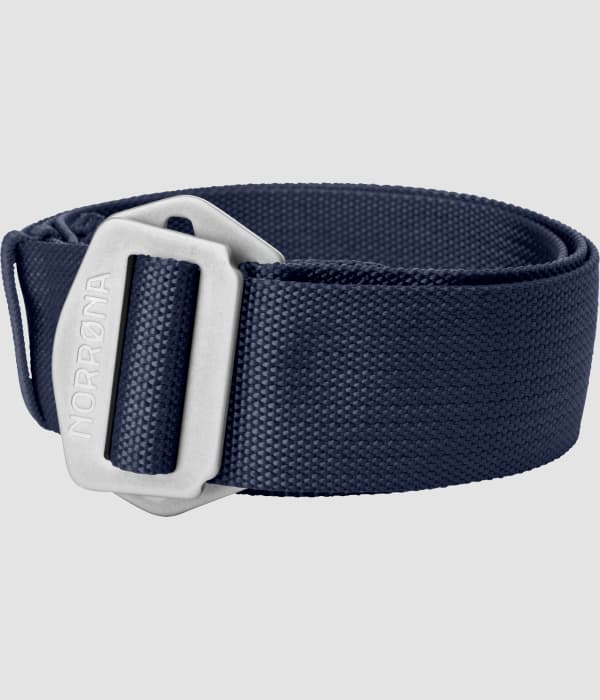 Ceinture sangle à haute résistance. Cette ceinture sangle résistante vous permettra de porter votre pantalon à la hauteur souhaitée. Boucle en aluminium anodisé et sangle haute résistance. Largeur 3,8 cm et longueur 115 cm.
Autres utilisations
Activités de plein air générales
Alpinisme
Détente
Spécifications
5

Durabilité

Durabilité

Scale from 1 to 6 where 1 is fragile products and 6 is the most durable products we have.

4

Légèreté

Légèreté

Scale from 1 to 6 where 1 is heavy and 6 is among the world's lightest of its kind.

1

Elasticité

Elasticité

Scale from 1 to 6 where 1 is not made with stretch materials and 6 is our most flexible products made in super elastic material.
Rated

2

out of

5
by
iderauf
from
Quality materials but poor design
I recently purchased this belt at Norrøna's flagship store in Oslo. Initially, I loved it. It has a modern minimalist design and hardwearing components. The pants I was wearing when I tried it on had large belt loops which allowed me to easily put it on. Within an hour of wearing this belt, I began to notice problems. Slowly it loosened until it was not doing its job of holding up my pants. When I tried to tighten it, I realized this wasn't possible without undoing the clasp. I discovered the biggest problem when I arrived home and tried wearing with several other pairs of pants. The buckle was too large to fit through the belt loops comfortably. It took prying and twisting to finally get the belt through all the loops. I love the look of this belt and with a few design changes, it could be a truly wonderful all-purpose belt.
Date published: 2018-10-20
Rated

5

out of

5
by
Woodbear
from
A good belt
I've been using this belt now for a while and can definitely recommend it. It's a basic non-stretch belt that works as a...belt.
Date published: 2018-09-18
Rated

4

out of

5
by
Miken5678
from
Well made belt!
Purchased this instead of the Patagonia belt and a couple others as the belts buckles we're usually bigger or, like the Patagonia one, sit out quite a ways from the front of the pants. This one is built great and as other reviewers have said it is tight to get through some belt loops, however, tilting it to a slight angel fixes this. One issue I have is the belt does slip. Seems I have to re adjust it each time I take it off to use the bathroom as well as some slight slipping after normal wear. Might limit this with a slightly thicker material and or smaller slots or slots spaced further apart. Otherwise a decent belt. Would love to have a lower cost of shipping to the us. Thanks M
Date published: 2018-06-15
Rated

4

out of

5
by
fs67
from
Simple and effective
Does what it is supposed to do. Does not slip and infinitely adjustable.
Date published: 2018-04-17
Rated

3

out of

5
by
RenS
from
Cool looking with drawbacks
Very cool looking but the buckle is a bit too big to go through jeans hoops and size needs constant re-adjustment. Would be good to switch to natural or thicker fabric.
Date published: 2018-03-23
Rated

5

out of

5
by
BenEd
from
Exactly what you should expect
There's not much to say as a belt is a fairly simple item. However, I've had various activity belts in the past and this is the best I've had. Resizing is easy, the buckle and material seem extremely durable, and there is absolutely no loosening slip once fastened.
Date published: 2018-02-19
Rated

5

out of

5
by
whoever
from
Great belt design
This is one of the best of the many different light duty web belt designs that I have tried. The mechanism pinches the working end of the strap securely, and much better than the sliding bar designs that are popular these days. It loosens minimally in the course of hiking for an hour. I find it easy to pass the working buckle half thru my belt loops. I do wish it were offered in black and more neutral colors.
Date published: 2017-06-08
Rated

3

out of

5
by
arvestrid
from
Ikke egnet til skibukser
Jeg kjøpte dette for å bruke det til skibukse, da jeg ikke er rå nok til å ha belteseler. Nå er jeg usikker på om det er noe råhetskrav for det, men jeg endte nå uansett med å kjøpe dette beltet. Beltet virker veldig robust, men min erfaring er at jeg har måttet etterstramme det relativt ofte. Dette kan nok selvsagt skyldes mitt bruksområde er feil for nettopp dette beltet, og det er godt mulig at det er betydelig bedre skikket til friluftsbruk. Så om du er på utkikk etter et belte til skibuksene dine, ville jeg sett meg om etter andre alternativer.
Date published: 2016-12-20
D'autres ont également consulté