0
/29 Gore-Tex PrimaLoft Parka (M)
/29 Gore-Tex PrimaLoft Parka (M)
is rated out of
5
by
15
.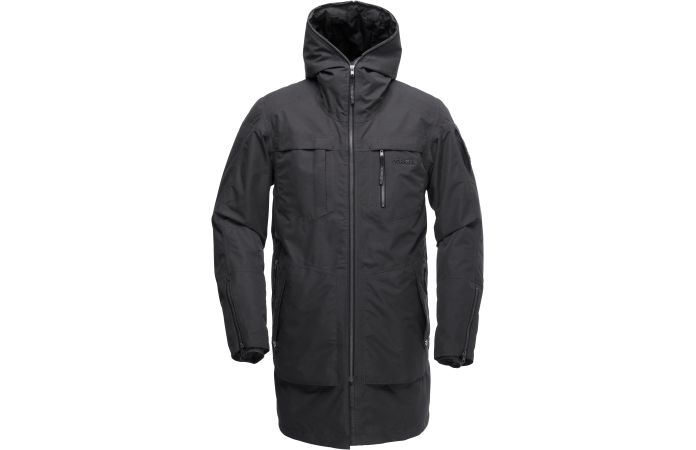 Parka unique pour passer l'hiver bien au chaud, par tous les temps. Nous avons associé nos tissus les plus techniques à un design moderne, afin de concevoir un vêtement très agréable à porter tout au long de l'hiver. La parka possède une couche extérieure GORE-TEX® souple, étanche et respirante, et une isolation PrimaLoft® Silver. Poches chauffe-mains en polaire, manchons et nouvelles fermetures Éclair YKK® en métal.
Effet coupe-vent

6

Imperméabilité

6

Isolation

6

Aération

3

Respirabilitié

5

Légèreté

1
Développé pour
Détente
Autres zones d'utilisation
Activités de plein air générales
Ce modèle peut être porté avec
Rated

5

out of

5
by
Jan from Germany
from
Best jacket ever!
Have had it for two years. I hope it will last for a long time! Keeps me warm in winter wherever I go!
Date published: 2017-01-05
Rated

5

out of

5
by
Peter_T
from
Best cold/wet weather jacket ever
If you are looking for a high quality winter parka which is water/wind-proof and has integrated insulation, look no further. The Norrona 29/Primaloft Parka isn't cheap but it's the best winter coat I ever had. Zip it up and winter just goes away. It's big enough to wear over a suit for work and warm enough that you could go out in a blizzard with only a t-shirt underneath and not feel it. The only catch is that unless it really is windy and chilly outside, it's VERY warm, especially if you're hiking or working. Wearing it in weather >10 degrees C feels like a portable sauna. A couple of minor design imperfections- a) the zip (which goes right to the top of the hood) does tend to stick a little around the beck- if you suddenly need to zip up above the neck it's fiddly to align the zip, and b) the spacious hood catches the wind and rain easily if it's not zipped well up. But these are quibbles in an otherwise excellent coat.
Date published: 2017-06-23
Rated

5

out of

5
by
Tobias
from
11/10
I purchased one of these 18 months ago and I believe there isn't a jacket on the planet that does its job better. the quality of this gear is what I have always wanted for a jacket to wear in the NZ winter.
Date published: 2017-05-21
Rated

4

out of

5
by
Zion V
from
Good clothes but sleeves are a bit long
I bought it last month and I really like it.The only thing I am a bit unsatisfied is those sleeves are a bit long,so I suggest you to choose a small size than you normally wear.
Date published: 2017-05-19
Rated

5

out of

5
by
Ziad
from
Great Jacket
I got my jacket three days ago and I am loving it. I am still wondering whether this jacket could serve temperatures around -20? Would appreciate some feedback. Regards, Ziad
Date published: 2017-03-11
Rated

4

out of

5
by
Heromadehere
from
Suer warm great all weather jacket
Love the jacket and have not taking it off during the winter. I live in the Swiss mountains so it can get pretty cold. The only things i would say is that the zip on the front snags on the way up... not great when its baltic and as everyone else has said it runs big to size (i would say a M is an L)
Date published: 2017-02-17
Rated

4

out of

5
by
aibartnes
from
Keeps me warm & dry, but get that zipper out of my face, please
This great parka has been with me through hail, snow, rain and freezing cold for a month in Arctic Norway. It does its job well, of keeping me warm and dry, with built-in gloves and efficient materials. However, the zipper doen't run smoothly (as with other Norrøna products, I have experienced) and is cold and uncomfortable cos to my face when zipping high.
Date published: 2017-01-10
Rated

5

out of

5
by
Tomas
from
The have it all jacket
I bought the jacket as a compliment for a far to warm and heavy down jacket and I'm very pleased with my choice. The jacket is very versatile and I have used it for snowboarding and in the city, back and forth to work or out playing with the kids. It always works. The length of it also allows me to wear it over a suit. I choose black so I should not complain about the color but I feel available colors doesn't really let the nice fabric show. Mind sizing is very generous. I'm 190 cm and size large is loose on me.
Date published: 2017-01-01
Please tell me what is the length of the park?
Hi Frankude, Thanks for your question. Centre front length in size L = 81 cm, and centre back length in size L = 99 cm. Differs 2 cm in length from size to size. This parka also have quite long arm length, just so you know. Best regards, Jens, Norrøna Fan Support
Date published: 2017-03-16
I am wondering whether this jacket could serve temperatures around -20? Would appreciate some feedback.
I have never had a warmer winter coat. I live in The Netherlands so conditions are not that extreme but if temps go above 5 degrees, this parka gets too warm especially if you cycle or walk with energy. 
Date published: 2017-03-14
Hey, on the inside it says I should impregnate the jacket with a spray bottle after washing it. What should I use? Also: one button from the outer right pocket went off, now there is a hole. Is it possible to replace it? Are you sending new buttons? best,
Hi Jan, Thanks for your questions. Regarding the button, you will be contacted by our service department so they can send you a new button or solve the issue in another way. Sad that this happened on your jacket. In regards to impregnation you should go to this page and you have an explanation together with a video instruction: https://www.norrona.com/en-GB/Help-me/Washing-Instructions/ Best regards, Jens Norrøna Fan Support
Date published: 2017-01-06
Hi, I'm thinking on purchase the (/29 Gore-Tex PrimaLoft Parka (M) S Size) but due to the other customers comments, of the sleeves length, I'm not sure... I also own the ( /29 dri2 Coat (M) S Size) compared to this one how much longer are the sleeves?
Hi, one thing that works for me is turning the ends around once and boom it's shorter. Now I only extend to full length when really needed. Amazing Parka! Only thing is that one of the buttons on the most outer side pocket fell off (the one with the Viking head) is it possible to replace that? I'd really like to keep my jacket in shape and have it for 10 years!! : ))
Date published: 2017-01-06