Imagine thousands of meters of smooth rock, linked together by brown paths through green vegetation. Imagine a trail that never ends, but goes over a bridge, onto a small island in a dark, quiet pond, and suddenly, in the middle of the rocks, is a hotel like nothing you have ever seen. A hotel where the manager is a former Royal Marine, the cook has been to the South Pole eight times under his own power, and the butler is a genuine African safari guide.
Canvas Hotel has no parking lot, no road, no electricity, no indoor plumbing, no swimming pool, no pay TV, but may be one of the world's most exclusive and unique hotels, at least amongst us mountain bikers.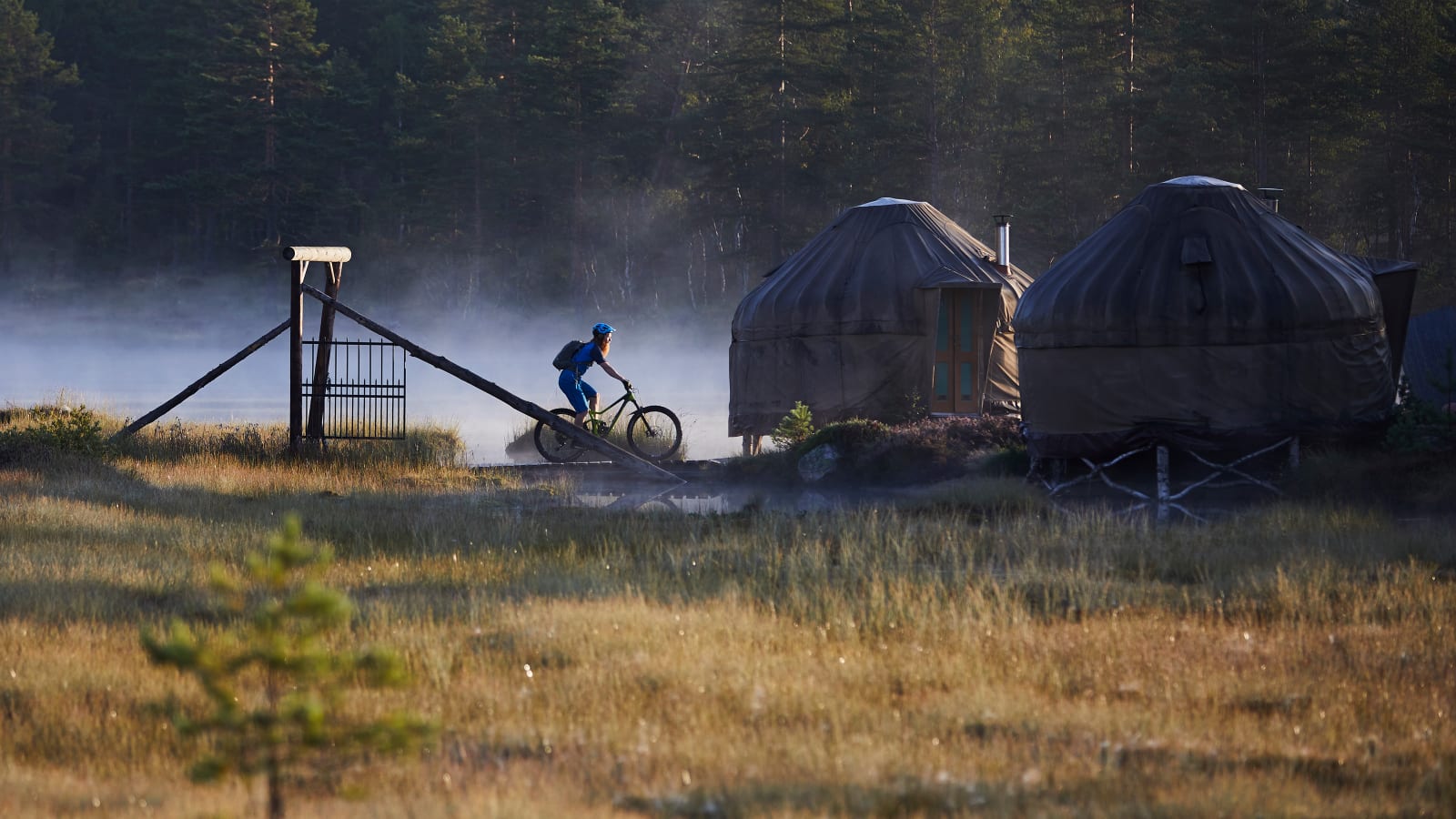 At first glance, from a good distance, Canvas Hotel is reminiscent of a Native American camp; traditional Mongolian yurt-style tents and specially designed house tents dot the landscape all in a heavy, Khaki-colored canvas. Small bridges connect the hotel to the trails on each side of this tiny island. And the biking remains exciting all the way to the hotel's heart: The kitchen tent. Some of the best food we have ever tasted is served here and is as distinctive as the hotel itself. Right now, we are tempted by a swim in the nearly black water, and then a trip to the sauna, which, like the bedrooms, is a yurt.
A cold swim in the pond, a warm bath in the tub on the wharf, a steamy sauna, and a hot shower from a can hung between two trees, combine into indescribable luxury after hours on a bike. You can even get a massage out here in the wilderness. But we skipped lunch today and feel the need for immediate sustenance.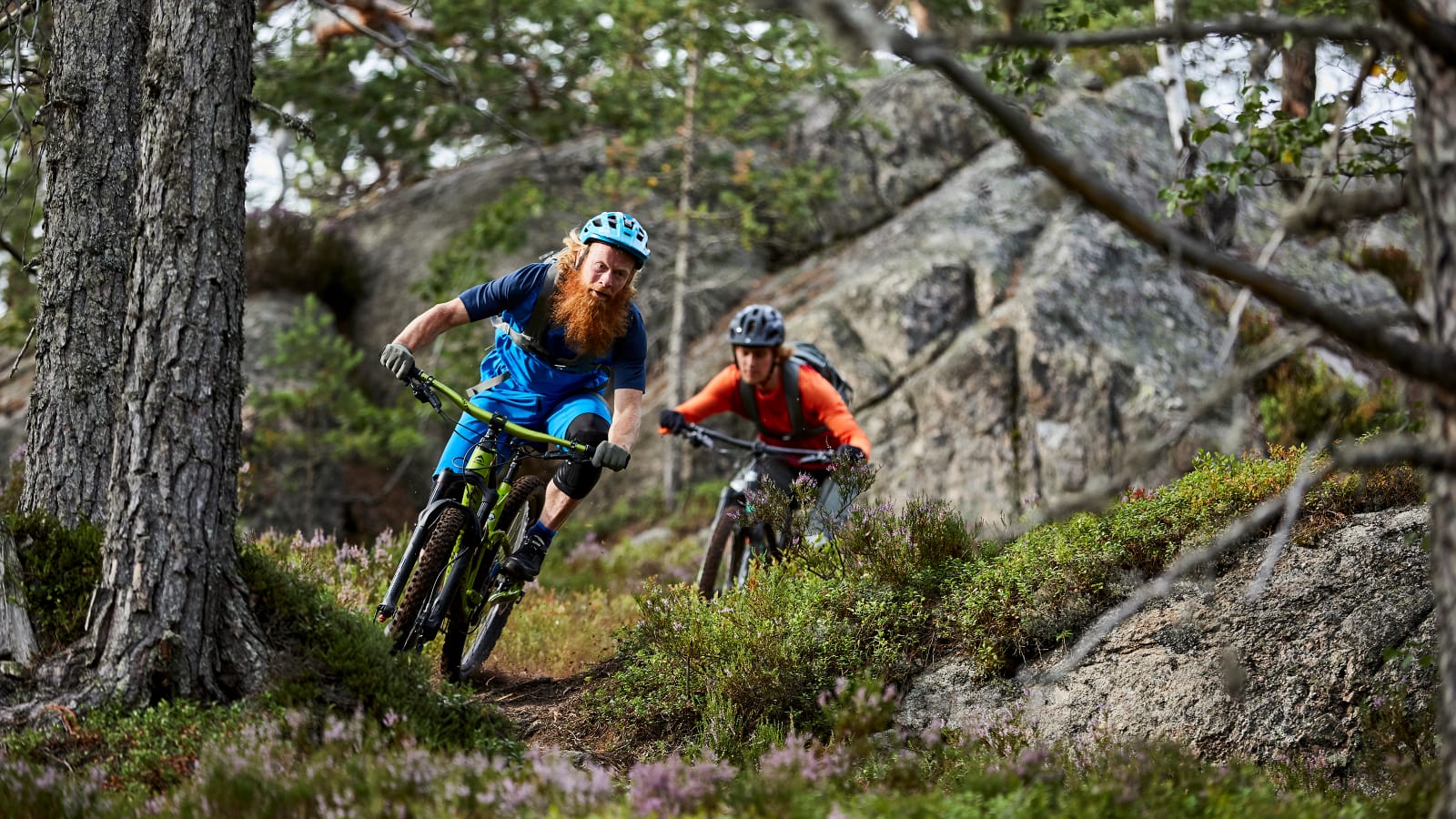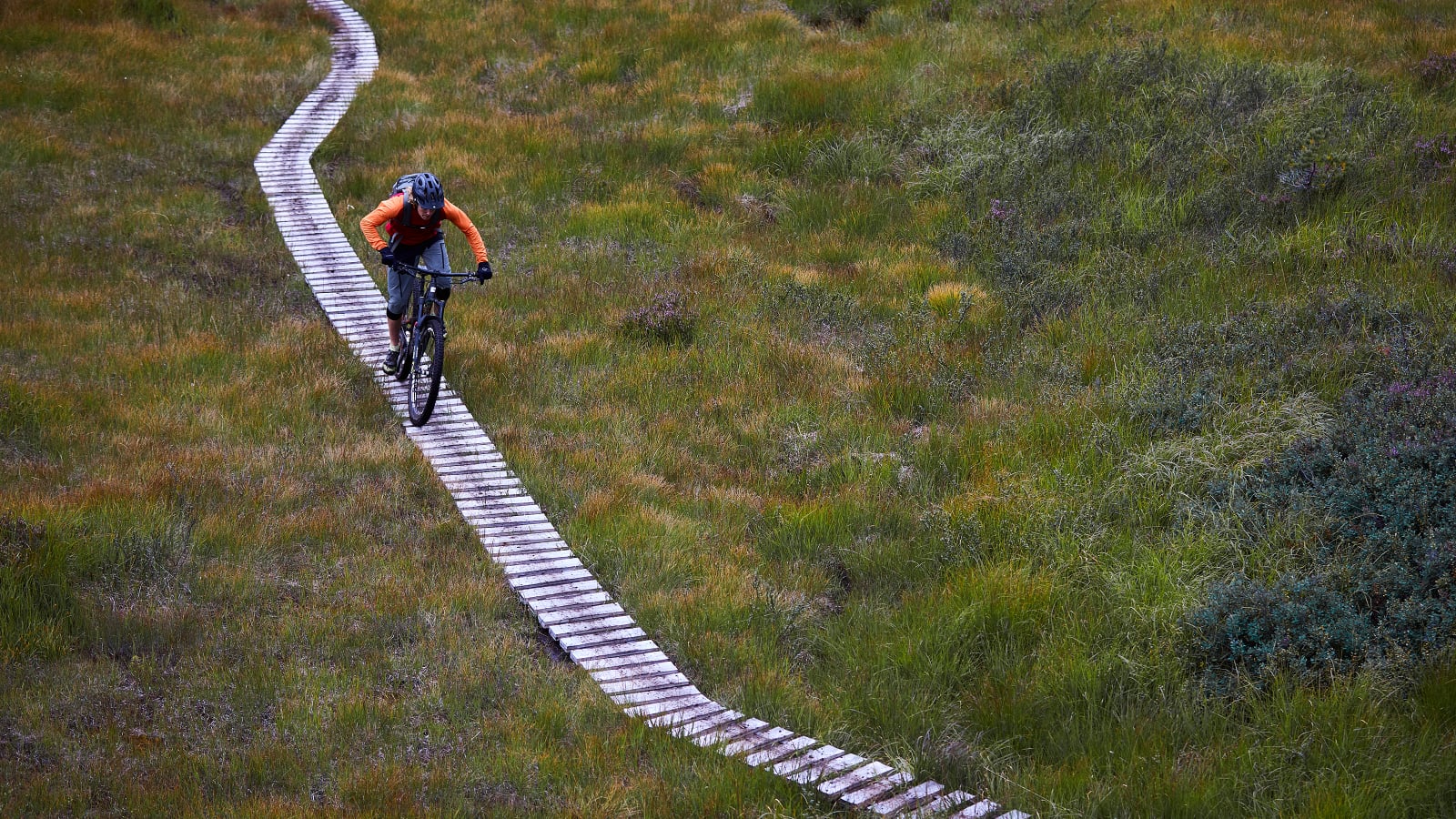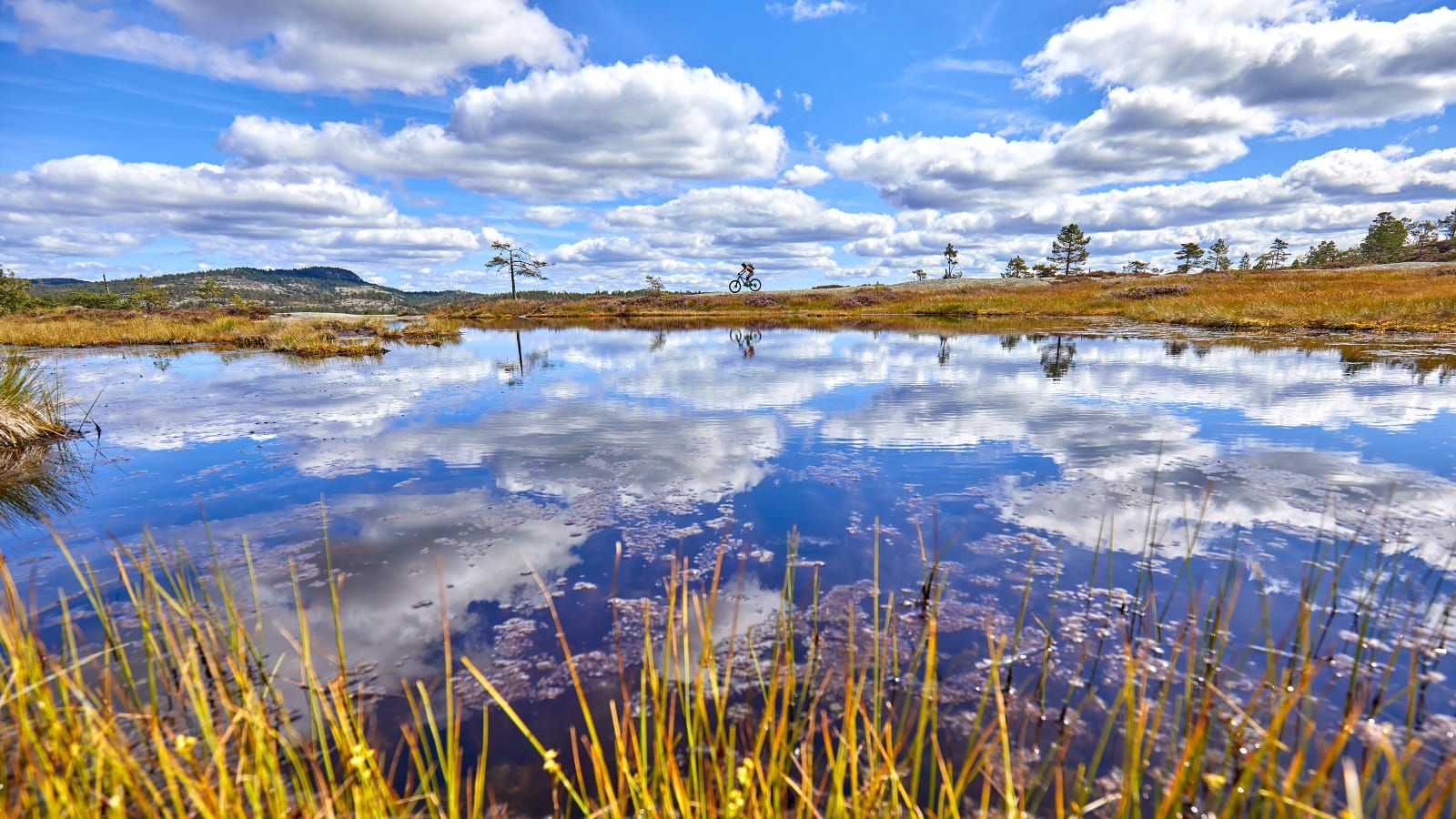 A long table built around several large barbeques lets you personally grill all meals here. Enjoying the warm radiant heat from this unique table each guest grills everything from pancakes, eggs and bacon for breakfast, to mountain trout or tenderloin of venison for dinner,. Combined with good drinks and a view of the pond, this culinary adventure is all part of the fantastic experience. The food here is at a level you might find at multi-starred establishments, with gleaming cars rather than muddy bikes parked outside.
No matter how much you bike, we can't guarantee you will lose weight when you stay with us
says the manager Jan Fasting, rubbing his stomach. After the bath and the fantastic meal, we feel the day has been perfect, but since it remains light for a long time we're soon ready to hop on our bikes again. We live right on the trail, so little time is lost. The terrain offers as much fun for beginners as experienced riders, cycling side by side. On the smooth rocks, you can choose you own path, with varying degrees of technical difficulty.
"You don't stop playing because you are old, you get old because you stop playing", says our bike guide, as he takes us for a few laps on a natural jump on a long, even surface of stone. The last ride back to civilization is unbelievable. And just when we think it can't get better, the guide leaves the path to check out a small creek running alongside the trail. As he must have suspected, it's just a matter of turning into the shallow creek on the smooth rock, with turf on both sides, and attack it like any other bike path. We jump in, raise a spray as we pedal, and follow the water down, trying not to lock our brakes or hit submerged surprises.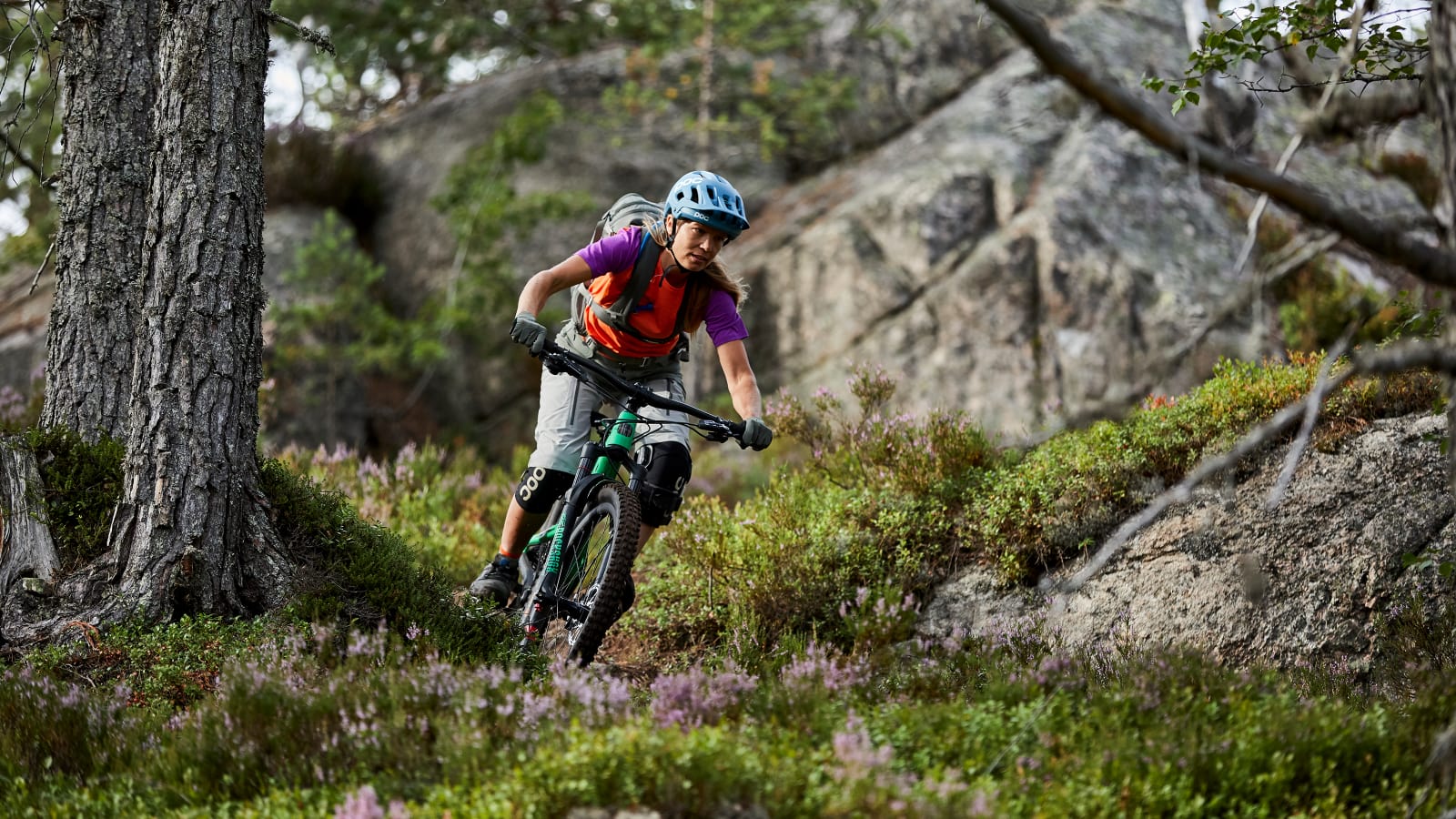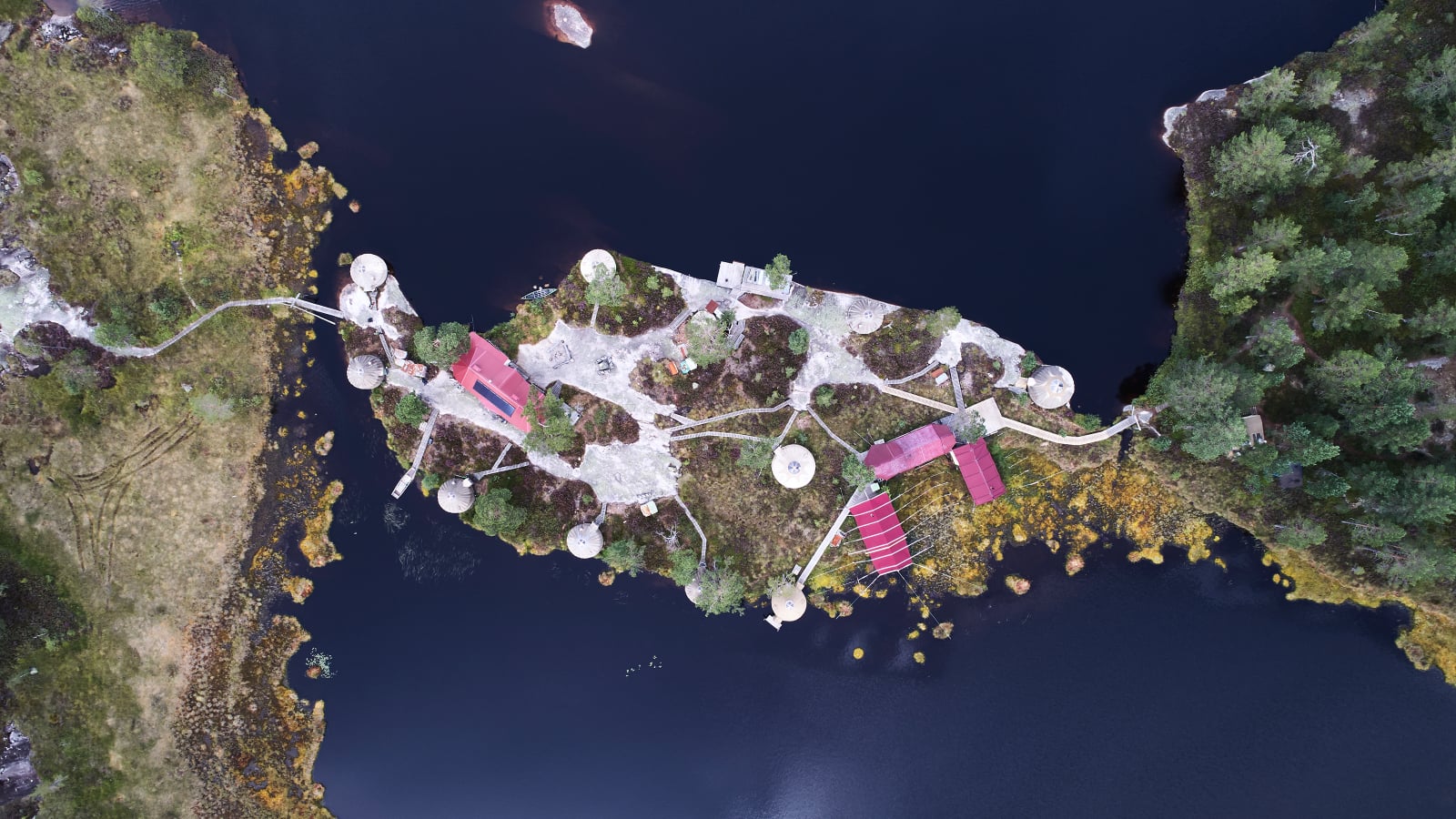 When we reach our parked cars, we are soaked with sweat, water and mud. We swim in the nearest mountain pool to get cleaned up, and already miss Canvas, with its sauna and culinary temptations. We get in the car and head back to reality. We hope to come back one day.