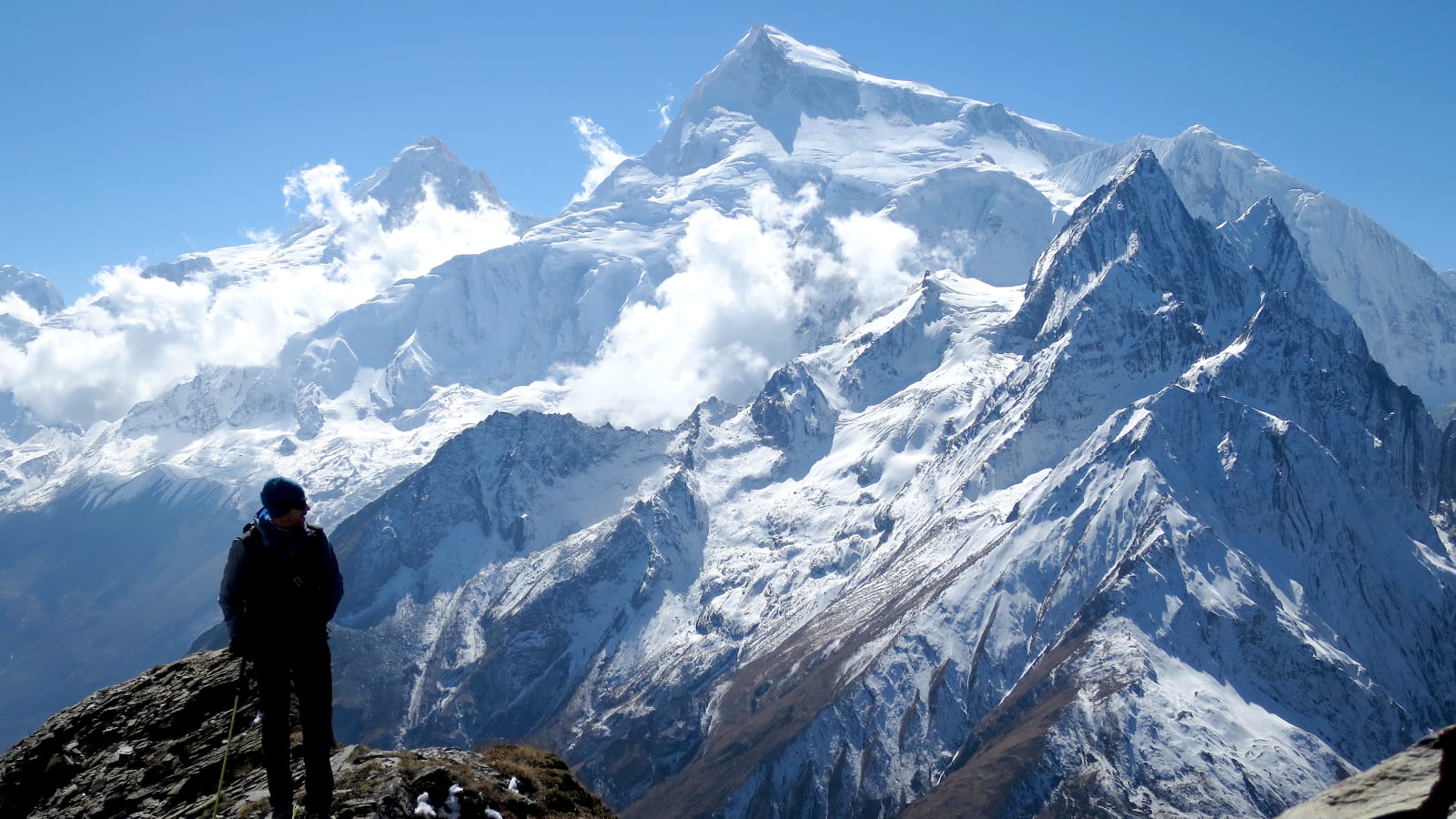 Story by Ambassador Robert Caspersen
I have been longing to go to Nepal for many years. To experience the magnificent mountains, and to meet the people: Sherpas and other ethnic groups who live amongst the mountains, under demanding conditions. People widely known for their strength and endurance, and for their peaceful culture and great hospitality. Last fall, an opportunity to make this dream come true appeared when I was invited on an expedition by a small volunteer organization called Medical Aid Mountaineering (MAM).
MAM tries to inspire people who travel to isolated mountain areas, where there is no qualified health service, to contribute with medical first aid to the locals. On the way to our personal mountain adventure we can all make a difference by spending some of our time helping the locals. MAM focuses on what you and I, who are not healthcare professionals, can contribute with just some basic first aid knowledge. MAM offers information and counselling, first aid courses and training. What should you bring of medical equipment? What kind of medical challenges can you expect to meet? What can you hope to treat and what is beyond our capacity?
Solvor Småsakin, one of the founders of MAM, invited me along. She is a nurse and specialist in mountain medicine, as well as being a dedicated mountaineer. The plan was to travel to Nepal and combine a mountain adventure with helping local people on our way. The mountain we wanted to climb was situated in the Manaslu region in the Gorkha district, an area Solvor knew well from several previous visits. In 2012 she led a similar expedition to the region, where they combined MAM work with an attempt on the unclimbed Pang Puche (6600m). The renowned Norwegian action photographer Benjamin Hjort was part of the team and he made the popular film "Medisindamene" ("Medicine Woman") from the expedition. A film that helped spread MAM's ideas, and has inspired mountaineers to help others on their way. Benjamin wanted to continue this work, but in April 2016 he died tragically in an avalanche accident. Our trip also became a way to honour Benjamins memory by continuing the work he started.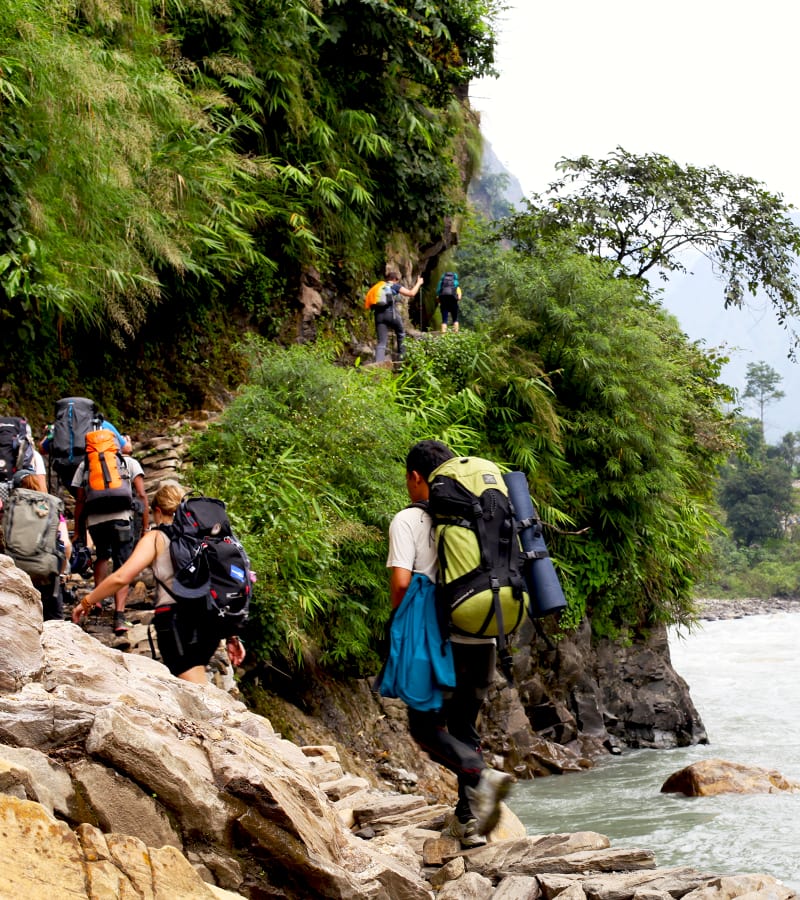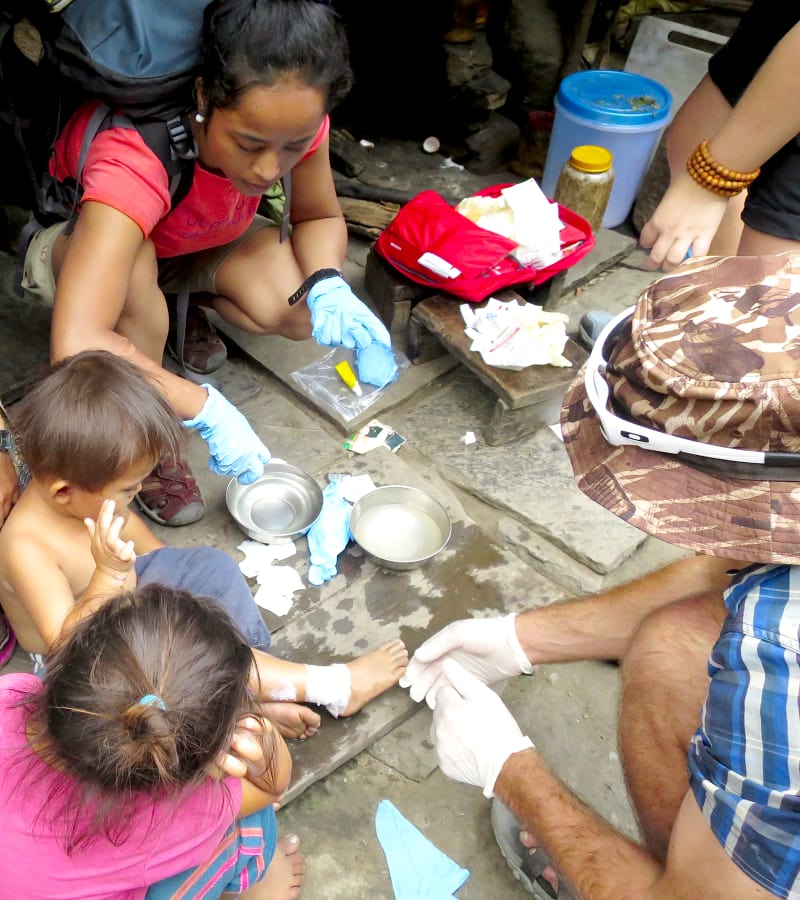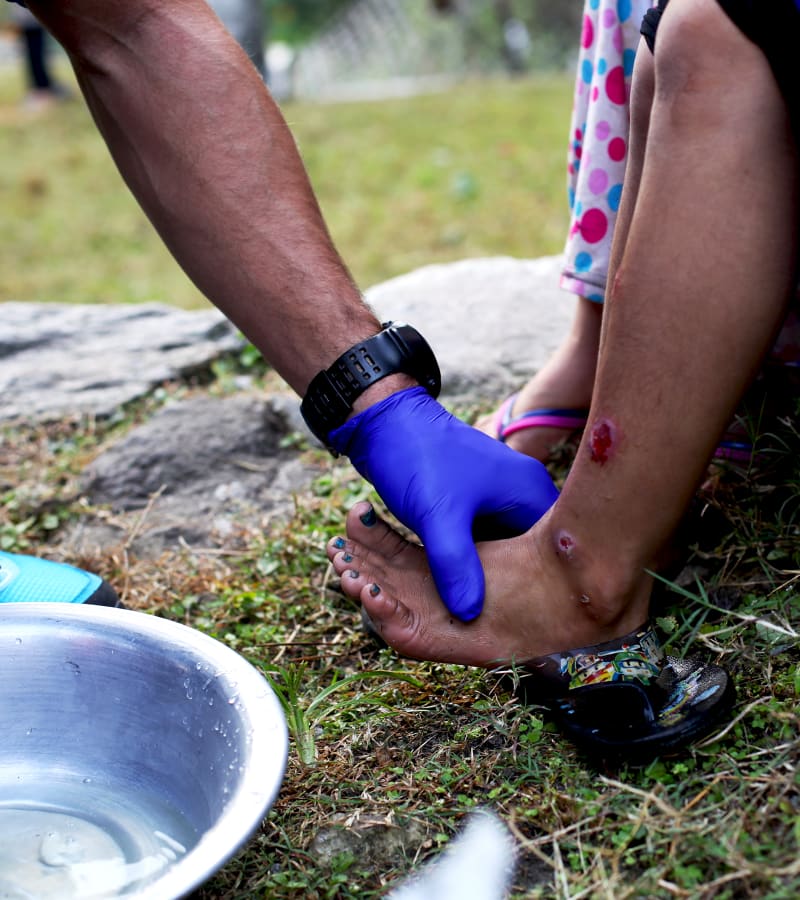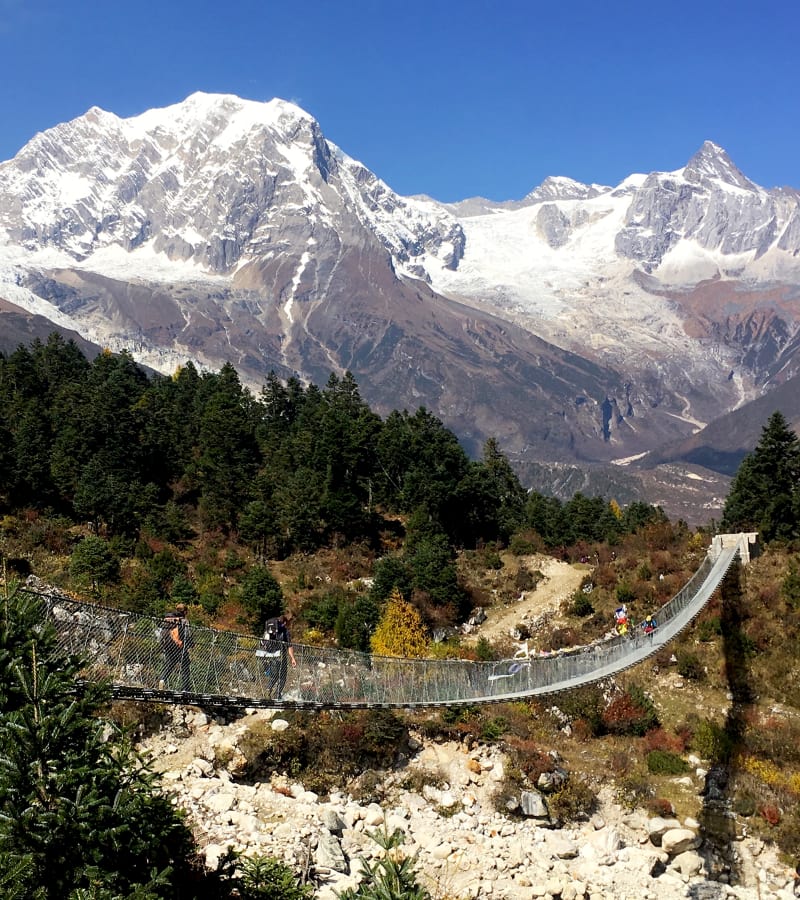 The approach hike took us two weeks and followed a narrow path along the spectacular Budhi Gandaki River, up to its source in the Larkya Pass, where we established a camp at about 5000m altitude, right at the foot of our unclimbed mountain. I must admit that it was the journey towards our mountain that made the biggest impression on me, not climbing it.
The narrow trail ran spectacularly along the deep valley, many places clinging to steep mountain walls via passages carved by humans, always with the roaring river far below. We kept crossing rivers cutting through the mountainside, and occasionally also the main river, on impressive suspension bridges. We walked through several climate zones; gradually rising from a moist, lush jungle of rhododendrons, through open pine forests, to a spectacular mountain landscape with huge glaciers and mountain peaks. Everywhere we were surrounded by beautiful and exciting nature.
I must admit that it was the journey towards our mountain that made the biggest impression on me, not climbing it
Still, it was the people we encountered on our walk that made the strongest impression on me. Along the trail we passed many small villages and scattered settlements. Why would people live in such a remote place? I was told that the trail we followed is part of an ancient trade route, once the main road for trade of salt from Tibet to lower parts of Nepal. Over the years various ethnic groups have settled along this trail.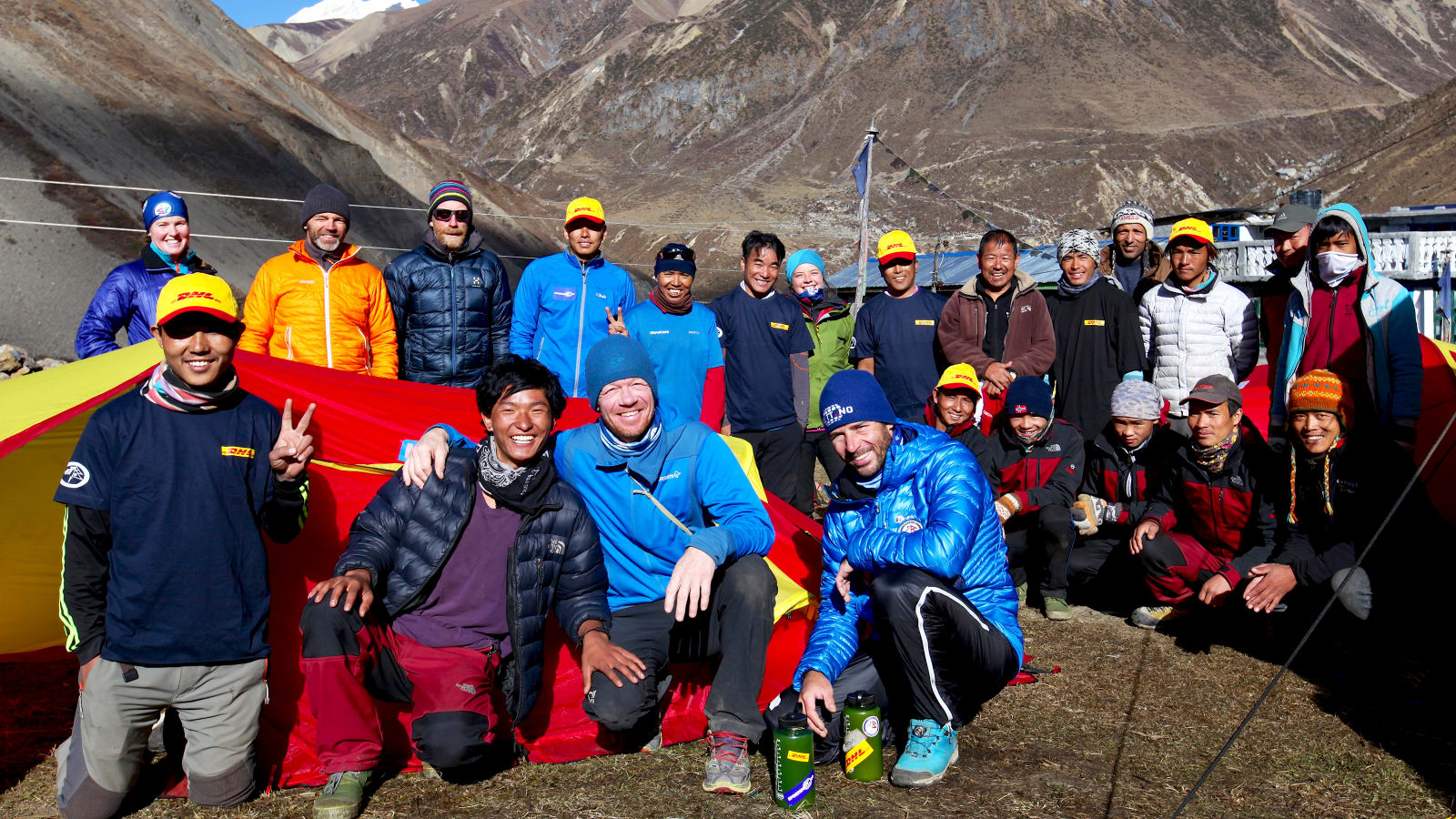 It was only in 1991 that Nepalese authorities allowed trekking tourists to enter the area. Therefore it is relatively untouched by modern tourism, compared with more famous places like the Annapurna and Khumbu areas. Along the trail it exists a number of small teahouses and simple accommodations that try to live by hikers, but most of the local people live in natural households where they cultivate the land and keep a few livestock. The steep hillside is cultivated through generations, and in terraced fields they grow rice, corn and other cereals. Here there are no agricultural machines – all work is done manually.
The houses are small and simple, built of wood and stone, with little to no insulation. Often the animals live in a low first floor, and the people in a room right above. This way they have a certain "floor heating" from the animals. Real heating comes from the fireplace, where all the food is prepared. Unfortunately most houses don't have proper chimneys – the smoke only slipping through the gap between the walls and the roof.
The earthquake that hit Nepal in spring 2015 had its epicentre not far away, and we still saw many traces of the vast destructions. There were collapsed stone houses; now with provisional ceilings and walls of tarpaulins, and there were traces of large landslides from the mountainsides. Some of these had blocked the valley completely and they still made access difficult. In places the landslides had buried houses and entire villages. The loss of human life we could only imagine.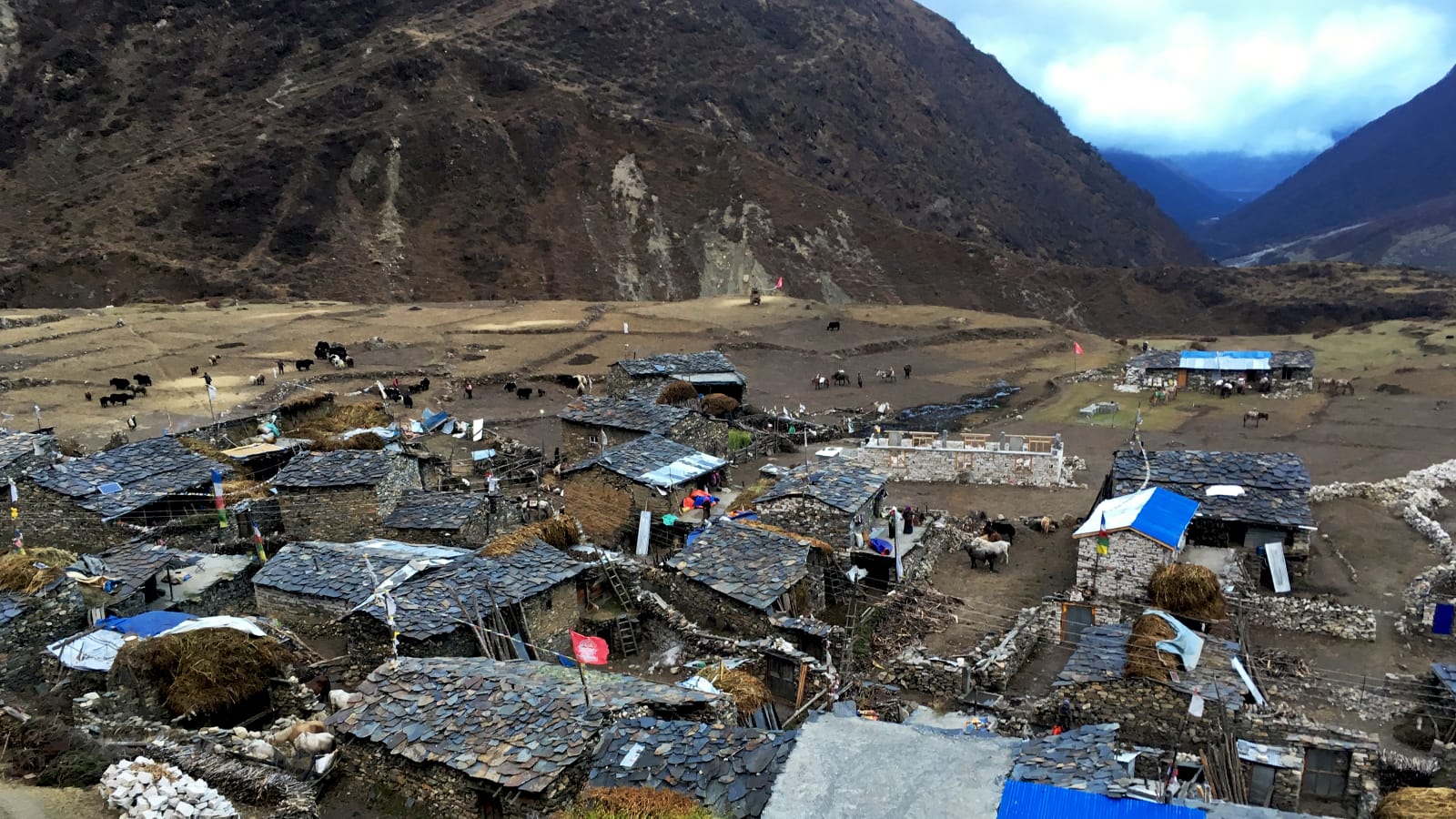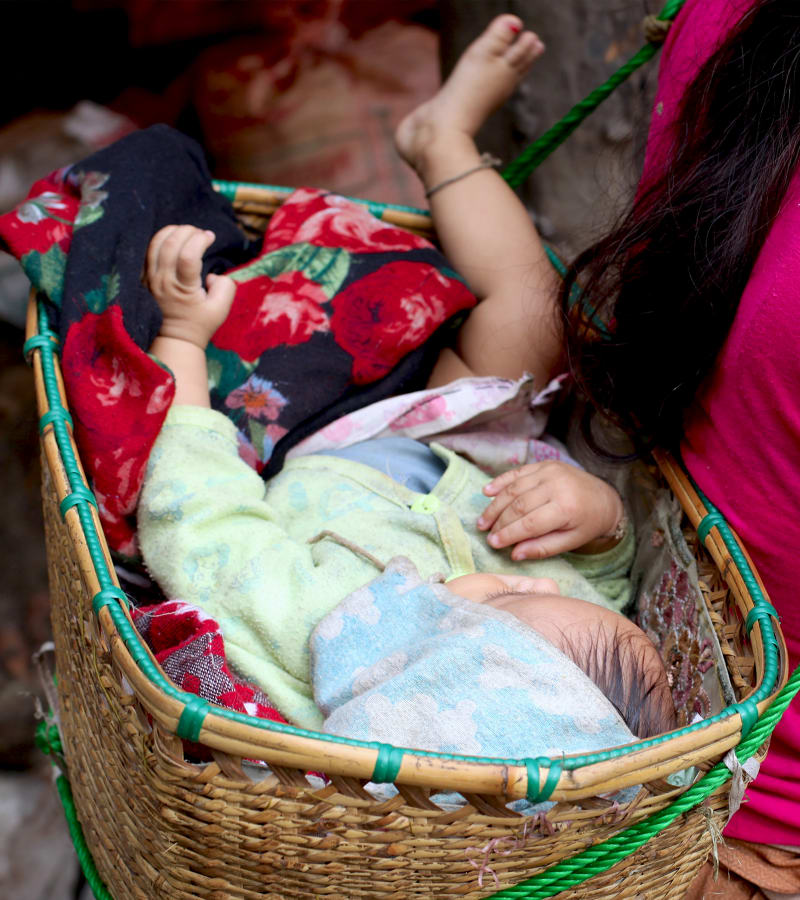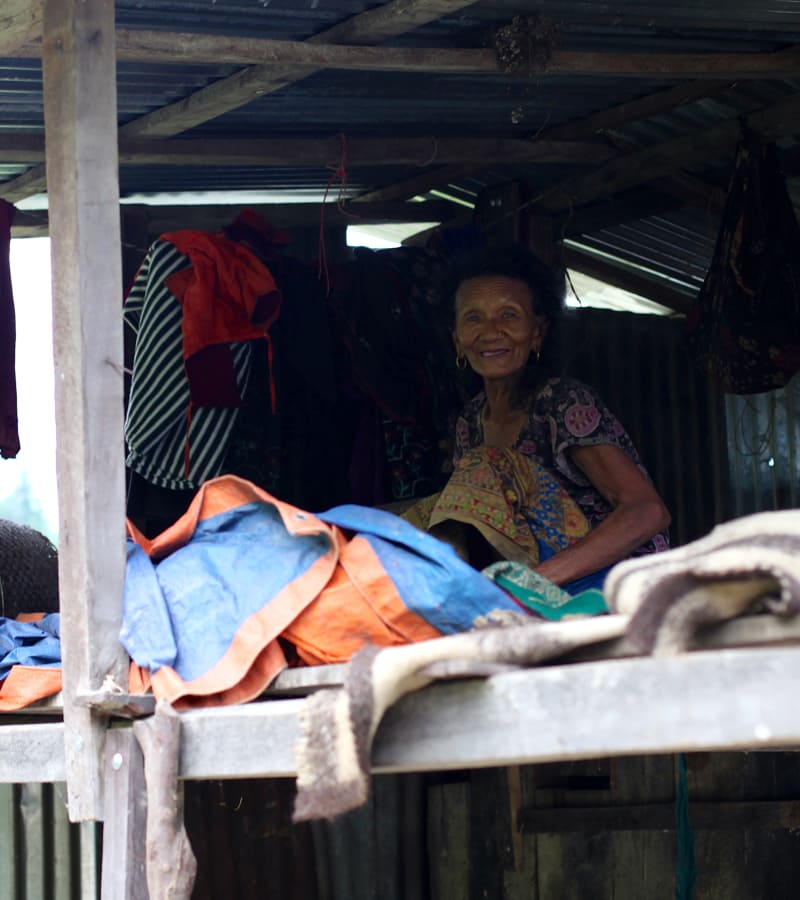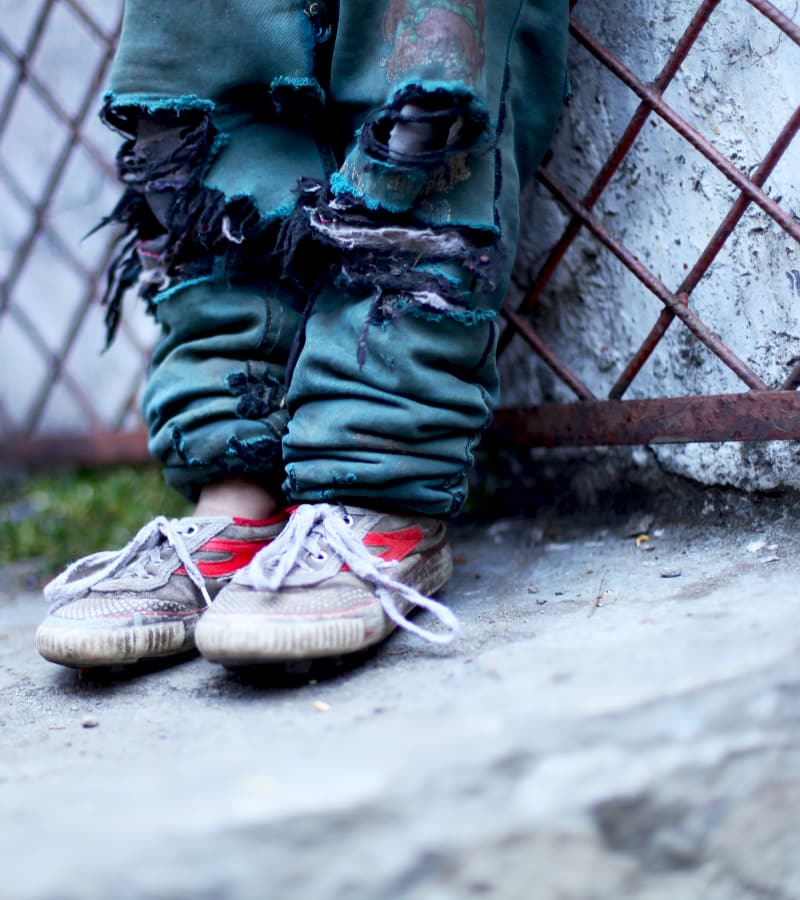 One night while treating the wounds of a young boy, I saw what serious consequences it might have, to live ten days walk from a hospital.
Dying in pregnancy or giving birth is unfortunately quite common in Nepal, as it was in Norway one hundred years ago. We had no ambitions to "fix" this, but wanted to contribute a little. We summoned the midwives of the villages we visited and gave them "birth packs" with clean towels, some cords and scissors for the umbilical cord and some other equipment, and showed them how to use it and clean it.
One night while treating the wounds of a young boy, I saw what serious consequences it might have, to live ten days walk from a hospital. The boy was about seven years old, and had some inflamed wounds in his face. They were not deep and would probably have been ok without my help, but his mother was very worried. She was very young, maybe 23 years old, and she looked closely when I cleaned the boy's wounds and explained how they should continue to treat them. "Tato pani!" - "Hot water and soap. Stay clean! Use a sock on the foot for a while." Sudah was with me - and served as interpreter. As the mother leaned forward to look, the cloak she bore slid sideways and revealed a stump upper arm. Sudah asked what had happened to her arm. She told us how she had been bitten by a snake and that it had taken too long before she got to the hospital, so they had to take her arm to save her life...
When I was finished cleaning and dressing her son's wounds she ran into her house, a simple wooden shed with a tarpaulin as roof and the naked earth as floor, and came out again with a gift for me: five small potatoes she had harvested. I lost my balance slightly as tears blurred my vision, I could not pronounce a single word. I forced a smile, nodded and stumbled back to camp.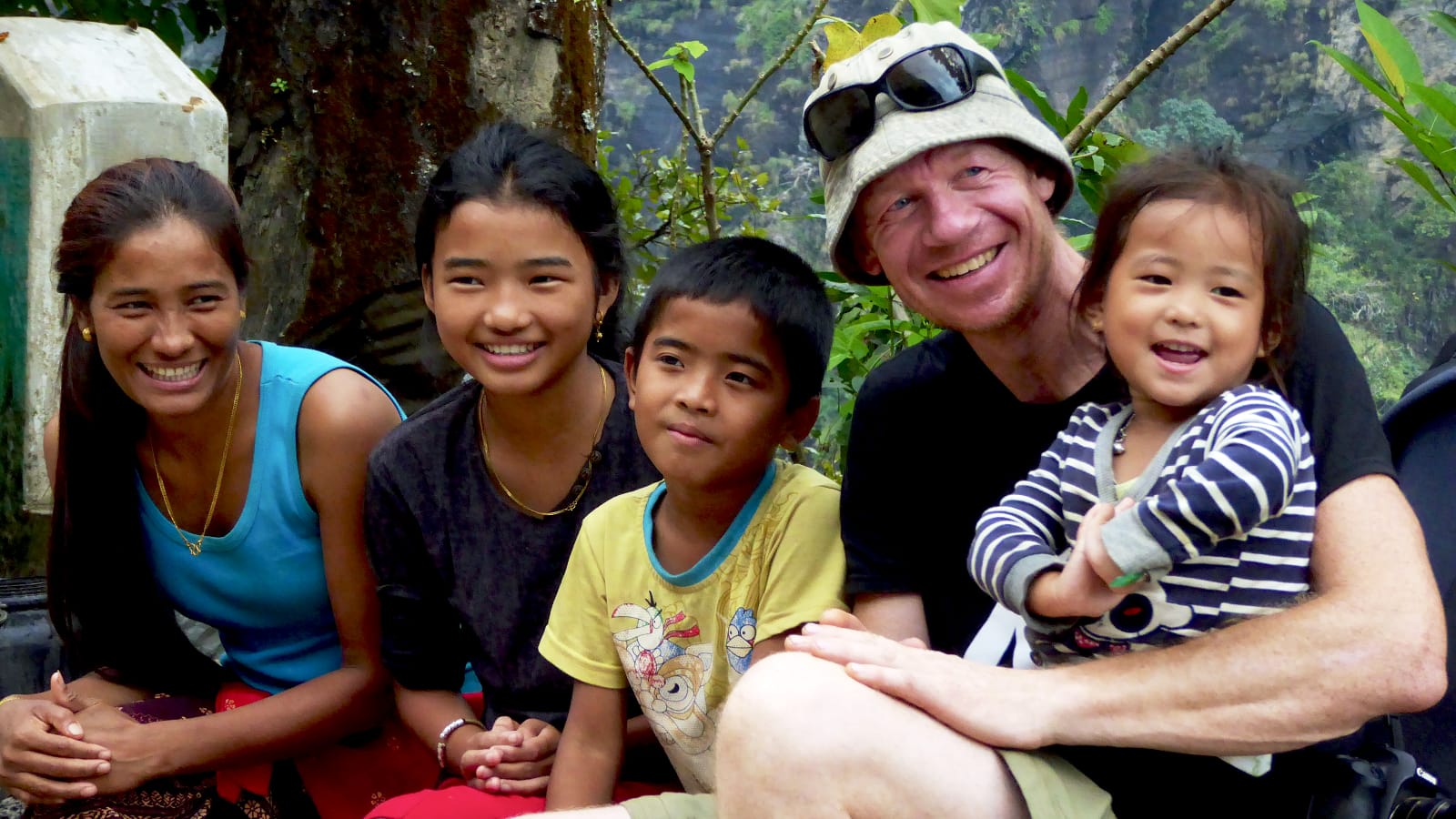 Signs of a demanding everyday life abounded. Many older people approached us with traces of a long life with manual work. Some had acute injuries with inflammations that would pass, but many had wear and tear injuries and osteoarthritis that would not pass... Erik, our physiotherapist, had plenty of work!
But what do you do with such injuries? It's not that easy to get treatment for this, even in Norway. Anti-inflammatory pills and ointments were handed out here and there, but most of all, Erik was good at explaining how to find alternative ways of using the body, reducing the strain and exercising gently. What puzzled me at first was seeing that many of those suffering muscular- and joint pain also had small circular skin wounds located around the injury. Erik had seen it before. He explained that it is common practice that the local shaman uses sticks of glowing incense, burnt into the skin, as painkillers or cure for such injuries. We also saw traces of cupping. In such a situation, since not having any particular better cure to offer, it was important for us, not to condemn the "medicine" that they all have access to, but rather to urge them not to burn the skin too deeply. And if that happens, show them how to keep the wound from being infected and developing into a secondary, maybe more serious, injury.
"Tashi Delek! - tashi delek! ". As the path led us higher into the mountains, the influence of Tibet became clearer. The language changed and "namaste" in Nepali became the Tibetan "Tashi Delek". The Buddhist culture and religion became more apparent in peoples costumes, the prayer flags, temples and monasteries. Along the trail we regularly came to portals we could walk through, while we turned prayer wheels and mumbled "Om-Mani-Padme-Hum ...".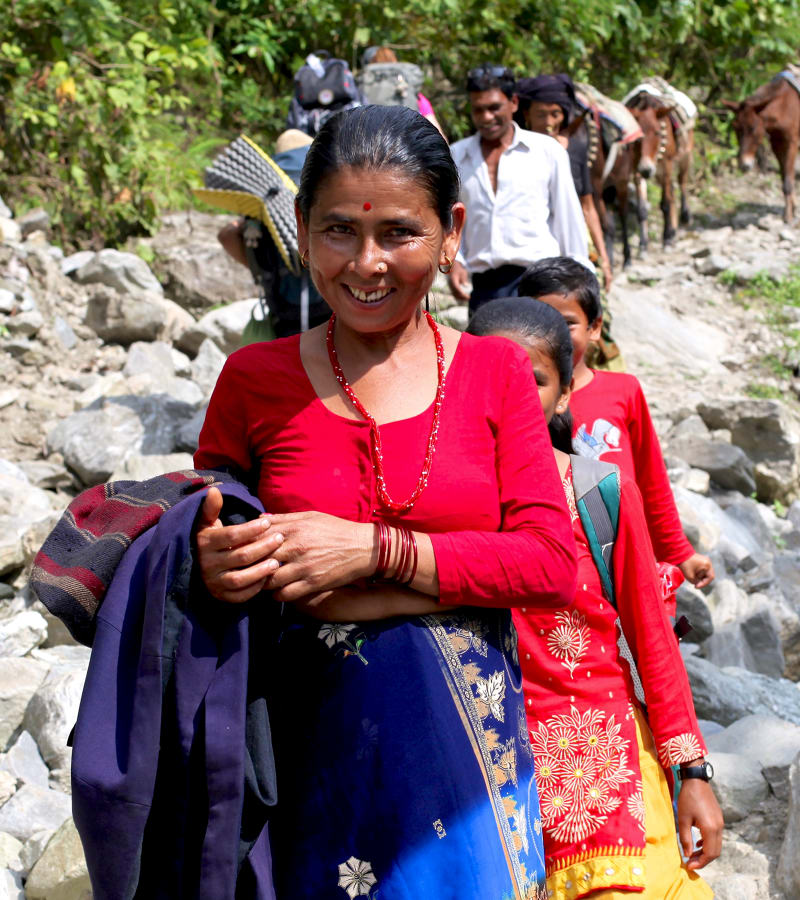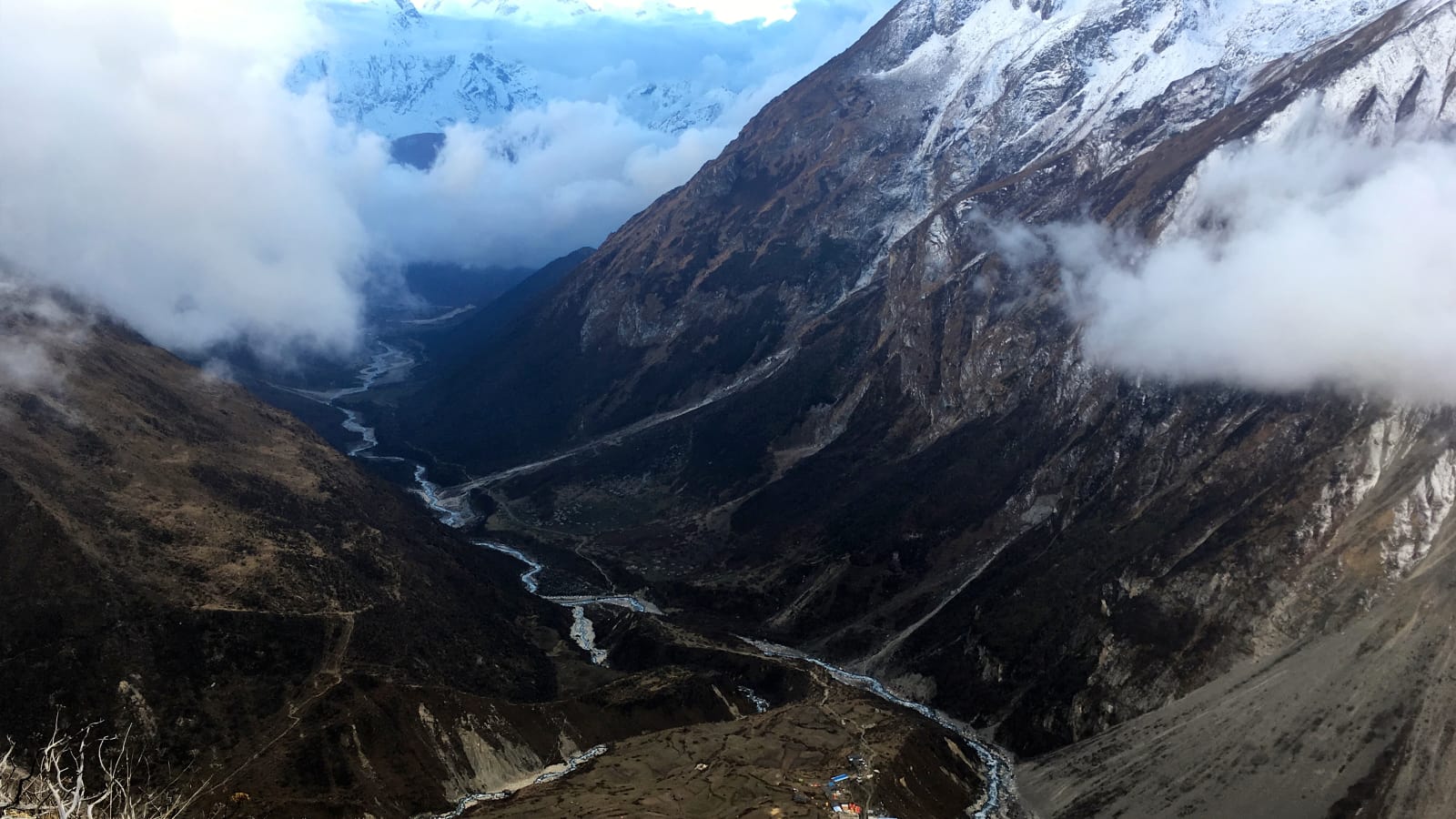 We spent several days in Samdo, combining medical first aid work with short acclimatization trips up to 5000 meters in the surrounding mountainsides. The local lama (Buddhist priest) knew Solvor from before and was very interested in our MAM work. He invited us home for butter-tea and potatoes. He still had a small stock of medicines and equipment he had received from Solvor a few years back. Now this stock was refilled, while he conscientiously made notes of how to use the different medicines. He was in essence the person responsible for the health service in the village. A respected and wise man who luckily also happened to possess practical skills.
The Lama then held a Puja, a blessing ceremony, for us in the village Gompa (monastery / temple), to give us luck on the mountain. In accordance with traditions we gave Chang beer as a gift offering, as well as collection of course, and received a blessed scarf, a kata, and a red piece of string around the neck: an eternal link with the knot of life. The Lama drummed a meditative rhythm while reciting long Buddhist texts and occasionally throwing seeds into the air. Evil spirits were now displaced and our attempt to climb the mountain blessed.
It felt a little absurd to play in the mountains, while the locals worked hard for life.
Leaving the Gompa, the top of Pawar Himal glowed at us. I felt invigorated. I was ready. During the two-week approach hike, I had not had capacity to think much of mountains and climbing. Every day had been filled with so many meetings with exiting people and their culture, so many impressions. Every day felt like a week. Now I was reminded of the mountains, and I began to get motivated! But it was with mixed feelings: It felt a little absurd to play in the mountains, while the locals worked hard for life. At the same time, I must admit it was emotionally tiring having to relate to the gap in prosperity between them and us, and all the dilemmas of help. It was tempting to let it go for a while, to have a break, and now concentrate on something as simple, banal and pointless as climbing a mountain…
That afternoon we were on our way up to the Larkya Pass. The fantastic weather we enjoyed the whole trip, made life easier. We found a suitable place for our base camp of about 5000m, right at the foot of Pawar Himal - our goal.
It was not the highest mountain in the area. Only 6621 meters and quite small compared to mighty Manaslu. Nor was it the most pointed one. But it was unclimbed – and in that laid its great adventure potential and attraction to us. It is always an extra thrill entering into the unknown: Will we find a safe route? Is it longer, steeper, and more difficult than we think? What kind of equipment should we bring? Are we well enough acclimatized? What if the weather deteriorates when high on the mountain? Confronted with such questions, that will remain questions until you have tried, demands that you apply all your experience and your abilities in the task ahead.
Last time Solvor visited the area she had experienced a lot of fresh snow. Therefore we had brought alpine skies this time, for the convenience when moving around, and to make the descents more enjoyable. But now the landscape was unusually dry, and solid snow packs were only seen above 6000 meters or on north facing glaciers. We had hoped that our route at Pawar Himal could be descended by ski since being not too steep. With the exception of a small vertical icefall at the foot, this should be possible with a good choice of line. But our route followed a south-facing glacier and now it was all ice and no snow on the lower 5000 to 6000 meters. Countless crevasses were now visible. It did not invite skiing. However, Jørgen is a true skier, so he carried his skis anyway.
I gradually felt stronger and in the last part of the day I was up front braking trail and finding the route. Poor Sigurd was in agony. "The most exhausting day in my life!" was all he managed to exclaim as he stumbled with micro steps on to the plateau at 6000 meters. We had moved slower than planned. While the sun disappeared and was replaced by thousands of stars, we quickly set up our little three-person tent, crawled in and got the stove burning. Sigurd was very quiet, while I was still in a good mood after my energy burst at the end of the day. Jørgen did not seem to be bothered by the altitude at all and took charge of melting snow and preparing a meal.
I began hyperventilating and shivering uncontrollably. I was in my sleeping bag with all my clothes on, freezing and with great breathing difficulties.
After eating, my general condition suddenly deteriorated rapidly. I began hyperventilating and shivering uncontrollably. I was in my sleeping bag with all my clothes on, freezing and with great breathing difficulties. I was scared, and so became Jørgen and Sigurd. They placed me tightly between them, in the warmest place and put hot water bottles in my sleeping bag. It took several hours before I stopped shaking and partly regained control over my breathing. I did not hyperventilate anymore, but every time I was about to fall asleep, I woke abruptly gasping for air. There was no sleep that night. Sigurd had a powerful dry cough all night and did not sleep much either.
Next morning we were all feeling very tired. Jørgen waited for the heating of the morning sun to hit the tent, before he patiently started treating us with some life-giving drinks. After a few hours we eventually got enough energy to begin our descent. We took down the tent, and buried it along with the stove and some food for our next try.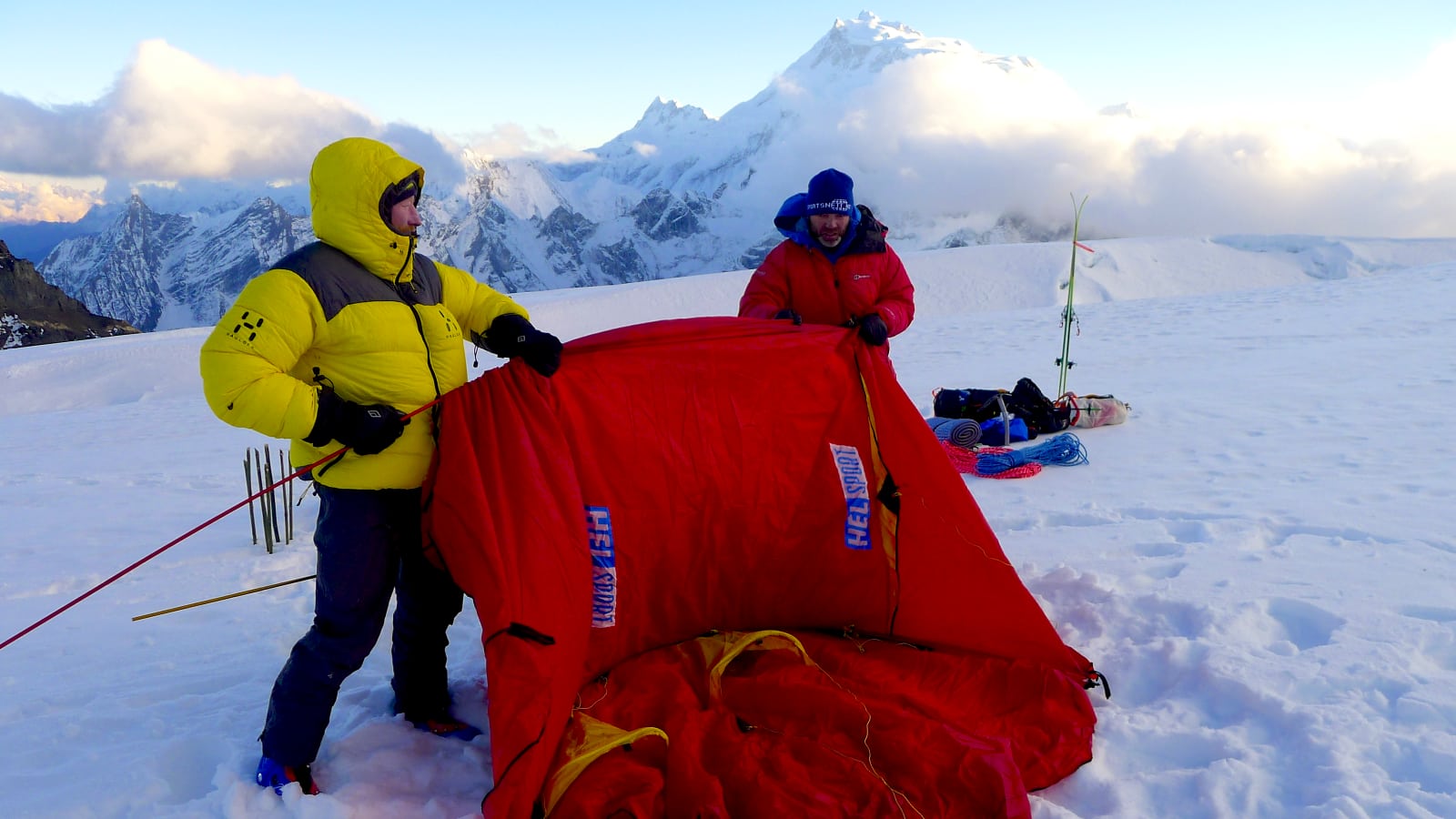 The good thing about altitude sickness is that it is easy to treat. That is if it has not developed too far, and the weather and circumstances allows you to descend. Because the only effective medicine is: loosing altitude as fast as possible. Our base camp at 5000m was still high, but it helped significantly. The same evening as we reached base camp, I already felt "recovered", at least physically. Psychologically I was badly bruised and full of dark thoughts.
I was very disappointed that I had responded so badly to the altitude. I was annoyed and scared. There are many stories about people getting acute altitude sicknesses and dying because they have not been evacuated in time. How close was I this time? Moving at altitude is always associated with a certain discomfort, when the body is working intensively to adapt to an oxygen-poor environment. Headache, breathlessness and some nausea are part of the game. But when do you cross the border? How do you know when to stop? When do the irreversible and accelerating processes kick in?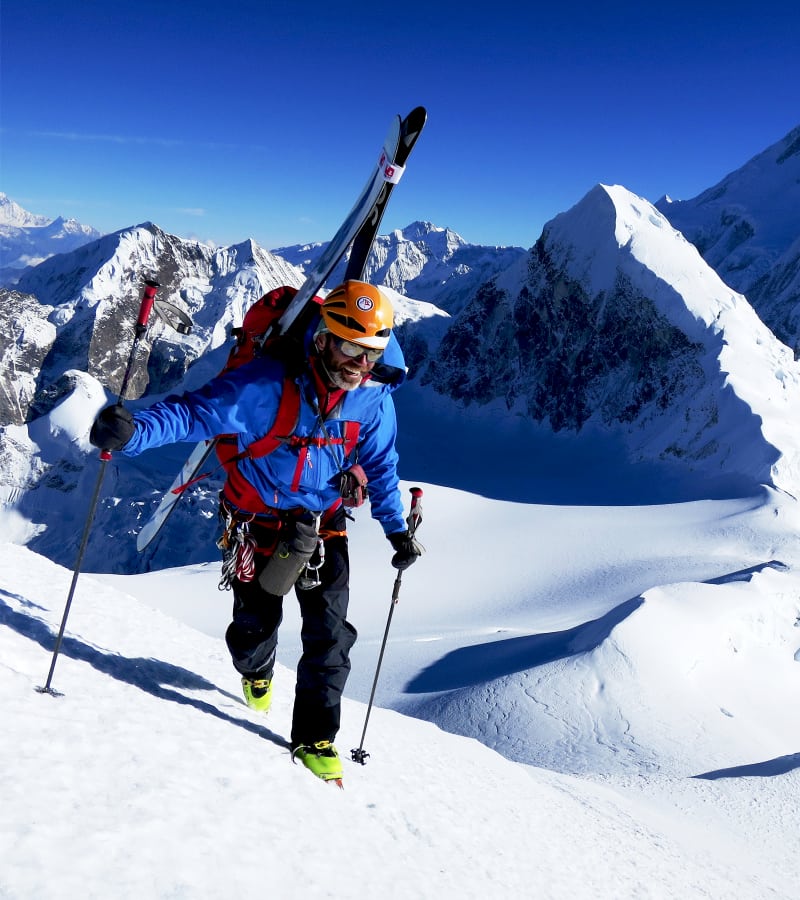 Above our tents the terrain steepened. We climbed mostly with two axes each, alternating between front point techniques and French crampon-techniques where we could, to relieve our calf muscles. The terrain was rarely steeper than 60 degrees. The snow conditions were excellent, compact and predictable. Occasionally, there were low angled passages were we could rest comfortably. The rope stayed in the backpack all the way.
Already on the first steep section above the tents it was clear that this would not work for Erik. He had struggled yesterday and now he was done. Earlier on the approach hike to base camp he seemed to be the fastest acclimatizer of us all, but of course now he was significantly behind us in acclimatization. It was not safe to continue, so he made a good decision and turned around while he still could take care of himself, and climbed down to the tents at 6000 meters to wait for us there.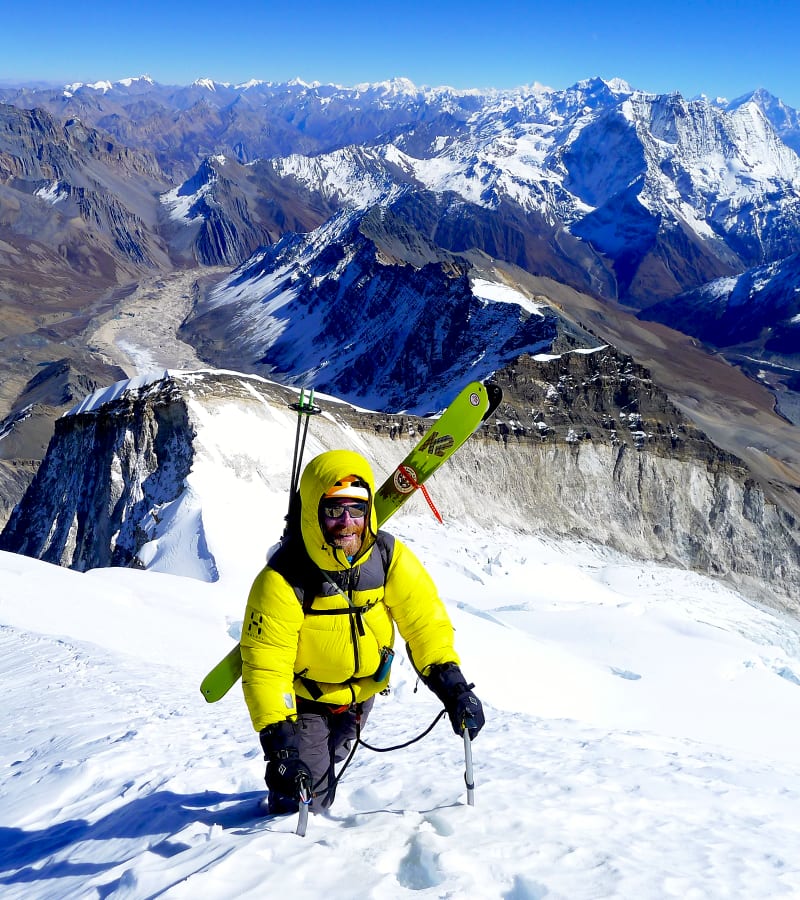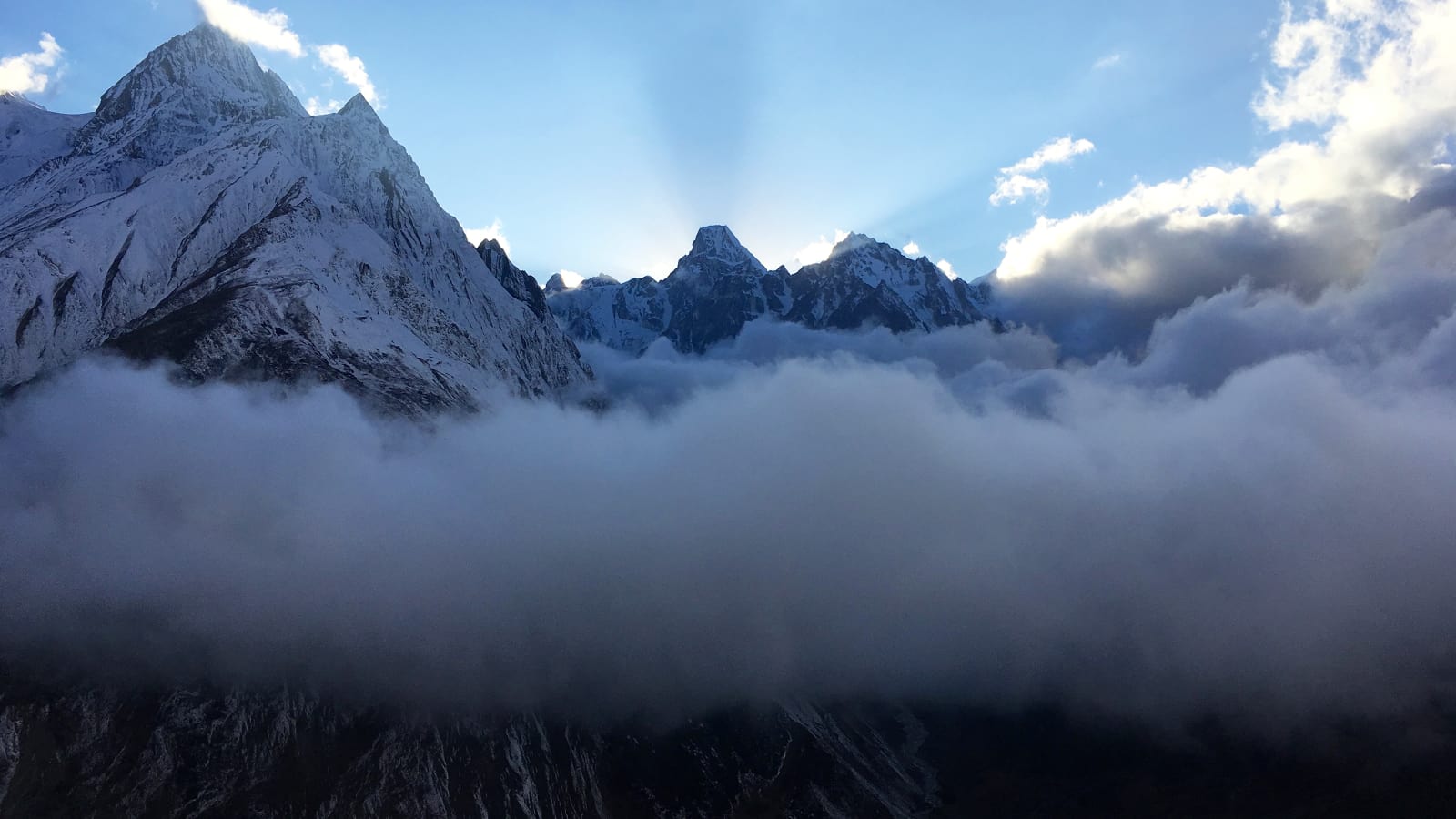 Then from 6400 meters the strangest thing happened. I felt gradually stronger and stronger. It seemed as though I was able to make better use of the little oxygen the higher I got. It was unreal. Soon I regained Sigurd and Jørgen, passed them and pushed on in front, finding the route upwards. Were my lungs and muscles finally warming up? Or was it mental? Or both?
Suddenly we were on the summit ridge and could look over to Tibet I had envisioned us walking hand in hand the last bit to the summit. But the top ridge was too steep with 1000 meters of void on each side and with an unclear top cornice. I focused on not allowing a summit fever overshadow the apparent dangers, and stayed conservative around the cornice. When the ridge started to go down again I understood – we had made it!
Sigurd, Jørgen and I embraced on top. For a while we stood silently in awe, admiring the breathtaking surroundings. There was not a cloud in the sky. We saw the "whole" Himalayas.
To the north lay the enormous Tibetan high mountain plateau – dry, brown, barren and mysterious with white topping only on the highest forbidden peaks. Far east we could see the highest of them all, Everest. In the southwest, loomed the challenging Annapurna. And directly south, just in front of us, Manaslu, the Queen of the region. Between these famous eight thousand meter peaks, we could see thousands of lower, less famous peaks, many of them unclimbed, just waiting for someone adventurous. Something to dream about…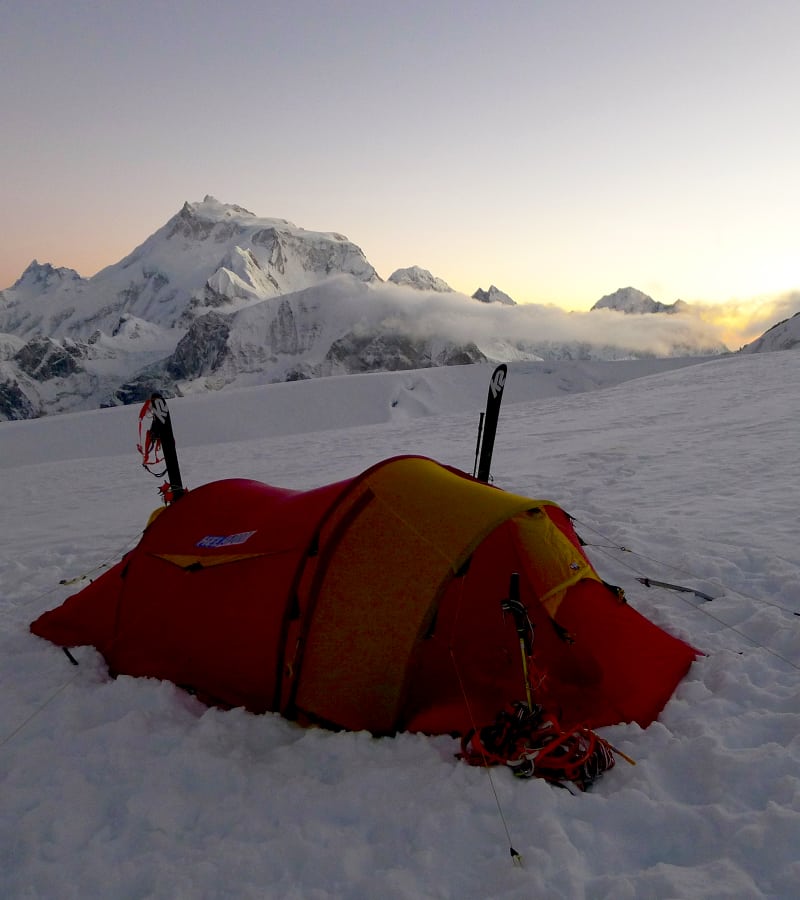 Late in the evening, in the light of our headlamps, we staggered into base camp and received a wonderful welcome from all out friends: our porters, guides and fellow expeditioners. Pasang had done magic of small resources and prepared a feast for us all. We all celebrated together. Solvor was relieved. As the expedition leader she probably felt an extra responsibility for the safety and success of the expedition. We agreed to name the first ascent route of Pawar Himal for "Benji", after our friend Benjamin, who is no longer here.
Unfortunately now that we were finally acclimatized to 6500 meters, it was also time to pack our bags and return home. But before leaving we managed to make a quick ascent of a beautiful peak named Larkya North, 6249 metres high. Solvor, Ingeborg, Erik, Densa and Tsiring, being less acclimatized than us, were happy climbing to within one hundred and fifty metres below the summit. While Sigurd, Jørgen and I continued another hour and a half to the true summit, before we descended by ski all the way down to the pass at 5000m. The northern exposure gave good skiing conditions the whole way. Since being so well acclimatized, this was a fantastic daytrip with little pain, lots of margin and fun. One day later Sigurd, Jørgen and I also made an exiting attempt on an unclimbed 6500 metres peak, but this time we chose to turn back one hundred at fifty meters below the summit due to slow progress and not enough margin – but that is another story.
After reluctantly packing down our base camp in the Larkya Pass, we continued walking the trail westwards over the pass and then south, completing the full circumnavigation of the Manaslu massive. On the weeklong hike we continued MAM work in the villages we visited, before eventually reaching a road and getting an exiting ride back to Kathmandu.
It was a bit sad having to adjust my impressions of the idyllic Nepalese countryside and realize that local agriculture and natural households soon will be history here too. The next generation does not want to take over the small crops and herds. People along the trails and potential tourist routes, will soon be living only of tourism.
My romantic picture of the countryside obviously hides a lot of misery, hard life and challenges. But walking in this region I could not stop thinking about the contrast to Kathmandu. Here in the mountains they have fresh air, it is peaceful, quiet and beautiful. The have good food resources– if they work on the crops and keep animals. It surely is hard work, but I would at least consider it meaningful.
In Kathmandu, the smog is so dense that most people use facemasks moving around, the noise of the traffic is constant, and the struggle for jobs, food and a roof to stay under is intense. There are of course opportunities for the few and lucky ones. But the city abounds with disillusioned people with broken dreams. Nepal is strongly characterized by a rigid (Hindu) cast system preventing social mobility. And the government is highly corrupt, something that seeps into the whole society. These things do not help in making life easier in the city for most people.
Hiking along the Budhi Gandaki River towards the mountains, savouring the impressions of the culture and people we met, sometimes I could not help feeling that it was wrong of us to be there. We, western decadent imperialist, on swift visits to amuse ourselves, we are a serious threat to their way of life. Our flashing of modernism, wealth and easy life contaminate their culture and tempts the locals. They soon realize that there might be a materialistically easier and more comfortable life elsewhere. But is it more meaningful?
"Here is the world!" Said Pekma, one of our young porters, and held up his Smartphone. "Welcome – and good luck!" I smiled.