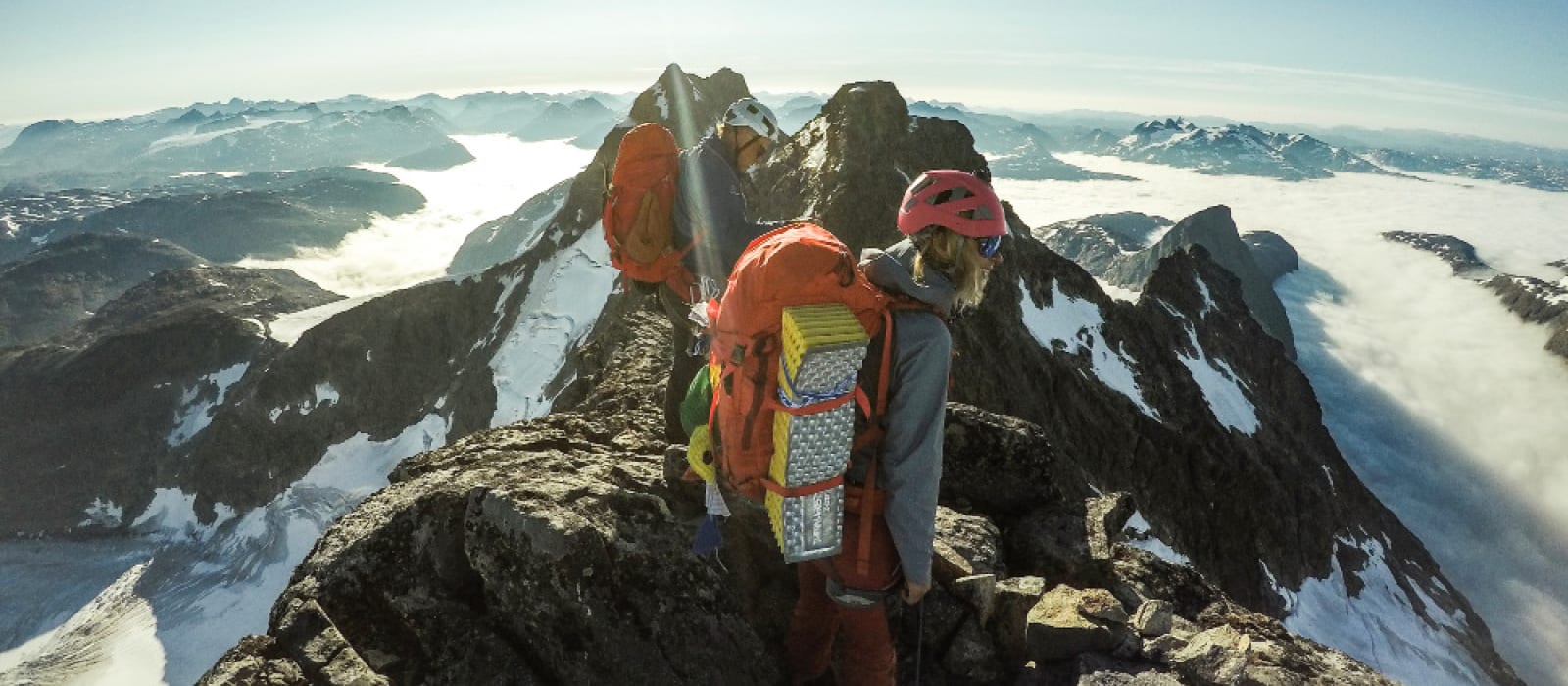 The seven highest mountains in Norway in seven days. Is this the new classic in the Norwegian mountains?

You can say so much about modern outdoor pursuits. There are as many opinions as there are trails. But nature as a destination has some features that never change: Research shows that we become happier, more creative and more in tune with ourselves when we are outside.
In an era when everyone seems to have climbed some of the highest mountains in the world, Norway is now dominating the trend barometer as a travel destination. For those of us who live in Norway, a staycation also offers a sustainable holiday option. We are blessed with the 'Høgruta' haute route in Jotunheimen—Norway's answer to the Alpine classic. Exciting and eco-friendly accommodation options are popping up and advertising Norway to the world. And now we've also been given our own Seven Summits. Preferably to be checked off in seven days.
If you're tempted by the thought of a mountain marathon, then this is the perfect adventure for you.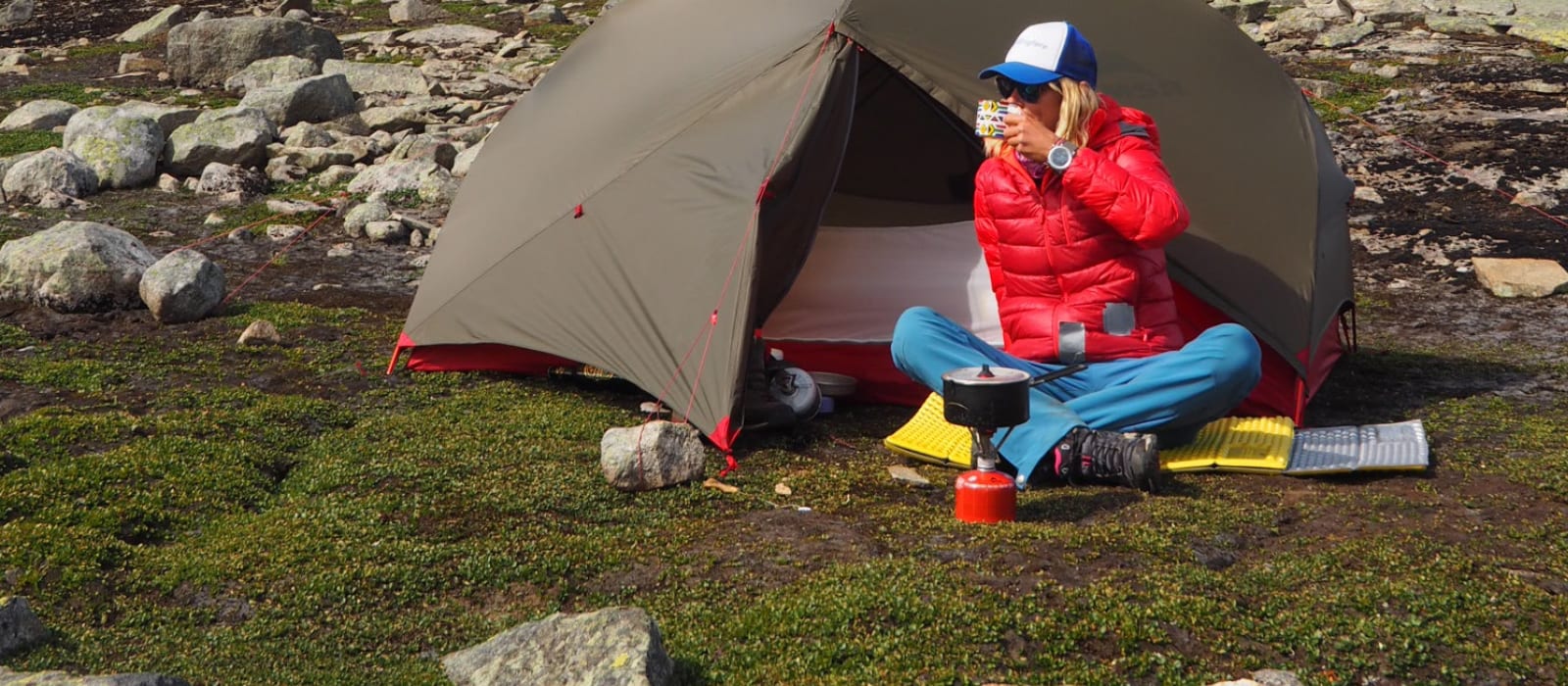 Day 1
Glitterheim
My bag swings heavily from my bike saddle. In it are my tent, crampons, ice ax, roll mat, stove and food, clothes, head torch, climbing equipment, Gorilla tape, and blister plasters. I get a sense of travel nostalgia as I cycle the last seven kilometers on gravel trails towards the Glitterheim cabin. You can almost hear the echo of exciting childhood shrieks in the valley. It's a dream destination for anyone, no matter their age. I even find myself humming that song from the Brelett advert that we used to see on TV. Now I can't get it out of my head. It's no myth that nature gives you an inexplicable sense of happiness.
Glitterheim sits at an elevation of 1400 meters in the north-east part of Jotunheimen. Peaks like Glittertinden, Nautgardstinden, Memurutinden, and Trollsteineggje are all on the list for anyone who wants to bag some 2000-meter-plus peaks.
Although Glitterheim is in a high, Alpine location, the area around the cabin is green and fertile. Here you can find blueberry and lingonberry shrubs, and rhubarb thrives by the south wall of the cabin.
I put up my two-man tent and prepare a REAL TURMAT Tikka Masala meal. Tomorrow I will meet the rest of the team. We are the first, that I know of, to set themselves the target of conquering the seven highest mountains in Norway in seven days.
-Because it´s there.
Day 2
Glittertind (2464 masl)
Will Seven Summits Norway become the new Høgruta on the trend barometer this summer?
That's the vision of mountain guide Truls Thorseth, who has dreamed about turning this adventure into reality for many years. He has brought the climber and guide Tore Røysheim along with him, and the three of us are here to be guinea pigs in terms of logistics and route choices.
It's windy and rainy. The fog is as thick as powdered sugar and camouflages the wave-shaped snowdrifts that stretch their white crests skyward. On good weather days, you get a magnificent view over Jotunheimen, which makes Glittertind one of the most popular 2000-meter-plus peaks, after Galdhøpiggen. The marked trail north-west up to 2250 masl is easy to follow, after which we turn west and cross the Glitterbrean glacier, our companion up to the summit. This is a great (family) outing which takes around five hours.
And suddenly we are standing there in the fog and wind. At the summit.
We take a quick summit photo and return to Glitterheim, where a meal of pork patties, sauerkraut, gravy, and potatoes is waiting for us. We toast the day with red wine and local beer but are tucked up in bed by 22:00.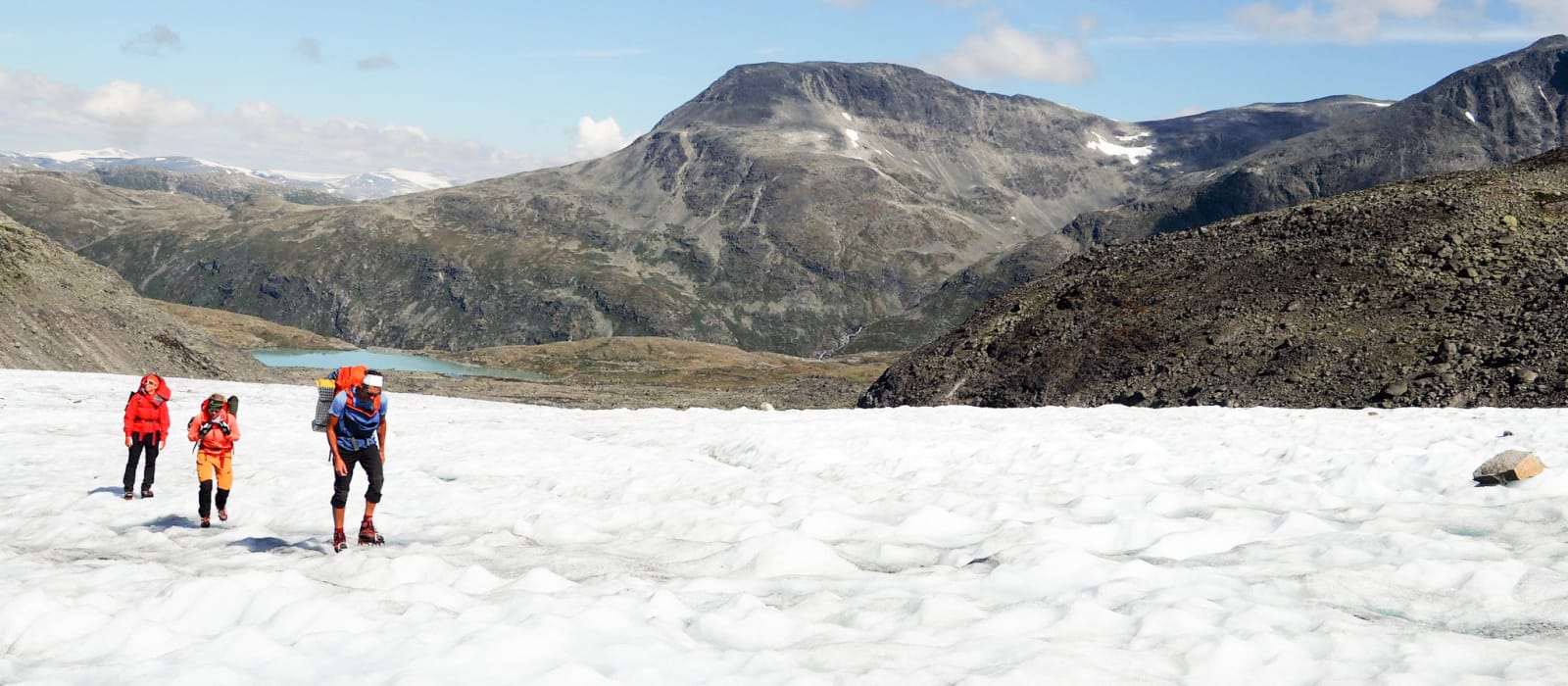 Day 3
Surtningssue (2268 masl)
The clock reads 04:30. We stand bravely outside the cabin, all packed up, blinking the sleep from our eyes, and drink a tepid nip of coffee from the thermos, bathed in bright sunshine.
I have packed 7 slices of bread—2 with egg and salami, 2 with brown cheese and 2 with cheese and ham. I also have 2 liters of water and half a liter of Coca Cola, 2 Snickers bars, 1 bag of nuts, 1 packet of wafers and 1 pack of jello—just in case I run out of energy or fancy something super sweet. Some people clearly need more sustenance than others. Today we will be checking off Surtningssue.
We hike through a verdant landscape on the trail towards Memurubu, light of heart and laughing easily. To gain some height quickly, we leave the trail, skidding on pebbles as we make our own route (and, in hindsight, one or two detours), before arriving at Blåtjønnholet. This appears to be the mosquitoes' answer to the Garden of Eden, so we end up jogging towards the Blåbrean glacier.
Here we stop for something to eat and to fill up our water bottles from the stream. Surtningssue is right in the middle of Jotunheimen, which makes it a tempting peak with impressive views. From the top it's a steep plunge down towards the Surtningssuebrean glacier to the east. Today the weather is on our side.
We put on our crampons and rope up to ascend a dramatically steep glacier, then the terrain flattens out and we get our first real glimpse of the mountain we're climbing. Tore studies the enormous mountain face, looking for a gully that we can scramble up—from the Memurubu side, there is an easy, marked trail up to the summit.
We start to scramble with a running belay. It's a long way down, and I can feel my nerves in the pit of my stomach. Loose rock means that the going is very slow on some sections, but at last, at the end of a 50-meter pitch, we're at the summit.
It has taken us seven hours to get here. We are half way. A fun and easy abseil back down the glacier saves us time, and after 13 spectacular hours, we're back at Glitterheim.
We then cycle the seven kilometers back to the car park before driving 40 kilometers towards Lom and then Elveseter. We arrive at Elveseter at 23:45, where we enjoy a welcome shower and a REAL TURMAT meal in bed.
All that's left to do is set the alarm clock for the next day: 04:15. That gives us a good three hours of sleep.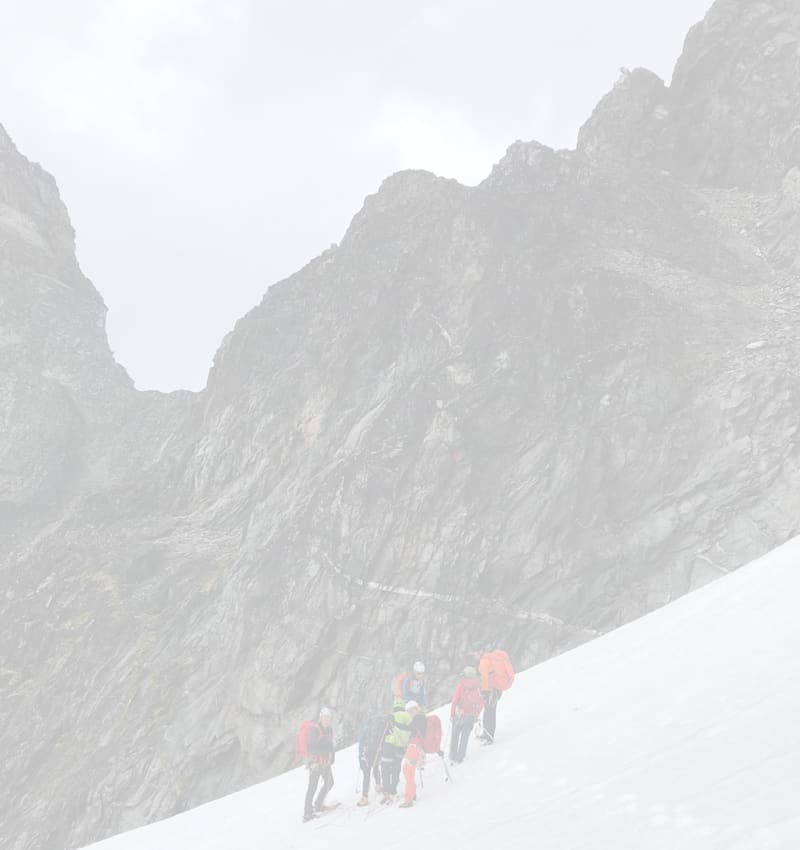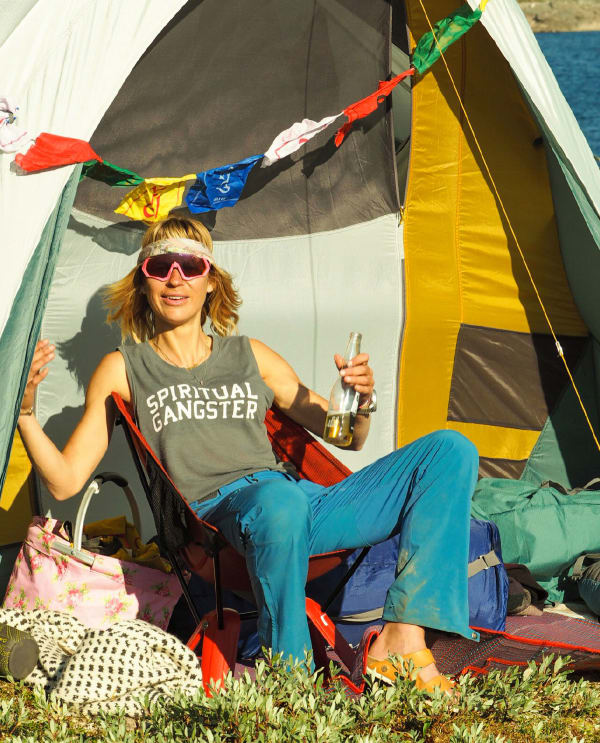 Dag 4 - Galdhøpiggen (2469 moh), Veslepiggen (2369 moh.) og Skarstinden (2373 moh.)
Vi blir hentet av en minibuss kl. 0500 som setter kursen mot Juvasshytta. Første kremtopp er Norges høyeste: Galdhøpiggen. Til tross for at navnet tyder på en spiss topp, er ikke dette tilfellet. Her er det verken luftig eller trangt. Vi står på toppen kl. 0800, og ser i det fjerne utallige sorte prikker som beveger seg langs Styggebrean. Vi må skynde oss ned før brelagene skal på fjellet! Tusener av mennesker bestiger Galdhøpiggen hvert år, i kø bortover, oppover og nedover. Enkelte partier langs ruta er i dag tilrettelagt med voldsomme bolter og tau.
En anelse tause går vi bortover breen for å komme oss mot Veslepiggen. Veslepigge eller Vesle Galdhøpiggen som den egentlig heter, beskrives som en skygge av sin nabo. Men her kunne jeg ikke vært mer uenig. For et lekent fjell! Ruta byr enkel og artig klyving på enkelte luftige partier før en balanserer mot toppen, nærmest helt alene. Her skuer vi ut mot et panorama til Galdhøpiggen og jammen ser vi storslåtte Skarstinden på vår høyre side også. Storslått!
Vel nede på breen igjen er det spisepause, før ferden går videre. Vi estimerer antall timer for dagen og anslår at dagens etappe blir på 14 timer. Siden vi kun går på bre og fjell denne dagen vil vi ikke ha tilgang til å fylle vannflasker. Her gjelder det å ha en rasjoneringsstrategi. Vi kommer oss mot Porten som er en populær renne blant skikjørere på vinteren og våren. Sommerstid byr renna på millioner av småstein som ivrer etter å trille ned. Vi smyger oss som smykketyver nedover den smale renn og så ser vi det mektige fjellet.
Skarstinden! Du store min!
En brautende beskjedenhet av et fjell med humørfylte pinakler langs ryggen til en drage. Vi ser som hypnotiserte på den. Fra vest er det en kvass egg, mens mot sør viser den frem en bred traust "Jotunflanke". Mot nord vender en mørk og fryktinngytende, loddrett vegg. Vi skal ta normalruta opp. I dagboka kaller jeg den for "baksiden av medaljen ruta". Hvis Porten er full av småstein, er Skarstiden pengebingen til Onkel Skrue.
Vi skynder oss langsomt, tause og konsentrerte og sluker høydemetre. Det foregår jo litt av hvert i hver enkeltes sinn når en smyger seg slik i motbakke blant småstein. Tilstedeværelse er nok en gjenkjennelsesfaktor. Selv erfarer jeg en barnlig glede og blir ofte lokket av kreative tanker, før de brått blir brutt av at fjellstøvelen sklir og en innser at dette er "no fall zone" Vel fremme på toppen, lokker nasjonalromantikken frem noen tårer, før idyllen blir brutt av tida. Vi må videre.
Det er en sliten gjeng som ankommer breen igjen kl. 20.00.Om tre timer er vi tilbake på Elvester, motiverer Truls. Men den gang ei. Store bresprekker og gnagsår blant noen i gruppa supplert med en liten og uforutsett rappell grunnet kraftig snøsmelting gjør at klokka går.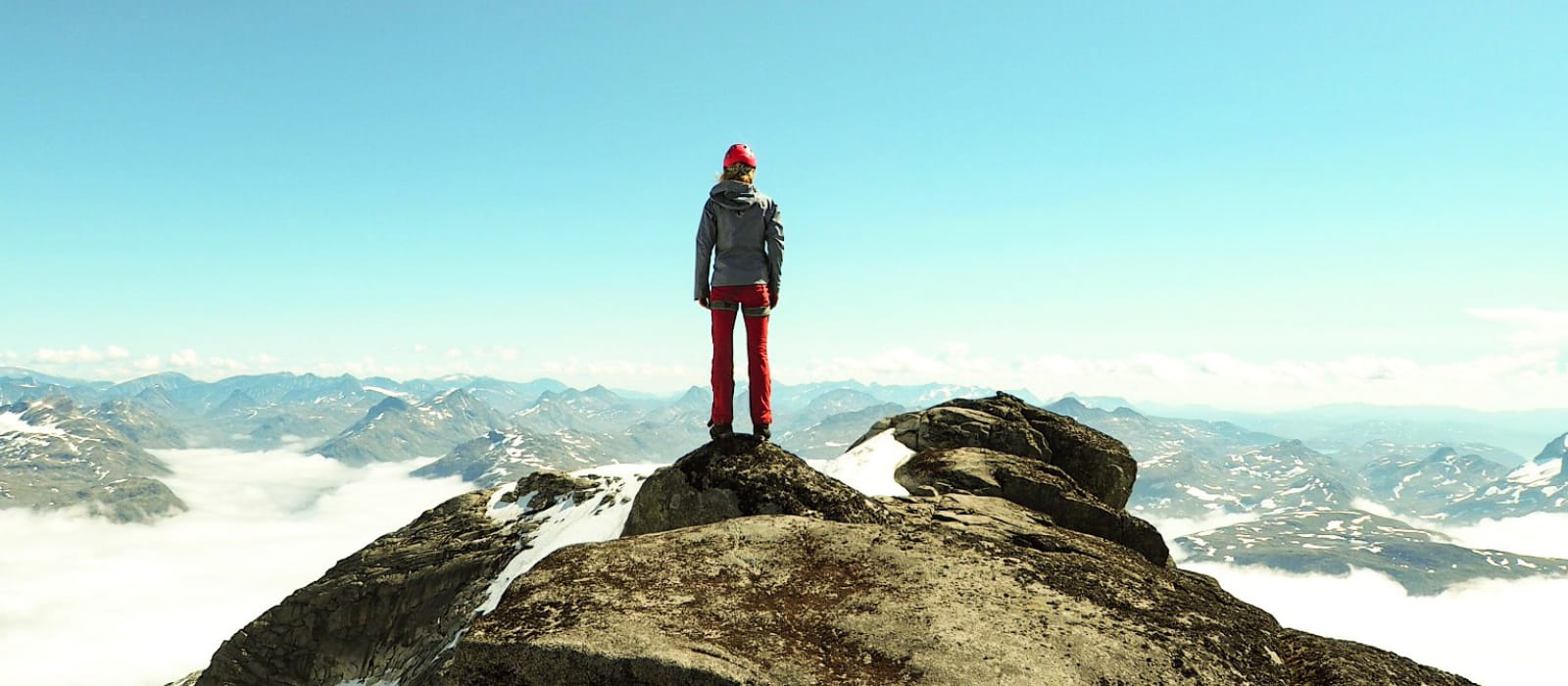 Day 5
Rest day at Turtagrø
You never forget your first experience of Turtagrø.
The venerable hotel is in the very north west of Jotunheimen, at the foot of Sognefjellet, right beside mighty Hurrungane, and close to the stunning Sognefjellsveien mountain pass.
The ever-present smell of sweaty socks tells you it's a place from which people tackle big climbs.
Ever since William Cecil Slingsby (who would later be described as the father of Norwegian mountain sports), became the first man to conquer Store Skagastølstind in 1876, Turtagrø has been one of the most important gateways to hiking and mountain sport in Jotunheimen.
Day 6
Styggedalstind (2387 masl) and overnight camp on Skagastølsryggen
Styggedalsryggen and Skagastølsryggen are an Alpine classic and the highest ridges in Norway.
Skagastølsryggen normally takes 13-17 hours and you need to be physically fit, comfortable with your equipment and not afraid of heights.
It is steep and it is high!
It's a beautiful June morning with bright sunshine. Sheep bleat drowsily beside the gravel track as we cycle the 6 kilometers towards Helgedalen. When the track ends, we leave our bikes and negotiate the Styggedalsbreen glacier before starting up the intimidating slope of Skagastølsryggen. Our watches tell us that it's 12 noon, but we don't want to be ruled by time. Today we'll be able to go to bed as soon as the sun sets.
In some places, we rope up with a running belay. We hike, scramble and climb. And the sunshine is amazing!
Styggedalstinden and Sentraltinden are among the most inaccessible peaks of Jotunheimen, according to Morten and Julia Helgesen's 'bible': Norway's 2000-meter-plus peaks.
We scramble up Nordre Skagastølstind and reach the V-notch, which is popular with extreme skiers. We climb up it, but our heavy bags make the easy climbing grade feel a lot harder. We really should have tested our bags on a vertical wall before setting off! From here, it's easy scrambling and hiking to Midtre Skagastølstind, Halls Hammer and Vesle Skagastølstind, where we leave our bags to continue on towards Skyggedalstind. The view is so spectacular that the hairs on the back of my neck stand on end. Clouds flirt with mountaintops, and it all feels a bit dreamlike.
The fine weather makes the surface dry and firm, and after many hours roped up, we are finally standing at the summit of Styggedalstind.
…
The sky is on fire above us as we brush away loose stones and prepare for a night on the ridge, not far from Mohns Skar. It's very narrow, and there are steep drops below us. We bed down super close to one another, which keeps the laughter going throughout the night.
When I wake up, the mountain massif is enveloped in thick fog, so I snuggle down again and doze until 06:00.
We make coffee, eat sandwiches and get ready for the seventh and final summit.
Packing list:
Hat, neck gaiter and gloves
Harness and helmet
Belay device, slings, and screw-gate carabiners
Thermal wool underwear
Hiking pants and shirts
Crampons
First aid equipment
Shell clothing
Down jacket
Sunglasses
Toiletries
Diary
Tent and sleeping bag
Roll mat
Stove and coffee
Water bottles
Day 7 Store Skagastølstind (2405 masl)
Until the early 1870s, Storen ('the big one') had been considered unclimbable, and no one even attempted it. Then in 1872, the English climber William Cecil Slingsby learned about the mountain while he was traveling in Norway. He came back in 1874 and 1875, with the intention of taking on the mountain, but couldn't make any serious attempts because of poor weather. It was not until 1876 that he was able to stand on the summit. Even now, Storen is described by peak baggers as a test of strength, and that's not too far from the truth.
I have half a liter of water left, and I know that it will be several hours before I'll be able to top it up at the Hytta på Bandet cabin.
We abseil down Mohns Skar and then start the easy climb on a running belay. This is so much fun!
Then we are at the top, looking out.
Some of us are moved to tears. We have managed to climb the seven highest mountains in Norway in seven days! I spend the moment sucking on a caramel, thinking about water.
The view is as wild as it is beautiful. When you're this thirsty, poetic observations to jot down don't come naturally.
We abseil down the classic route, then slog non-stop past the Hytta på Bandet and Tindeklubbhytta cabins, before finally returning to Turtagrø.
We crack open a bottle and indulge in a group hug. Mundane problems confront us: Should we have a shower before we eat? Should we drink prosecco before taking off our boots and peeling off the blister plasters?
Naturally, like true mountaineers, we prioritize food and drink over hygiene.