Utilizing the best of Norrøna technology and Gore-Tex 3-layer fabric, alongside testing and input from special forces of the Scandinavian countries, the 1st generation recon jacket and pants would set a new standard for hardwearing yet extremely functional and weather protective clothing, acknowledged not only by armed forces.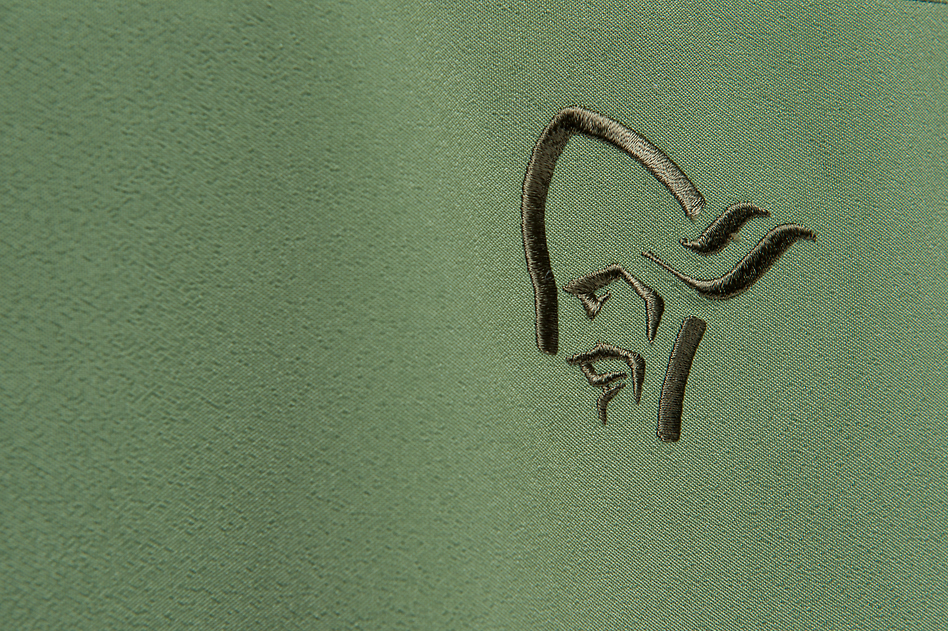 In 2002/2003 the 2nd generation recon shell set was released, taking advantage of the then new and more breathable Gore-Tex XTR membrane as well as YKK water resistant zippers. After years of under cover testing and development, the new 3rd generation recon Gore-Tex Pro Jacket and Pants are now ready to serve.
recon materials and construction
We're using a very soft, yet still extremely strong nylon fabric on these pieces, with very high measured values both when it comes to abrasion and tear strength. Water column on this Gore-Tex Pro fabric is of course 28.000 mm, and the breathability very high (< 6m2Pa/W). But most important, we've had prototypes out on hard test in the field for a long time now, and intelligence tells us that the performance is excellent.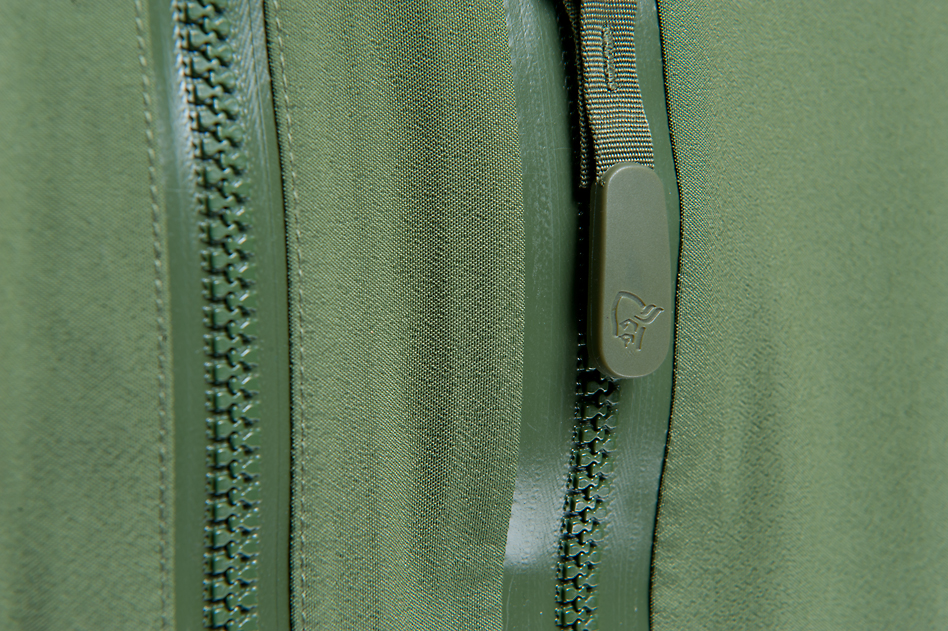 Maximum weather protection is what recon is about, and the 100% waterproof YKK aquaseal zipper, used in the jacket main front opening and chest pockets as well as venting on pants, guarantee that absolutely no water nor wind can get through. The front zipper is sewn and taped for maximum strength, and we have trimmed it to make it softer. On the more protected areas, like under arms, in fly and on lower pockets (protected by flaps), YKK aquaguard water resistant zippers are used, to preserve maximum softness. Chest pockets are waterproof from both inside and outside, while the other pockets on jacket and pants are waterproof from the outside.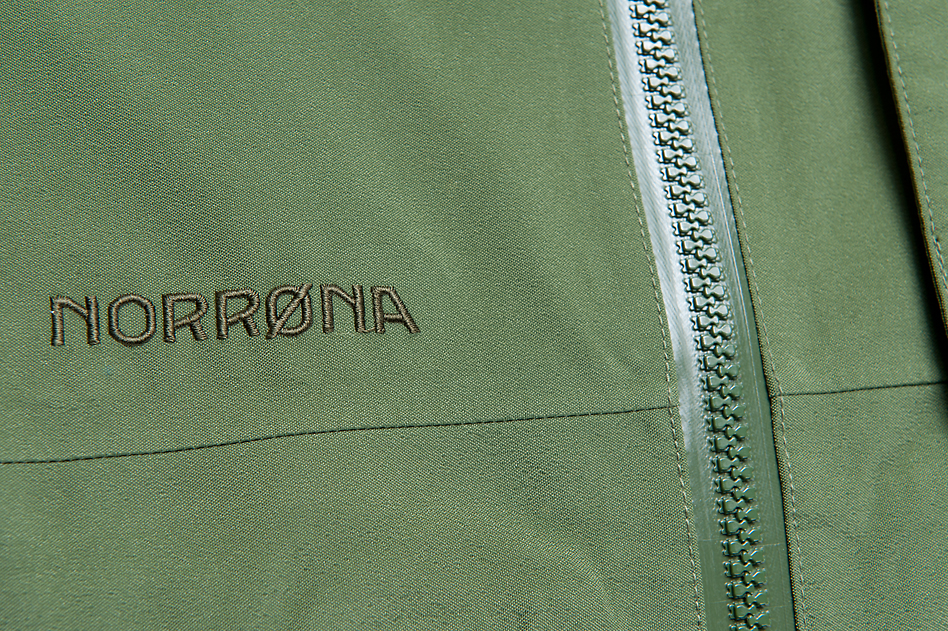 Some people have questioned our choice of not having the classic flap of fabric, normally used with velcro or snaps, to cover the front zipper on the jacket. First of all, we no longer need it there for the weather protection, as we're using a 100% waterproof zipper. Traditionally this flap is also known as some emergency protection in the unfortunate case of a zipper breakdown, but our experience is that this too is a thing of the past. Yes, zippers may still break, even today's zippers from YKK, which are the best on the market. But this oversized YKK aquaseal zipper is extremely strong, and our tests both in the field and in the lab tell us that it is far less likely to break compared to "normal" zippers, and we trust the opinions and experiences of those whom we have tested and developed these shells together with.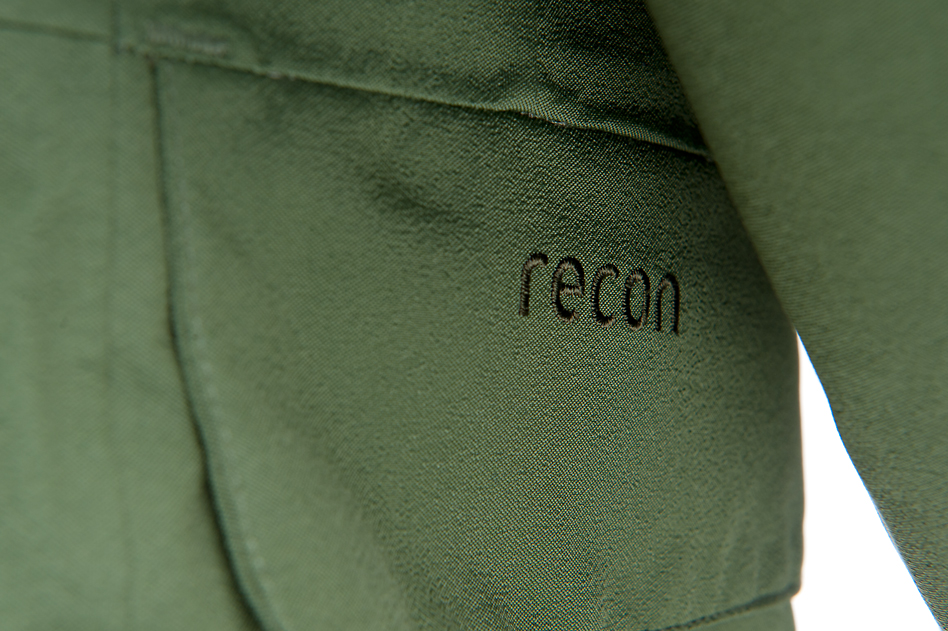 The recon construction is based on everything we've learned about freedom of movement and comfort, from both our most technical climbing pieces and our previous recon and hunting wear, together with the feedback from field testing of the new recon prototypes. A hood that follows your head, sleeves that follow the natural anatomy and movements of the arm and articulated knees and elbows are some of the essentials. The fit on the recon jacket and pants is relatively baggy, as it is designed to accommodate different layers of clothing underneath, and to ensure full range of movement. However, there are velcro width adjustments on jacket sleeve and pants leg cuffs, as well as elastic waist and bottom hem adjustment hidden in jacket pockets. Waist construction is made as sleek as possible, with extra large belt loops in addition to suspender attachment loops. There is no custom fit system on these pants, but some adjustment possibility with velcro in the fly.
recon details
Functional details include the same big storm hood as in our most technical climbing jackets, with true one-hand adjustment and wired brim with velcro fur attachment. Both jacket and pants have big venting openings for letting out excess heat when in activity, and the pants have a bottom leg zipper allowing them to be pulled over boots. Total number of pockets are 11: two overarm pocket, one interior chest pocket, two exterior waterproof chest pockets, two lower front pockets, two hand warmer pockets and two thigh pockets.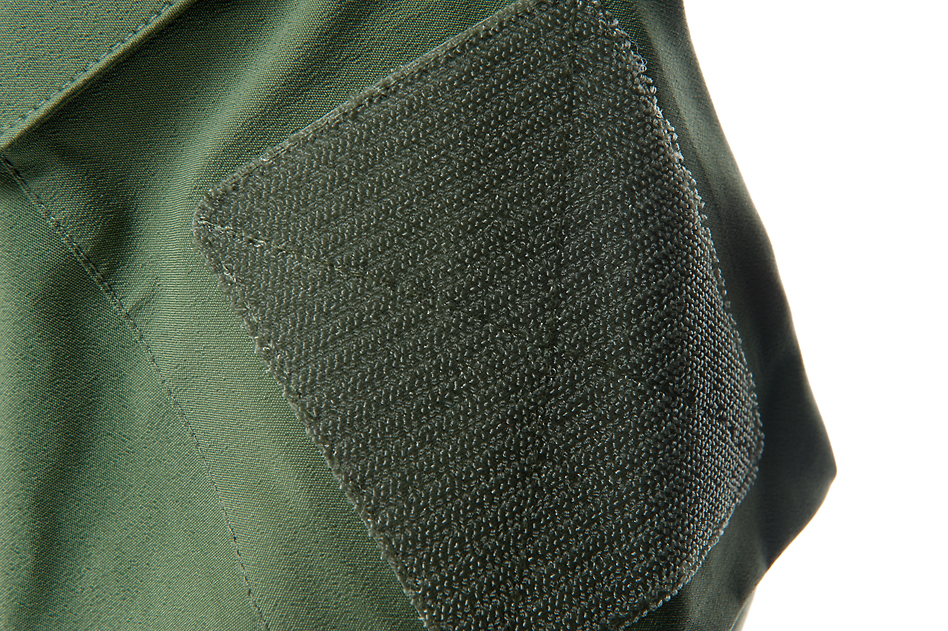 Military specific details on the recon jacket include overarm pockets with velcro attachment for shoulder sleeve insignia, on both sides, removable flap for rank insignia sleeve on chest (attachment loop can be used for hunting radio antenna if carried in chest pocket).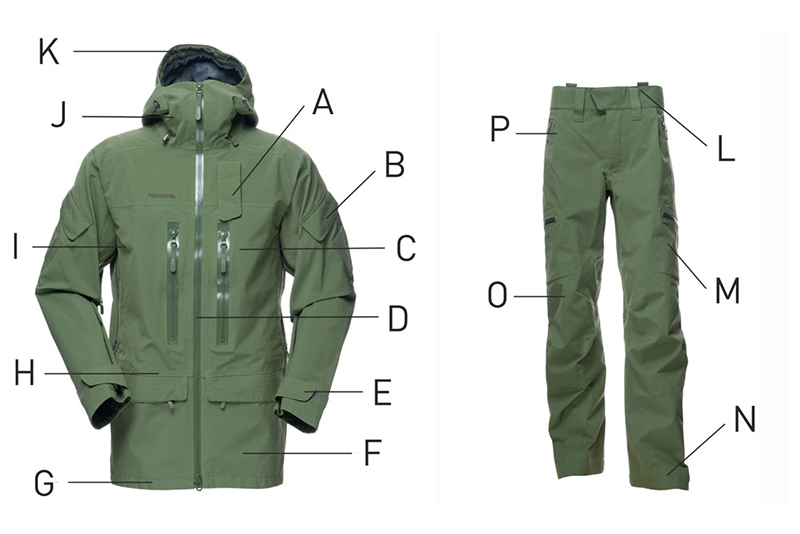 JACKET DETAILS:
A: Removable flap for rank insignia sleeve on chest (attachment loop can be used for hunting radio antenna if carried in chest pocket).
B: Overarm pockets with velcro attachment for shoulder sleeve insignia
C: Fully waterproof chest pockets (inside and outside)
D: YKK aquaseal waterproof two way main front zipper
E: Velcro cuff adjustment F: lower (ammunition) pockets, waterproof from outside
G: Elastic bottom hem width adjustment from inside lower pockets
H: Elastic waist width adjustment from inside chest pockets
I: YKK aquaguard water resistant underarm venting zippers
J: True one-hand hood adjustment
K: Storm hood with wire brim and fur attachment velcro

PANT DETAILS:
L: Sleek waist construction with extra large belt loops and suspender loops
M: Thigh pockets
N: Lower leg zipper opening and velcro width adjustment
O: Articulated knee construction
P: Hand pockets