0
trollveggen 45L Pack (M)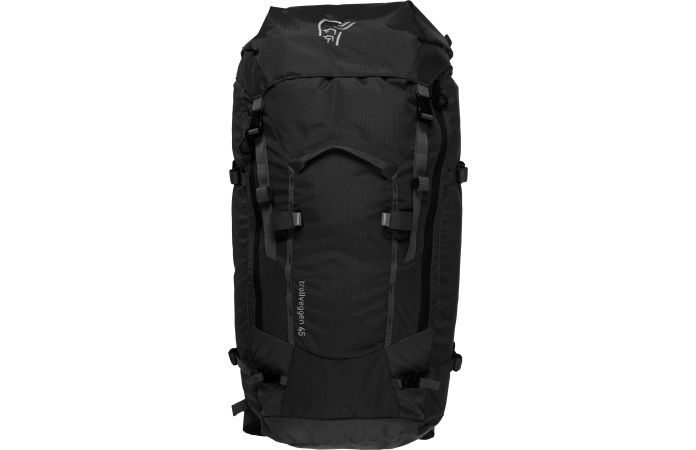 Our most durable mountaineering backpack for men, made for moving in vertical terrain. The carrying system provides comfort and stability even with heavy loads, but also lets you strip away the back plate, aluminum stay and hip belt along with the top lid for a lightweight push. Features include front zip access to main compartment, separate front pocket, removable top lid with outside and inside pocket, 2 ice axe attachments, 2 compression straps on each side, haul loops and hydration pocket. Measures: Height 60-75 cm, Depth 25 cm, Width 32 cm and back length 50 cm.
Made for
Big wall climbing
Other areas of use
Mountaineering, Big mountain skiing & snowboarding, Climbing, Glacier walking, Trekking
Hei. Er 1.69 høy(lav) og usikker på om sekken blir for lang for min rygg? Har sett etter noe info ang sekk og rygglengder men finner ikke noe. Hilsen GT.
Hei GTH, Med din høyde på 169 cm skal det nok gå fint med denne sekken, men du kan også vurdere 40L som har litt kortere rygglengde. Den står som damemodell, men det er spiller ingen rolle da de er nesten identiske bortsett fra liter og rygglengde. Mvh. Jens, Norrøna Fan Support
Date published: 2017-03-30
Hej med jer Jeg har lidt ? ang. Trollveggen 45 l. pack. Jeg er 196 høj og er i tvivl om at jeg kan passe sekken. Vh. Jesper
Hei Jesper, Takk for ditt spørsmål om trollveggen 45L ryggsekk. Min kollega er 196 cm og har trollveggen 45L sekken. Det fungerer veldig bra. Med vennlig hilsen, Jens, Norrøna Fan Support
Date published: 2017-03-30