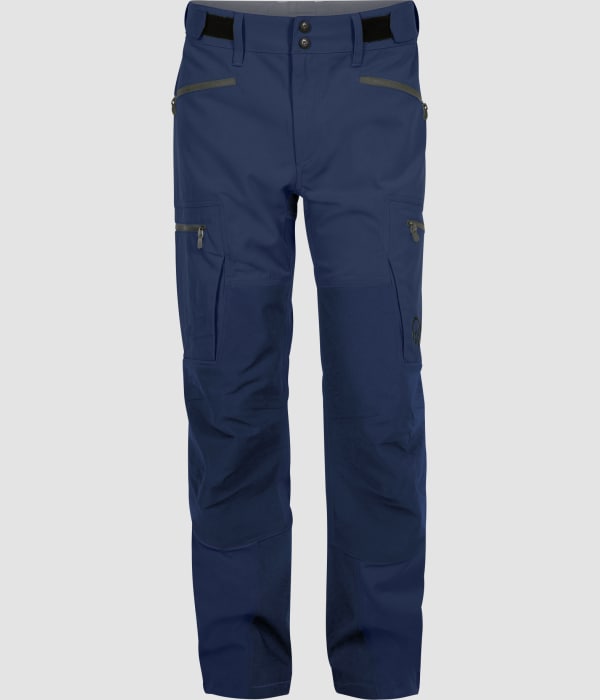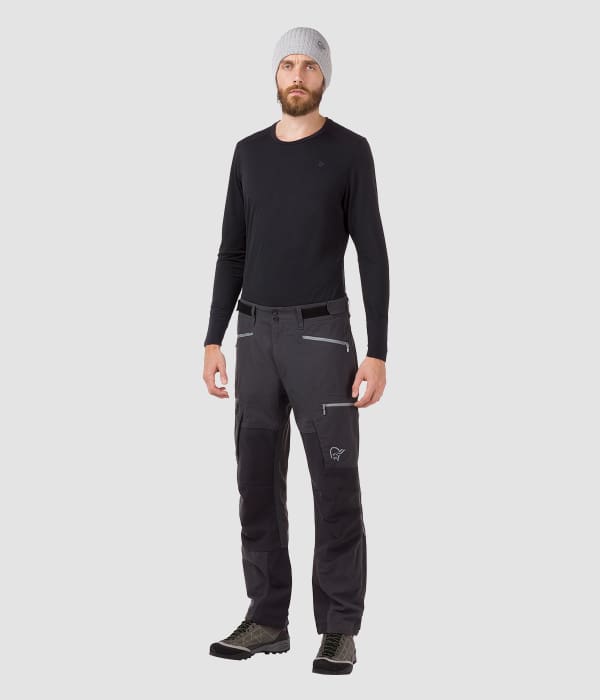 Durable outdoor pants made to withstand rough terrain. With lasting and strong nylon fabric this makes for a very comfortable pair of pants with great breathability. Knees and seat are protected with water resistant material for extra weather protection. The pants offer details like full thigh venting, a custom-fit waist system, lower leg reinforcement and velcro tightening around ankles. A little wear and tear never scared off these classics, and they´ve become a favourite amongst many handymen as well the outdoor guys. Inseam length in size L = 83 cm. Length differs 2 cm per size up and down.
Other areas of use
Mountaineering
Expedition
Forest hunting
Glacier walking
Mountain hunting
Trekking
Performance
5

Windproofness

Windproofness

Scale from 1 to 6 where 1 is not windproof and 6 is totally windproof.

4

Waterproofness

Waterproofness

Scale from 1 to 6 where 1 is not waterproof and 6 is waterproof.

2

Insulation

Insulation

Scale from 1 to 6 where 1 has no insulating properties and 6 is our warmest insulation products.

4

Breathability

Breathability

Scale from 1 to 6 where 1 have very little or no breathability and 6 is our most breathable and moisture wicking products.

6

Durability

Durability

Scale from 1 to 6 where 1 is fragile products and 6 is the most durable products we have.

3

Lightweight

Lightweight

Scale from 1 to 6 where 1 is heavy and 6 is among the world's lightest of its kind.

3

Stretch

Stretch

Scale from 1 to 6 where 1 is not made with stretch materials and 6 is our most flexible products made in super elastic material.
Fabrics
flex™3

flex™3 is a 3-layer soft shell fabric that provides wind -and water-resistance while still allowing great moisture vapor transportation - perfect to use as a reinforcement fabric The face is made of durable nylon and backer wickable polyester.

Nylon weave 275

This is a 275 g/m² wind protective, breathable and durable polyamide fabric that is comfortable on the skin. The fabric has a cotton look and feel but still the strength and quick drying properties of a polyamide.
Technical details
Rated

5

out of

5
by
HuntervC
from
Top Quality, hard wearing, perfect
I needed a pair of general hard wearing outdoor trouser for hunting and forestry work and these appeared to look like the ideal combo. They have delivered in every way imaginable. They are much more hard wearing than i expected, a big positive, and yet don't feel too restrictive to wear. Put them through some brutal conditions and they haven't let me down. I haven't had them for summer but i suspect they will work well due to the venting ability. If you are therefore considering a perfect "outdoor" trouser for all types of activity then you would be very hard pressed to find better than these.
Date published: 2017-01-19
Rated

4

out of

5
by
Tjohei
from
Slitesterk friluftsbukse
Har brukt denne buksen til generelt friluftsliv ett års tid. Den er slitesterk og fin! En flott turbukse! Litt stram ved lommene foran, rett og slett liten plass i lommene. Dessuten gnager knappen i livet, den burde vært beskyttet av stoff.
Date published: 2018-10-26
Rated

4

out of

5
by
Zanlamb
from
Excellent pair of comfortable hard wearing trousers
The trousers are much more robust than other I anticipated (and other brands I have tried) yet still remain comfortable and flexible. I have given them a through testing over the past 3 months and they have held up incredibly well. They do size slightly smaller in the waste than the Roldal pants I have so if your on the larger side of medium I would opt for the large instead. The only small issue I have had is the side vent zips have a tendency to slowly creep down. It's not a big problem but worth being wasted of. All in all these are an excellent pair of comfortable hard wearing trousers. I highly recommend them.
Date published: 2018-10-25
Rated

5

out of

5
by
Dagoskar
from
Behagelig, funksjonell og slitesterk
En av de bedre buksene. Buksen har bra passform og er veldig slitesterk. En av få bukser som fortsatt har beltehemper, noe som er viktig for friluftsmennesket som ønsker å ha kniv i belte, og for hundefolk som fester hunden i beltet. Synd at dette blir borte på flere og flere modeller. På denne modellen går glidelåsen på håndlommene bakover når de lukkes. En viktig detalj hvis man fester en lommekniv med klips i lommen. Da kan lommen lukkes delvis like vel.
Date published: 2018-10-12
Rated

5

out of

5
by
BjørnH
from
Good fit and great comfort
Used it for hiking and mountaineering for a couple off months and its very comfortable and seems to be very durable
Date published: 2018-10-03
Rated

5

out of

5
by
Masins
from
Great pants
Pant looks very nice and technical, actually they are. The rugged covers helps a lot when dealing with rocks, love them. Many pockets placed in the right position with different size and the side opening makes these pants very comfortable even not cold condition. To be honest they could be heavy in full summer/warm conditions. Vestibility is perfect even if I found them a a bit tighter than other Norrona pants.
Date published: 2018-10-02
Rated

5

out of

5
by
Stenstan
from
Solid og funksjonell!
Dette er min 2. Svalbard heavy duty! Jeg kjøpte en til for jeg bruker buksen veldig mye!! Dette er en bukse du kan bruke vår, sommer, høst og vinter. Den kan brukes ute i skogen, på jobb, hjemme, overalt! Solid, komfotabel og fin å se på.
Date published: 2018-09-29
Rated

5

out of

5
by
Macc
from
Solid.
God komfortabel bukse. Slitesterk og solid. Kjempefornøyd!
Date published: 2018-09-24
Hej, Jag har precis köpt ett par Svalbard-byxor och funderar på om jag ska lämna tillbaka dem eller inte. Jag tycker att de är lite för långa på mig. Kan en erfaren skräddare sy upp dessa byxor på något sätt eller blir det inte bra?
Hei - har denne buksen selv, og min kjæreste og samboer jobber og har lang fartstid som skredder. Hun la opp buksen akkurat og det gikk helt fint :) Evt garantier fra Norrøna støttes jo ikke etter at man bar tuklet med den. 
Date published: 2018-08-26
Hej! Finns Svalbard heavy duty pants i unisexmodell? I butiken som jag provade byxorna sa de att det var unisex jag provat (de hade inte rätt färg). Så nu har jag svårt att veta vad jag ska beställa för sort eftersom jag bara hittat W och M på internet. 
Hei Gysse, Svalbard heavy duty buksen kom tidligere i en unisex modell. Denne modellen er utgått og er derfor ikke tilgjengelig lengre. Den nye og oppgraderte modellen kommer til dame og en til herre. Jeg anbefaler at du sjekker ut størrelses guiden for å finne riktig størrelse. Om størrelsen blir feil, kan du alltid bytte den. Hilsen, Sara / Norrøna Fan Support
Date published: 2017-05-16
Hei Norrøna. Jeg er ikke helt a4 på størrelser da jeg ikke er så høy. Jeg elsker Svalbard buksa som jeg har brukt noen år. Lar det seg gjøre å få en laget en medium med min benlengde som er kortere enn i strobyan Smal? Hva vil noe slikt Koste?
Hei Gunnar, Takk for ditt spørsmål angående tilpasning av svalbard heavy duty på lengden. Vårt service og reparasjonsteam kan gjøre mye av tilpasninger og vi skal nok finne et godt forslag til løsning for deg. Priser på justeringer som dette tas på timesbasis og det er forskjell fra bukse til bukse hvor lang tid justeringen tar. For eksempel tar det lenger tid for en bukse med glidelås nederst, enn en uten glidelås. Her finner du informasjon om tilpasninger og reparasjon med priser: https://www.norrona.com/nb-NO/Hjelp-meg/Reparasjon/ Du har blitt kontaktet per mail. Med vennlig hilsen, Jens Norrøna Fan Support
Date published: 2016-12-16
Hello, What is the bottom leg width and the "knee width" in size M, please? Thank you
Hey John66: The maximum bottom leg width (at the hem, with the adjustable velcro cuff set at widest position) is 7 ¾". The knee width is 9 ¾". Hope this helps.   
Date published: 2016-11-16
Etter tre tøffe turer med denne buksen, skal den vaskes, og jeg ser at vaskeanvisningen sier max 30 grader (!). Hva er tanken bak dette, når en bukse som er laget for tøff fysisk utfoldelse ikke tåler mer enn 30 grader? Kan jeg vaske på 60?
Hei Pål, Vaskeanvisningene på våre produkter blir satt utifra stoffleverandørene sine retningslinjer. Så stoffet på et plagg som har strengest vaskeanvisning vil være den gjeldende. For dette plagget er det forsterkningene som har maks 30 grader. Men vi tester alle våre produkter på 40 graders vask. 60 graders vask må du ikke kjøre dette produktet på. Men 40 graders vask har produktet blitt testet på og bestått. Vil fortsatt anbefale 30 graders vask, og så ville jeg personlig kjørt 40 graders vask de gangene produktet virkelig trenger det. Hilsen Jens Norrøna Fan Support
Date published: 2016-10-21
Hvor varm mener dere denne blir på sommerstid?
Hei, Svalbard heavy duty buksen kan brukes på sommerstid, men er kanskje best egnet for høst og vår. På en varm sommerdag ønsker du kanskje en shorts eller en tynnere bukse sånn som f.eks falketind flex1 buksen. Hilsen Sara
Date published: 2016-10-07
Can you wear these pants with ski-touring-boots ? What I mean is: is the end of the leg wide enough to fit around a ski touring boot. When I mesure around my boot it comes to 50 cms (scarpa F1). Thank you in advance for this information.
Hi riccho, The Svalbard heavy duty pants are designed for general outdoor use and trekking. These Norrøna pants have a slimmer leg and will not be wide enough to fit around your ski touring boost. The bottom leg width in size L is 43cm. For ski touring I recommend the Lyngen hybrid pants with a bottom leg width in size L of 51cm. I hope this helps. Best regards, Sara
Date published: 2016-10-05
Hi: May I have the correct data for the size M. I have a former version, the size M is quite Ok for me. I am 178cm/ 78KG I have a 88cm waist. Last year I tried the updated one , but found it's too snug in the waist and have to return.