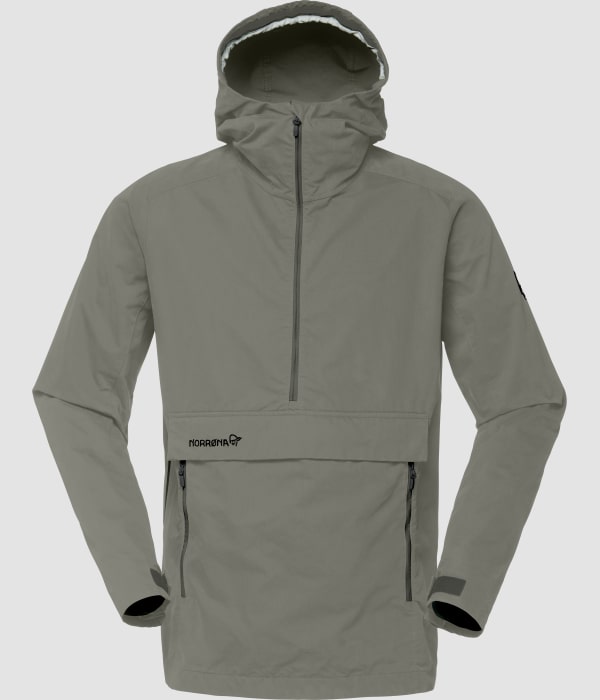 Men's fashionably retro and light anorak made of organic cotton. With its timeless design and contemporary details this anorak will not only give you full wind protection but also that old-school look and feel.
The fabric is made durable and soft by a mix of organic cotton and recycled polyester.
The kangaroo pocket is perfect for windy days, as is the protective hood. This anorak have a zipper on the side which makes it easy to take on and off, and can also be used for ventilation.
This jacket has a loose fit.
Other areas of use
Mountaineering
Casual use
Cross country skiing
Forest hunting
Mountain hunting
Trekking
Performance
5

Windproofness

Windproofness

Scale from 1 to 6 where 1 is not windproof and 6 is totally windproof.

2

Waterproofness

Waterproofness

Scale from 1 to 6 where 1 is not waterproof and 6 is waterproof.

1

Insulation

Insulation

Scale from 1 to 6 where 1 has no insulating properties and 6 is our warmest insulation products.

4

Breathability

Breathability

Scale from 1 to 6 where 1 have very little or no breathability and 6 is our most breathable and moisture wicking products.

4

Durability

Durability

Scale from 1 to 6 where 1 is fragile products and 6 is the most durable products we have.

3

Lightweight

Lightweight

Scale from 1 to 6 where 1 is heavy and 6 is among the world's lightest of its kind.

1

Stretch

Stretch

Scale from 1 to 6 where 1 is not made with stretch materials and 6 is our most flexible products made in super elastic material.
Fabrics
pureOrganic™ Cotton

pureOrganic™ Cotton - Demand for cotton has dramatically increased over the past two generations. Current intensive production methods use over a quarter of the planet's pesticides. These chemicals take their toll on human health and the environment, depleting the soil and polluting water. Organic cotton is produced without the use of harmful pesticides, harsh chemical bleaches or dyes and is allergy-free. Norrøna is committed to using pure organic materials wherever possible. Prewashed, so less shrinkage. GOTS-certified (Global Organic Textile Service) by Control Union Certifications.

CSR goal Organic Cotton

pureOrganic™ Cotton/Recycled PES

pureOrganic Cotton/Recycled PES - A form of recycled polyester added to pureOrganic™ cotton for extra strength, durability and faster drying.

30 degrees - iron - tumble - dry clean

Follow the attached washing instructions on the product. Machine wash gentle cycle (30°C) with gentle soap. Tumble dry lightly. Iron at maximum 110°C however this should not be necessary. Gentle dry clean. Do not bleach

Wash and product care
Technical details
Rated

5

out of

5
by
Anonymous
from
Retro og praktisk
Kjøpte denne fordi jeg synes anorakken er et kult plagg. God å ha på seg i tillegg til at den ser kul ut. Da kan man bruke den både på tur og i urbant terreng
Date published: 2019-01-12
Rated

5

out of

5
by
Akkamor
from
Veldig fornøgd
Eg har hatt den i bruk i ca ein mnd, og er veldig fornøgd ! Kjøpte herrestr.
Date published: 2018-12-19
Rated

5

out of

5
by
Andreas35
from
Bra kvalitet
Fungerar utmärkt! Bra passform, bra fickor på magen.
Date published: 2018-12-18
Rated

5

out of

5
by
Adypee
from
Great product!
A versatile anorak with a kangaroo pouch which I didn't realise I needed so much! I'd thoroughly recommend this product to friends and family. If I had some spare cash I'd definitely be getting another colour immediately.
Date published: 2018-12-05
Rated

5

out of

5
by
Friluftsmann71
from
Lett, behagelig, slitesterk og funksjonabel
Detter er min Anorakk nr2 av denne modellen. Den fyrste blei kjøpt i 2012 og har blitt mykje brukt og blei pensjonert i vår. Då var den heilt utsleten. På seinsommaren blei eg nødt til å kjøpe meg ein ny, er eit utruleg produkt som kan brukast heile året. Den nye modellen er litt forandra glidelås i sida og plass til å feste pels i hetta. Rett og slett eit fantastisk produkt!
Date published: 2018-12-03
Rated

5

out of

5
by
MortenFormo
from
Godt produkt!
Jeg kjøpte denne for ca. 2 måneder siden. Veldig fornøyd så langt. Normalt er jeg i øvre sjikt av str. S. Kjøpte smål i jakka. Den gir en romslig følelse, med god plass til underlag for kalde dager. Kjøpte til pelskant fra pelskant.no. Ble en perfekt anorakk
Date published: 2018-11-12
Rated

5

out of

5
by
Kicker
from
Windy
Kjøpte den pga en venns omtale og han var fornøyd,samme er jeg.
Date published: 2018-11-07
Rated

5

out of

5
by
JSK.
from
Nice anorak
I really love this anorak. It's very comfotable, and nice with the zipper on the right side for ventilation
Date published: 2018-09-24
Is the hood large enough to go over a helmet?
Hi, the lofoten Alpha raw Zip Hoodie is another nice option. Pure alpha fleece, this is our best warmth-to-weight midlayer within the ski and snowboard range for men: https://www.norrona.com/en-GB/products/lofoten/lofoten-alpha-raw-zip-hoodie-men/
Date published: 2018-05-23
Kan man få denne anorakken i fargen rød?
jeg mener at den ikke er å få kjøpt I rød. Jeg har den I grønn og hvit.
Date published: 2018-02-07
Hei. Lurer på om denne anorakken har snøring i livet og ikke kun i nedkant av jakka? Har en eldre modell som kun har snøring nederst, har dette blitt endret på nye modellen?
Hei Megalep, Denne jakken har ikke snøring i livet. Med vennlig hilsen, Alexander - Norrøna Fan Support
Date published: 2017-11-21
Hei. Hvorfor fjerner dere ikke borrelåsen fra kragen når dere ikke leverer pels eller fuskpels krage? Kjøpte denne jakka spesifikt fordi selger opplyst at det var mulig å feste pelskrage. Letet i 1,5 år etter pelskrage uten hell. Havner nå i søpla.
Hei Klattermusen, Norrøna har tatt et valg og tilbyr ikke lengre pelskant. På dette tidspunktet brukes det for mye olje i produksjon av fuskepels og derfor er det ikke et godt alternativ. Borrelåsen kan brukes om man har en pelskrage fra før av eller får tak i en fra en annen leverandør. Vennligst ikke kast produktet i søpla, gi det bort eller lever den til gjenvinning. MVH, Sara /Norrøna
Date published: 2018-10-11
Hei :) Kan jeg imprignere anorakken, slik at den tåler litt regn?..... Jeg bor i Bergen :)
Hei Pippi, Ja, anorakken kan impregneres med vår Water Repellant Natural, som du kan kjøpe i webshopen eller i våre butikker. Da blir jakken vannavvisende og vil tåle litt regn. Med vennlig hilsen Sara Norrøna Fan Support
Date published: 2018-10-12
Hei, når kommer "fuskepels" til denne jakken?
Hei Emilio, Takk for ditt spørsmål om "fuskepels" til svalbard-anorakken. Vi har dessverre ingen konkrete planer om å lage/lansere dette per nå. Det kan være at vi kommer med det i fremtiden, men ingenting er avklart på dette området. Det er dessverre ikke slik at fuskepels alltid er et bra alternativ når man tenker på miljøet heller. Går man produksjonen av dette i sømmene er det mange ting man skal passe seg før miljømessig. Med vennlig hilsen Jens, Norrøna Fan Support
Date published: 2018-11-20
Re the svarlbard Corron Anorak.... Can I get the fur attachment for the Hood with the Jacket.... Please...??
Hi Noel, Thanks for your question regarding fur for the Norrøna organic cotton anorak. Unfortunately we don't produce or sell these fur attachments any more. This is due to our high focus on environmentalism and corporate social responsibility. So from summer 2016 Norrøna does not sell real fur at all. Best regards, Jens Norrøna Fan Support
Date published: 2018-11-19
Hei har dere pelskant som passer til jakken?
Hei Mann25, Dessverre har pelskant fra Norrøna til disse jakkene gått ut av produksjon og vi kommer ikke til å tilby pelskant med ekte pels igjen. Men det kan være at vi kommer med "fuskepels" til de en gang i fremtiden. Mvh. Jens Norrøna Sport
Date published: 2016-10-09