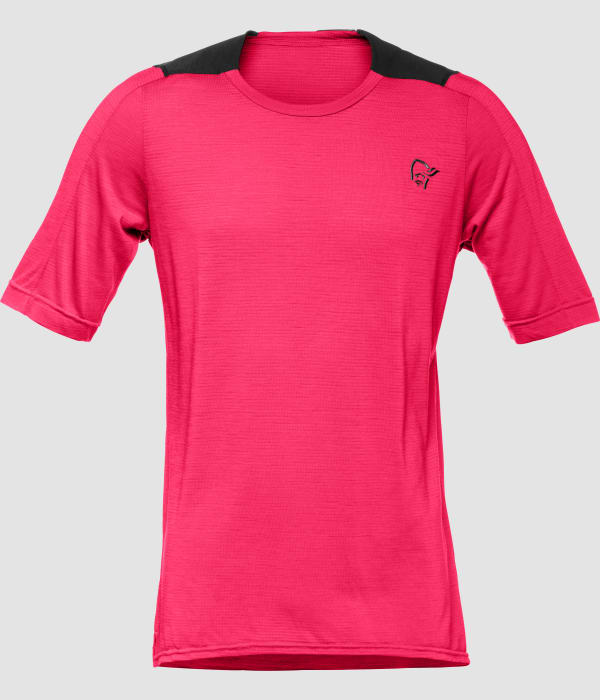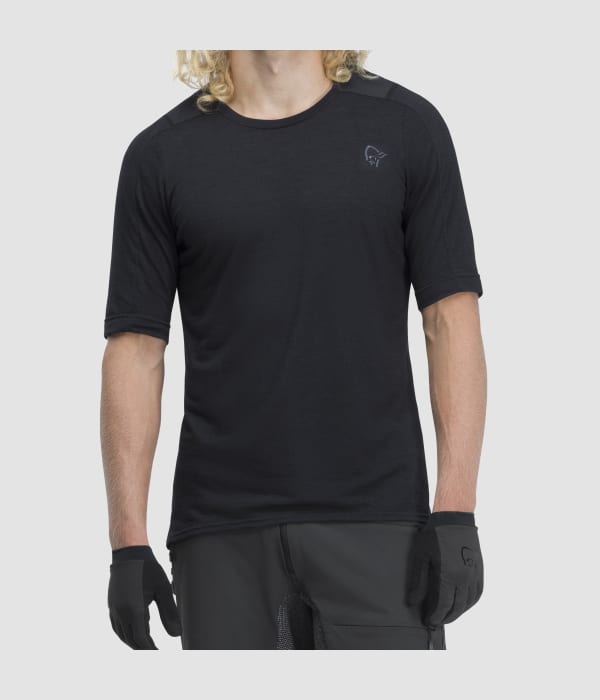 Inspired by its namesake Skibotn, a small and unrefined freeride paradise, the skibotn is made for rough, narrow trails and rock drops. With a more toned down colorway, UV- protection and its special construction, this shirt provides both comfort and protection to ensure you are all set for muddy challenges.
The wool keeps you warm and dry for those long days in the saddle and makes it the perfect choice for hours and hours during consecutive days. Features include a comfort stretch neck solution and an extended back cut.
Also works well for
Singletrack mountain bike
Mountain biking
Trekking
Performance
2

Windproofness

Windproofness

Scale from 1 to 6 where 1 is not windproof and 6 is totally windproof.

1

Insulation

Insulation

Scale from 1 to 6 where 1 has no insulating properties and 6 is our warmest insulation products.

5

Breathability

Breathability

Scale from 1 to 6 where 1 have very little or no breathability and 6 is our most breathable and moisture wicking products.

4

Durability

Durability

Scale from 1 to 6 where 1 is fragile products and 6 is the most durable products we have.

5

Lightweight

Lightweight

Scale from 1 to 6 where 1 is heavy and 6 is among the world's lightest of its kind.

3

Stretch

Stretch

Scale from 1 to 6 where 1 is not made with stretch materials and 6 is our most flexible products made in super elastic material.

5

Moisture transportation

Moisture transportation

Scale from 1 to 6 where 1 has bad moisture transportation and 6 has great moisture transportation.

3

Warmth to weight ratio

Warmth to weight ratio

Scale from 1 to 6 where 1 is a poor warmth-to-weight ratio and 6 provides excellent warmth in relation to its weight.
Rated

5

out of

5
by
Erik3
from
Great wool blend t-shirt!
I purchased this roughly a month ago and didn't know what to expect mountain biking in a wool blend in the Washington, DC summertime. Very breathable, very comfortable, and a great fit - particularly for my 6'4" 200 lb frame. Would definitely purchase again.
Date published: 2019-07-12
Rated

5

out of

5
by
RobertVie78
from
Excellent breathability and keeps you warm when wet
I like this shirt for mountain biking on warmer spring/autumn or cooler summer days. It breathes very well and once wet is more comfortable on the skin than a purely synthetic jersey.
Date published: 2019-05-02
Rated

5

out of

5
by
DrBoarder
from
Perfectly lightweight
I go hunting in September for several days at a time and only get 1 next to skin layer. This fits the bill perfectly as it is very lightweight and made of merino wool that keeps the stink down. Started using it for biking and hiking too.
Date published: 2019-04-01
Rated

5

out of

5
by
Bazneil
from
Warm and comfortable t-shirt
The first feel of the Skibotn t-shirt intuitively made decide it was a great choice.I see it being worn on a variety of days but that it won't let me down if the weather temp goes up or down....nice long sleeves,great length to cover the lumbar area riding...nice well thought out and comfortable....thanks once more Norrona :)
Date published: 2019-03-31
Rated

5

out of

5
by
sdekoning
from
Very comfortable for both exercise and comfort wear
Over the past month where I have worn this shirt on multiple occasions I am very please with the comfort it provides. It both dissipates heat and keeps you warm when necessary and can even be worn as a base layer for casual and business attire.
Date published: 2018-12-30
Rated

5

out of

5
by
Fedfox
from
Wow
This T-shirt as become my favorite, is light, it breaths extremely well and the fit is great.
Date published: 2018-11-25
Rated

5

out of

5
by
Lrmatt5
from
Perfect for mountain biking!
I bought as a gift for my husband who enjoys mountain biking. So far he has been extremely pleased with the shirt and wants to replace all of his tech shirts with Norrona gear!
Date published: 2018-10-17
Rated

5

out of

5
by
RetoS.
from
great mtb t-shirt
I bought this back in March 2018 at the Norrona store in Stockholm. I used it ever since for mountain biking, mostly all mountain/single track riding in the Swiss Alps. I love it. If feels great next to skin, dries quickly and doesn't stink. I am 193cm with a bulk build and the XL fits greats. I like the longer body length as well as the longer arm length. The t-shirt is very lightweight and almost see-through, despite its lightness, it can take a beating. Just recently I fell on my back, on gravel, while trying to show off in front of my wife, overdoing a wheelie. The ego was slightly bruised :-), the t-shirt showed no sign of abuse. Excellent quality and style.
Date published: 2018-09-26