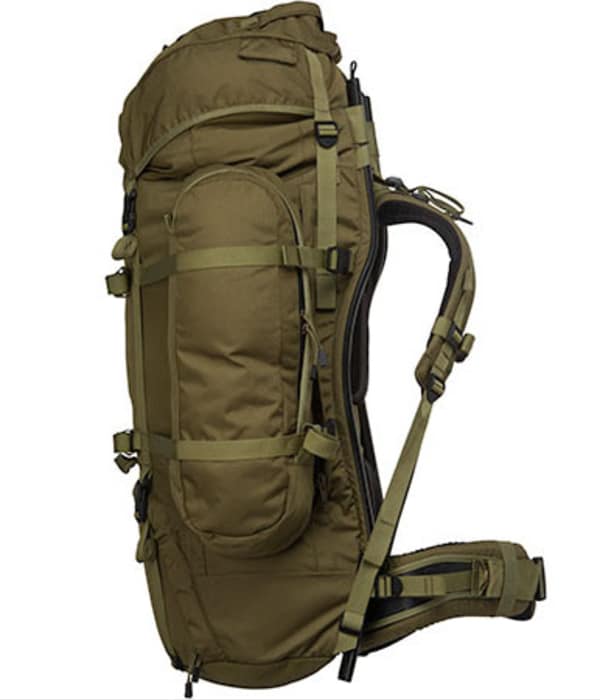 The recon synkroflex Pack is "The King of Backpacks" developed by the Special Forces and Norrøna. The Norwegian, Swedish and Danish military approved mega pack holds up to 125L and is suitable for even the heaviest and bulkiest loads.
Designed to carry extremly heavy content over a period of time the backpack is built around a unique aluminium frame which provides stability, balance and comfort.
The construction ensures that the weight is distributed evenly through the anatomically shaped back, the frame, the shoulder straps and hip belt and in tune with your body movement.
It has a great range of flexible solutions and is made in an extremly durable material.
The pack also has two spacious and detachable side pockets which can be zipped together to create an additional 16L backpack for shorter walks away from camp.
Also works well for
Trekking
Mountain hunting
Expedition
General outdoor use
Mountaineering
Performance
4

Waterproofness

Waterproofness

Scale from 1 to 6 where 1 is not waterproof and 6 is waterproof.

6

Durability

Durability

Scale from 1 to 6 where 1 is fragile products and 6 is the most durable products we have.

1

Lightweight

Lightweight

Scale from 1 to 6 where 1 is heavy and 6 is among the world's lightest of its kind.
Fabrics
synkroflex™

Norrøna´s frame pack solution for heavy loads. Developed together with the Norwegian, Swedish and Danish Special Forces and Military approved. The frame is constructed to distribute weight evenly throughout the frame. 1) External aluminium frame. 2) Aluminium rail at the centre of the back of the pack. With height adjustment of the shoulder straps. 3) Hip belt rotation fixed to the bottom of the centre rail. 4) Synkroflex impact-absorbing system located at the top of the centre bar. 5) Shaped shoulder straps, with supportive foam padding. 6) Top lifter straps on shoulder straps. 7) Shoulder straps with shoulder pillow for protection. 8) Adjustable chest strap at front of shoulder strap. 9) Body height 170–190 cm. 10) Weight: 25 kg to 35 ( )kg.
Technical details
Rated

4

out of

5
by
Msjusju
from
Great comfortable backpack... but
The backpack is great for heavy loads. The black coating around the frame has started to chip away after a month. It needs to be handled gentle, the frame feels like it will break if handled too rough.
Date published: 2019-07-07
Rated

5

out of

5
by
Outdoor man
from
Carry anything, go anywhere
I have now had this pack for a few years, and this is my go-to pack for much more than my initial use-case: I bought it to carry all the stuff needed for camping with kids. However, my zippering away the side pockets, you shed the weight by a kilo or so, you get a narrow fit, still some 100 liter backpack, with the best carrying system I have ever tried (over life, I have probably owned five big back-packs, and tried oh so many more). I use the pack with a load transport pulk - it has built in D-rings. I put sweets in the top outside compartment. I fix skis to the sides while climbing, and when I carry heavy loads - the handle points are perfectly situated and does never come in the way. The swivel fit of the hip belt works perfectly in uneven terrain. The excellent quality if the ZIPs give confidence, thw two way entry works wonders in tents, the straps are long enough for whatever gear for the family I need to attach; in short, this has to be one of the best backpacks in the world for the outdoor family man.
Date published: 2019-06-12
Rated

4

out of

5
by
averagemart
from
Great Overall
I only have one bad thing to say about this pack because overall, this pack is build tough with quality materials. Everything is really fonctional ans solid. On your back, it fits really well and it is highly comfortable. The problem is the way to tight the belt which is to my eyes unacceptable. With a bag that big and that heavy, you have to be able to tight the strap by pulling inside. Not outside. The result is, with a 45 pounds pack or more, I am struggling to tight the belt enough and the result is that the weight is not well balance between my shoulder and hips. It is a small thing but that detail make my hike way more difficult since the weight is pretty much all on my shoulder. I will custom it to be able to pull the straps. Other than that, great pack with high quality material. If they change the belt system, AWESOME product. Worth totally the price.
Date published: 2017-01-07
Rated

5

out of

5
by
Anonymous
from
Superb pack!
I bought this pack a month ago and have not regretted it since. It's big enough to hold all my bulky winter and bushcraft gear with ease. Simple, strong, dependable and fits most size body frames. Get one now!
Date published: 2016-11-14
Rated

4

out of

5
by
Joni
from
Heavy Duty gear for serious use
I bought the Norrona Recon pack a year ago and have used it couple of times in hiking trips. During the last trip with my girlfriend I carried quite big load, which included tent, most of the water and food we had and all the usual hiking kit. This pack has all the right features and nothing useless to add weight and making it too complicated. Only thing I would add to it would be a dedicated pouch for hydration system and other hole for the hose. Other thing worth thinking would be to replace the bungee cords on top of the lid with attachment points for gear. Other than these minor points,this pack is one of the best high capacity packs there are in the market today.
Date published: 2016-10-06
Rated

5

out of

5
by
ChristianD
from
King of the fells
This is the unbeatable combination of easy to carry and huge loading capacity. I've been hiking in the Finnish fells with three children using this backpack, carrying tent and food for four people on top of the usual one person kit. The flexing hip belt that keeps the weight central at all times is what does it. Even off track or on block terrain, or wading through streams you keep balance.
Date published: 2016-09-26