0
lyngen driflex3 Jacket (W)
lyngen driflex3 Jacket (W)
wurde bewertet mit von
5
von
5
.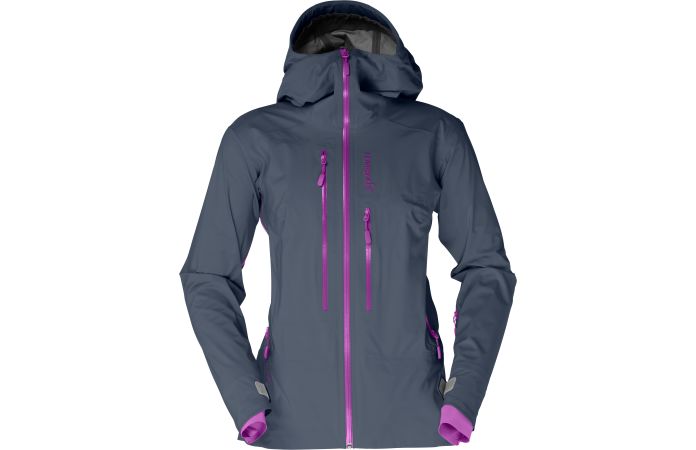 Women's ski touring jacket that combines the best of two worlds: waterproofness, breathability the weight of a normal shell pant, with the softness, flexibility and breathability of a soft shell. It's perfect if you enjoy the hike up as much as the turns going down. The driflex™3 material is waterproof, windproof, soft and flexible, and has a comfortable inside material. The jacket has long ventilation zips, hand gaiters, and a storm hood fitted for a helmet.
Windproofness

6

Waterproofness

6

Insulation

2

Breathability

3

Durability

4

Light weight

4

Stretch

2
Made for
Ski touring
Other areas of use
Freeride skiing & snowboard, Skiing and snowboard, Trekking, Glacier walking
Rated

5

von

5
von
elmiha
aus
Fantastic Fit and Function
Love the stretchy, soft and breathable fabric that doesn't get stiff or make a lot of noise in the cold. The added details like the asymmetric cuffs that extend farther on the back of the hand and the hand gaiters with thumb holes are appreciated. Wish it had a small pocket on the sleeve for chapstick or ski pass too. Hood is nice and roomy and fits over my helmet without any difficulty. It is longer in back than the front so it doesn't gap when you bend over or squat. It's fairly fitted, but still enough room for long johns and a mid layer, just don't expect anything too bulky to fit underneath.
Veröffentlichungsdatum: 2017-02-08
Rated

1

von

5
von
Hännabänäna
aus
Leider enttäuschend
Ich habe die Jacke zusammen mit der lyngen driflex3 Hose vor drei Monaten erworben. Genutzt wurde beides jetzt insgesamt 18 Tage auf dem Berg. Bereits nach zwei Tagen kam es ohne Sturz o. ä. zu einem Defekt am Beinschutz, sowie zum Abriss des Reißverschlusses an der Hose. Reklamation und Reparatur liefen problemlos und ich war immernoch zufrieden mit der Jacke. Dies hat sich leider nun vollständig ins Gegenteil verkehrt. Nachdem die Kleidung nur bestes Wetter gesehen hatte, wurde sie bei einem Tag im Neuschnee auf die Probe gestellt. Nach zwei Stunden mäßigem Schneefall war die Jacke an den Ellenbogen, Unterarmen und am Bauch durchweicht. Die Hose wurde am Schritt durchlässig und die Taschen waren feucht. Eine Woche später folgte dann der Härtetest mit Regen. Oberschenkel, Taschen, Arme, Bauch... alles war durchgeweicht, das Wasser stand in den Taschen. Karte, Geld, Telefon etc. waren nicht mehr zu gebrauchen. Zwei Freunde, die ebenfalls mit Norrona-Kleidung (allerdings vom Konzept Lofoten) unterwegs waren, hatten das gleiche Problem, nur weniger stark ausgeprägt. Bei ihnen waren "nur" die Taschen durchgeweicht, die baselayer blieben trocken. Ich hatte von wasserdichter Outdoorkleidung zu einem derartigen Preis mehr erwartet. Zusätzlich wird der Stoff an stellen wie zB der Achsel oder an den Oberschenkeln an den Taschen fusselig und stumpf. An den Taschen ist jetzt der zweite Zipper kaputt gegangen. Das darf nicht sein. Da man häufiger mal auf Karten schauen muss, die eben in der Tasche verstaut sind, wird diese auch benutzt. Nur dass da zwei Wochen ausreichen um den Reißverschluss zu verschleißen ist schon was... Design, das geringe Gewicht und der weiche Stoff, Farbkombinationen und vor allem die Taschenaufteilung sind wirklich klasse.Nur bringen all diese netten Vorteile nichts, wenn das Produkt seinen eigentlichen Zweck nicht erfüllt. Für mich war dies mein erster und letzter Norrona-Kauf.
Veröffentlichungsdatum: 2017-02-28
Rated

5

von

5
von
Florence
aus
Just perfect!
Light, technical, good shape and magnificant colors :)
Veröffentlichungsdatum: 2016-11-13
Rated

5

von

5
von
jafahr
aus
The only jacket you need
So happy with this jacket, perfect for both hiking and everyday life. Outstanding quality.
Veröffentlichungsdatum: 2016-10-08
Rated

4

von

5
von
Qvisten0822
aus
Happy customer
I bought this jacket for about 6 months ago and I am very satisfied. Its a really good product.
Veröffentlichungsdatum: 2016-10-06