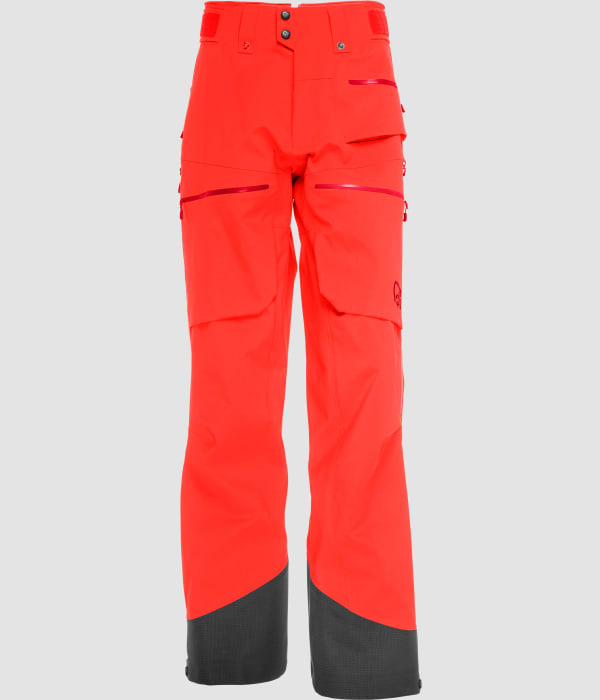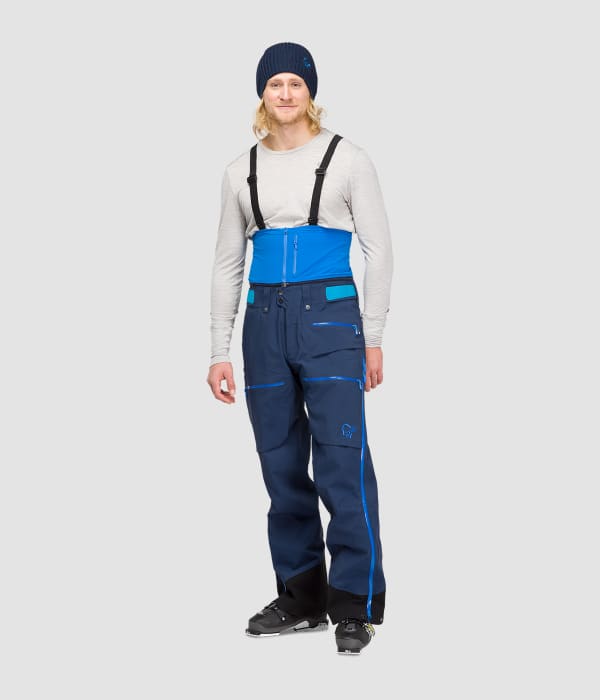 With the intention of being a game changer to new generation of skiers, the lofoten Gore-Tex Pro Pants were made uncompromisingly to fulfill the big mountain freeriders need for protection from the most demanding conditions out there.
Just like the original, the new pants have a looser fit and unique features such as thigh cargo pockets to ensure easy storing, long zippers for great ventilation and extremely durable reinforcement on the lower leg to protect the pants from steel edges.
The bright colors introduced in the original line have been modernized and more tonal but are still bright enough to ensure secure visibility.
The pants come with a removable bib which prevents the snow from creeping in and keeps your pants in place.
The model is wearing size L (Height 188 cm / 6'2")
Inside leg length of the pants in size L = 92 cm.
Length differs 2 cm per size up and down.
Made for
Big mountain skiing & snowboarding
Other areas of use
Freeride skiing & snowboard
Ski touring / Randonnée
Skiing and snowboard
Performance
6

Windproofness

Windproofness

Scale from 1 to 6 where 1 is not windproof and 6 is totally windproof.

6

Waterproofness

Waterproofness

Scale from 1 to 6 where 1 is not waterproof and 6 is waterproof.

1

Insulation

Insulation

Scale from 1 to 6 where 1 has no insulating properties and 6 is our warmest insulation products.

4

Breathability

Breathability

Scale from 1 to 6 where 1 have very little or no breathability and 6 is our most breathable and moisture wicking products.

6

Durability

Durability

Scale from 1 to 6 where 1 is fragile products and 6 is the most durable products we have.

3

Lightweight

Lightweight

Scale from 1 to 6 where 1 is heavy and 6 is among the world's lightest of its kind.
Footprint
Bluesign Certified Fabric

Bluesign Certified Fabric

Bluesign® tests and educates textile mills to eliminate harmful substances from the manufacturing process and sets control standards for a sustainable and safe production.

Open Factory List

Open Factory List

This product is made in a factory openly listed on norrona.com.

Inspected factory

Inspected factory

This product is made in a factory inspected by an independent third party and followed up by Norrøna.
Fabrics
GORE-TEX® Pro

GORE-TEX® Pro is the most durable fabric technology from GORE-TEX® for outdoor use. The GORE-TEX® membrane uses a woven liner to reduce weight and bulk, enhance moisture transport and minimize abrasion, all while maintaining durable waterproofness. The ultimate storm-protection fabric. Technical specification: Waterproof: min. 28,000 mm* Breathablility: High, down to 9 RET** Windproofness: 100% * ISO 811-test ** ISO11092-test

More about GORE-TEX® Pro
Technical details
Rated

5

out of

5
by
MrBergentz
from
Just keeps on performing!
I have had my pants for a season and a half now, and every time I use these pant I just fall more in love with them! Great loose fit for a tall guy like me (197cm and 94 inseam, running size XXL), but still with a bit of an athletic taper in the legs! Pockets are nice and deep, and I for one don't need to be able to put my transceiver in my leg pocket. Nice full zippers on the outside legs and the top and bottom gaiter buttons is probably the nicest design feature of these pants! Just makes it putting them on and taking them off is so smooth! Maybe one thing to note on is that the vertical bib zipper is not the most sturdy construction, but it's not really anything that compromises the function of the pants! To the technical part about the pants: Been skiing and touring a total of about 100 days in these and I've been pretty meticulous with the care of them! Washing them from time to time and making sure to take good care of the waterproof membrane! I have not actually seen any sort of loss of membrane function yet, even after such a long time! Ordered a second pair from the outlet a couple of weeks back, just cause I love them so much! I hope that the current cut of the pant is something that will carry on to future designs, cause it is great!
Date published: 2019-03-01
Rated

5

out of

5
by
Chrissa
from
Comfortable waterproof well designed and resilient
This is the 2nd pair of norrona ski trousers I have bought... they are extremely comfortable completely waterproof and strong wearing .. they are reinforced where required with generous reinforcement on the lower leg which avoids cutting the legs with sharp ski edges. They have numerous pockets all with watertight zips and come with 2 powder bibs .. 1 short and one with braces. They look great and work extremely well. Although relatively expensive I think they are worth the money and can highly recommend them
Date published: 2019-02-27
Rated

5

out of

5
by
Fede
from
Super Lofoten collection
Best collection for freeride !!! Great lofoten gore tex pro
Date published: 2019-02-26
Rated

5

out of

5
by
foldom
from
Super tough and universal pants
This is 2nd pair for lofoten pants I own. First pair is still up and running. Top notch quality and durability. Super universal piece of gear suitable even for spring touring due to full zips at the sides. Mesh bib is super nice.
Date published: 2019-02-20
Rated

5

out of

5
by
Hc72
from
Solid pants with nice festures
I have being skiing in my new Norrøna pants for 3 weeks and I am very satisfied. And with my new jacket it works in very deep show
Date published: 2019-02-06
Rated

5

out of

5
by
Brian A
from
Very durable and comfortable pant
I love the pockets and fill zip sides. Durability and waterproof is top notch. Color is really great too
Date published: 2019-01-29
Rated

5

out of

5
by
RetoS.
from
great ski/snowboard pants, runs slightly small though, had to size up
I ordered them last September. So far I've used them for skiing and snowboarding, mostly powder & off-piste, and I am very pleased with their performance and fit. I am 194cm tall, large built, and had to get an XXL in order to have a enough space in the crotch area as well as sufficient leg length. I usually wear XL, even with other Norrona products, such are the Fjora flex pants and Skibotn t-shirt. I also tried on the Lofoten GTX Jacket (in store) and XL was way too small, so the Lofoten collection seems to run a smaller.
Date published: 2019-01-25
Rated

5

out of

5
by
Anonymous
from
Great fit!!
Exactly the fit i want, skinny people with long legs...I'm 6'3 34"waist 35" inseam XL is spot on
Date published: 2019-01-21
I'm 1,89 m tall, waist 32/33 inches, I have a Lofoten jacket size L and would like to buy pants but I'm undecided in size M or L, probably M would fit better but the risk is they could be too short
Hello, I'm 1,83 and slim and have three lofoten goretex pro pants, all in size L . Two older ones have more a baggy cut and the last one of last year is much more narrow also on the waist. This means that it could be difficult to put all your layers that you need , comfortable inside , if you woold go for the size M. I would honestly, never go skaller then L and not only for the length issue.  Hope I could help you , Best regards  Alessandro
Date published: 2019-02-14
I have the fjora mountain bike flex pant.  Do these fit similar to those?  I am size 34 waist and trying to pick between medium and large.  
I am a 34 and a 33 inseam and the M is the way to go. I don't find the bib very functional but the pants fit perfectly. I think you would be swimming in a L 
Date published: 2019-01-24
Hi, I own previous model of lofoten pro jacket (light blue). I wonder if these new pants are compatible with my jacket i.e. can I connect them vie metal press studs.
Yes, no problem with connecting the jacket and pants. New pants are more comfortable yet sturdier than previous ones. Enjoy!
Date published: 2019-01-23
Has the fit/cut of the 2018/19 pants changed from last year? What about the Goretex fabric? Are the only differences in color??
Hi Ludwigk, I'm not certain about the 2018/2019 changes but the changes between 2016/2017 and 2017/2018 were inexistant (got two pairs: only a colour change for the bib i.e. the bit you zip over the belt to keep the powder out). So, yes, only colour changes. Sorry for the late reply. L
Date published: 2019-01-06
Is there a video showing how to use the zip-seal system?  I can't figure out how to connect the snow skirt of the jacket to the pants as shown (briefly) in the product videos? Is there a separate skirt i'm missing?
Hi Mike, You will normally find a separate skirt with a zipper in each side in the front pocket of your pant.  If this item is missing, please contact the Norrona helpline. Enjoy the ride! 
Date published: 2018-09-15
Hi there, do the lofoten pants direct iconnect to the lofoten jacket if you remove the bib and snow skirt? My partner has the W lofoten jacket/pant from a couple of years ago and when you remove the snow skirt from the jacket you also remove the zipper
Hi NZMike,all the Lofoten jackets can interconnect with the lofoten pants via press studs between the jacket powder skirt and the top of the pants (see video).This creates a great seal for those big powder days as well as keeping the warmth in and cold out.I have used this system faultlessly for the last 6 years in Canada and it still allows great dynamic flexibility.
Date published: 2018-11-27
Hi! I would be very interested in this pants, but unfortunately the size M, which is perfect in fit, is very very short for my leg length. would it be possible to have a size M with length of size Xl? Thank's!
Hi, thanks for the request. I`m sorry, we don`t have this pants in any other models (longer or shorter legs). We do have one model with extra long legs, in the falketind flex1 pants. However, for some pants (svalbard flex1, bitihorn and falketind flex1) we can in addition customize the legs on request. Unfortunately we`re not able to do this customization with Lofoten Gore-Tex Pro pants due to the snow gaiters
Date published: 2018-12-23
Hi. I have the Lyngen Driflex3 Pant in a Large and they fit great (except a little long) and wanted to know if the Lofoton Gore-Tex Pro Pants fit the same way or if I should order a different size. Thank you!
Difficult to answer since I have only bought the Lofoton Gore-Tex Pro and not the Lyngen Driflex3. Would assume that they they are equal. Just for comparison, I am 186 cm, weighing 88 kg (Jeans size 34-36 inch, length usually 34) and the fit is great. Wouldn't have it any other way. Hope that gives you an idea. Kind regards Stephan
Date published: 2018-12-23