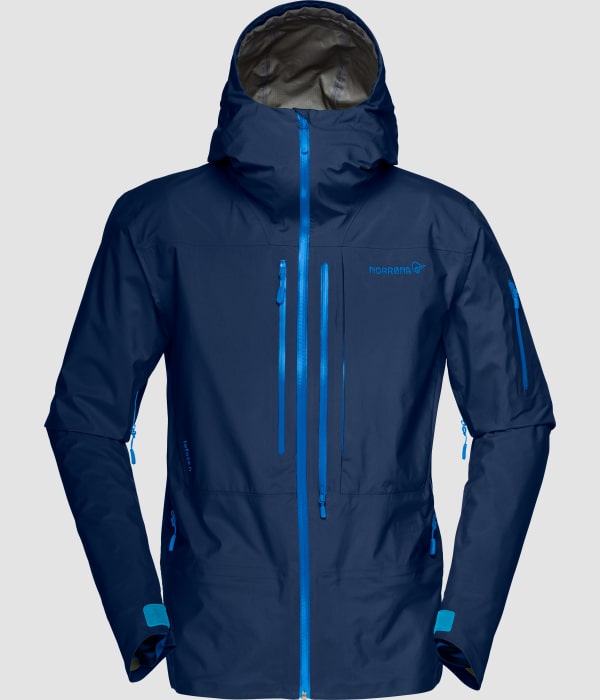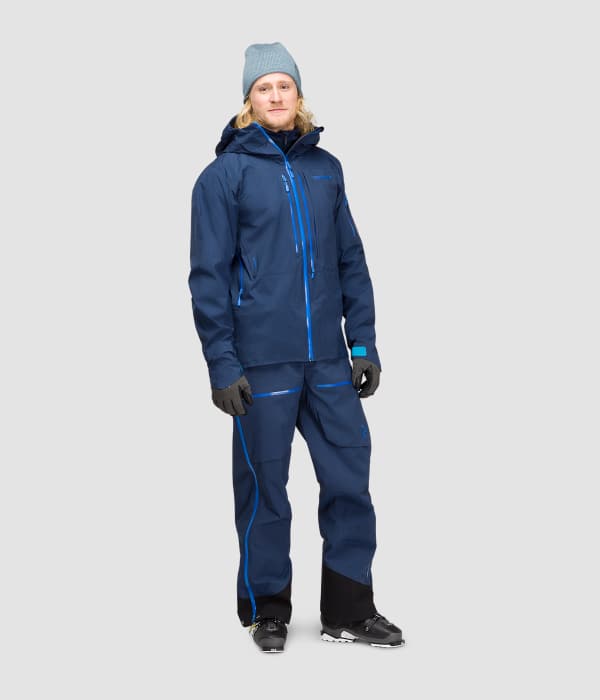 Setting the benchmark in 2004 for a new generation of skiers, the lofoten Gore-Tex Pro Jacket was made uncompromisingly to fulfill the big mountain freeriders need for protection from the most demanding conditions out there.
Unlike the dominant snowboarding garment at that time, the jacket was more snug with high napoleon pockets for maximum accessibility when using a harness - key features that have been kept all the way until today's jacket.
Made with the new, sustainable and extremely durable GORE-TEX® Pro membrane, the jacket is set for dramatic terrain and extreme weather. The recycled face fabric also offers better breathability than the previous generations.
The colorways are chosen in the spirit of the bold and new thinking color range introduced back in 2004; Bright and clear to ensure secure visibility in the mountains, but modernized with a tonal look.
It is without a doubt the number one choice for the freeride adventurer but also a safe bet for those who are looking for the everlasting outer layer.
The model is wearing size L (Height 188 cm / 6'2")
Made for
Big mountain skiing & snowboarding
Also works well for
Freeride skiing & snowboard
Mountaineering
Ski touring / Randonnée
Performance
6

Windproofness

Windproofness

Scale from 1 to 6 where 1 is not windproof and 6 is totally windproof.

6

Waterproofness

Waterproofness

Scale from 1 to 6 where 1 is not waterproof and 6 is waterproof.

1

Insulation

Insulation

Scale from 1 to 6 where 1 has no insulating properties and 6 is our warmest insulation products.

4

Breathability

Breathability

Scale from 1 to 6 where 1 have very little or no breathability and 6 is our most breathable and moisture wicking products.

5

Durability

Durability

Scale from 1 to 6 where 1 is fragile products and 6 is the most durable products we have.

4

Lightweight

Lightweight

Scale from 1 to 6 where 1 is heavy and 6 is among the world's lightest of its kind.
Footprint
Recycled Fibers

Recycled Fibers

More than 50% of the synthetic fibers in this product are recycled.

Oeko-Tex Certified Fabric

Oeko-Tex Certified Fabric

Oeko-Tex® is a worldwide consistent, independent testing and certification system which secures chemical use is in line or surpassing national and international regulations and standards.

Bluesign Certified Fabric

Bluesign Certified Fabric

Bluesign® tests and educates textile mills to eliminate harmful substances from the manufacturing process and sets control standards for a sustainable and safe production.

Open Factory List

Open Factory List

This product is made in a factory openly listed on norrona.com.

Inspected factory

Inspected factory

This product is made in a factory inspected by an independent third party and followed up by Norrøna.
Fabrics
GORE-TEX® Pro

GORE-TEX® Pro is the most durable fabric technology from GORE-TEX® for outdoor use. The GORE-TEX® membrane uses a woven liner to reduce weight and bulk, enhance moisture transport and minimize abrasion, all while maintaining durable waterproofness. The ultimate storm-protection fabric. Technical specification: Waterproof: min. 28,000 mm* Breathablility: High, down to 9 RET** Windproofness: 100% * ISO 811-test ** ISO11092-test

More about GORE-TEX® Pro
Technical details
Rated

5

out of

5
by
Anonymous
from
Awesome jacket
Fit is great for my skinny 6'3" frame, i wear an XL....Gore Pro is awesome of course
Date published: 2019-02-02
Rated

5

out of

5
by
OntheSnow
from
Great Shell Jacket!
This is great shell with amazing features. I really like the zip out powder-skirt that can attach to Norrona pants with snaps on the front and the back. This kept the snow out and warmth in all day and still allowed easy access to the internal pockets. The cuffs are well designed as are the pockets and venting. I am looking forward to many years of use!
Date published: 2019-01-31
Rated

5

out of

5
by
Charly fr
from
Top product
Using on daily basis for biking in geneva! Keep me dry and not feeling the freezing wind ! Also used for ski and hiking. Best jacket !
Date published: 2019-01-28
Rated

5

out of

5
by
Jason.GY
from
really pleased
Great fit, keeps the wind, snow & rain out, Pleased with all the features just returned from a ski trip in St Anton and really performed well in the cold -13 at times ! All pockets in the right place and cuffs, & skirt keep the wind out. Tried a few other manufacturers but the colours this year did not match this on style. can wear with any colour trousers !
Date published: 2019-01-25
Rated

5

out of

5
by
Erski
from
Great gore-tex shell
Bought this in December. Very good gore-tex shell, exactly like previous one I had from Norrona.
Date published: 2019-01-25
Rated

5

out of

5
by
Leonardo
from
Super light jacket
Fantastic jacket - light and comfortable with good protection
Date published: 2019-01-24
Rated

5

out of

5
by
Bairhy
from
Perfect skiing jacket
Fit, design, weight, impermeability, breathability, this 3L jacket never fails. Size Large is perfect for me (185cm / 85kg), even with 3 under layers when needed.
Date published: 2019-01-23
Rated

5

out of

5
by
jlaing
from
Awesome Product!
The technical features and fit are top of the line.
Date published: 2019-01-22
Rated

5

out of

5
by
Herve78
from
The pleasure of life
How to be smart and ski being Warm all the day in big snow.
Date published: 2019-01-21
Rated

5

out of

5
by
Momo
from
Best ski jacket I've owned
Got it for Christmas and I'm super happy with it! Design is very well thought through and not missing anything. The quality and finish of the jacket are insane, but can't quite justify the price. I was a little bit confused at first that the arm ventilation slots don't have a mesh behind them, but it allows for better access to pockets of layers you're wearing underneath.
Date published: 2019-01-14
Rated

5

out of

5
by
Anonymous
from
My Second Loften Jacket
I bought a Loften Jacket 7 years ago and wanted to update my wardrobe palette. I could not get over how much the jacket has been updated. Really comfortable and flexible. Just back from Zermatt where it was -10c and worked really well with merino base layer and a permaloft insulated long sleeved midlayer. Later in the season a gillet or even a merino sweater will do
Date published: 2019-01-06
Rated

5

out of

5
by
Simonebon2
from
What to say?
What is there to day about this jacket? Perfect. absolutely perfect.
Date published: 2018-12-21
Rated

2

out of

5
by
WetThrough
from
Great fit, great in snow, but very disappointingly not waterproof :(
On the positive: the jacket is a great (slim) fit and is comfortable to wear. In dry snow conditions it performs extremely well; the powder skirt does its job when I bale into deep powder. The large integrated hood fits perfectly over a snow-sport helmet, without feeling too large when e.g. hiking without a helmet. However, I noticed almost immediately that the material was NOT waterproof - even in dry snow conditions the residual snow from my sleeve cuffs melted after skiing and very quickly soaked through the material (the jacket colour became darker and was noticeably wet to touch on the inside). In non-snow rainy conditions (e.g. hiking) the rain water penetrated in many areas, and some paper I had in an outer pocket was soaking wet even though the zip was fully closed throughout. From reading other reviewers' comments, my experience is possibly the exception - many others have rated the waterproofness to be very high. Unfortunately this is not the case for me, to the extent that I cannot wear it in wet weather, and I revert to a much cheaper non-breathable rainproof mac when outdoors in wet weather - defeating the purpose of buying an expensive all-weather all-terrain jacket. Very disappointing!
Date published: 2018-12-20
Rated

5

out of

5
by
Pacoftv
from
Exactly what I need it
I bought Lofoten gore Tex pro jacket, as well same brand pants and bitihorn hoodie before 2-3 months ago, but had no chance to use it. Last two weeks I had a couple of opportunities to visit the mountain for ski tpuring, snowkiting and some hiking. I've been really pleased from my apparel. Not cold, no sweating , very comfortable, enough pockets for telephone, nose naps, sunglasses,docs and all headwear. In addition want to admit that the colors were even better,than I saw them in the webpage. My overal perception and feeling is truly satisfying. Great stuff!,!!!
Date published: 2018-12-09
Rated

5

out of

5
by
DrFosg
from
Amazing all round Jacket
Can only say good things about this jacket. Light but strong, perfect waterproofness, very flexible and good fit.
Date published: 2018-12-02
Rated

5

out of

5
by
reklawwerdna
from
Extremely hard wearing, highly waterproof Gore-Tex jacket
This is the second lofoten gore-Tex pro jacket I have purchased. I also got a second set of pro-trousers to go with it. A stylish jacket that has been the reliable outer-shell I use for alpine skiing and randoneé. I have had other brands before, but since using this, I haven't gone back. High quality zippers, well thought through pocket locations, an efficient powder-skirt and an extra covering for the hands. I have never got wet in this, despite skiing in torrential rain and deep heavy powder. It has a great venting area and in the colder ski-days with wind-chill, effective layering makes this a great wind-proof barrier that helps keep me warm. If you are a serious all-weather skier/ ski-tourer, I highly recommend this jacket.
Date published: 2018-12-01
Rated

5

out of

5
by
Black_Rabbit
from
The best option on the market
The last 7 or 8 years i have been wearing a Lofoten gtx pro jacket. I have used them for everything they are designed to do. And a lot they are not designed to do. everything from hiking, mountaineering, hunting, fishing, forestry work etc. My experience is that they hold up remarkably well. i'm 2 meters so i need a jacket that is not to short in the arms or waist and the XL fit me perfectly. i'm 86kg
Date published: 2018-11-09
Rated

5

out of

5
by
FD13
from
You get what you pay for
Norrana describe this best themselves with the phrase loaded minimalism. There are no gimmics on this jacket whatsoever, it is all about the minimum necessary and therefore less things that can go wrong. As usual for Norrana the fit and cut is fantastic and everything is micro adjustable. You can use it with any salopettes or it will zip into the Lofoten salopettes for added 'pow' protection. It is purely a shell and therefore you have more control on adjusting your layers to get the right temperature. Try one on and you'll know what I mean.
Date published: 2018-10-25
Rated

4

out of

5
by
Anonymous
from
Great shell
I bought this jacket but I have not used it on the snow yet. Excellent workmanship and well-made seams!
Date published: 2018-10-14
Rated

4

out of

5
by
OLDGUY
from
Excellent product that confirms Norrona quality
Having used several Norrona products over the years, I have recently purchased this new model of Lofoten Pro jacket and the trousers of the same series. I have been able to test this product for three weeks in freeride both in the French Alps and in Italy in the Dolomites at different altitudes and environments, often with particularly severe weather conditions. The jacket was fully responsive to my expectations, confirming once again the excellent quality of Norrona products. This jacket retains the characteristics that have determined the success of the Lofoten collection such as the pockets compatible with the use of backpacks and harnesses, an excellent breathability and an exceptional wind and waterproofness. This new model is even more comfortable both for cutting and for the new fabric much softer and more comfortable, although personally I would have preferred a more robust fabric especially for use in the forest, also in consideration that Norrona still offers a lighter version of the Lofoten jacket. It would also be nice to have an inside pocket for the radio / telephone with an hole for the headset cable. A product of absolute excellence with a modern look and trendy colors.
Date published: 2018-03-29
Rated

5

out of

5
by
Just ski it
from
Nothing goes through this jacket
Wind water snow smoke brushes... it held everything. used it for 2 intense ski/hike weeks. Its great. Internal sleeves weared out a bit. Zippers are great as well. expensive but very good.
Date published: 2018-03-15
Rated

5

out of

5
by
TraKtorman2018
from
Functional
The jacket is excellent for layering, light weight, windproof and waterproof. The hood fits easily over a helmet.
Date published: 2018-03-07
Rated

5

out of

5
by
G-force
from
Light, super resistant and waterproof in all conditions
I bought this jacket a few weeks ago and I have been skiing with it in all conditions. I could not be happier with my buy! Highly recommend it!
Date published: 2018-02-12
Rated

5

out of

5
by
Dcb30a
from
Is that the best you can do icey cold wind?
That icey cold wind did not stand a chance against my Lofoten jacket - come on I urged it, is that the best you can throw at me? Stayed warm and dry - what a pleasure. What I also learnt was zips that go down are pockets and up are vents....not I wont get confused. Love this jacket
Date published: 2018-02-11
Rated

5

out of

5
by
JamesN
from
Highest quality, great fit and I love the features
I bought this before a January off-piste trip around Verbier. Very variable weather from quite cold to quite warm, but with this jacket and the Norrona quilted jacket I was very comfortable. The vents work extremely well helping me to regulate temperature come what may. Goretex meant I didn't get moisture build up and stayed dry. The pockets are in the right place so as not to be obscured by packpack straps. My only suggestion would be to colour code the vents and pockets as several times I undid the chest pocket not the adjacent vent. I like the fit which is quite slim cut. I normally wear medium but small fitted me better. I'm a 40" chest, 75kg and 1.85M.
Date published: 2018-02-03
Rated

5

out of

5
by
Bobbo
from
Love it!!
Superb performance on a recent trip to Japan. Fresh, deep snow every day and the jacket to pant integration kept me dry all day.
Date published: 2018-01-30
Rated

5

out of

5
by
Robbie
from
Perfect lightweight shell
I bought it a month ago and have been using it consistently for skiing and skitouring in all kinds of severe conditions. It has performed brilliantly.
Date published: 2018-01-26
Rated

5

out of

5
by
Freestefano
from
Super!
Very very very good! I'm very happy for this choise!!!!!!
Date published: 2018-01-08
Rated

5

out of

5
by
MartinS
from
Just gets better
This is my 4th norrona jacket. They just get better and better. It's the only jacket that can live with the Japanese powder.
Date published: 2017-12-16
Rated

5

out of

5
by
Bradsle
from
Continues to excel
This jacket has all the features and technical abilities I need in extreme snow conditions that I experience in Northern Japan
Date published: 2017-12-12
posso sapere se la giacca lofoten goretex pro e la lofoten goretex active sono praticamente uguali,cambia solo la menbrana per traspirabilità e peso ? hanno la ghetta interna per la neve entrambe ? per uso sci alpinismo freeride meglio active o pro ?
Ciao, grazie per la vostra richiesta Sì, è vero. peso inferiore e membrana più sottile sulla giacca lofoten gore-tex light pro
Date published: 2019-03-29
Is there any differences between the 2018/19 jacket other than colors? Is it a new GoreTex? Fit is the same??
The jackets are made with the new, sustainable and extremely durable GORE-TEX® Pro membrane. The fit is the same, it is a great jacket, I highly recommend it.
Date published: 2018-12-20
Since I'm 1m95 but only have a chest circumference of 93cm, i'm wondering if a Large or X-Large which are closer to my length won't be baggy and a Medium won't be to short. What do you advice?
Hi all, thanks for all the response, eventually i went for the Large, length wise it's good, and for me it's not to baggy and i have room left for layers, so i'm happy. Thanks again!
Date published: 2018-12-12
Is it a 3 layers jacket ? Thank you
Hi yes i would say it is a 2 to 3 layer jacket. Had a week in Austria and had 2 layers on. Kept dry and didn't get cold.
Date published: 2018-12-31
I'm unsure of sizing as I'm 180 cm and 80 Kg, normal build (for Jackets I normally use size 48 and pants 32) - should I go for Medium or Small (as need room for layers as well)
Size small is the one I went for. I'm the same size - slightly tight on the waist but perfect elsewhere. I love this make. I ski 25 weeks the year and it's by far the best made. 
Date published: 2018-11-26
Hello - Are all the pockets waterproof? I read a review that said the front pockets leak in rainy conditions.
I have bought and used this jacket for skiing. I think it will take some pretty heavy rain before the contents of your front pockets become wet. Quality of material and craftmanship of this jacket is excellent.
Date published: 2017-11-25
What is the denier of the fabric?
Hi Justinb650! The denier for the lofoten Gore-tex Pro jacket is 40D and in recycled Nylon. Hope this was helpful information for you. Best regards, Anette/Norrøna Fan Support
Date published: 2019-03-05
Will there come new colours? If so, when?
Hello Hesjedal, There will be new colors in the FW18/19 collection, which will launch fall 2018. Best regards, Alexander - Norrøna Fan Support
Date published: 2017-11-21