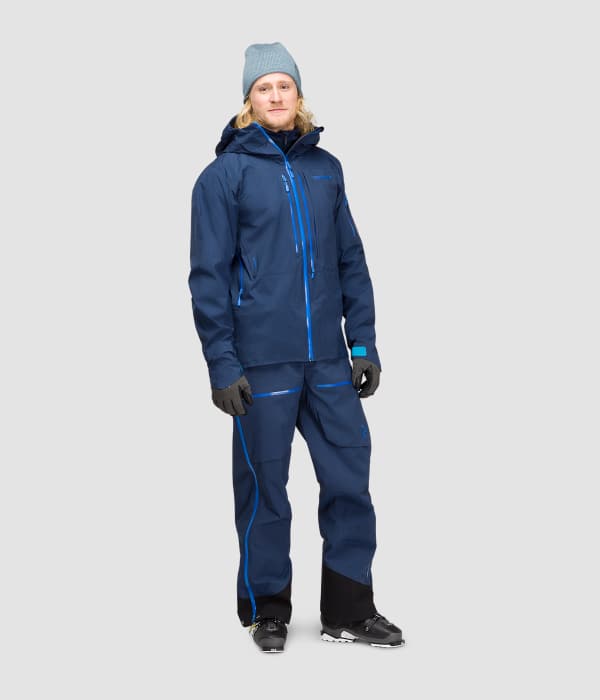 Setting the benchmark in 2004 for a new generation of skiers, the lofoten Gore-Tex Pro Jacket was made uncompromisingly to fulfill the big mountain freeriders need for protection from the most demanding conditions out there.
Unlike the dominant snowboarding garment at that time, the jacket was more snug with high napoleon pockets for maximum accessibility when using a harness - key features that have been kept all the way until today's jacket.
Made with the new, sustainable and extremely durable GORE-TEX® Pro membrane, the jacket is set for dramatic terrain and extreme weather. The recycled face fabric also offers better breathability than the previous generations.
The colorways are chosen in the spirit of the bold and new thinking color range introduced back in 2004; Bright and clear to ensure secure visibility in the mountains, but modernized with a tonal look.
It is without a doubt the number one choice for the freeride adventurer but also a safe bet for those who are looking for the everlasting outer layer.
The model is wearing size L (Height 188 cm / 6'2")
Made for
Big mountain skiing & snowboarding
Other areas of use
Freeride skiing & snowboard
Mountaineering
Ski touring / Randonnée
Performance
6

Windproofness

Windproofness

Scale from 1 to 6 where 1 is not windproof and 6 is totally windproof.

6

Waterproofness

Waterproofness

Scale from 1 to 6 where 1 is not waterproof and 6 is waterproof.

1

Insulation

Insulation

Scale from 1 to 6 where 1 has no insulating properties and 6 is our warmest insulation products.

4

Breathability

Breathability

Scale from 1 to 6 where 1 have very little or no breathability and 6 is our most breathable and moisture wicking products.

5

Durability

Durability

Scale from 1 to 6 where 1 is fragile products and 6 is the most durable products we have.

4

Lightweight

Lightweight

Scale from 1 to 6 where 1 is heavy and 6 is among the world's lightest of its kind.
Footprint
Recycled Fibers

Recycled Fibers

More than 50% of the synthetic fibers in this product are recycled.

Oeko-Tex Certified Fabric

Oeko-Tex Certified Fabric

Oeko-Tex® is a worldwide consistent, independent testing and certification system which secures chemical use is in line or surpassing national and international regulations and standards.

Bluesign Certified Fabric

Bluesign Certified Fabric

Bluesign® tests and educates textile mills to eliminate harmful substances from the manufacturing process and sets control standards for a sustainable and safe production.

Open Factory List

Open Factory List

This product is made in a factory openly listed on norrona.com.

Inspected factory

Inspected factory

This product is made in a factory inspected by an independent third party and followed up by Norrøna.
Fabrics
GORE-TEX® Pro

GORE-TEX® Pro is the most durable fabric technology from GORE-TEX® for outdoor use. The GORE-TEX® membrane uses a woven liner to reduce weight and bulk, enhance moisture transport and minimize abrasion, all while maintaining durable waterproofness. The ultimate storm-protection fabric. Technical specification: Waterproof: min. 28,000 mm* Breathablility: High, down to 9 RET** Windproofness: 100% * ISO 811-test ** ISO11092-test

More about GORE-TEX® Pro
Technical details
Rated

5

von

5
von
Anonym
aus
The best shelljacket and the best customer support!
After many years of hard use of this jacket in all kind of adventure activities finally a zipper was worn out. This is the only problem in a long time of hardcore use! The shell has been excellent and the jacket looked like new. However after last skitrip to the French Alpes I visited Norrönas store to change the zipper. I was contacted by headoffice and offered the greatest customer service and a replacement jacket!!! I am deeply impressed off this jacket, the Lofoten trousers and the excellent customer support. Outstanding Norröna
Veröffentlichungsdatum: 2018-03-31
Rated

5

von

5
von
Burnhead
aus
Super Jacke
Ich habe die Jacke vor einem Monat gekauft und hatte sie nun schon oft beim Skifahren im Einsatz. Sie ist wirklich super durchdacht und toll verarbeitet. Die Passform ist genau richtig (auch schöne Länge) und bietet genug Bewegungsfreiheit. Die Reißverschlüsse sind auch mit Handschuhen gut zu bedienen. Bei starkem Schneesturm kann man sie sehr gut am Kopf verschließen. Der Schneefang sitzt sehr gut und rutscht nicht. Für Leute die allerdings eine gefütterte Jacke gewohnt waren ist es eine kleine Umstellung, weil sie nicht sehr warm hält, hier heißt es viele Lagen darunterziehen. Ich möchte die Jacke allerdings nicht mehr missen.
Veröffentlichungsdatum: 2019-01-10
Rated

5

von

5
von
Anonym
aus
My Second Loften Jacket
I bought a Loften Jacket 7 years ago and wanted to update my wardrobe palette. I could not get over how much the jacket has been updated. Really comfortable and flexible. Just back from Zermatt where it was -10c and worked really well with merino base layer and a permaloft insulated long sleeved midlayer. Later in the season a gillet or even a merino sweater will do
Veröffentlichungsdatum: 2019-01-06
Rated

5

von

5
von
AC247
aus
Style mit Top Verarbeitung
Habe mir jetzt schon die zweite Norrona Lofoten GoreTex Pro Jacket gekauft, weil ich endlich mal wieder eine neue Farbe wollte. Die erste (6 Jahre alt) sieht noch aus, wie am ersten Tag. Das GoreTex Material ist sehr widerstandsfähig und die Verarbeitung top!
Veröffentlichungsdatum: 2018-12-29
Rated

5

von

5
von
360VatellinaBike
aus
What to say?
What is there to day about this jacket? Perfect. absolutely perfect.
Veröffentlichungsdatum: 2018-12-21
Rated

2

von

5
von
WetThrough
aus
Great fit, great in snow, but very disappointingly not waterproof :(
On the positive: the jacket is a great (slim) fit and is comfortable to wear. In dry snow conditions it performs extremely well; the powder skirt does its job when I bale into deep powder. The large integrated hood fits perfectly over a snow-sport helmet, without feeling too large when e.g. hiking without a helmet. However, I noticed almost immediately that the material was NOT waterproof - even in dry snow conditions the residual snow from my sleeve cuffs melted after skiing and very quickly soaked through the material (the jacket colour became darker and was noticeably wet to touch on the inside). In non-snow rainy conditions (e.g. hiking) the rain water penetrated in many areas, and some paper I had in an outer pocket was soaking wet even though the zip was fully closed throughout. From reading other reviewers' comments, my experience is possibly the exception - many others have rated the waterproofness to be very high. Unfortunately this is not the case for me, to the extent that I cannot wear it in wet weather, and I revert to a much cheaper non-breathable rainproof mac when outdoors in wet weather - defeating the purpose of buying an expensive all-weather all-terrain jacket. Very disappointing!
Veröffentlichungsdatum: 2018-12-20
Rated

5

von

5
von
Pacoftv
aus
Exactly what I need it
I bought Lofoten gore Tex pro jacket, as well same brand pants and bitihorn hoodie before 2-3 months ago, but had no chance to use it. Last two weeks I had a couple of opportunities to visit the mountain for ski tpuring, snowkiting and some hiking. I've been really pleased from my apparel. Not cold, no sweating , very comfortable, enough pockets for telephone, nose naps, sunglasses,docs and all headwear. In addition want to admit that the colors were even better,than I saw them in the webpage. My overal perception and feeling is truly satisfying. Great stuff!,!!!
Veröffentlichungsdatum: 2018-12-09
Rated

5

von

5
von
Anonym
aus
Amazing all round Jacket
Can only say good things about this jacket. Light but strong, perfect waterproofness, very flexible and good fit.
Veröffentlichungsdatum: 2018-12-02
Is there any differences between the 2018/19 jacket other than colors? Is it a new GoreTex? Fit is the same??
The jackets are made with the new, sustainable and extremely durable GORE-TEX® Pro membrane. The fit is the same, it is a great jacket, I highly recommend it.
Veröffentlichungsdatum: 2018-12-20
Kommt die Jacke 18/19 auch in schwarz 
Hi, Thanks for your question. Unfortunately this will not come in black this season (winter 2018/19). All colors for this season is on the website. If you want a black Gore-Tex ski jacket, you should take a look at the Lyngen Gore-Tex Jacket which comes in Caviar (black).
Veröffentlichungsdatum: 2018-09-24
Since I'm 1m95 but only have a chest circumference of 93cm, i'm wondering if a Large or X-Large which are closer to my length won't be baggy and a Medium won't be to short. What do you advice?
Hi all, thanks for all the response, eventually i went for the Large, length wise it's good, and for me it's not to baggy and i have room left for layers, so i'm happy. Thanks again!
Veröffentlichungsdatum: 2018-12-12
Sind die Größen in allen Ländern dieselben? Ich bin 172cm bei 75 Kilo und würde nach den bisherigen Fragen Größe S brauchen. Ist das korrekt?
Hallo Lukas. Danke für ihre Frage zu der lofoten gore-tex pro jacket. Die Größen sind die gleichen in allen Ländern. Zumindest in Norwegen und Der Schweiz. Es scheint richtig, dass sie die Größe S bräuchten. Am besten wäre ob sie uns die genaue Mase schicken. Schicken sie es zur: webshop@norrona.no und wir werden ihnen helfen die richtige Grösse zu finden. Mit freundlichen Grüssen, Anette/Norrøna Fan Support
Veröffentlichungsdatum: 2019-01-11
Is it a 3 layers jacket ? Thank you
Hi yes i would say it is a 2 to 3 layer jacket. Had a week in Austria and had 2 layers on. Kept dry and didn't get cold.
Veröffentlichungsdatum: 2018-12-31
Ist das Gewicht von 620 gr. inclusive Schneefang bei der Lofoten Gore-tex Pro Jacke? Und für welche Größe ist die Gewichtsangabe?
Hallo Wolf. Danke für ihre Frage zur der lofoten gore-tex pro Jacke. Das Gewicht von 620 gr. Ist inklusive Schneefang. Die Gewichtsangabe ist für die Größe L für Herrn. Viele Grüße, Anette/Norrøna Fan Support
Veröffentlichungsdatum: 2018-01-22
Is this a jacket i could use also in summer? Im searching an allround hardshell jacket which i want to use for all kinds of purposes. Would this jacket be a good choise?
You could use this jacket in the summer too. It is ab bit heavier in comparison to a normal jacket like the falketind jacket, but you can detach the snow guard. If you don't mind having cuffs on your summer jacket you are good to go.
Veröffentlichungsdatum: 2018-01-17
I'm unsure of sizing as I'm 180 cm and 80 Kg, normal build (for Jackets I normally use size 48 and pants 32) - should I go for Medium or Small (as need room for layers as well)
Size small is the one I went for. I'm the same size - slightly tight on the waist but perfect elsewhere. I love this make. I ski 25 weeks the year and it's by far the best made. 
Veröffentlichungsdatum: 2018-11-26