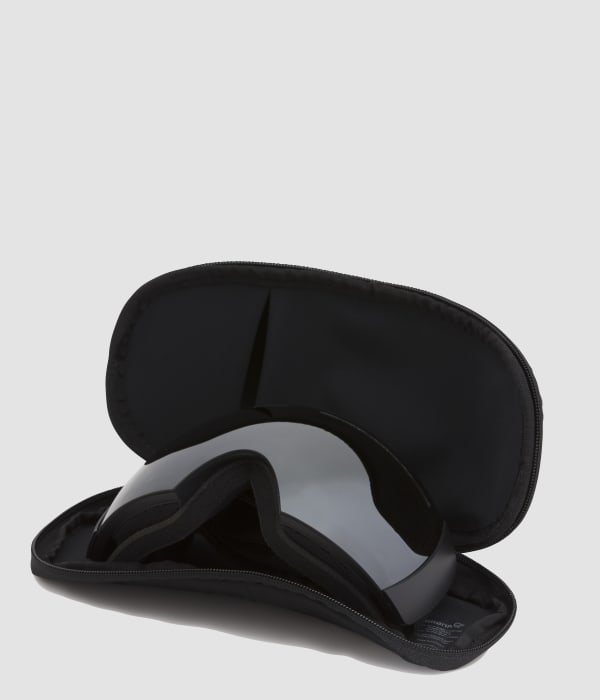 This product is not available in your country
With the new lofoten goggles we took our Loaded Minimalism™ design philosophy to a new field of expertise. After several years of in-house development and outdoor testing, we proudly present a new generation of high-quality goggles to perfectly match our ski and snowboard collections.
The goggles have a premium Zeiss lenses with ultimate UV-protection, anti-scratch treatment, and super anti-fog treatment. The pre-shaped wide-sight construction offers a large visual field and great clarity.
The Zeiss Snow Detector technology ensures sharp images and enhances visibility in different light conditions.
A wide, elastic headband with easy adjustment and silicon lining on the inside to secure a better grip on the helmet.
Available in three different styles for different conditions;
Gold Fusion; S0 – Very light tint on the lens for weak sunlight. Recommended for use under low light and challenging light conditions.
Phantom; S2 - Medium tint on the lens for strong sunlight. Recommended for prolonged use under variable changing light conditions.
High Rise; S3 – Dark tint on the lens for strong days. Recommended for prolonged usage under bright days.
Made for
Big mountain skiing & snowboarding
Also works well for
Ski touring / Randonnée
Freeride skiing & snowboard
Performance
5

Durability

Durability

Scale from 1 to 6 where 1 is fragile products and 6 is the most durable products we have.

4

Lightweight

Lightweight

Scale from 1 to 6 where 1 is heavy and 6 is among the world's lightest of its kind.
Technical details
Goggle travel case included

A nice hard case for the Goggles is included with your goggles. It packs and protects the Goggles, up to two spare lenses and a goggle wipe when you travel.

Interchangeable lens

The lens on the goggles are easy to take off / change to another lens. Lenses are sold separately, and the goggle comes with one lens.
Rated

4

von

5
von
Tulsa
aus
Excellent Design - outstanding view
I bought the googles online at Norrona shop. Unfortunately the googles didn´t fit with my poc-helmet: there was a gap between helmet an google at the top The google runs very wide which gives you an excellent view but due to the this fact the helmet pushes the google down to the nose. So breathing wasn´t comfortable. Also tried it with an uvex helmet too but experienced the same problem. I was very sad about this because the google style and quality looks excellent...
Veröffentlichungsdatum: 2019-03-08
Rated

5

von

5
von
ciccio
aus
Very good goggles
I appreciated the lens color and the viewis well defined. The google shape don't fit well every helmet even if it's confortable
Veröffentlichungsdatum: 2019-03-07
Rated

5

von

5
von
Björn40
aus
Super Tragekomfort und top Glas mit guter Sicht
Würde ich immer wieder so kaufen. Werde ich noch durch das mittlere Glas ergänzen
Veröffentlichungsdatum: 2019-03-03
Rated

5

von

5
von
bovez
aus
Perfect with my helmet
Perfect view also in not good weather conditions. Perfect with my helmet! Perfect!
Veröffentlichungsdatum: 2019-02-27
Rated

2

von

5
von
Duncan
aus
Persistent fogging
I used these goggles for the first time on our recent ski holiday to France and unfortunately I am not pleased with the performance at all. Using the goggles for less than an hour, I noticed that there was a small fog patch in the top left corner. Over the course of the day this patch grew to cover my full field of vision. I swapped lenses to determine if this was an isolated case but unfortunately the exact same thing happened with the low light lens as with the high light lens. The goggles continued to fog over the next few days and would not 'un'fog' until they had been off my head for a good few minutes. Once replaced, they just went back to fogging. By midweek I had to purchase new goggles in resort in order to maximise the rest of my holiday.
Veröffentlichungsdatum: 2019-02-27
Rated

5

von

5
von
Euroboy
aus
Excellent
Excellent!!! Love it!!! Best goggles I have owned!!!
Veröffentlichungsdatum: 2019-02-24
Rated

4

von

5
von
Chrigu
aus
Super Brille
Super Brille mit Wechselsystem. Brille ist recht gross je nach Skihelm passt sie nur knapp rein.
Veröffentlichungsdatum: 2019-02-24
Rated

5

von

5
von
Josef29
aus
Ein Großartiges Teil!!!
Geniale Skibrille mit Aufgezeichneten Gläsern! Einfaches Wechselsystem zwischen den einzelnen Glastypen. Trägt sich Ausgezeichnet, kann ich nur weiterempfehlen!!!
Veröffentlichungsdatum: 2019-02-21
Rated

3

von

5
von
Matti
aus
Nice package!
I bought my goggles 1,5 months ago and was able to test them during Alpine trip. Goggles didn't fit too well with my Salomon helmet but functionality was great. I used the mid tinted lense which was too dark when it was snowing and I hoped that would have bought the low light lense also for spare. With a right lense and helmet this is a great product. Lense is easy to replace.
Veröffentlichungsdatum: 2019-02-20
Rated

4

von

5
von
Paulo
aus
Simply amazing
Got the 3 lenses. Took it to Hakuba/Japan this february for a week, great goggles, all aspects, including OTG use. I woul just suggest the dark lens a little bit darker (it is almost the same as the middle one). Loved it !!
Veröffentlichungsdatum: 2019-02-20
Rated

5

von

5
von
Jens Giehm
aus
Classic simple look - great
i just came back form Austria - testing My New Norrøna Goggles. Exellent Googles - testing cloudy, snowy and sunny wether - and It worked out perfekt. Both functionality and ability to have a perfekt lookout. Exellent "Lovely" Goggles. I have Got the Phantom Lens - and looking forward to get the Gold Fusion Lens when its in the shop again. But the Phantom Lens was very good in alle kind of wether types.
Veröffentlichungsdatum: 2019-02-17
Rated

5

von

5
von
biegl
aus
All weather goggles
The goggles are amazing. The design is so freaking awesome. The fit is perfect, even for bigger heads and the anti fog glasses provide crystal clear view even under difficult light condisions. Though I will need to buy the darker lenses as on really sunny days its a little too bright. Overall the best goggles I bought so far
Veröffentlichungsdatum: 2019-02-16
Rated

4

von

5
von
Anonym
aus
Price vs quality the best!
I bought the Norrona lofoten goggles about a month ago. I've used them last week on my ski vacation in Austrian alpes. They're really light weight and fit perfectly. I also bought the darker spare lenses for the sunny days. Both of the lenses do what they have to do! Price vs quality they are probibly the best I've erver had!
Veröffentlichungsdatum: 2019-02-15
Rated

5

von

5
von
Anonym
aus
Clear Vision and Great Fit
I bought the goggles on the day of launch for loyal customers. I have the lense for bad weather and have to say that it is excellent for those snowy days with flat light, or night ski tours with limited light. The size is quite massive but fits my various helmets well. The silicon on the straps also is solid, and holds well. Finally, the mechanism of changing the lense feels robust, and is easy to use.
Veröffentlichungsdatum: 2019-02-15
Rated

5

von

5
von
Leonardo
aus
Excellent goggles!
I have been using the new lofoten goggles for 2 weeks in different weather conditions - yellow lenses for light sun and snow - excellent view through the lenses - it's easy to recognize the contours..
Veröffentlichungsdatum: 2019-02-14
Rated

5

von

5
von
hsolen
aus
Perfect fit
These are the best googles that I have used - they fit perfectly to my face and helmet (Sweet Trooper). I bought them with an extra pair of glasses, so I can change the view based on the light condition. They also comes with small and practical softcase for transport / storag, that have a seperat area for the extra glass. I recommend that you try them on, together with you helmet before buying.
Veröffentlichungsdatum: 2019-02-14
Rated

5

von

5
von
Gandalf Grå
aus
Perfekt googles
I have had the Googles (phantom lens) for one month together with my Smith helmet and they fit perfect. The Googles are well designed. In my opinion the best Googles IF I campare to other I have used, ( POC, Smith, Oakley etc.) Best buy so far.
Veröffentlichungsdatum: 2019-02-13
Rated

5

von

5
von
Anonym
aus
really cool!!
The goggles are really nice. I also like the functional aspect. The goggle case is more beautiful than the picture. I think I did well to buy !! 한글로 남겨야 겠습니다. 이 고글은 정말 멋스럽습니다. 스페어 고글은 벌써 솔드아웃이라 구매는 못 했지만 스페어 고글을 바꾸기 쉽게 디자인 되어 있습니다. 그리고 고글 케이스는 정말 멋집니다.
Veröffentlichungsdatum: 2019-02-04
Rated

5

von

5
von
Julien
aus
Very good goggles!
I got the high rise version 5 days ago and did 3 very sunny sessions. Result : perfect fit and view with a Smith helmet. The case is also very strong.
Veröffentlichungsdatum: 2019-01-17
Rated

5

von

5
von
Andi77
aus
Sehr sehr gute Brille!!!
Heute erhalten und absolut begeistert von der Qualität und dem Sitz der Brille. Das Glas scheint auf den ersten Blick sehr sehr gut zu sein! Großartig für die erste Brille von Norrona
Veröffentlichungsdatum: 2019-01-17
Rated

5

von

5
von
Oski
aus
Great goggles!
Tried the goggle for a week in various conditions - great performance! Lightweight, comfortable, easily interchangeable lenses and a very smart travel case included! All in all great experience!
Veröffentlichungsdatum: 2018-12-12
Does the case also have a seperate pocket for the additional glasses? that would be amazing.
Yes it does. There is a pocket for one additional glass in the case.
Veröffentlichungsdatum: 2019-02-06
Frame (outside) dimensions please..?
It fits the helmets from SweetProtection - exact dimensions I cannot give where I am know.
Veröffentlichungsdatum: 2019-03-29
How many lenses included, just the one?
Hi, just the one. the lofoten Goggles comes with a travel case and one lens.
Veröffentlichungsdatum: 2019-01-15
Does the goggles include all 3 glases? Or are they sold separately?
Hi lisamaria, Thanks for your question about lenses on the goggle. The goggles contains 1 lens, the one that is shown on the product picture when choosing color. The other lenses are sold separately. It is very easy to change lenses, as you can see on the video on the product. The strap are also easy to take on and off. Best regards, Jens, Norrøna Fan Support
Veröffentlichungsdatum: 2019-01-14
Is it OTG? 
Yes it is, there are specific holes on the sides to accomodate the branches of the glasses. I have medium-sized glasses and it fits nicely. I am not sure how that would work for bigger glasses though.
Veröffentlichungsdatum: 2019-01-13