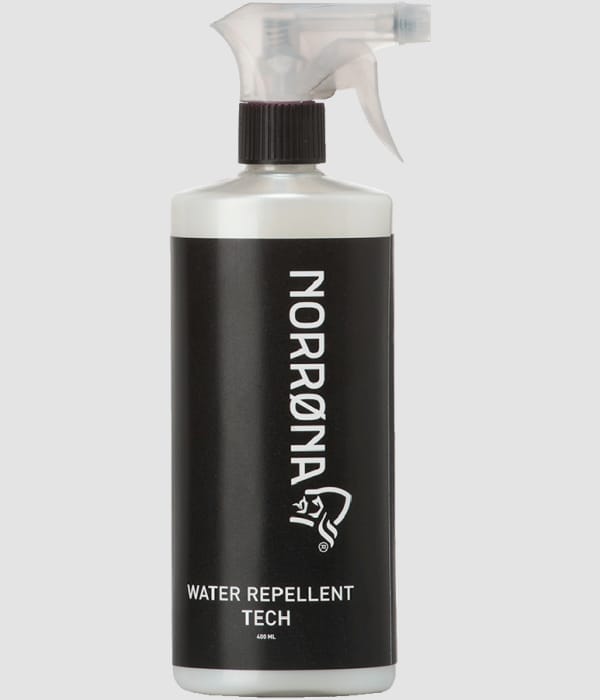 This product is not available in your country
This product preserves the breathing of technical materials and enhances the repellancy of water on the fabric. This is a great Eco-friendly alternative to other water repellents out in the market.
Can be used on Gore-Tex, dri and other technical fabrics.
Instructions: Clothing article should be clean and dry.
Shake bottle well before use.
Spray the article as evenly as possible.
Let the waterproofing soak in for 15-20 minutes.
Dry off extra wa terproofing with a damp cloth.
Dry the article with help of a warm iron, warm air, sunlight or similar. Washing directions for the fabric MUST be followed.
Empty, clean, and close the spray nozzle if you will use the bottle again.
If the waterproofing is not sprayed on evenly, the article can become discolored. This is easily removed by washing.

The products are free from fluorcarbons and do not contain propellants that contribute to global warming or CFC gasses that destroy the ozone layer.
Rated

5

von

5
von
SPOFBOY
aus
Fantastic Product
I bought this to waterproof my Norrona Loften, it did a great job, water just beads off no collecting at the seams or folds. Have used this on all my other jackets with the same great results.
Veröffentlichungsdatum: 2017-07-03
Rated

5

von

5
von
Ludi
aus
Efficient re-waterproofing
I've used this to re-waterproof my Lofoten jacket which takes a regular beating as I wear it any time it's raining out here. After treatment, water is beading and bouncing off my jacket just as it did when I first bought the garment. Very pleased to see I can increase the longevity of my jacket!
Veröffentlichungsdatum: 2018-11-14
Rated

5

von

5
von
Sean91
aus
Easy to use
Bought this to re-waterproof my gore tec jacket and it was easy to apply.
Veröffentlichungsdatum: 2018-09-23
Rated

5

von

5
von
maxxx
aus
it does the work
Fast delivery and good product, I use it on my norrona lofoten one piece suit.
Veröffentlichungsdatum: 2018-05-08
Rated

5

von

5
von
Who cares
aus
Re-proofing made easy
I bought this based on the guidance on the Norrona website to reproof my Lofoten jacket and ski pants. It is easy to apply and I experienced no fabric discolouration. Basic tests indicated improved water repelling and the real test will come next ski season.
Veröffentlichungsdatum: 2018-04-27
Rated

4

von

5
von
Lucas
aus
Good performance, medium durability
Easy to apply, good spray head. After some long days in the mountains the performance drops significantly. When combined with repellent washing agent, performance is awesome
Veröffentlichungsdatum: 2018-03-19
Rated

5

von

5
von
ChMa
aus
Funktioniert wie versprochen - einfach Anwendung!
Der Pump-Spray lässt sich leicht anwenden und ist geruchslos.
Veröffentlichungsdatum: 2018-03-10
Rated

5

von

5
von
Annon
aus
Reproofing 5 year old jacket
Clear web site, prompt delivery to UK and clear instructions on the bottle. Limited use so far but appears very effective as water beading on the surface.
Veröffentlichungsdatum: 2018-03-03
Hi guys, please recommend what/howI should wash norrona lofoten Gore-Tex jacket and pants? Eg Nikwax,grangers,other? have some mellow yellow pants/green zips which have a couple of marks on them,chocolate and blood. Should i treat marks 1st? Thanks
Would be curious to know if the chocolate a blood stains were incurred in the same mishap! Norrona's own products for washing and re-sealing their products are terrific, and work really well. Also Granger's Wash & Repel is a two in one product that has come recommended to me. Have bought it but not used it yet to revive the repellent in the material.
Veröffentlichungsdatum: 2019-03-17
Can I use a hair dryer to dry this? I don't trust the UK weather or my iron.
Yep, I successfully used a hair dryer when I resprayed an eVent shell using this product, (not a Norrona jacket, rather a Rab Latok Alpine jkt).  Not too hot, obviously, and keep the warm blast moving.  Easy.  I sprayed the jacket on a clothes hanger outside on a still summer's day, so any drips weren't an issue and the spray was even.  One thing - try turning the nozzle until you get an even spray, sometimes it squirts a bit much, but a small rotation and everything is perfect.  Good luck!  (BTW - your conscience can rest easier with this product as it's about as environmentally friendly as a reproofer gets).    
Veröffentlichungsdatum: 2019-03-07
Can I use this on my recon jacket?
I've only used it on my goretex jacket and ski pants and it worked really well. I wouldn't want to give the wrong advice, but if your jacket is already water resistant or waterproof it should work 
Veröffentlichungsdatum: 2018-09-24
Hello, can this be used on the Norrona Svalbard Organic Cotton Anorak?
Hi, No but you can use our Water Repellent Natural spray is for cotton garments: https://www.norrona.com/en-GB/products/general-outdoor/water-repellent-natural-400-ml/
Veröffentlichungsdatum: 2018-07-18
Good evening, I tried to add to basket but it doesn't work (I am an european customer) - can you help me? KR, BM
Actually I received an email from Norrona "customer experience" saying that the shipping is restricted to some countries only (France, UK, Scandinavian countries, basically). Quite strange, indeed. Not a good service for southern Europe customers.
Veröffentlichungsdatum: 2018-05-19
Adding this to my cart fails each time (all other products work). I want to add this to a larger order. Can you help?
Hi, This product is only available for purchase in Europe, for shipping reasons. That might be the reason for why you have trouble adding it to your order. Best regards, Jens, Norrøna Fan Support
Veröffentlichungsdatum: 2018-03-02
Hi, when will be this product available again? Best regards, Marko
Hi Marko, This is a product that we will have in stock almost always, although it will be short time periods where we are out of stock. So if this is sold out, please check again after a week. Best regards, Jens, Norrøna Fan Support
Veröffentlichungsdatum: 2018-03-02
Can we use this product on Falketind PrimaLoft100 Hood Jacket?
Hi Gonos003, Thanks for your question. Technically it is possible to use this tech spray on a synthetic lightweight fabric such as the Falketind primaloft. On the other hand I do agree with "justigoo" that it might limit the loft of the primaloft. I would therefor suggest to use it in case only on critical spots such as hood and shoulders, avoiding the whole surface. Best regards, Jens, Norrøna Fan Support
Veröffentlichungsdatum: 2017-04-24