0
/29 Gore-Tex PrimaLoft Parka (M)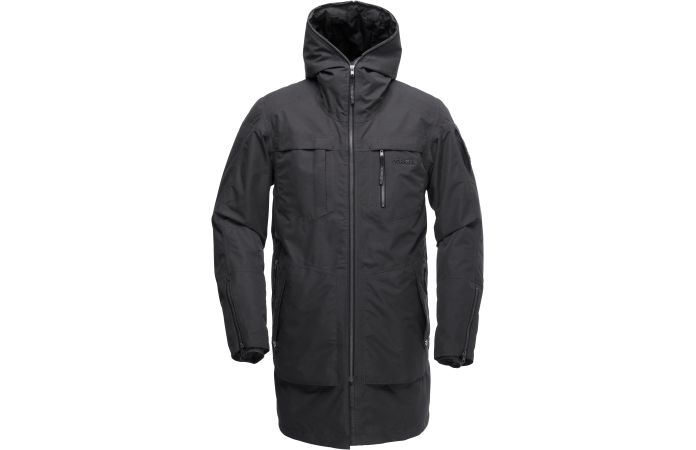 Unique men's parka that warms in all types of weather through the winter. We have combined our most technical fabrics with a playful design to create the most comfortable garment for everyday use during the winter season. The Parka has a soft, waterproof and breathable GORE-TEX® outer layer, and PrimaLoft® Silver Insulation. Details include hand-warming fleece pockets, hand gaiters and new YKK® metal zippers. The jacket runs a bit large to it's size and have a bit longer arms than normal. The arm length is longer so it will not slide up when you put your hands in the air.
Windproofness

6

Waterproofness

6

Insulation

6

Breathability

3

Durability

4

Light weight

2
Made for
Casual use
Other areas of use
General outdoor use
Please tell me what is the length of the park?
Hi Frankude, Thanks for your question. Centre front length in size L = 81 cm, and centre back length in size L = 99 cm. Differs 2 cm in length from size to size. This parka also have quite long arm length, just so you know. Best regards, Jens, Norrøna Fan Support
Date published: 2017-03-16
I am wondering whether this jacket could serve temperatures around -20? Would appreciate some feedback.
I have never had a warmer winter coat. I live in The Netherlands so conditions are not that extreme but if temps go above 5 degrees, this parka gets too warm especially if you cycle or walk with energy. 
Date published: 2017-03-14
Hey, on the inside it says I should impregnate the jacket with a spray bottle after washing it. What should I use? Also: one button from the outer right pocket went off, now there is a hole. Is it possible to replace it? Are you sending new buttons? best,
Hi Jan, Thanks for your questions. Regarding the button, you will be contacted by our service department so they can send you a new button or solve the issue in another way. Sad that this happened on your jacket. In regards to impregnation you should go to this page and you have an explanation together with a video instruction: https://www.norrona.com/en-GB/Help-me/Washing-Instructions/ Best regards, Jens Norrøna Fan Support
Date published: 2017-01-06
Hi, I'm thinking on purchase the (/29 Gore-Tex PrimaLoft Parka (M) S Size) but due to the other customers comments, of the sleeves length, I'm not sure... I also own the ( /29 dri2 Coat (M) S Size) compared to this one how much longer are the sleeves?
Hi, one thing that works for me is turning the ends around once and boom it's shorter. Now I only extend to full length when really needed. Amazing Parka! Only thing is that one of the buttons on the most outer side pocket fell off (the one with the Viking head) is it possible to replace that? I'd really like to keep my jacket in shape and have it for 10 years!! : ))
Date published: 2017-01-06