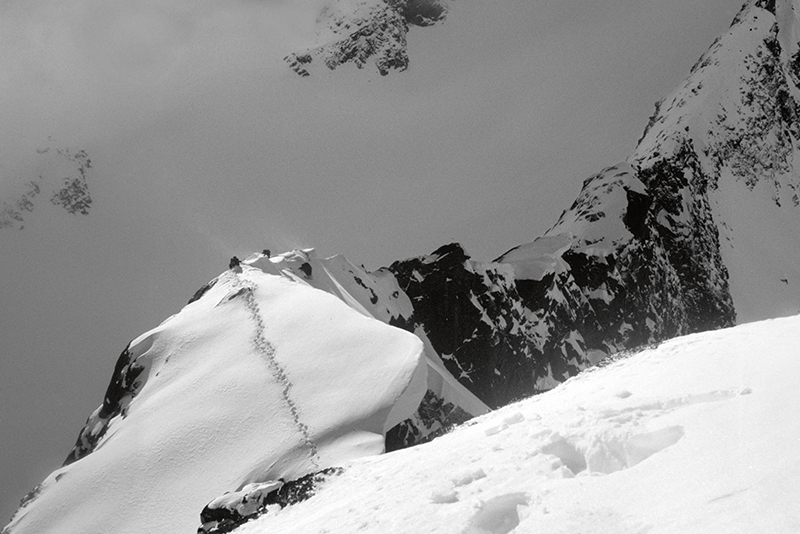 "I had a cousin, almost like a big brother, a year older than me. He never said 'no' to joining a daring adventure, whether allowed to or not by Aunt Cora.
When I told him I had started mountain climbing, he was a little envious. I agreed to give him anintroduction to the sport, stuffed a boat rope into a backpack and took off for Sogge, where he lived in a school bus," writes Kjetil Svanemyr about his start as a climber in the western Norway town of Åndalsnes in the early 1970s.
"We were 14-15 years old and had no idea what we were doing, but did have an overwhelming desire to explore life," he continued.
Five years after the trip with the boat rope, at Easter break in 1979, the cousins met up at a place called Turtagrø in the western Norway Jotunheimen range. Svanemyr came from the ski town of Hemsedal, while cousin Hans Christian Doseth came by bus from Åndalsnes.
"I think it must have been a long day on the bus," says Svanemyr on a bad phone line from the village of Folldal, in eastern Norway's Dovre district.
Svanemyr still spends a lot of time outdoors, albeit on flatter terrain and, in recent years, more often mushing a dogsled than climbing a mountain.
But he still enjoys his dose of cold. "I have always liked the snow and cold. Sometimes, I did winter climbs alone without a sleeping bag or tent, and it was just fine," he says.
On Easter 1979, Svanemyr was 19 and Doseth was 20. Svanemyr got a lift in Ulf Geir Hansen's Renault 16. Finn Dæhlie was also in the car. They met up at Turtagrø in the Hurrungane Mountains to attempt something no one had ever done : a winter ascent
of the Jubileumsruta (Anniversary Route) up the northeast wall of the craggy peak Store Midtmaradalstind. It was first climbed in the summer of 1968, In winter, it was a thousand meters of rock, ice and snow.
"It all really started in 1976," says Hansen, born in 1945. He was on the first ascent in 1968. In 1976, he headed for the Hurrungane Mountains with two others to attempt a winter ascent of "Jubileumsveggen" (Anniversary Wall).
"But the weather wasn't too good, so we didn't try to tackle the wall. We went there with the equipment and supplies to climb it, but ended up doing other routes instead. I am not really a fan of expeditionstyle climbing, I really wanted to go Alpine style,"he says.
In 1970, Hansen had climbed, among others, Pilier du Frêney on Mont Blanc in Alpine style. In 1977, he returned to the Hurrungane, and went all the way up to the entry point. To get there, he first had to head into Skagadalen valley, over "Bandet" and then several hundred vertical meters down to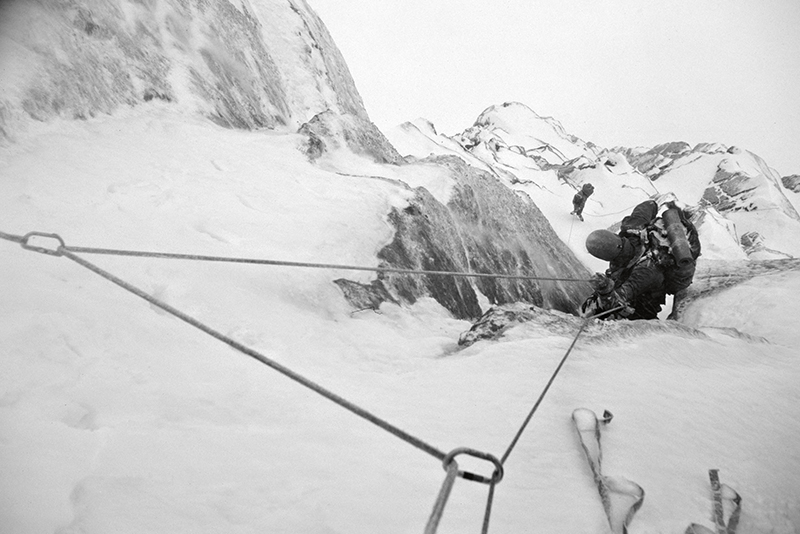 The "Anniversary Route" was first climbed during the summer of
1969. The route follows the dotted line on the northeast wall of the
Store Midtmaradalstinden peak in Norway.
summit just long enough to take a picture of the tracks left by the others as they disappeared down the mountain ridge. "Demanding winter climbs were unusual in Norway at that time. The reason we were first is probably because we belonged to a generation that wanted to break out of the narrow framework that had stunted the development of climbing in the 1970s," says Svanemyr.
Epilogue.
"I met a girl in Oslo and became a father in 1980. The same year, Hans Christian (Doseth) went to Yosemite. He was already better than me and had higher ambitions, but that summer he made a real quantum leap," says Svanemyr.
The winter climb up "Anniversary Route" in 1979 was the first time that Doseth had done a long trip with Dæhlie. In 1984, the pair disappeared on the Great Trango Tower of Pakistan, the very wall that graced a two-page spread in the trip diary Svanemyr kept at home in Åndalsnes in the 1970s. Svanemyr's tale of his encounter with climbing ends like this :
"I still can't escape the thought that there is a climber out there somewhere, one who is on his way home from a long, long trek and that one day we will take the time to talk about it all, every single thing."