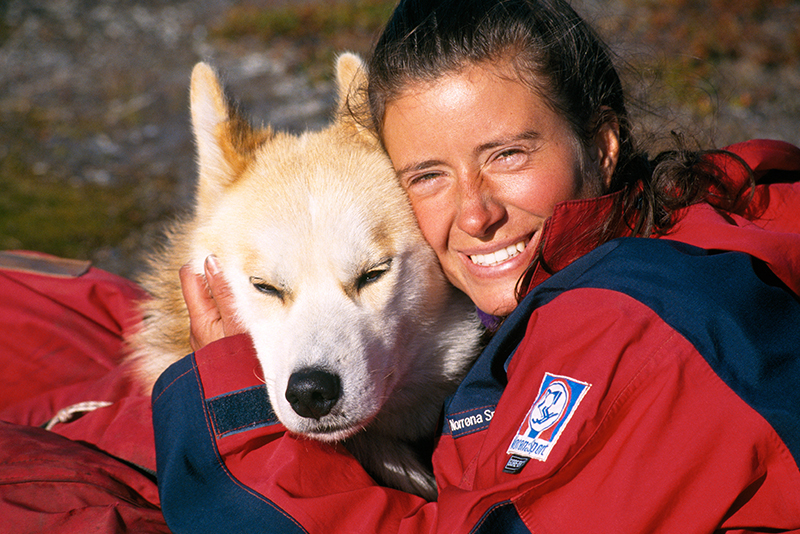 MARIT HOLM, where are you now?
"In Stabbursnes, near the village of Lakselv, in northern
Norway's Finnmark County."
Where were you in May 1992?
"Ha-ha. I was in Trondheim, Norway, working as a relief farm hand."
How did you hear about Norwegian adventurer Lars
Monsen's advertisement?
"Friends tipped me off. 'You have to read the outdoor magazine
Villmarksliv! Someone's looking for you.'"
A latent lifestyle. How many people from Smøla Township
in Norway's Nordmøre region join wilderness expeditions?
"Not many. I feel like I was born in the wrong place. But the
trekking life was lying dormant within me. When I finally ended
up in the right circles, it awakened."
After secondary school, Holm moved to Trondheim, joined
the Red Cross Mountain Rescue Team and started climbing.
"That's when I thought: I have ended up on the right 'ledge.'"
While growing up, she trained for athletics, built strength
and played almost every kind of ball sport: volleyball, basketball,
handball: "All the ones where you can use your hands. Not
football. That was never for me."
In other words, she was in top physical condition.
And that soon proved essential.
IN VILLMARKSLIV, Lars Monsen used several pages in his search
for a partner for a new adventure. When he trekked the length
of Norway, he came up with the idea of hiking the length of
Alaska. And he wanted a female companion.
"I dreamed of going on an expedition, or should I say I knew I
would go on an expedition at some point. So going along would
be perfect for me," says Holm.
What did you do after you saw the ad?
"I wrote a letter about all the fine treks I'd been on and how versatile and competent
I was. I had to blow my own horn a little. And I lied about my age."
How old did you say you were?
"24."
And how old were you really?
"Let's see... 21. Or 20, almost 21. I wrote a very fancy numeral '4' that also
looked a little like a '1.'"
HER SECRET WASN'T EXPOSED until long afterward. Lars Monsen got 38 replies.
He picked five girls and took each on a test trek during the summer of 1992.
"He tried to leave me behind."
On purpose?
"Oh, yeah. It was part of the test."
What did you do then?
"I jogged a little. It was in the Dovre Mountains (of south-central Norway) and
there was rock everywhere. But I was in good shape at the time, so it was just a
matter of hitting the gas."
A reviewer of the book on the Alaska trek wrote that Holm endured "qualifying
trials of physical stamina, navigational skills and the ability to endure pain
that would have scared the wits out of any Special Forces soldier." That seems
precisely correct.
"I never give up. Never. That is my motto. I have lots of energy, so I just keep
pouring it on," says Holm.
On the train home, Monsen knew he had found the right girl.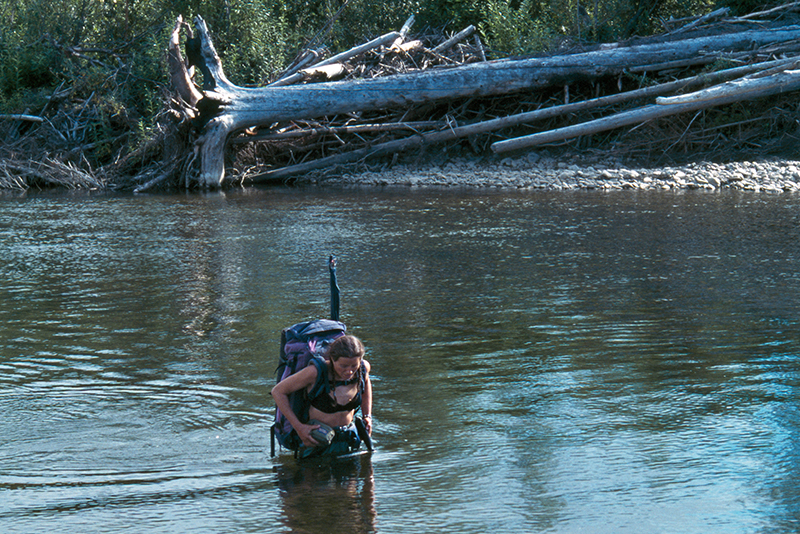 THE TRAINING TREKS they accomplished would have been the "trip of a lifetime"
for almost anyone else: Two months on the Arctic tundra of Finnmark during
the winter of 1992-93. 900 kilometers through the Nordic-Russian Nordkalotten
region during the summer of 1993. 50 days in the Tana wilderness of northern
Norway during the winter of 93-94. 280 days together in the field. The treks
were used to prepare for every possible situation that could confront them in
Alaska.
You ate dog food?
"Eating dog food was fine for a week. It doesn't taste good or bad. In fact, it's a
little good when you're hungry enough. It's heavy on the stomach, but we were
fine."
– After each trek, they wrote evaluations of each other. After the first session
Lars Monsen wrote, "Areas you could improve on are hunting, fishing, lighting
fires and knowledge of the best types of fuel".
In other words: Be more like Lars Monsen.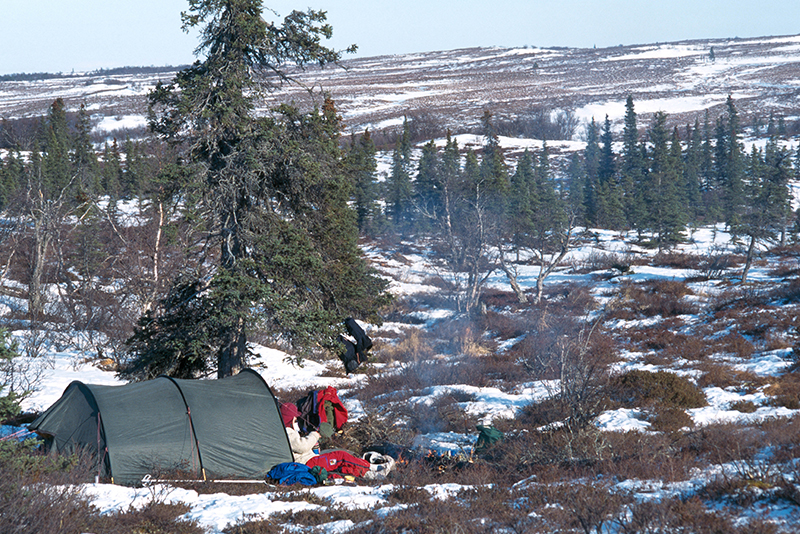 THERE IS A WEBSITE called "Lars Monsen Facts," based on a similar site on action
film star Chuck Norris. A few selected 'facts.'
"Once when Lars Monsen ran out of provisions, he ate the stone trail markers.
Bears do not go into hibernation, they hide from Lars Monsen.
Lars Monsen creates fire with his bare hands."
The last of these 'facts' is the easiest to disprove.
In 1994, Lillehammer, Norway hosted the Winter Olympics. It was the year
Norwegians voted 'no' to EU membership for the second time. It was also the
year Monsen and Holm headed to Alaska, which had already experienced rushes
for pelts, salmon, gold and oil. Now the 'rush' was by a man, a woman and a dog,
intent on making it through Alaska on muscle power alone.
At the end of November 1994, they flew Oslo-Copenhagen-Seattle-
Anchorage.They
took a domestic flight to Barrow, in Alaska's far north. The plan
was to spend the polar winter night there, and head south in February.
It was so cold, that Monsen once needed 12 matches to light his camp stove.
But it wasn't the cold that worried Holm.
"I had messed up my head a little all on my own," says Holm.
During the darkness of Arctic winter night, she had plenty of time to lay in
her tent thinking.
"In the dark, it's hard to know how to defend yourself if a polar bear attacks.
And I wasn't sure I could hit one if I had to shoot. That makes you feel vulnerable."
After two years, and 280 days of training, they decided to turn the trek on
its head, and start from the south. Advantages: Fewer polar bears, easier river
crossings, no waiting, so they could get started at once.
IN READING MONSEN'S BOOK about the trek, you get the impression that it was a
superhuman effort, especially by Marit Holm.
"No, I don't see it that way. It did happen that I was so exhausted that I stood
swaying in the trees and tears came. One moment, you're on the brink of collapse
and the next you're reveling in the beauty of nature," says Holm.
"I'm probably different from other people. I think it's good to be exhausted. It's
not painful, it's a good feeling. I love to sweat, and struggle and press on. What
you consider pain is a matter of definition."
What was a normal day like on the trek?
"Every day, I woke up feeling very excited and very happy. We felt like explorers,
I love the feeling of walking and discovering new land, new terrain. Having
the freedom to choose: Which way now? Which route should I pick?"
What is it like to be on a trek for so long?
"It's unique to have a chance to experience changing seasons while living outdoors.
Living in the wild for almost a year allows you to find a sense of serenity,
and the thought that 'This is where I live' – under a pine tree or in a tent," Holm
says.
"Maybe you feel a bit like an animal – which we are, even if we believe being
human makes us something special, and I felt unbelievably grateful to be part of
that natural world."
How long does it take to get that feeling being on a long trek?
"At least a month. The first week, you're all stressed out over all the packing and
travel, and the last week, you start to think about everything you have to do when
you get home. That feeling of one week just leading into the next week is the best."
How did you keep track of the days?
"We kept a diary. Things go by the clock when you're on a trek. In fact, that
was one of the most important ways of staying oriented, so we kept track of
the days."
A COUPLE
Lars clearly stated "this cannot happen" says Holm.
Becoming a couple, that is.
"For my part, not becoming a couple - or for that matter becoming a couple -was
not a goal in itself. But then one evening Lars declared that he was in love with me."
And you?
"I liked him a lot."
The declaration of love came during a training trek in Norway in 1993, and
sparked a relationship that lasted seven years. They slept in the same sleeping
bag for the last four months of the Alaska trip.
But they never ate dinner together on the trek.
"We only had one pot, so we took turns having dinner and never ate together.
We each carried our own food, to avoid hauling a single extra gram. And there
definitely would have been spats had we shared the same pot of food."
They ate better every time they stopped in a village for supplies.
"When we entered a village, we would stand there stinking and wondering
if we should walk up or down the road. Someone always came running to greet
us, wish us welcome and invite us to eat, sleep and wash our clothes. The locals
were always hospitable and those meetings were an important part of the trip."
You got a marriage proposal?
"Ha. Yes."
One Eskimo left a note saying he would have liked to marry her had she not
already had a steady companion.
Did that happen often on the trek?
"Not very often. Maybe not often enough."
ALASKA. Just the name conjures up images of tough fishermen, heli-skiing, and
merciless wilderness. But that wasn't what slowed the Norwegians the first
months in southern Alaska.
The book gives the impression that there were a lot of impassible thickets,
underbrush and tufted mounds called tussocks.
"The amount of thickets and tussocks was amazing.
Tussocks as far as the eye could see. Thickets so dense that a day's walk might
be a measly few kilometers after 10 long hours of struggling.
Marit's motivation suffered a blow before they even started. Both caught the
flu. They tried to press on. Then Marit turned back. They backtracked 10 kilometers,
and then sought shelter in a cabin at the makeshift airstrip at Hereenden
Bay. She found a radio, and used channel 72 to call an acquaintance from one of
the last villages they visited. He answered. An hour later, she flew the short hop
to the next village, Bear Lake, to wait for Lars.
"Having to fly a stretch in the south was a big letdown, but I was a bit disheartened
and clearly saw that there was no other option. There was no point
in being down in the dumps. If something is impossible, then it is impossible."
Lars Monsen tried to go on alone. But the combination of crevices, thickets,
underbrush, and illness stopped him too.
What about the sponsors?
"I don't think it meant much. The expedition itself was so unique that an airlift
only made for a better story."
On the trek through thickets and pine forests, crossing underbrush, mountains
and rivers, they frequently encountered wildlife. Moose, beaver, wolverines,
and 46 bears in all.
"You quiet right down when you meet five bears at once."
Holm and Monsen had 10 basic rules for dealing with bears.
Rule No. 2: "Make a lot of noise."
What was it like wearing a bell?
"Well you're supposed to get used to it, but for me it was unnatural to talk loud,
sing and use the bell. The thicker the growth, the more noise we'd make.
It was, by the way, during this trek that Lars Monsen became a bear whisperer.
A black bear at Tango Mountain did not, for some strange reason, respond
to several greetings of 'Hello there!'"
Now, Holm is completely cured of any fear of bears.
"Humans just aren't on the bear's menu. They are more frightened than you
are, and take off at the first scent of a person."
Did you also meet wolves?
"The feeling of sitting by a campfire along a riverbank when it is getting dark,
and hearing the wolves howl it is just crazy. The hairs on the back of your neck
stand up. It is the pinnacle of wilderness experiences."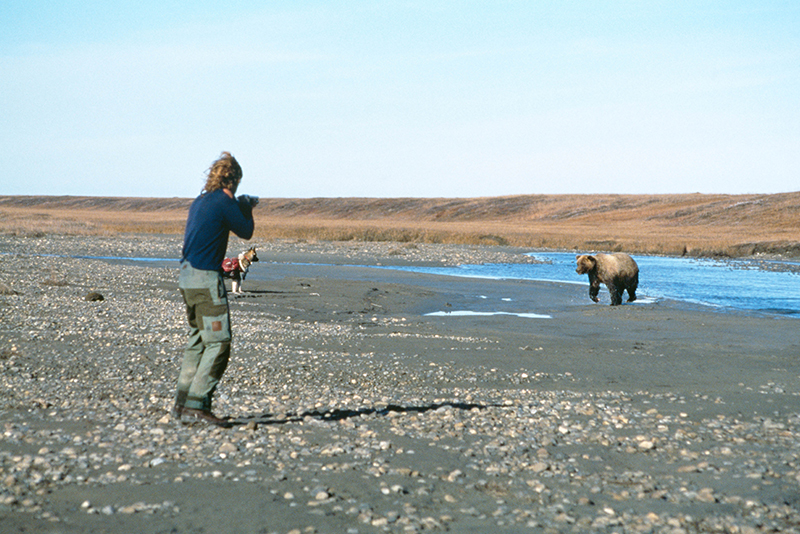 THE TREK WENT FROM False Pass in the south to Kaktovik in the north. Coast,
forests, open country. Snow, rivers, tundra. Hiking most of it, with 20 or so days
on skis. 3,000 kilometers.
Break camp, walk, set up camp.
From being so cold that Monsen let the dog sleep in the tent to so warm that
the same dog suffered a heatstroke and had to spend a day lying in bog water.
What did the final kilometers feel like?
"We reached the ocean, and had the final day's hike along the coast. My mind
was drained and my body was drained. It was ambiguous: You want to reach the
destination. At the same time, you're thinking: Is this it? Is the adventure over?"
"Part of you just wants to turn around and start walking back," Holm says.
They reached the goal on Sept. 19, 1995. The trip itself took 292 days, plus the
month spent waiting in the north.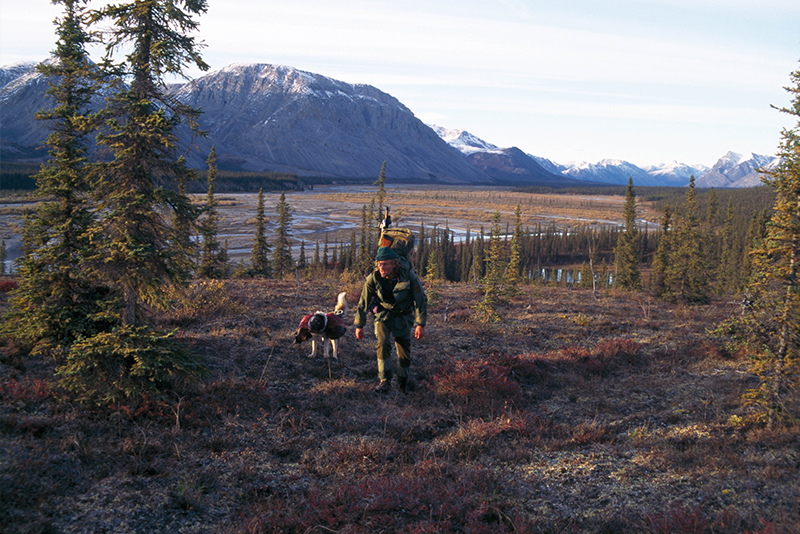 "We lived in the wilderness for a year. What was hard was leaving the wilderness.
At first, being back in civilization was fine, sleeping in a bed, making food
in a kitchen. Then you start to miss the tranquility."
HOLM IS NOW 39 and is a veterinarian in Lakselv. She lives in a 38 square meter
cabin with 17 dogs sleeping outside.
In what ways did the trip shape you?
"All treks contribute to shaping your life. On the Alaska trip, I learned that we
can take a lot, much more than you think, both physically and psychologically. I
became surer of myself and what makes me happy: Being out in the wild."
How do you look back on the trip?
"For me, it remains like a fairytale."
What else?
"So many images. So many great campsites and each campsite a home."
She pauses.
"Sometimes I get pictures in my head."
Like what?
"Of standing on a mountaintop, looking south and thinking: As far as you can
see now is as far as we have come. Then turning around and looking north: We
are going farther than we can see now. We are going farther than the horizon."
Source: The book "Til fots gjennom Alaska" (On Foot Through Alaska),
Gyldendal, 1996, by Lars Monsen, Marit Holm, and Toini.