Jotunheimen has a shoulder, a strong shoulder, and just as a child can see more from its mother's shoulder—I guess a child thinks that it can see the whole world from up there—you can climb up onto the shoulder of Jotunheimen and look out...out...out... until you are almost dizzy by the sight of it all, and have to sit down on your battered old day-pack and close your eyes for a moment. Believe me, you are now about to gain insight. Insight so deep that you almost can't believe it, because you are probably a member of Generation Irony, and in Generation Irony, we are not used to such intensity, such strong emotions, such wisdom. What is this insight? The thought comes unexpectedly, like something warming, like good weather in January. You think:
Views bring insight.
That is what you think.
Views bring insight.
And the thought will not go away, it will not blow away with a south-westerly, it will not melt away like snow in the sun. You might as well admit that this insight is here to stay.
Like a simple wedding ring.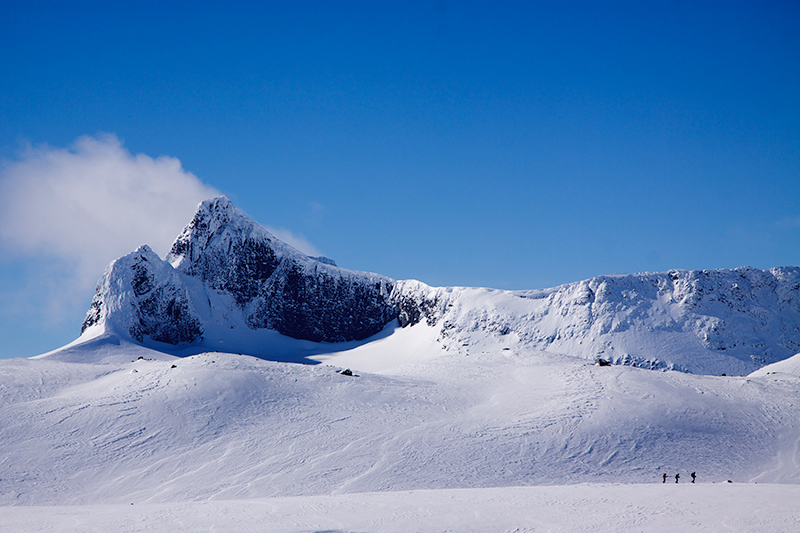 It was Easter, we were staying in the cabin. It was just one day of skiing after another, until in the end they all blend in together; is that what they call a holiday? As usual, we had gone to Tyin-Filefjell—our sanctuary, our base camp, our second home—and that Easter there were not only five of us, there were six; we had brought our new-born son with us. He ate and slept, and slept and ate, we pushed him in his pram along snow-covered mountain tracks, we took him into the warm lounge in the ski resort. We had decided that this should be a quiet Easter, some days in the mountains without all the wild stuff, a holiday centred around the baby. But then, half way through, or maybe towards the end, I cannot remember, came a weather forecast that was so positive it was verging on naive. The experts were showing us one big sun over the entire Jotunheimen, with no wind at all. I sat there, looking at the weather app on my mobile screen, and thought forbidden thoughts. Imagine if I had a babysitter right now, I thought. Imagine if I left someone else looking after the baby, for just one day, one long day, and I went with my wife, or a friend, and just took off, towards the top of Hurrungane, or made a winter climb of Falketind, or an ice-axe ascent of Mjølkedalstinden.
"You've got that look", said Katrine.
"What look"? I asked.
"That 'I want to climb something' look".
I believe I blushed. After all, we had agreed that we wouldn't get that look this Easter. We were going to stay close to the cabin, go on short excursions, give each other an hour's break here, an hour's break there. Katrine smiled. Then she said:
"So you should take Gjendine and Ea and climb Langeskavltinden".
It sounded more like an order than a suggestion.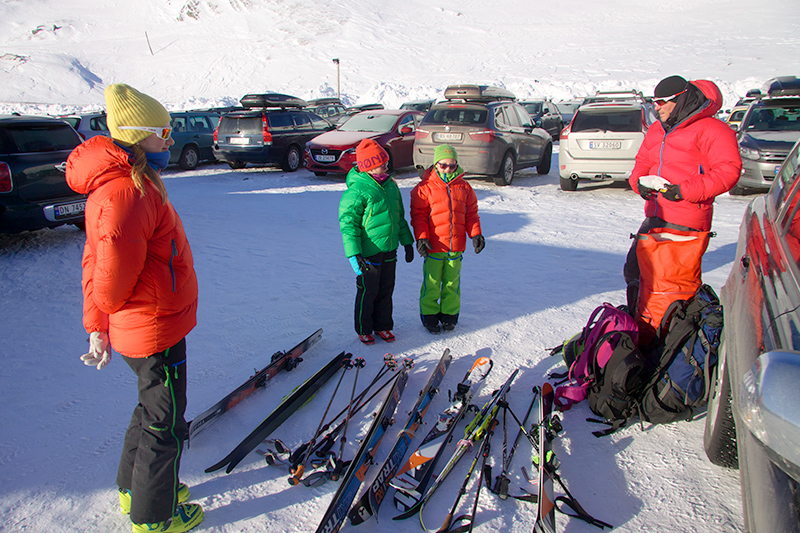 One minute later I was on the phone to Fredrick, my friend from the neighbouring cabin.
"Do you and Matilde want to come with us to Langeskavltinden"?
"When"? said Fredrick.
"Tomorrow", I said.
"Right on", said Fredrick.
So we began to pack. And exactly what do you need to take when you are ski touring in Jotunheimen with a 12-year-old, a 9-year-old and an 8-year-old? Well, quite a lot. Obviously, you'll need plenty of warm clothes. A change of thermal shirt. Spare hat. Spare gloves. Food. Drink. Stuff like that. And a spade. And a roll mat. And an emergency bivouac. A map. A compass. And a ridiculous amount of other tiny details.
Our 12-year-old Gjendine had her own touring skis. But 9-year-old Matilde and 8-year-old Ea did not. So we packed their alpine ski boots into the bottom of the rucksack and strapped their downhill skis onto the sides. That way, the two girls could go up on their cross-country skis and switch to their downhill skis at the top.
Every morning over Easter, the transport company JVB's Bombardier Snowmobiles will give you a ride over Tyin to Fondsbu. Of course, you should really do the 19 kilometres yourself. You shouldn't really cheat like that. But it's so tempting just to climb on board that antique vehicle. So tempting just to roar right over that first flat stage. So tempting just to get yourself straight to where the fun starts—and after all, we did have the kids with us, didn't we....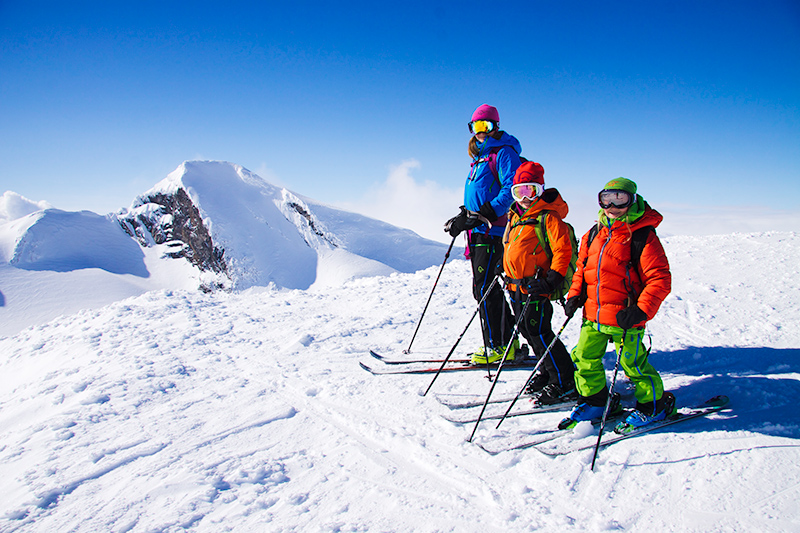 So that's how we found ourselves deep in Jotunheimen early one morning, fastening skins onto five pairs of skis. That's how a completely normal Easter holiday suddenly became something quite out of the ordinary.
We began to move. I went first to break the trail. As usual, I went a bit too fast to start off with. Fortunately Fredrick let me know, in his subtle way. I adjusted the speed. We all got into a kind of rhythm. The girls chatted away. They laughed. Everything was idyllic. The kind of day you can only dream about. I don't know why, but at one point I even thought that we might get away without the inevitable "is it much further"? We had already made it emphatically clear to them that this was going to be a very long day out—a v-e-e-e-e-ry long day out—and that coming along on this expedition was voluntary, completely voluntary. They still asked the question, though. Because you just can't avoid that question out there in the mountains.
"Is it much further, Dad"?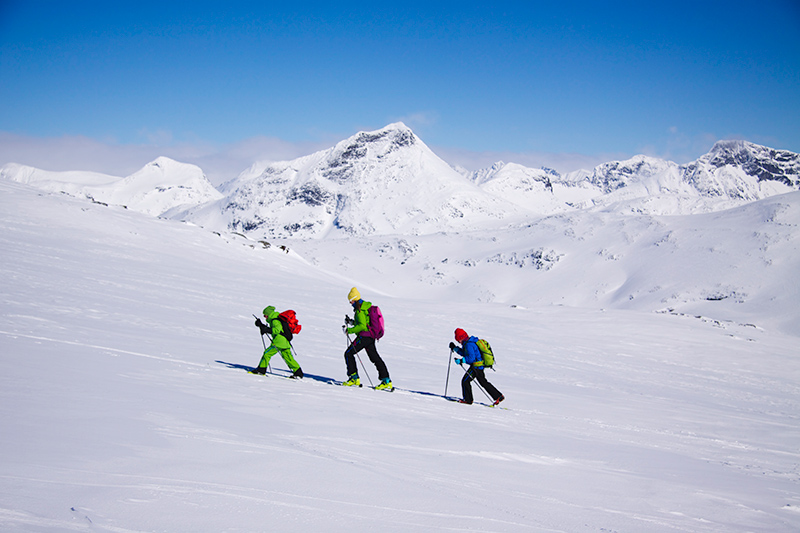 We might have been going for 46 minutes, maybe 47, possibly 48. As I say, we had found a rhythm. We had—I thought—a mutual understanding that the excursion had only just begun, that we had miles to go yet, and that in fact it was a positive thing that we had the whole day in front of us. How wrong can you be.
"Is it much further"?
What do you say? Has anybody done any research in this field? Can psychologists offer some good advice? I mean, you can't lie and say that we're nearly there. That doesn't work. And you can't answer with irritation in your voice. That has terrible consequences. On the other hand, you can't answer with too much optimism in your voice either. They can see right through that, and interpret it in the worst possible way. I have learned from experience to answer as honestly as possible—in a tone that's as neutral as possible—and add a little temptation, a glimmer of hope, a ray of light.
"Yes, it's quite a lot further", I said.
I gave them a moment to process that. Not too short. Not too long. That's important. Then I said:
"But we're going to stop for a snack soon".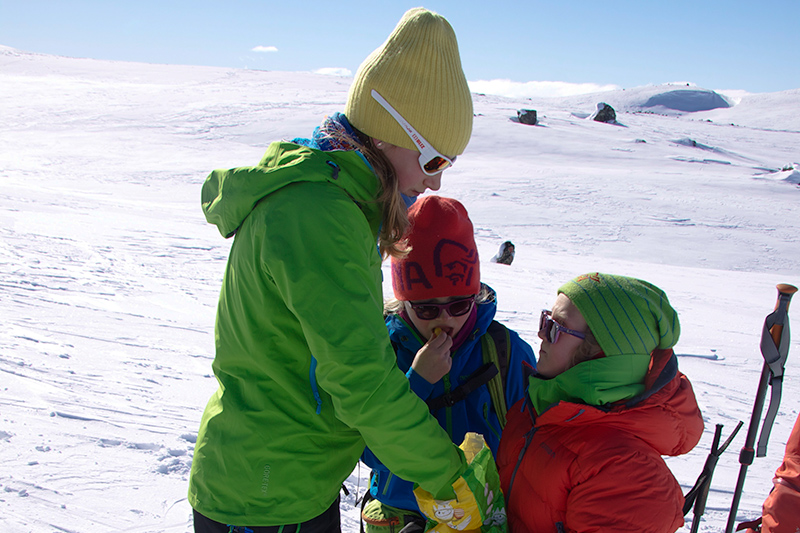 We traversed the east side of Kvitevatnet lake, getting steadily higher, and passed the lake at point 1527 beneath the Uranosbreen glacier. Then we climbed up towards the spine of Langeskavlen, where it's at its lowest point, between Langeskavlen and the peak itself. The view was already tremendous—of Uranostinden in the west, Storegut in the east, and of the whole world, 360 degrees around us.
"This is really amazing", said the 8-year-old.
"It's like walking on a roof. The roof of Norway".
Then everyone went quiet again. We all tend to be quiet when we're getting near the top. Not just because you've trudged a long way. Not just because you're starting to run out of energy. Part of it is because it's a sort of sacred time, zig-zagging on skis, inner peace.
The girls went right up to the summit cairn. They smiled. They held their ski poles up in the air. Fredrick and I could see satisfaction light up their eyes—even though they were wearing sunglasses.
"This is a magical place", said the 12-year-old.
"I'm so glad we came here today".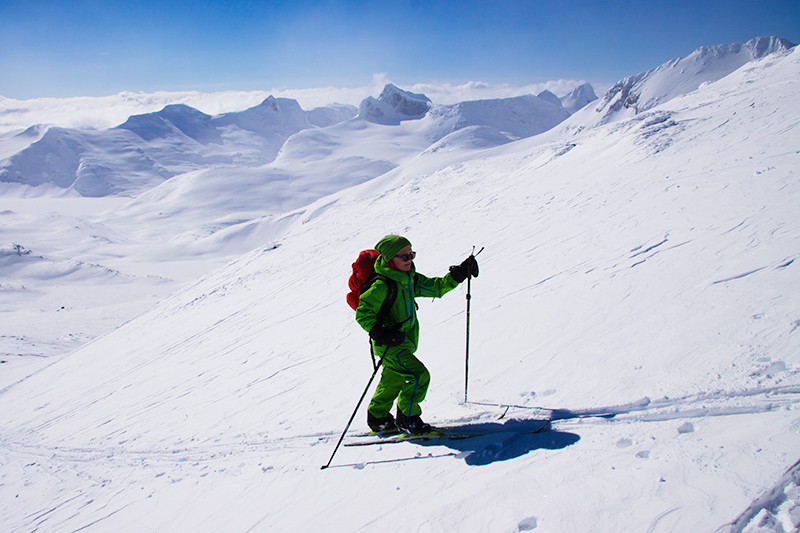 And then, once you've been there—right at the very top—for a long, long while, with absolutely no wind, so that you can sit there in your thinnest layer, and the kids have chatted on and on about all sorts of stuff, and borrowed your binoculars, and eaten a huge slab of chocolate, and you've taken the skins off your skis, and you've tightened up your ski boots, and the kids click themselves into their bindings, and look at each other, they can't wait to get going, asking if they can start to go down soon, down to the waffles in Fondsbu, then you think about that insight again, that thought without irony, those three words that might just—if you don't overthink it—sum up your entire outdoor life.
Views bring insight.
Let's just repeat that one last time. Then I won't go on about it anymore. I promise.
Views bring insight.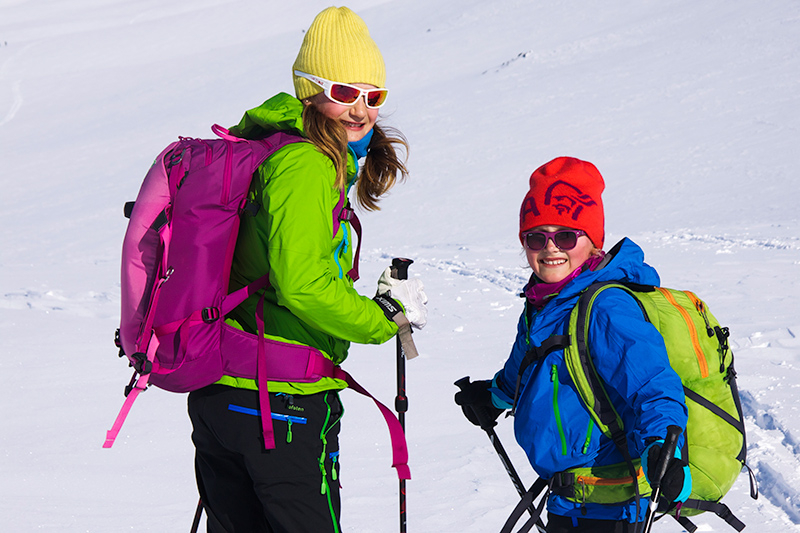 | Facts | Welcome to Langeskavltinden |
| --- | --- |
| Info | Langeskavltinden (2014 metres above sea level) is—in our opinion—the best viewpoint in Jotunheimen. The climb up isn't hard, but it's long: about 20 km from Fondsbu and back, with a total ascent of around 1100 metres. It's perfectly possible to do it on ordinary backcountry skis. But if you really want to enjoy the descent, it's better to have touring skis. Kids can climb up on cross-country skis and switch to downhill skis at the top. |
| Travel | Ride the Bombardier Snowmobile over Tyin to Fondsbu. From Fondsbu go up along Sløtabekken and up to Sløtatjern. Continue west towards Kvitevatn, and up towards the pass between Langeskavlen and Langeskavltinden (point 1752). Follow the ridge to the top. For the return, we recommend going around Langeskavlen (1878 metres above sea level), and following this down towards Sløtatjern. Don't forget to let Solbjørg, who is the hostess at Fondsbu, serve you fizzy drinks and waffles afterwards! |
| Accomodations | You can stay in the staffed lodges at Fondsbu (DNT—Norwegian Trekking Association), Eidsbugarden (private) or Tyinholmen (private). |
| Mer info | jvb.no, fondsbu.no tyinholmen.no og eidsbugarden.no |