This time we managed to tear Even Sigstad, Andreas Wiig, Christine Hargin and Magnus Midtbø away from their busy lives and get together for a couple days of having fun, talking products, brainstorming and exchanging ideas and experiences.

Nature, especially the rough landscape and climate in Norway, has been the number one inspiration for Norrøna product development since day one. And the best meeting room. We headed as far out as you can get on the spectacular and contrast-filled west coast of Norway this time, hoping to experience some cold water surfing and some skiing and snowboarding in new terrain.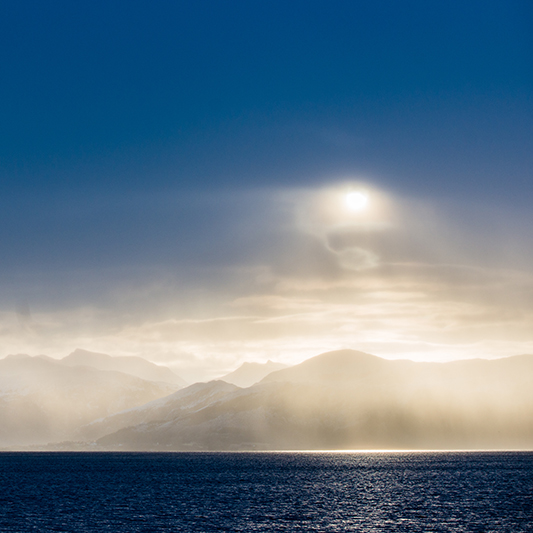 Hoddevik, on the Stad peninsula, is one of those places so spectacular and beautiful that it feels like something magic is going on when you see it for the first time - and maybe every time. A deep bay surrounded by steep mountains and endless ocean continuing out from a white sandy beach until the horizon. We met up with our friend and former snowboarding pro Mads Johnson who has settled down out here, to combine surfing North Atlantic Waves and snowboarding west coast powder.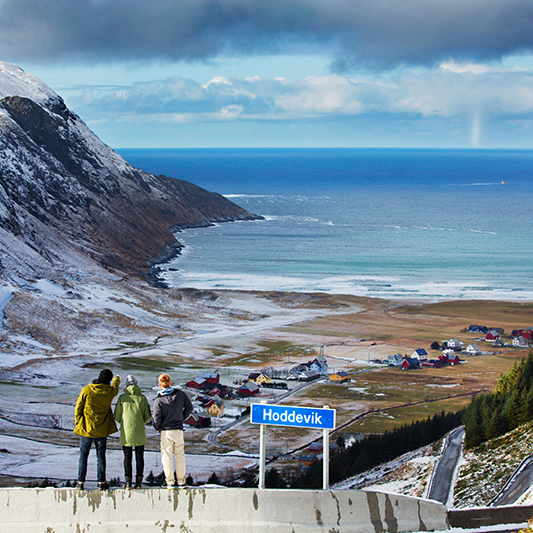 Christine and Andreas are excited. Anyone who has tried both knows that surfing and skiing or snowboarding are related. It's about that same hard-to-describe, awesome feeling you get from making a turn on a wave and making a turn in powder. Magnus is excited too, but also nervous. He has not been on snow since he last went cross country skiing at the age of 12, and he has never tried surfing. Even is arriving later, as he is finishing up a commercial shoot with his movie production company. Or maybe that is just a lie. We will learn that Even prefers water in it's solid, or at least semi-solid form.
- It's cool to get together and have fun with the team like this. A really good break from the season, says Andreas. Getting to see this place and go surfing, it's just awesome. I can get here by carfrom home, still I've never been here before. But I'm definitely going back this summer.
For Christine, it's actually her third time here, even though she has to cross the border from Sweden and travel twice as far as Andreas. But she has never been here in winter.
- This place is amazing. The waves, the surroundings, the mountains… I love it.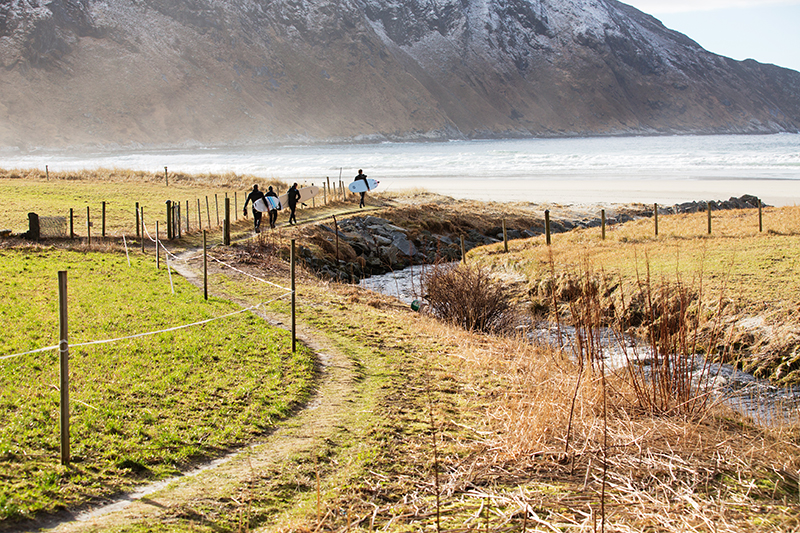 Struggling to get into our 6 mm of neoprene before hitting the water, Magnus proves his inexperience with the sport of surfing by putting on his wetsuit wrong side out. Which reminds us we have to give him a quick theoretical run-through before hitting the water. Basically; don't get hit in your head by your board, paddle as hard as you can, then paddle some more and then just get up and shred it. We don't expect Magnus to even get out through the first 100 meters of whitewater pumping in on the beach, which can often be the hardest part of a beach break surf session. But it turns out perfect climbing and surfing bodies obviously have something in common.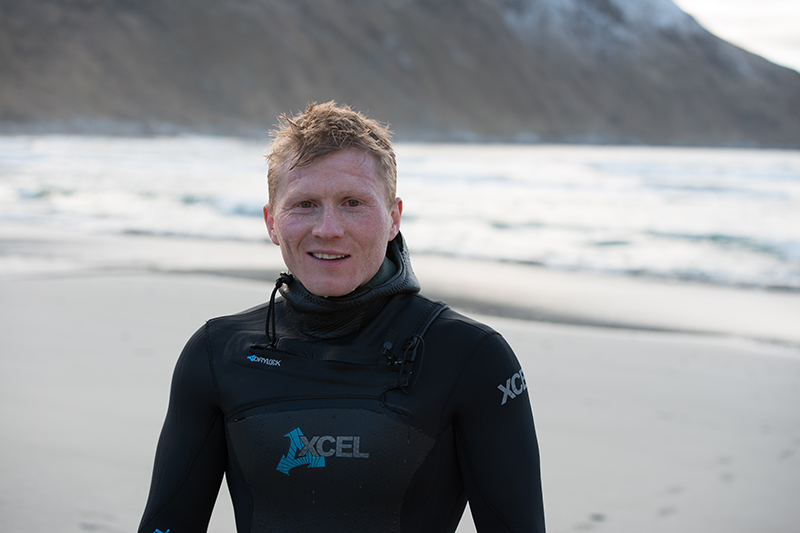 Both Andreas and Christine have gotten to do at least a little bit of surfing in between their full time pro skiing and snowboarding careers, but it's been quite a while since the last time for all of us, and we're pretty tired after just making it out to the lineup with big boards and bulky wetsuits. Seeing Magnus pop up beside us just a few wave sets later definitely has us surprised. After seeing him catch his first two waves on his very first time in the water, we are impressed. Magnus can't hold back his stoke afterwards either, proclaiming that this will not be his last time in the waves.
- I could not imagine it would be this comfortable surfing in cold water, but I guess just like in any outdoor sports it proves that the right gear is the key for staying comfortable. I think climbing and surfing go well together and I'll definitely try to squeeze in some more of it when I'm out traveling. If I have the time, Magnus adds, hinting of a schedule normally hard packed with climbing and strength training.
- One of the cool things about going on this trip is getting to hang out with Magnus, who is doing something totally different from snowboarding and freeskiing, says Andreas. But at the same time it's kind of the same lifestyle, so that way it's easy to get along and it's really interesting to hear his approach on the gear too.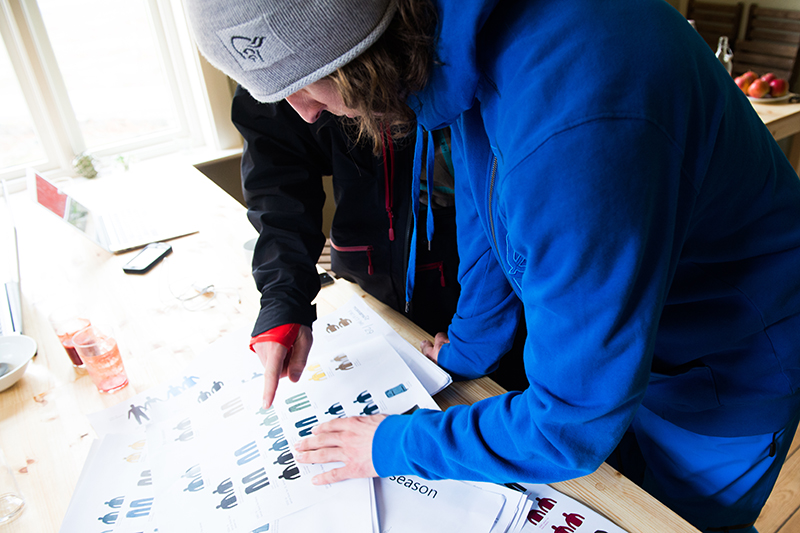 With Even having arrived tactically timed after our session in the water we fuel up on great locally sourced food at the Stadsurfing lodge before going into some prototypes and samples of upcoming Norrøna products. All four of the ambassadors agree that listening to each others ideas and discussing their experiences with gear they've been using through the season is an interesting and important part of their work with Norrøna towards the goal of always making the best products out there.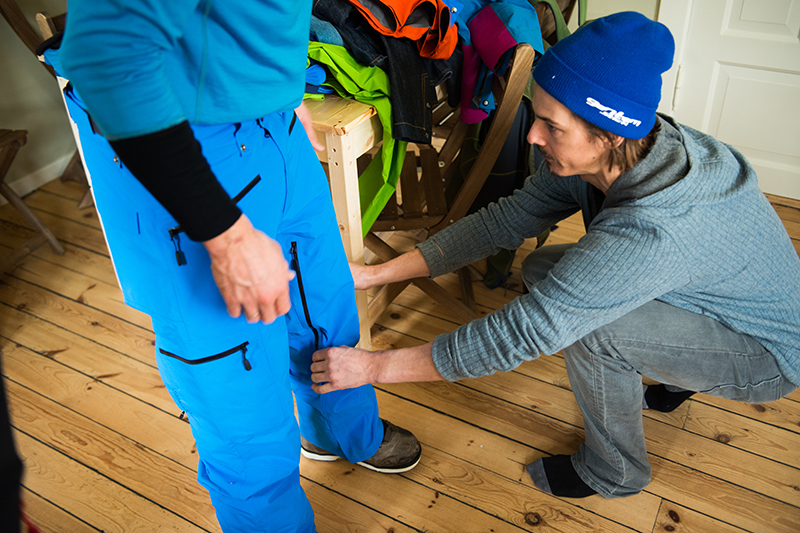 - I'm afraid of water. I like it when it's frozen and on the ground, not when I have to swim in it, says Even. But I've been almost drowning in deep powder on a daily basis for major parts of this winter, so I'm really glad to have clothing that keeps me warm and dry.
- Great gear is crucial to me since I spend the whole day out there and need to stay warm and dry. It just makes things so much easier and so much more comfortable, says Andreas.
Magnus' demands when it comes to clothing are quite different from the winter sports professionals , but at the same time it is still about quality, function and comfort.
- Even though I don't use a lot of clothes when I'm actually climbing, and normally don't need a lot of insulating and waterproof layers, I'd still say my clothes are really important. I want comfortable and functional pieces, and need them to last through many hours of hard climbing every day through the season.
- At the bottom line it's about the quality and functionality. When those two come together that's when you have a great product. I think that's the same either you're surfing, climbing, skiing or snowboarding, says Andreas.
We get another day of surfing before it's time hit the mountain, and Magnus finds an overhanging cliff right by the surf break where he puts on a show of his superpowers.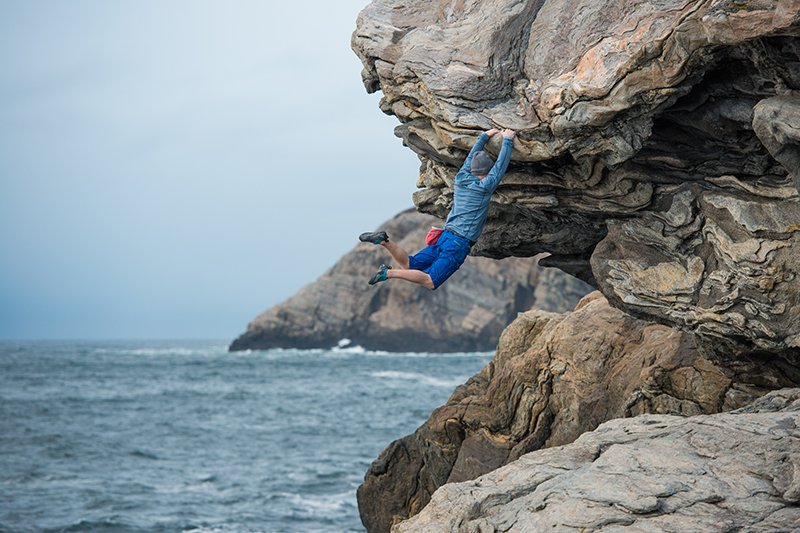 - It's super fun to look at Magnus doing his thing, says Christine. For us it just looks impossible, at least pretty amazing when he's hanging out upside down and moving through an overhanging cliff like it's a walk in the park.
On our next day it's time for Magnus to watch Even, Kristine and Andreas show off their skills in the snow. We've headed to Harpefossen, one of many small and not very well known ski areas spread out through Norway. Mads is setting up the first cat skiing operation in the country here, after discovering the huge possibilities in the terrain around the ski area. We're lucky enough to be the first ever guests climbing into the cat, and even from the parking lot we can see why Mads has decided to settle down just an hour away, right between the beach and this place. The snow could have been better right now, but this is how it is on the west coast both when it comes to waves and powder. It changes fast, but when you manage to hit it at prime conditions there is nowhere else you'd rather be.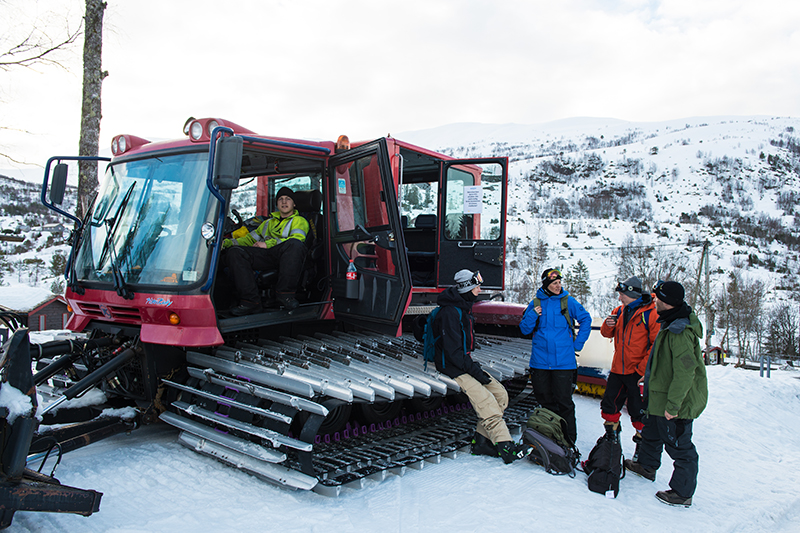 - Going to small ski areas in Norway is super fun and often lets you have all the awesome terrain and lots of untracked powder all to yourself, says Even, who has been spending a lot of time on the west coast this winter.

- Just going out riding with the team like this is super cool. Nothing serious, like a film shoot or competition, just a lot of fun, says Andreas.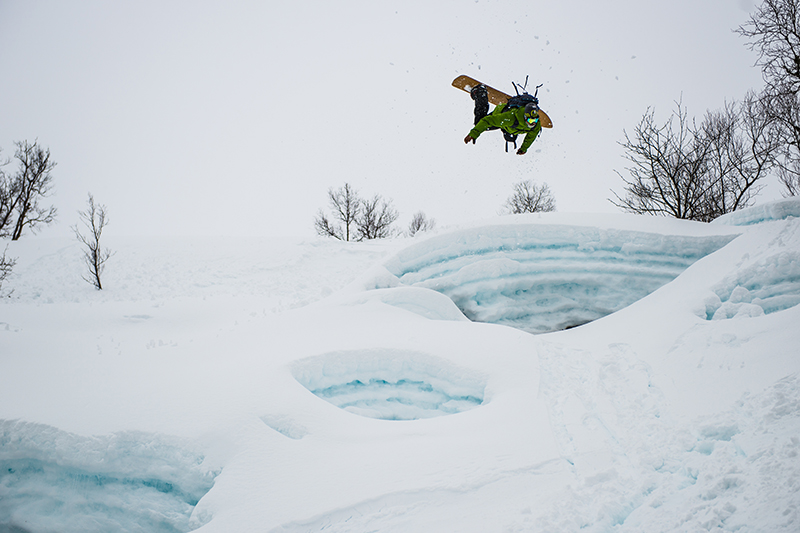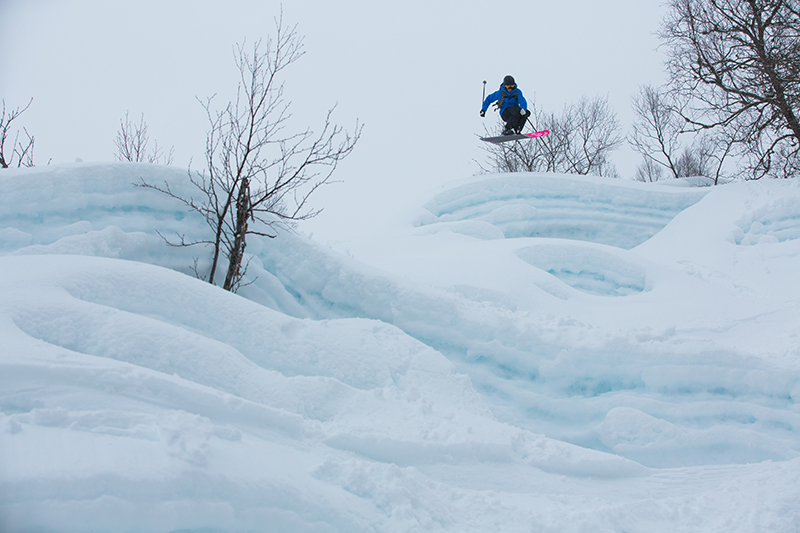 Once again, Magnus reminds us that he is out of his domain. He has not been on a pair of skis since before fat twintips were invented, and actually tries to put on his skis backwards. Kristine and Even give him some basic instruction on the way down our first, mellow lap in some 10-20 cm fresh cream-cheese feeling snow. Not ideal conditions for beginners, but again Magnus leaves us mighty impressed.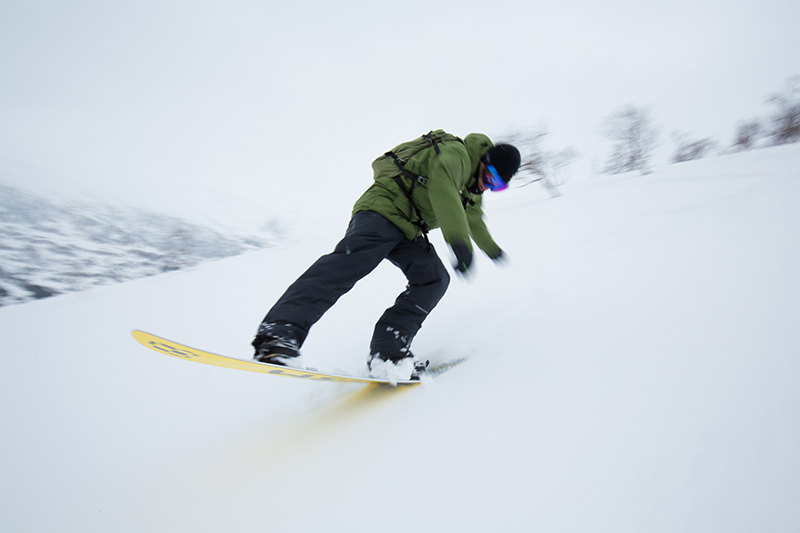 - It's really fun to take Magnus skiing. He is an athlete, you can see that for sure, says Kristine. For someone who pretty much hasn't skied at all, it looks really good. Especially in these conditions. Also I really look up to Even and Andreas when it comes to the rinding, and I love getting the chance to be on the mountain with them.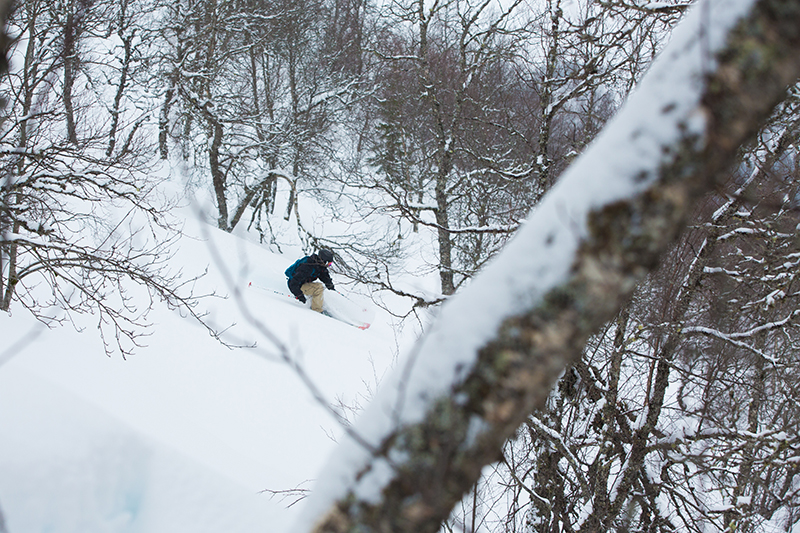 - This team gathering feels like The Avengers, you know, the movie. We've got our different super powers and it's just really cool to hang out together and watch everyone doing their thing, says Magnus, summing it all up quite well.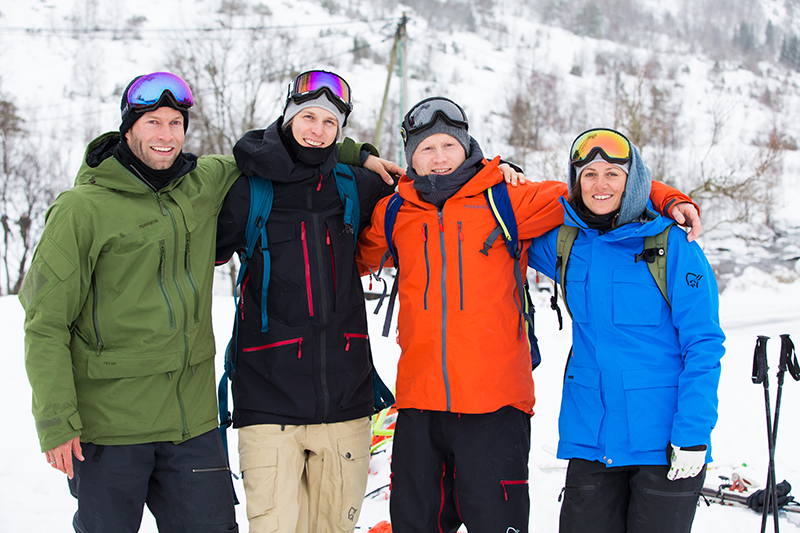 After two days in Harpefossen, it is time to get out of this superhero movie and back to reality. Back to desks, the meeting rooms and the labs at the Norrøna headquarters for us normal people. For Even, Kristine, Andreas and Magnus the show goes on as their superpowers are wanted somewhere else. Magnus is heading to Spain to finish off a project there, Kristine is going to Alaska for the next stop of the Freeskiing World Tour, Andreas is going to shoot for his next snowboarding movie wherever the snow is best at the moment and Even is headed straight to another favorite location and hotspot source of inspiration of ours; the Lofoten islands.