We came from the sky above in a metal shell that had jet engines outside and expensive peanuts inside. Climber Hilde Bjørgaas was there. So was hunting legend Jan Erik Blom. Plus Børge Ousland, adventurer, polar explorer, and world famous for daring feats. We all stared out the airplane window. At first we just saw ocean. Then clouds. Then Svalbard.
We travelled to Svalbard with a mission : Present Norrøna's new svalbard collection where it is at home, in the unique nature that is its namesake. Norrøna ambassador Bjørgaas stepped off the plane and right out in the wilderness."This," she says. "This is so beautiful that I'm at a loss for words."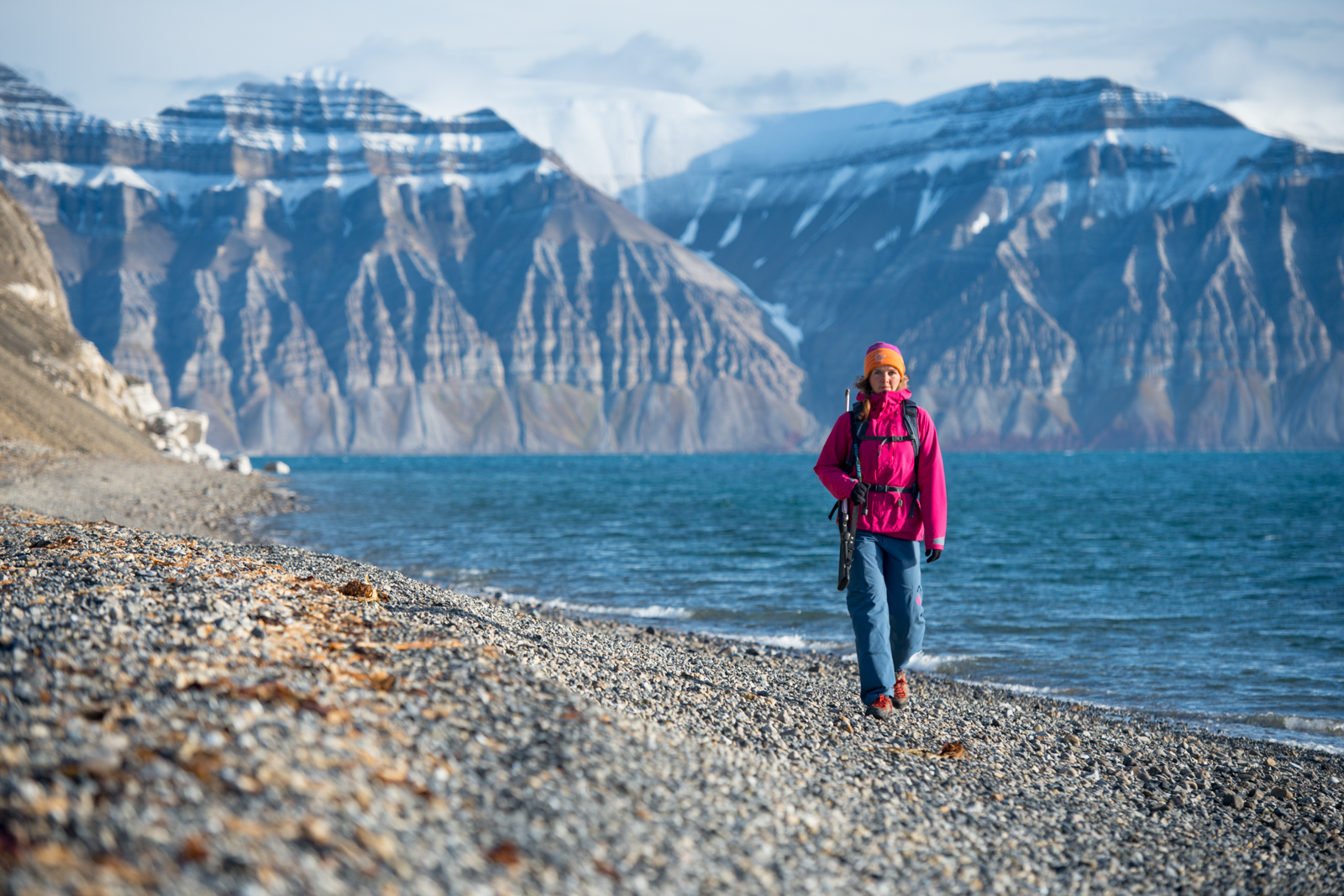 Say hello to three generations of outdoor enthusiasts. This trio has vast experience, vast knowledge and vast enthusiasm about the far flung fringes of the planet : the Arctic, the Antarctic, Greenland's big walls, climbing routes in the Alps, Canada's most remote hunting grounds, the Himalayas, Patagonia, the depths of Oslo's Nordmarka forests. To put it mildly, Ousland, Blom and Bjørgaas have a lot to talk about. The rest of us just listen. And what we hear is a love of the outdoors. Genuine, pure love of the outdoors. That lasts for a lifetime. Like this hike in the Adventdalen valley.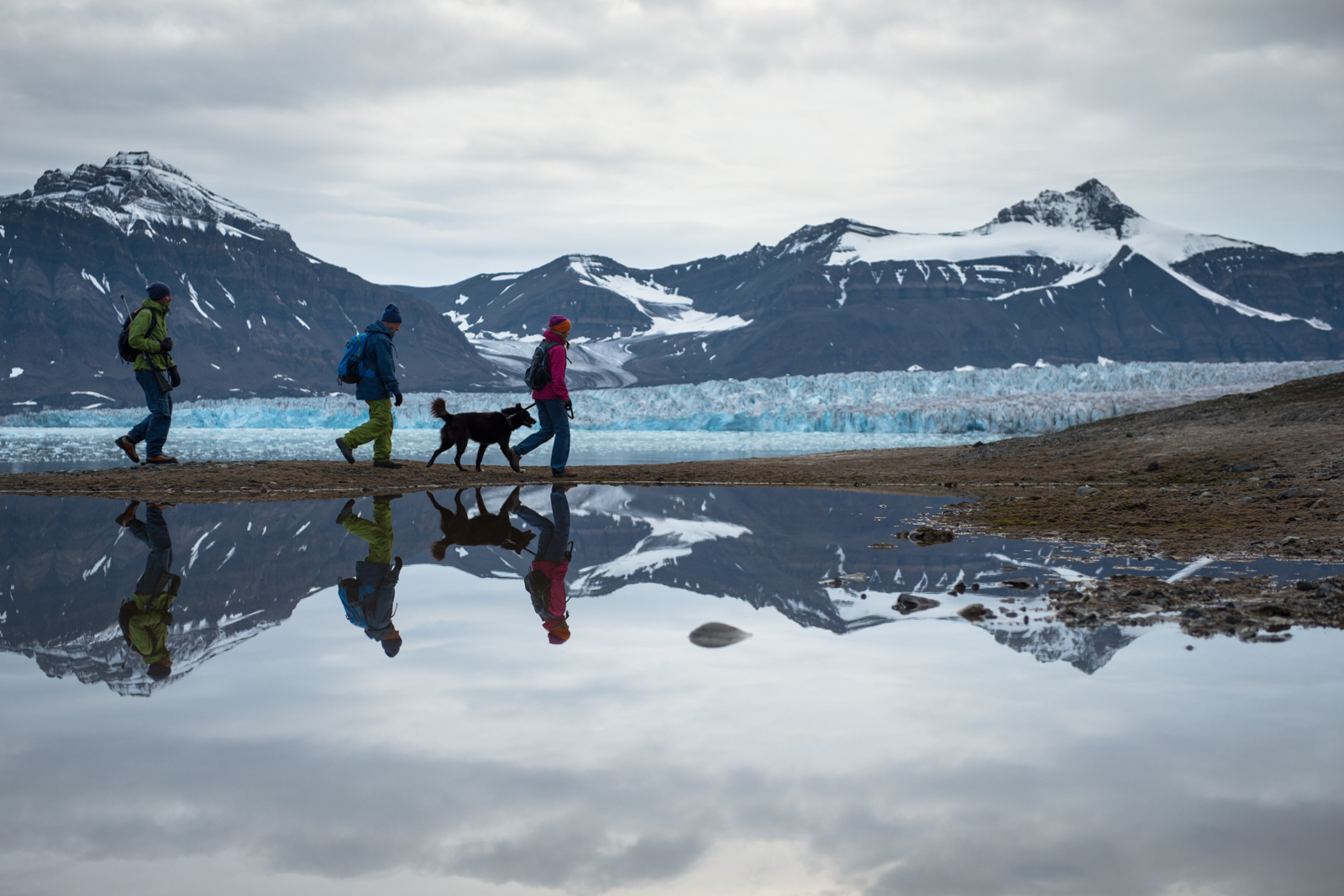 Once upon a time, a shack was built in no-man's land. A huntertrapper moved in. Maybe he was alone. Maybe he had a beard. And he hunted birds ; and he hunted foxes ; and he hunted seals ; and he almost certainly was visited by polar bears. Imagine sitting by your kitchen window, all alone at a latitude of between 78 and 79 degrees north, and watching polar bears prowling around your yard.
"We'll go that way," says Blom, the legendary hunter.
"How come?" asks Bjørgaas.
"Because it looks nice over there," says Blom.
"Sure. Why not," says Bjørgaas.
So they set off. Toward the glacier. Toward the mountains.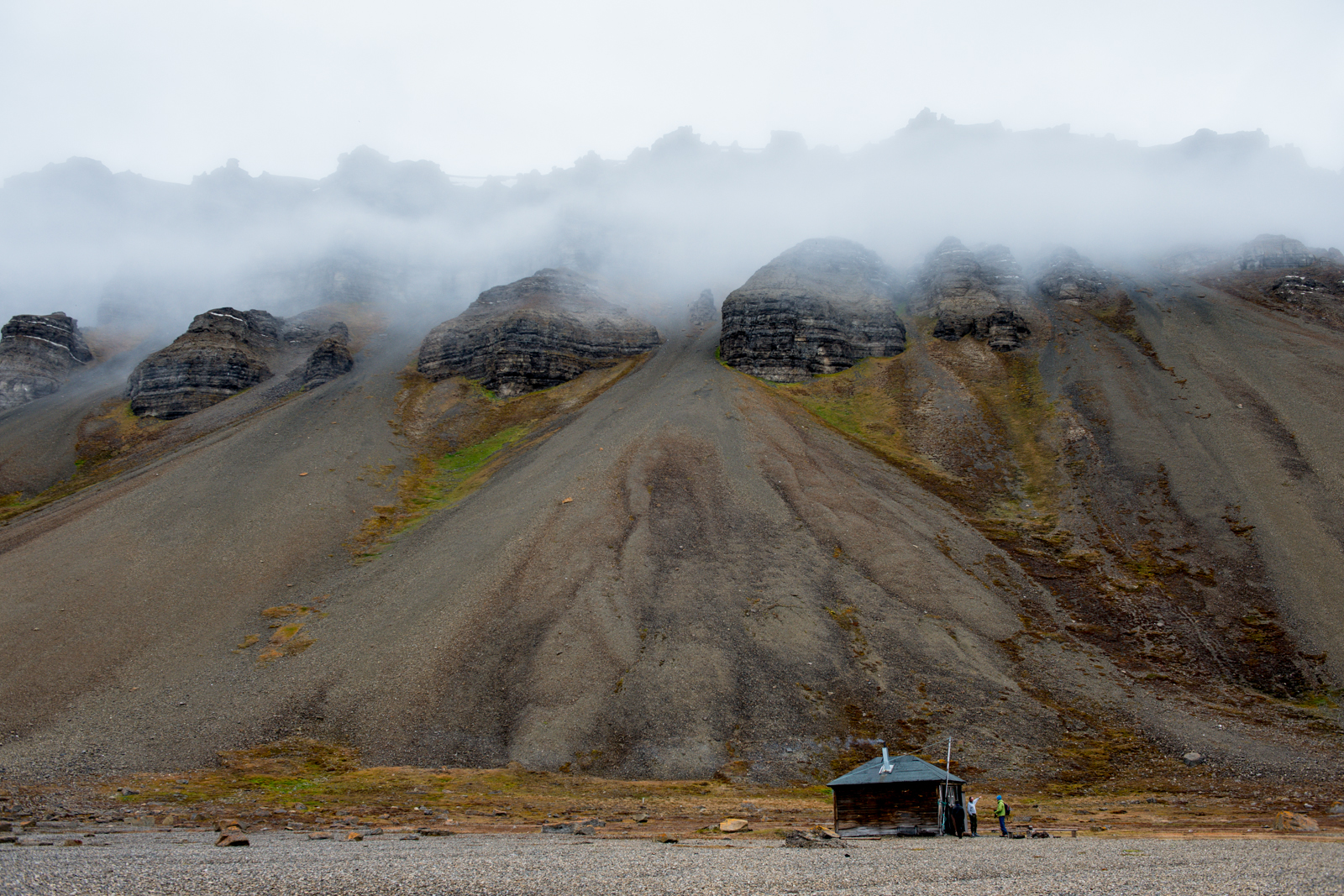 Sometimes it feels like you've stepped out of the real world and into a fantasy ; like a film set ; something out of "The Lord of the Rings," perhaps. The Svalbard bay called Skansebukta is like that. You reach it by boat, across the waters of the aptly named
Isfjord – Ice Fjord – into the Billefjord, with Bünsowland to the east and Dicksonland to the west. You go on shore, watch the mountains just above you, listen to the birds : little auks, puffins, guillemots, fulmars and kittiwakes. This is Skansebukta, you think. And maybe you think, soon afterwards : this is my Nirvana.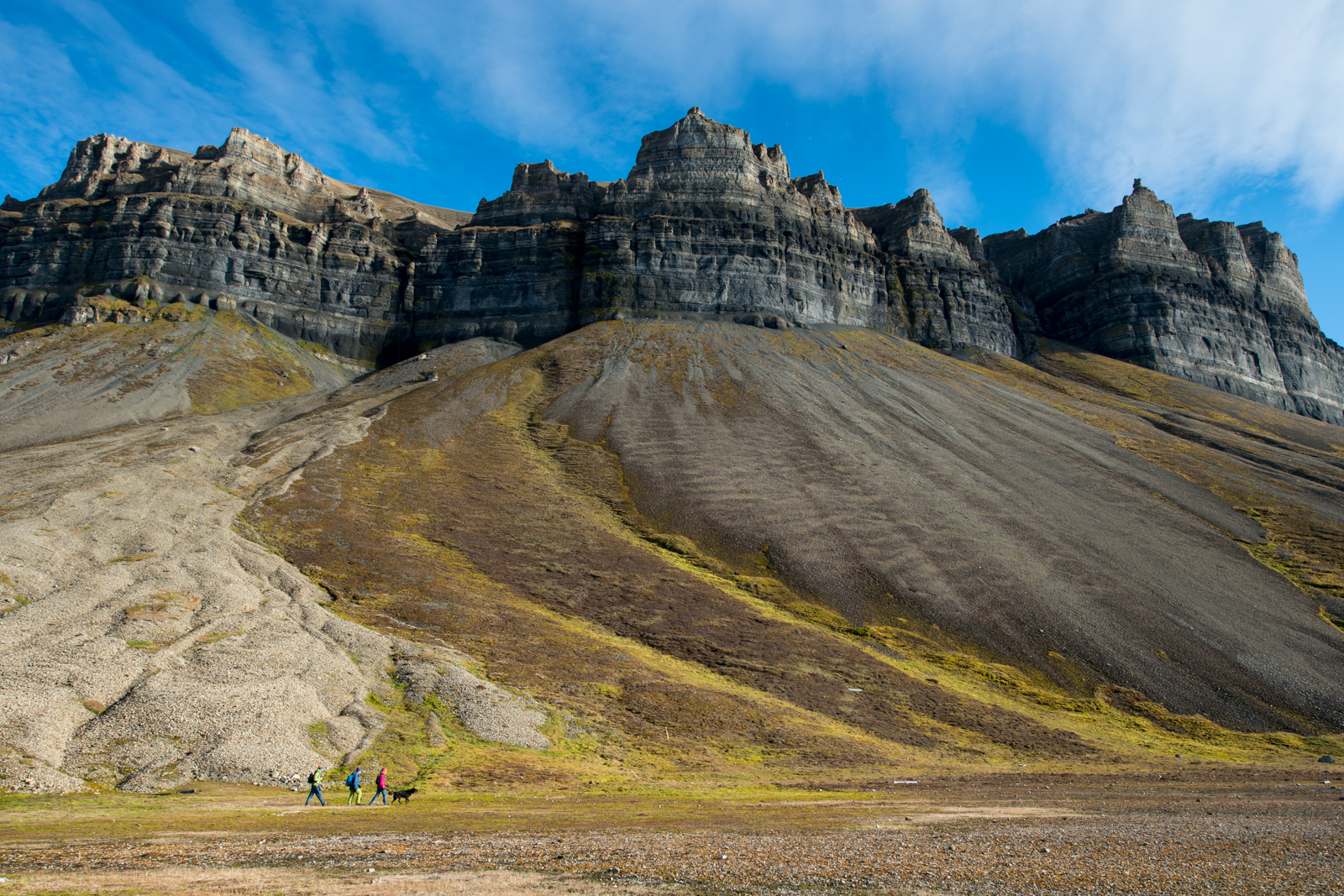 In 1918, Dalen Portland Cementfabrik occupied all of Skansebukta and started experimenting on ways of extracting gypsum, used in such things as plaster board and medical casts, from the area's large deposits. It didn't go well, and the operation only lasted one season. In the 1930s, another group of adventurers tried the same idea, but soon the production was shut down. Again.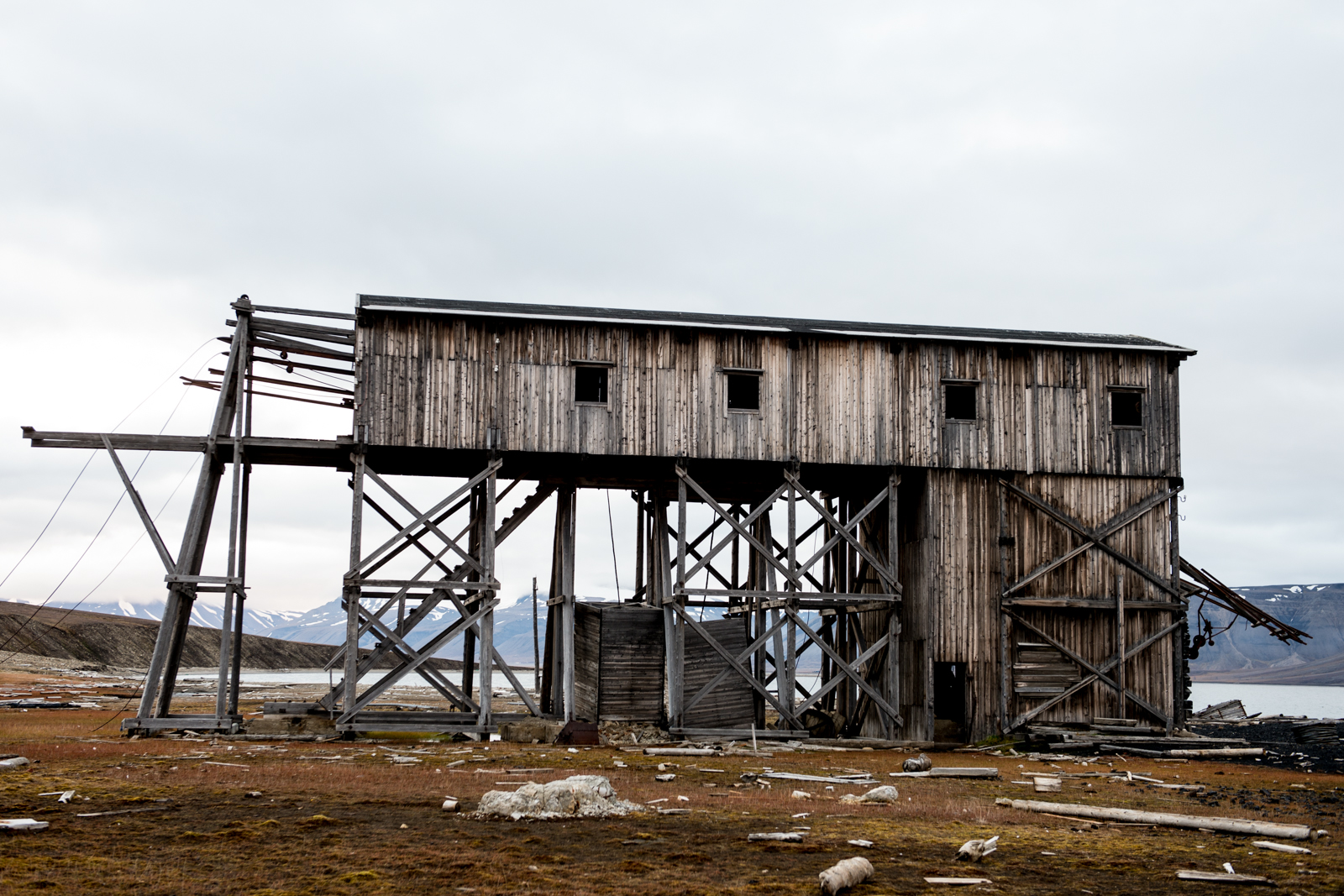 What was it he said? Was it the third day? Maybe the fourth?
Was it at Skansebukta? At Borebreen glacier? Off Cape Thordsen
in that fast boat with us dressed in survival suits? It's hard to say.
But Blom put it like this :
"I must say, Svalbard is a very nice place."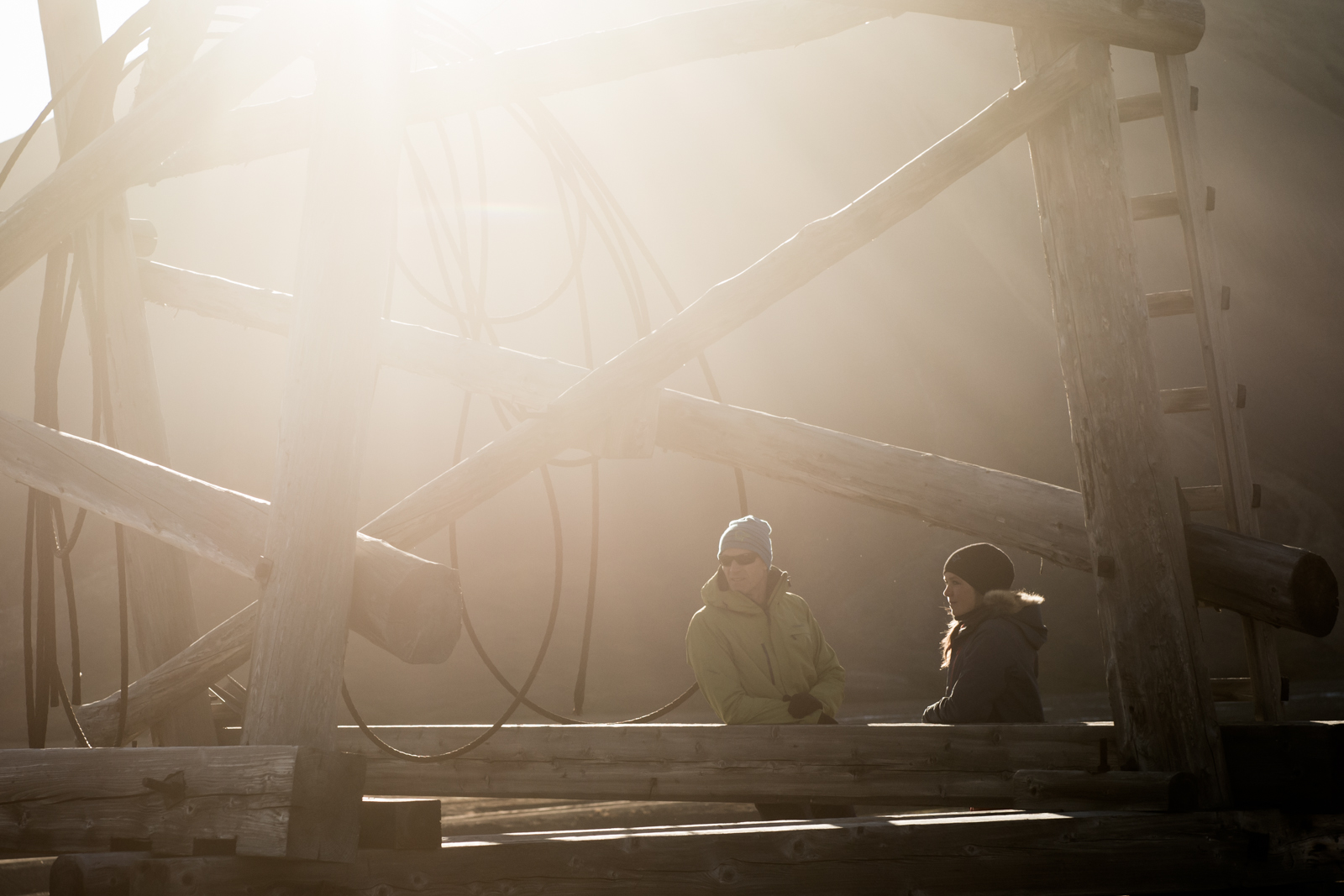 In Adventdalen, the relics from mining are everywhere. Between these cable car towers, coal was once hauled, ton upon ton, year after year. Now only one mine is left in Adventdalen : Mine 7. "It must be okay to climb up that old tower," says Bjørgaas, one of Norrøna's climbing ambassadors. Before we can answer, she's already climbed it.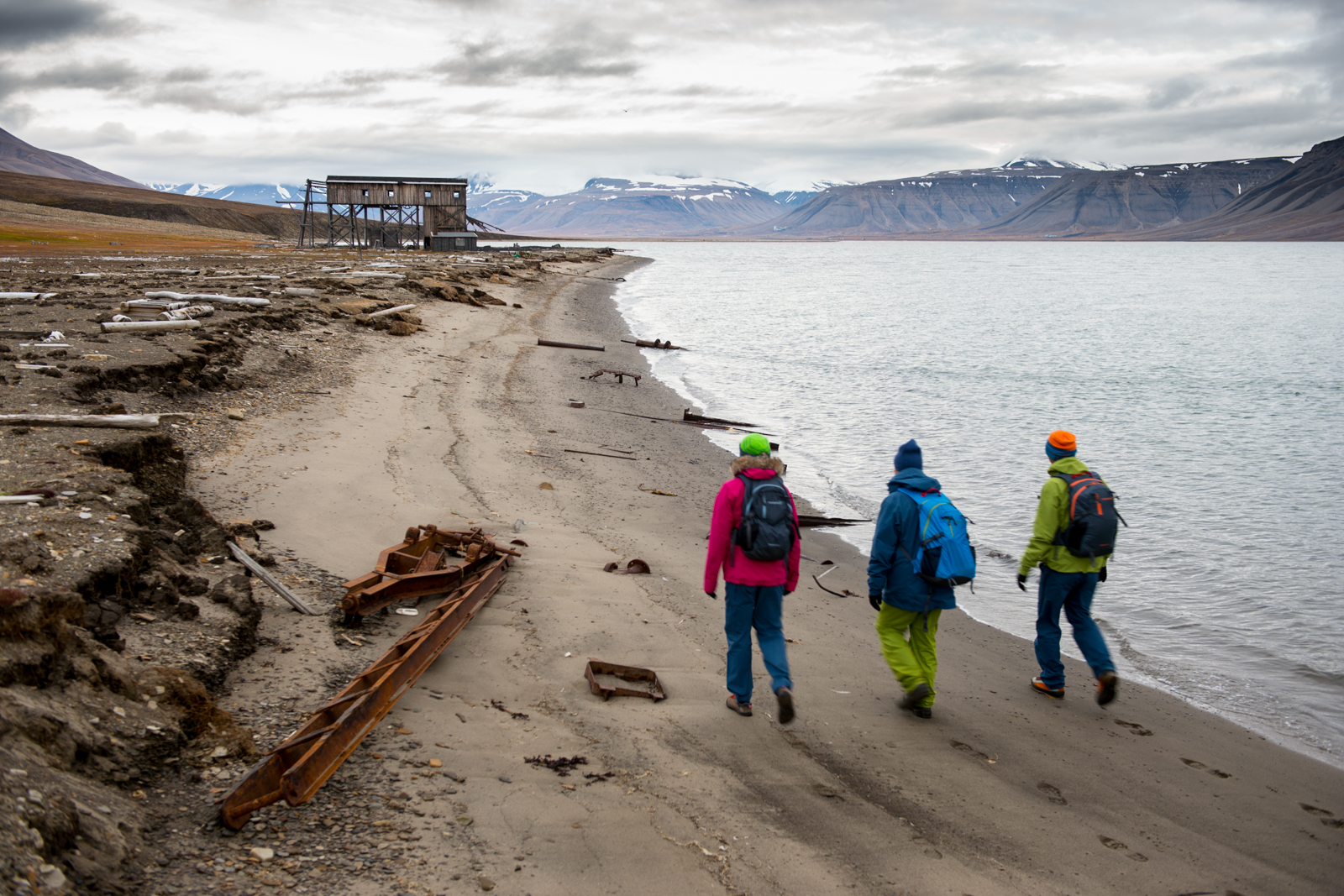 Facts - Welcome to Svalbard
Where: Svalbard is an archipelago in the Arctic Ocean that include all islands, islets and rocks located between 74 and 81 degrees north latitude and 10 and 35 degrees east longitude. Three of the islands are inhabited: Spitsbergen, Bjørnøya and Hopen. The largest settlement is the administrative center of Longyearbyen on Spitsbergen.
Travel: Flights to Longyearbyen with SAS from Oslo or Tromsø. See prices and flight schedules on www.sas.no. From the airport outside the town, bus and taxi into the city center. You can also rent a car – we recommend Svalbard Auto. But you can't drive far : The road network in Svalbard is limited.
Accommodations: In Longyearbyen, there is a broad range of accommodations, from campsites to fancy hotels. We warmly recommend booking travel, lodging and guides through Spitsbergen Travel.
Guides: Visitors are required to notify the Sysselmannen (Governor) for travel to much of Svalbard. You must not leave Longyearbyen without weapons and the ability to use them due to the risk of polar bear attacks. Organized tours are recommended both for safety and to protect the fragile environment. A large assortment of tour companies offer cruises, snowmobile tours, dog sledding, kayaking, hiking, skiing, glacier tours, day trips, expeditions over several weeks and more.
Facts
Welcome to Svalbard
Where
Svalbard is an archipelago in the Arctic Ocean that include all islands, islets and rocks located between 74 and 81 degrees north latitude and 10 and 35 degrees east longitude. Three of the islands are inhabited: Spitsbergen, Bjørnøya and Hopen. The largest settlement is the administrative center of Longyearbyen on Spitsbergen.
Travel
Flights to Longyearbyen with SAS from Oslo or Tromsø. See prices and flight schedules on www.sas.no. From the airport outside the town, bus and taxi into the city center. You can also rent a car – we recommend
Svalbard Auto (www.svalbardauto.no). But you can't drive far: The road network in Svalbard is limited.
Accomodation
In Longyearbyen, there is a broad range of accommodations, from campsites to fancy hotels. We warmly recommend booking travel, lodging and guides through Spitsbergen Travel (www.spitsbergentravel.no).
Guider
Visitors are required to notify the Sysselmannen (Governor) for travel to much of Svalbard. You must not leave Longyearbyen without weapons and the ability to use them due to the risk of polar bear attacks. Organized tours are recommended both for safety and to protect the fragile environment. A large assortment of tour companies offer cruises, snowmobile tours, dog sledding, kayaking, hiking, skiing, glacier tours, day trips, expeditions over several weeks and more.
More info

www.spitsbergentravel.no
www.basecampexplorer.com
www.wildlife.no
www.arctic-adventures.com
www.svalbardhuskies.com