And it may rain and snow on the same day. Since all the approaches are long and you need to climb fast (because of short weather windows), your gear needs to be light and versatile. At the same time the granite is very coarse so it needs to be solid enough to take some abuse. As you will see, I prefer having several thin layers instead of a few thick, it is more versatile in an environment that is complex and ever changing. And I hate carrying anything extra. This is some of the equipment I used on my latest trip to Patagonia:
Outer layers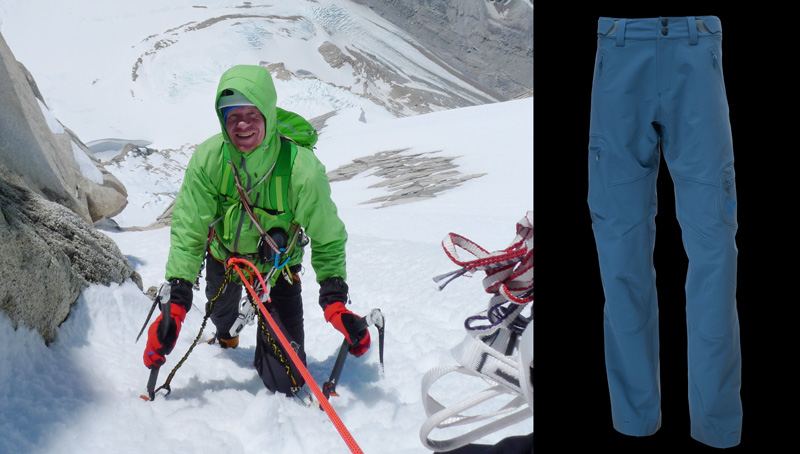 svalbard flex1 pants is the one pair of pants for everything! I use it for hiking, alpine skiing (it fits over my randonné boots), ice climbing and mountaineering, and all general outdoor activities. This is a medium heavy soft shell, very durable and with good weather protection. On the approaches in Patagonia I wear it with no under layer. On the climbs I wear it with either one layer of wool or/and a thin fleece (trollveggen warm2 stretch tights). The only drawback with this pant is that it is really a bit too wide in the legs for climbing with crampons (But at the same time this width also makes it so versatile…). Even so, for me this is no problem because the boots I wear, Scarpa Phantom Guide, have an integrated gaiter and when I tuck the trousers into this, the legs are nice and tight for crampon use. I also always have a pair of super thin rain pants with me, fjørå dri1. Most of the time these stay in my backpack, but I can put them over my svalbard flex1 to have additional protection if it rains, or during an extra heavy storm or just to have another layer on a cold bivouac.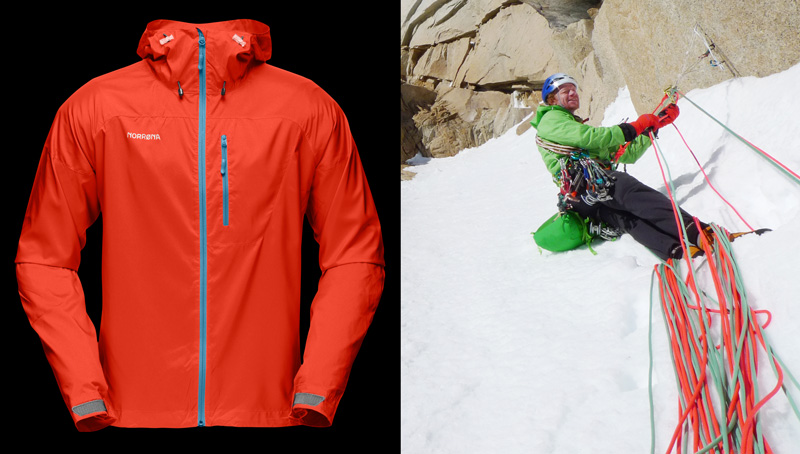 On the approaches I most often wear a bitihorn aero60 jacket for weather protection. This is one of my favourite garments ever; a thin superlight, breathable and simple windbreaker, and usually I just keep it on as an additional layer under whatever other jackets I might put on top later. If the weather stays perfect I will often do most of the climb only in this jacket. If it rains, snows heavily or the weather just picks up more, I put on my bitihorn dri1 jacket on top of this. This is another thin, superlight garment, which in addition is waterproof. These two jackets together give me the protection and feeling of a two or three layer gore-tex, even though these jackets are not as durable and tear resistant as the more heavy-duty jackets. Squeezing up a chimney of sharp granite is not recommended…so if you're not sponsored like me, the falketind gore-tex is a safer and more economically sustainable option. It is still a superlight jacket – my first choice if I am afraid of too much abrasion.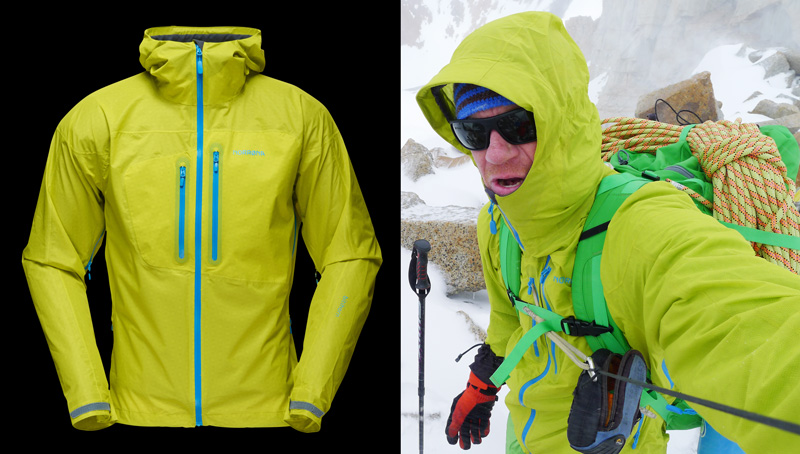 Insulation
As base layer on my upper body I wear one layer of wool and on top of this a thin fleece jacket, a falketind warm1. On most of the climbs in Patagonia I also bring two insulated jackets, one thin primaloft and a thicker down jacket. The lyngen primaloft60 is a very compact and light insulation garment. I can wear it either on top of or under my shell jacket, which makes it very versatile. I often end up climbing with this jacket on cold days. I never leave home without it! For the cold times at the belay, resting, bivouacking and just in case of emergency, I bring a nice and thick lyngen down750. This insulation jacket is the best combination of good warmth, and low weight and volume.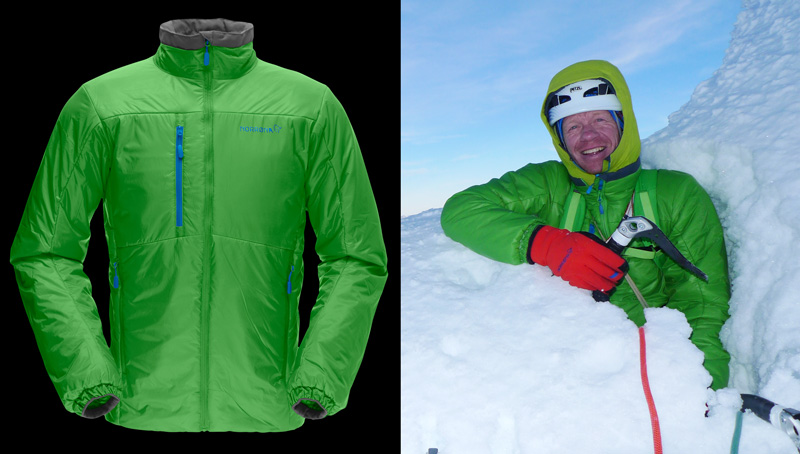 Accessories
I have experienced frostbite many times during my life and my fingers are always cold. This is a big challenge when climbing. I should really wear mittens all the time, but it is just not possible on difficult climbing. In Patagonia I wear gloves of medium thickness most of the time, the lofoten Gore-tex glove is the preferred. This is the insulated Norrøna glove that has the best grip. Unfortunately it is without a gauntlet (I am working on making a longer version of the glove with Norrøna). Some people like short gloves, but I am dependent on a good gauntlet. I usually have another pair like this in my backpack as a back-up, and a pair of narvik dri1 insulated mittens in the bottom of the pack in case of emergency.

I used three different backpacks in Patagonia. To carry the big loads into our "advanced base camp" at the foot of Cerro Torre, I used the svalbard synkron 80L pack. On the climbing from here I used the falketind 30L pack, a super light and clean pack with no extra fuss. On Fitz Roy, since we were not bringing more than just the essentials for two days, I used the same backpack for the approach and the climb. The trollveggen 45L was perfect for this. It has space enough for a sleeping bag, sleeping mat and a small tent. And at the foot of the climb, where this extra overnight gear is left, I also strip the backpack to make it as light as possible. In a fast and easy operation I take out the back plate and aluminium stay, remove the hip belt and the top lid, thereby reducing the weight of the pack to the half, only 750g! A super comfortable pack for the approach is quickly turned into a clean and light climbing pack!

Returning from trips like this my diary is full of notes on adjustments we need to do on the clothing and back packs. We do a lot of creative work at the drawing table, but it is only through real testing like this, in all types of conditions we realise what really works and what doesn't. In full on conditions small details on the gear become extremely important – it is actually all in the details! I hope my experiences can be of value to others so they don't have to freeze and suffer as much as I have in the mountains over the years. At the same time, this is only gear, and gear is important in the mountains, but the most important is the user – YOU!

Have a nice day out!