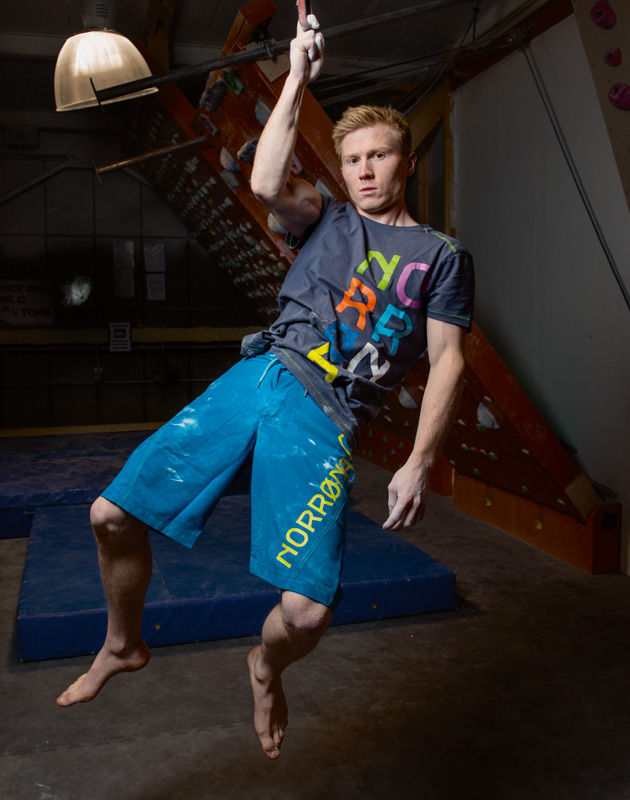 It's about 2 a.m. High in the Swiss Alps, a white Ford Connect minivan is making good time on the winding roads. Behind the wheel is a red-haired Norwegian with remarkably large biceps and triceps. He has driven far. He has, in many ways, been on an endless journey that started in his teens. Almost always alone. Almost always with heavy metal or hard rock in his ear. Suddenly, he notices a police car behind him with a wailing siren. Not just that. Another police car with flashing blue lights is coming straight at him. The police cars slide to a halt to his front and back, so the van is trapped in the tunnel. The young Norwegian is suddenly surrounded by men in uniform. They are pointing handguns at him.
But first : Let us rewind to 1992. At the home of the Midtbø family in the city of Bergen, four-year old Magnus is standing and looking up a five-meter tall pillar in the house. His parents have long since discovered that the little boy is an active tyke, who
runs, jumps, plays football, falls down stairs, and, not least, climbs. Little Magnus starts shinnying up the pillar ; two meters above the ground, three meters, four meters, five meters.
"If you fall now, it's going to hurt," says his father. The little boy doesn't care. He's in control. And his parents don't order him to come down. After studying the view from the top of the pillar, he calmly climbs back down.
"Climbing is my life," says Magnus Midtbø, now 24. He says it right out, with no hesitation as he leans back in the café of Norway's biggest climbing center, Klatreverket in Oslo. He's holding a small cup of coffee with chalked fingers. He's become better known in the past year, especially after Norwegian public broadcaster
NRK did an hour-long documentary about him. One scene, in which Midtbø does a series of pull-ups with one finger, will soon pass a million views on YouTube.
So, when did you start climbing?
"Of course, I like to think I've climbed my whole life. But the first time I was on a climbing wall I was 11. My parents took me to the Bergen (Climbing) Hall, near where we lived. That may have been the biggest day in my life. I knew immediately that climbing was a whole different thing from tennis or football. Its own thing, an amazing joy of movement, a special feeling. The first six months, a friend and I got enough money to climb one hour a week with an instructor. That was a sacred hour. After the first six months, I could climb as much as I wanted. I basically moved into the climbing center. I did my homework there, ate there and trained there," recalls Midtbø.
Midtbø climbed all the time. He quickly became good.
Very good.
"I was climbing a 7b + degree of difficulty after one year. After two years, I was climbing 8a, and made the national team," he says.
It didn't stop there. At age 14, he started to travel the world to compete in World Cup events and attempt difficult rock climbs. At 16, he won the junior world championship.
How did you get to be so good?
Midtbø thinks it over. He doesn't answer right away. "It was my thing, in a way. My parents weren't climbers. They never pushed me to be better. I pushed myself. And I decided to go my own way," he says. "When I joined the national team, it was a mess. They had a 10-year program. They said, 'You can either be a little good now, or really good in 10 years.' That was not much fun to hear for an impatient 12-year-old. I looked, instead, at how the best in the world trained, and quickly debunked the national team training strategy. The best didn't think about doing a lot of training. The best always gave everything on all routes, every time, all year. The best pick quality
over quantity. When I was 14, I asked the head of the (Norwegian sports training organization) Olympiatoppen for Hordaland county what he thought of the national climbing team training strategy. He disagreed totally. 'You have to do what you want, to be good at it. If you want to be good at running the 1 000 meters, you have to run the 1 000 meters,' he said. He thought like me," recalled Midtbø.
What do you think of the level of climbing in Norway?
"It's low. It's much too easy to reach a good level on the national scale. And for most, it's comfortable to stay put there, being among the best in Norway.
But the international top levels are miles from the Norwegian top levels. In Norway, there are too many waffle and soda sales, and the 'It's not whether you win or lose' mentality. We have to be better at finding the talent. And it is not necessarily those who are good at climbing at age 13 who have the greatest passion for climbing ; that unlimited inner motivation," says Midtbø.
Could you imagine being a coach yourself?
"Yes, maybe," he says. "But then the person I was training would have to be very, very motivated. I don't think there are any climbers in Norway who are that motivated right now. To be good at climbing, you need Chinese or East European climbing discipline."
Céüse, Fontainebleau, Siurana, Santa Linya, Cote d'Azur, Trøndelag, Rodellar. Midtbø has already travelled the world for more than a decade. He has spent the night at railway stations. He has slept in caves. He has visited an endless number of countries, cities, climbing centers and rock faces. The big climbing idols of his childhood are now his personal friends."
What makes the world's best climbers?
"A huge ego," he says.
Why?
"They have a lot of self-confidence. They have no respect for grading of routes. They just do it."
Do you have a lot of self-confidence.
"No."
You must be kidding?
"I would like to have more self-confidence. In a way, I always have to boost what self-confidence I do have. But I'm working on it."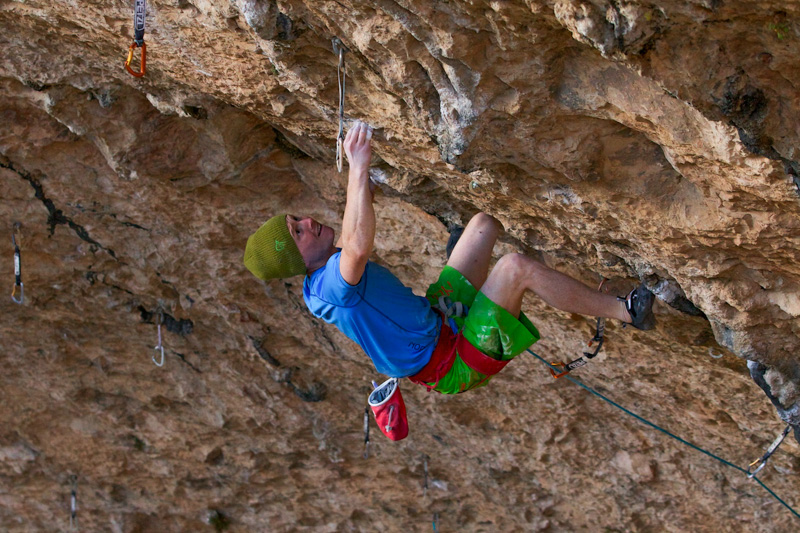 Midtbø makes it to the finals of most of the world cup events he competes in. In addition, he climbs the world's most difficult routes. His hardest tour was "Ali Hulk" (9b) in Spain. Now he dreams of another monster route, "Neanderthal" (9b) also in Spain. "Only one person has done it before me, and that was Chris Sharma. He is
probably the best climber ever. He spent several years working on that route, so if I do it right away, it would almost be a little impolite," says Midtbø.
How do you prepare for such a route?
"I go completely ADHD from thinking about the 'Neanderthal.' I can sit and watch a film on TV in the evening, and remember nothing about the film when it ends because I was thinking about the next move on that route the whole time ; how the crystals stick out of the wall, things like that. I get completely hooked. Everything has to
come together. Weather. Temperature. A good day for me. And I can't start
thinking about it then. It has to be routine, instinct.
As soon as you start thinking about it, the route spits you out."
But doesn't it make you nervous to think that Chris Sharma is the only one who has done the route before you?
"I can't let that throw me off balance. I have to think that I'm better than him and that Sharma is getting old. Heh-heh. I don't say it out loud, of course, but I have to think like that."
Would it be easier if you stopped competing and concentrated on climbing the world's most difficult routes.
"Yes, but I really want to prove that I can win a world cup event before I stop competing. I stand out a little
already because I am the only one who competes and has also climbed 9b outdoors. The other world cup competitors only climb on plastic. I can't do that. I have to climb both in and outdoors to keep my motivation up."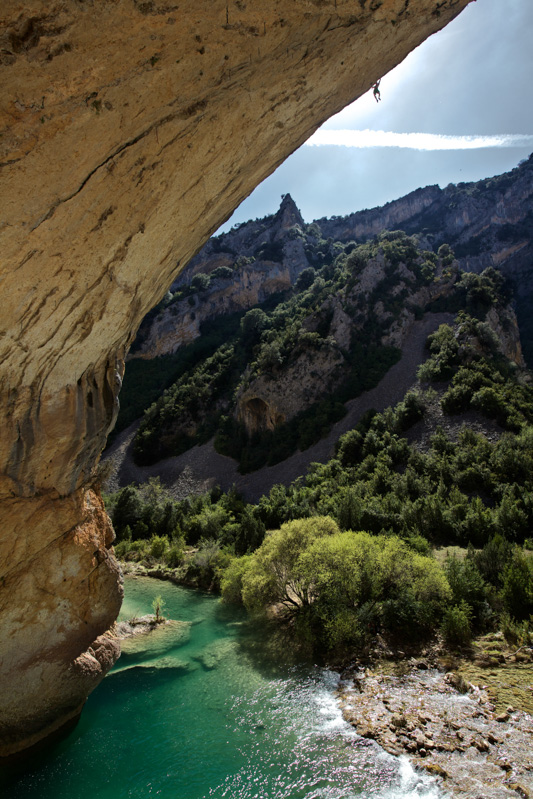 In a few years, Midtbø wants to take his extreme climbing skills to the high mountains. He has started thinking about big walls.
"If I find the right partner and the right project, I'm ready," he says.
What are your dreams?
"I want to climb Trango. That big wall is tempting. But for me, it is not enough just to go for some climbing route in some big wall. I have to push the limits. I want to do something groundbreaking at a world level."
Other plans?
"Yes. We can't stand by and allow foreigners to be the only ones to climb the difficult big wall routes in Norway. We have to redeem our honor on Blåmannen in Troms and elsewhere."
Midtbø became a Norrøna ambassador in January 2013. What do you want to contribute to Norrøna?
"I like that Norrøna is a Norwegian company. It serves everyone in the Norwegian climbing community to support Norwegian players. For example, I wish everyone building climbing walls in Norway would use Norwegian suppliers. That would build
up Norwegian competence, which in turn would strengthen climbing. At Norrøna, I want to help develop new products for climbers. And, of course, I want to draw attention to the brand."
Back in the Swiss Alps, two police cars have penned Midtbø up in a tunnel. Police noticed the suspicious white van with green Norwegian license plates on their surveillance cameras, and set off in hot pursuit. Armed police are now ransacking the vehicle.
"They probably thought it was loaded down with drugs or other contraband," says Midtbø. "But after a while, they figured it out." "All they found in my car was a mattress, a climbing harness, and a climbing rope," says Midtbø, and smiles."I don't need anything else."