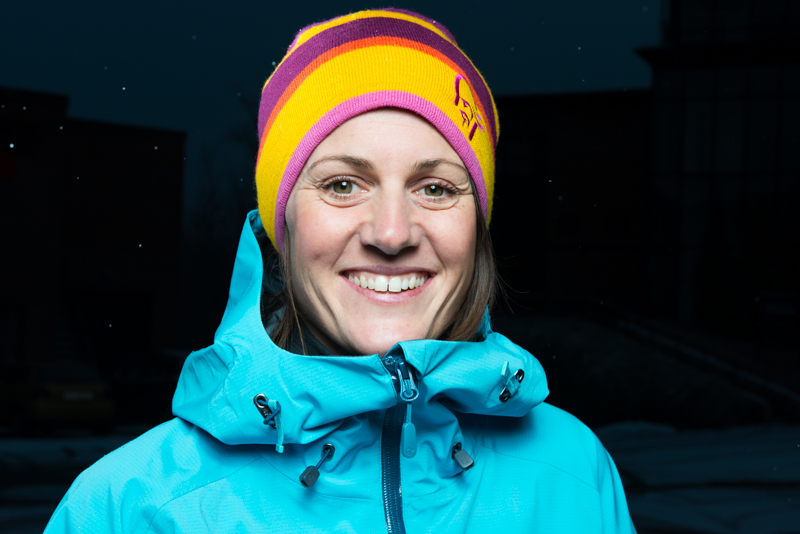 The sky is all yellow sun and blue sky. Just like the colors of the Swedish flag. The mountains are big, steep and freshly powdered with snow. Just the way Christine Hargin, 32, likes them. The Freeride World Tour (FWT) has come to Chamonix and the Swedish girl is ready to compete. Hargin stands between the starting gates, memorizing the line she has chosen. She is excited, and looking forward to it.

To skiing. To competing, To hitting the gas.
There. She's off.

In December 2012, Hargin signed on as an ambassador for Norrøna. The Freeride world champion from 2012 is ready to defend her title. And she is looking forward to joining the tour amid Norwegian mountains and fjords.
"Working with Norrøna is really exciting. Now I'll have to put on backcountry bindings and climbing skins. I have never been touring," she says.

You've never been Alpine Ski Touring?
"Nope."
You've never used climbing skins?
"Wait. Are you going to write this?"
Yes. But is it true?
"Maybe I tried once."
You've never tried it, have you?
"No …!"
Okay. Maybe Hargin hasn't climbed very much on skis. That's because she's spent her time going downhill. She has skied a lot. This Stockholm girl has always skied. It all started with the ski club in Stockholm, and continued with the ski high school in the town of Åre. Then she made the junior national alpine skiing team, and after high school, it's all been about skiing. Hargin skied the European Cup and the World Alpine Ski Cup until she gave it up in 2004 in favor of studies in Stockholm.
"I started studying something called 'Art, culture and economics.' I have a degree in business and marketing," she says.
She had a lot of free time as a student, which got her started on freeriding.
"I went to the Alps. I had been to the Alps a lot before, but had only skied on prepared slopes. This was a whole different thing," she says. The former alpine skier really loved it. She loved almost drowning in powder. Feeling the freedom
of the mountains. Playing.
"As long as I can remember, I had some sort of goal with skiing. When I was racing alpine, I had very specific and very high goals. When I started freeriding, I had no such ambitions. But I don't feel the same pressure, and that feels good," she says.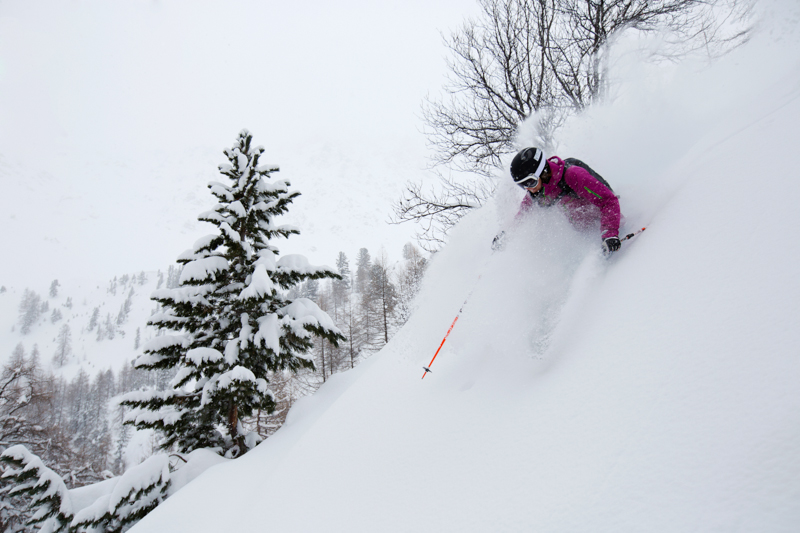 During the winter, Hargin doesn't have a real home base. She travels around and competes, films and skis wherever the snow is good.
"It's cool. You get to see so many different things. But it can also be a little tiresome : Where will I sleep tomorrow?
Maybe there is a price for being a nomad, but she doesn't dwell on it.
"I try not to look at it like I'm missing out on something. But, sure, it is a rootless existence. You travel here and there, are always on the move and have no routines. But there is absolutely no way I would trade this for a normal city life. I dared to bet on this because I think it's cool. It's a positive thing.
I don't do something else because I'm supposed to, or because that's what other people do. I live the life I choose," she says.

The first time Hargin entered a freeride competition, she literally fell flat on her face.
"I lost my balance on the takeoff from a cliff, spun around and crashed. Heh-heh. The first two, three competitions didn't go very well. But then things started to fall into place," says Hargin. And things just kept moving.
"I got to know people who skied a lot and started to hang out with them. Then I just skied more and more," she says,
After a while, Hargin started to toy with the idea of entering an international competition. It would be something fun to try, she thought. After a couple of years in qualifying events, she took the step up to world class three years ago, and ended up as number four in the Freeride World Tour. Now her name is at the top of the rankings.
She says her goal now is to keep getting better.
"I focus on developing myself; getting better all the time; skiing creatively. But clearly, now that I have won some competitions, I am not adverse to the idea of winning more. Or winning the whole tour again," says Hargin.
She says she can picture the perfect competition run.
"Absolutely. Ski fast, jump big and include a trick in
the run. Keep it simple. Don't complicate things ;" she says.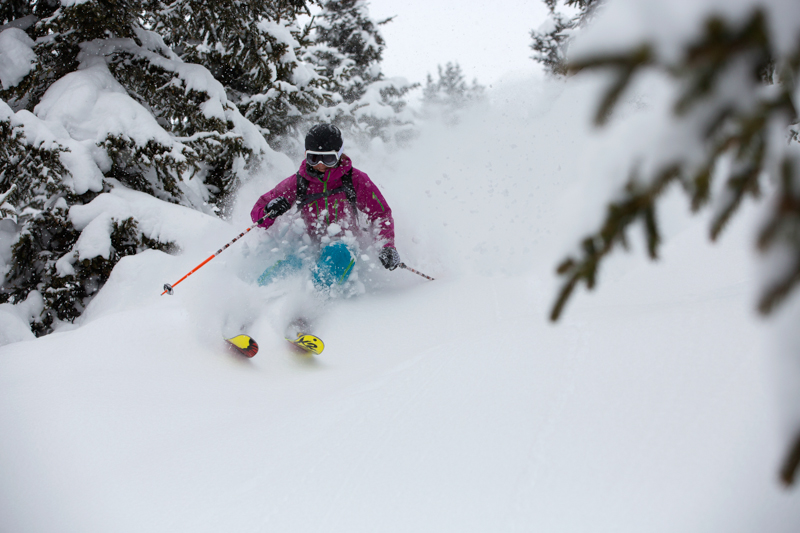 There is a good atmosphere in the FWT competitions. It's especially nice that her pals Wille Lindberg and Reine Barkered are on the Swedish men's team.
"Reine gave me a lot of support both this year and last. He has given me a lot of good advice, and it is reassuring that he is along. This year, Wille also made the tour. He is a really good friend and we have skied together a lot in the past. That makes it even more fun. That can be decisive in a competition. If it's
fun, you often ski better," she says.
And she acknowledges that she can learn a lot from the boys.
"Yes. I compare myself to them. That is not something you do to boost your self-confidence, heh-heh. But I try to get better all the time, and I absolutely let myself be inspired," she says, adding that she gains a lot from the boys "when it comes to strength and technique. And how you should jump."
Hargin spends almost all her time skiing, but there is at least a little time for other interests.
"I am no expert surfer, but I do go on surfing vacations. I also do other sports. Not much of any of them, but skateboard, tennis, yoga. And I work a little in the Alpingarasjet, a ski shop in Stockholm."
Otherwise, Hargin enjoys creative hobbies, like decorating and fashion as well as taking and editing photographs.
"I take pictures of everything. Mostly of the places I am, friends and skiing," she says.

Back to the competition. Christine dances down the mountainside. Focused. Playful. Never in doubt. A big drop, hot turns, high speed. Another drop. Spectators sit on the opposite mountain and take this in through binoculars. They like what they see.
"Tres bien."
Christine does a third drop. Lands solid. Cruises down to the finish area with a good feeling. She looks up at the yellow and blue skies. She smiles. Rivals finish one after another. When the last crosses the line, the final results light up. The name "Christine Hargin" is at the top. Today, there is no question about who is best.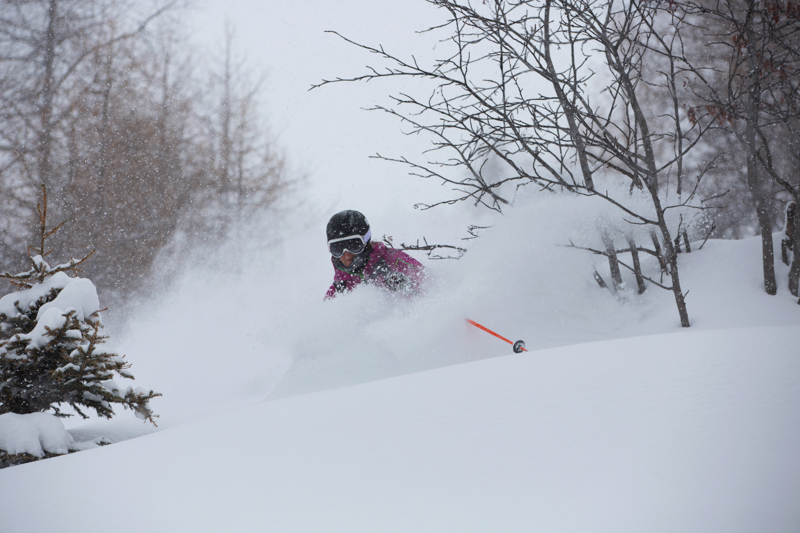 Christine rides in our lofoten collection but you'll also spot her in our /29 collection for an active lifestyle and her personal favoritt, our lyngen lightweight down750