Immediately after arriving in the village of El Chaltén we were greeted with two days of good weather. This would not give us enough time for our most ambitious projects but would be suitable for a warm up, and to get our gear in the right position for later. We hurriedly stocked up and started carrying our heavy loads into the Torre valley.
The approaches in Patagonia are long, but varied and exceptionally beautiful. You start off in the village at 400 metres above sea level, following nice paths through wonderful woods, with refreshing springs along the way. At an altitude of approximate 1000 metres, you leave the comfort and safety of the sheltering forest and the paths, and venture on to the glaciers that encompass all the ragged peaks. The environment gradually gets more alpine and challenging.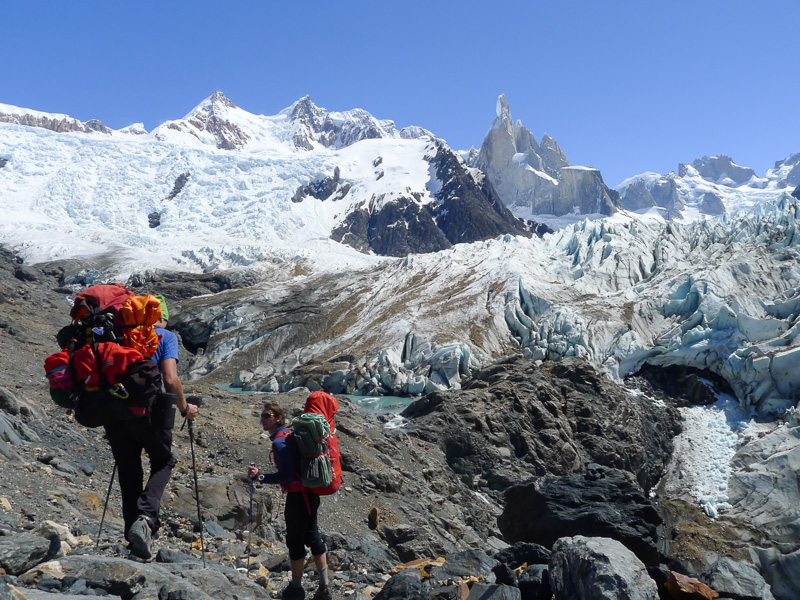 After seven hours hiking we reached the moraine camp at Niponino in the middle of the Torre Glacier. Here people have moved enough boulders to give room for a handful of small tents. We had a few hours of sleep before we got up at 02:30 to have breakfast.

Our plan was to climb a new route on Aguja Standhardt (2700m), or to be more precise, a new and direct start to the classic route "Exocet". Neither Ole nor Trym had climbed Standhardt before, so they were very keen on scaling this peak. Ole tried to climb "Exocet" back in 2010, but was forced to retreat halfway when his partner was injured; Ole had been unfortunate and dislodged a heavy load of ice on to his head. I had already climbed Standhardt via "Exocet" in 2010 with Bjørn-Eivind Årtun, so I was not particularly motivated to do this same route over again. But the direct start to "Exocet" had never been climbed and would give 400 metres of new ground – and this inspired me. We had a plan.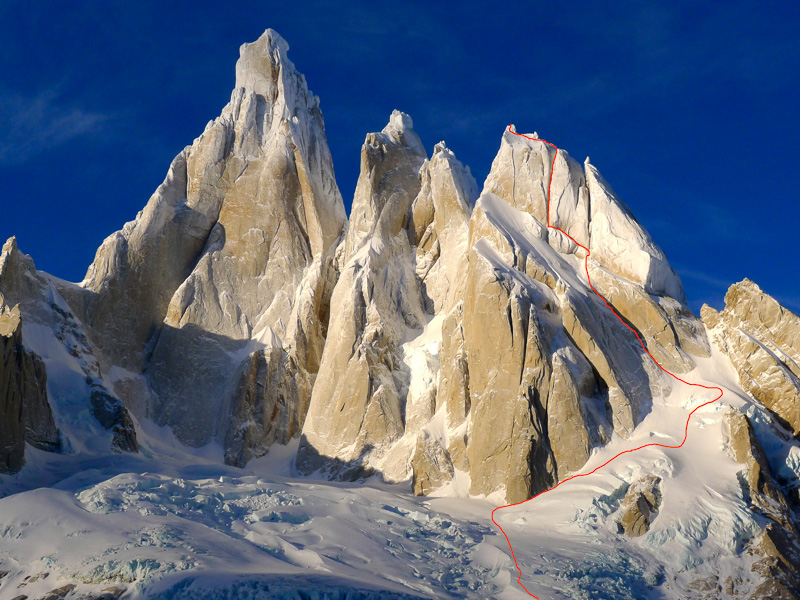 We left Niponino at 04:00 and started the three-hour approach up the steepening glacier as the night gradually gave way for a beautiful morning. As we were panting our way up the glacier, the horizon in the east, between the steep mountainsides of the Fitz Roy- and the Cerro Torre-massive, gradually came to wake, changing from pitch black - to dark blue - to red - to pink - to orange - to yellow – to a sunny day. We expected some delicate rock climbing on slabs in the lower section, and we were hoping that the morning sun would make this more comfortable.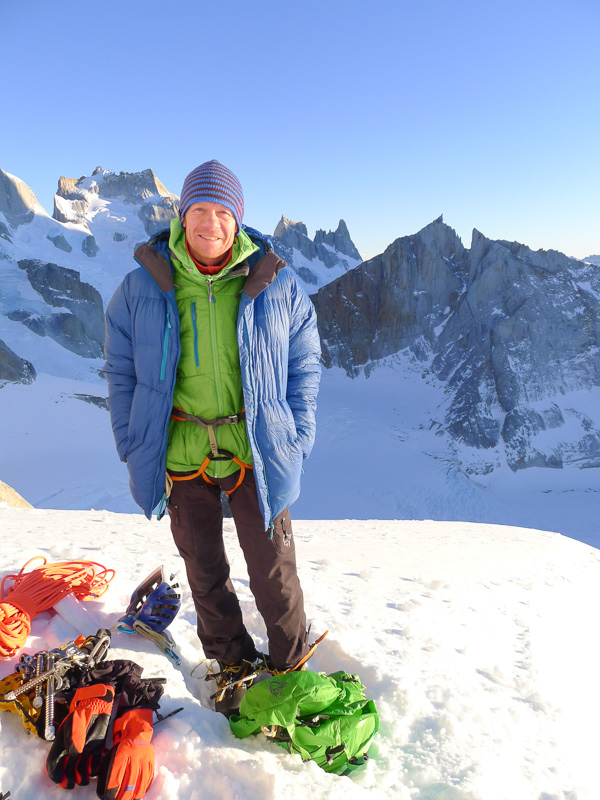 At the bergschrund Ole melted some snow to hydrate us all, while I racked up. Since I had already climbed the upper section of the route earlier, I got the privilege of leading the lower half of the route. At 07:30 I started leading while Trym held my ropes. By this time the sun had just reached our line. We had brought friction boots for this section, but the amount of snow and ice on every pitch forced us to keep our big boots and crampons on all the time. Still, we found highly enjoyable climbing, clean and varied. Nothing desperate, but sustained and challenging enough to make it interesting. Everything was climbed on-sight and free (as "free" as it can be with crampons on...).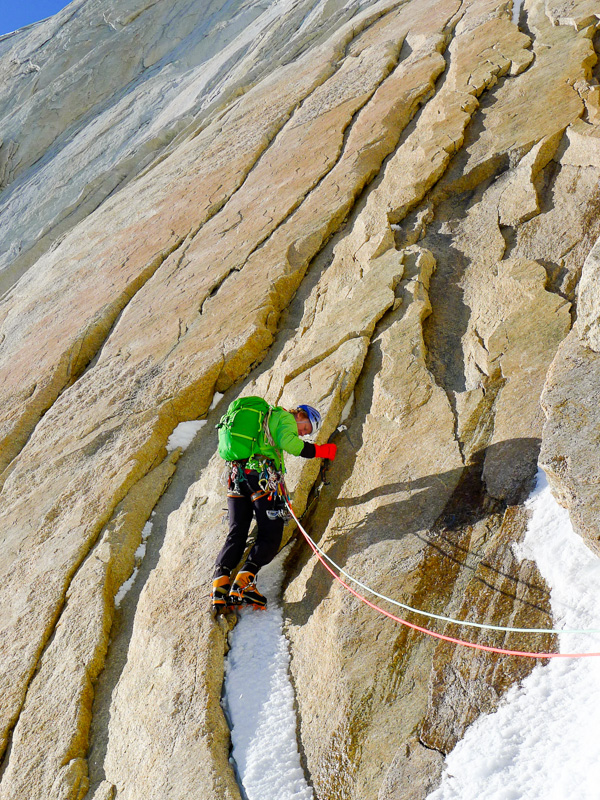 After seven pitches and 400 metres of excellent new terrain we reached "Exocet", and I passed the sharp end of the rope to Ole. He was vibrating with energy and very focused on the task to come – a four-pitch vertical waterfall inside a narrow chimney, in long portions not more than a meter wide. He led this section with speed and confidence, only occasionally hesitating after hearing grunts from his two companions being bombarded by lumps of ice. When ice climbing, there is a rule of thumb that you put the belay to side of the climbing line, but in a narrow chimney like this it is just not possible. Trym and I hid under our small backpacks as best we could, and tried not to wimp too much. And poor Ole tried to place his tools as gentle as possible, while flash backs from his last attempt in 2010 replayed in his mind…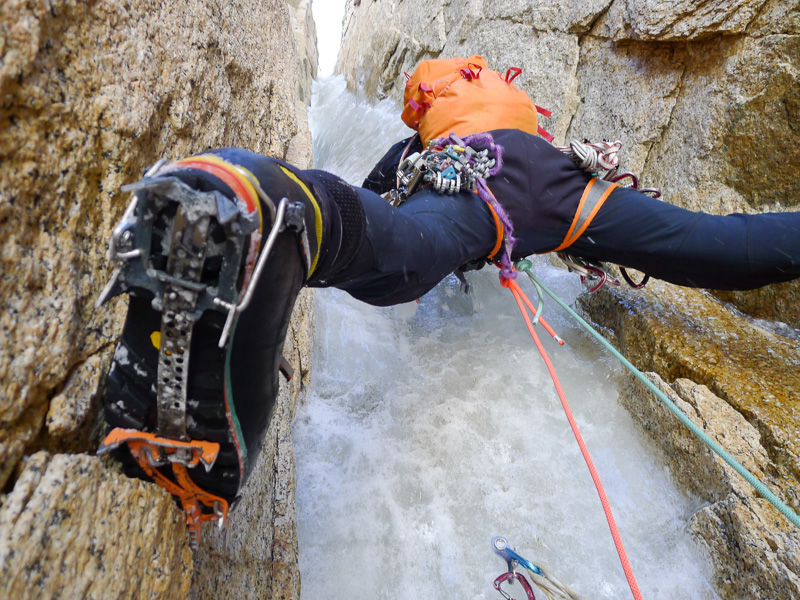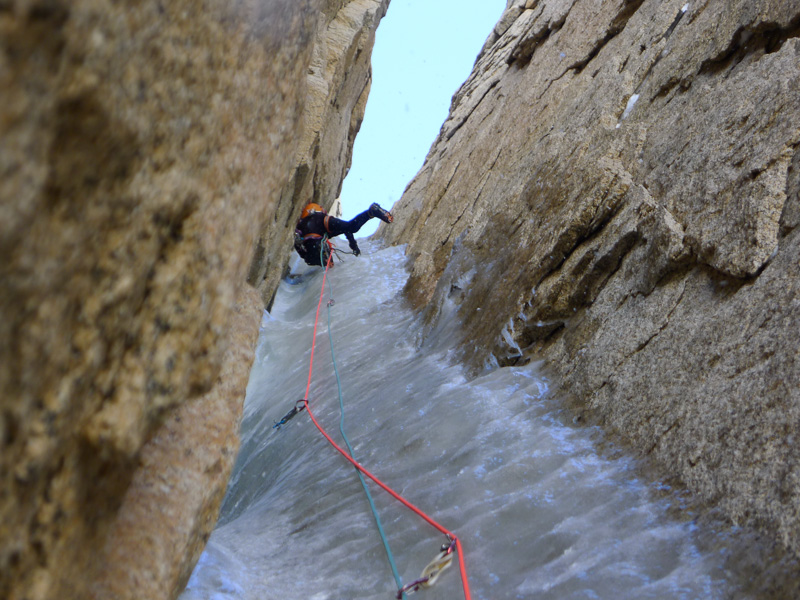 In the early evening we climbed out of the cold ice chimney and stood on the summit ridge. The sun lit up our faces but did not warm much as it descended rapidly towards the horizon. What warmed us was the magnificent view of the vast ice plateau stretching out forever to the west and north. So clean – so silent. We were alone in the mountains. No other climbers. We felt small but very privileged.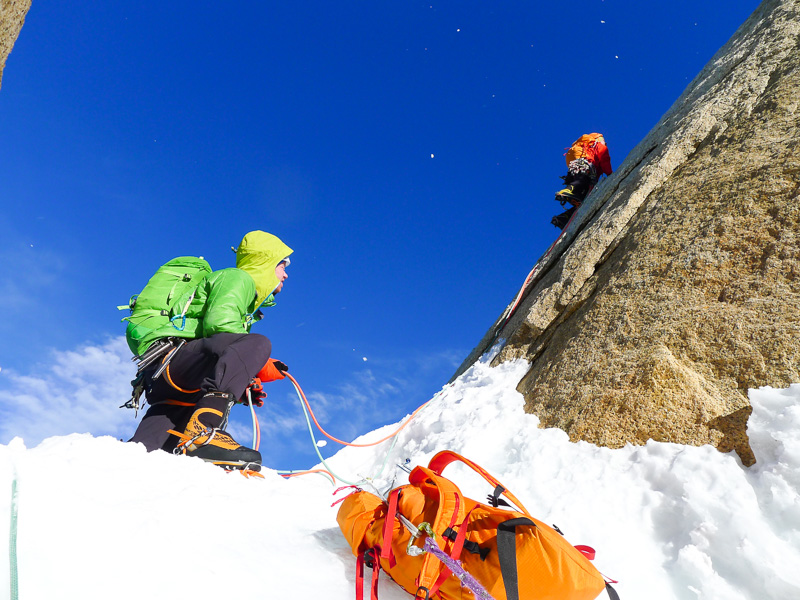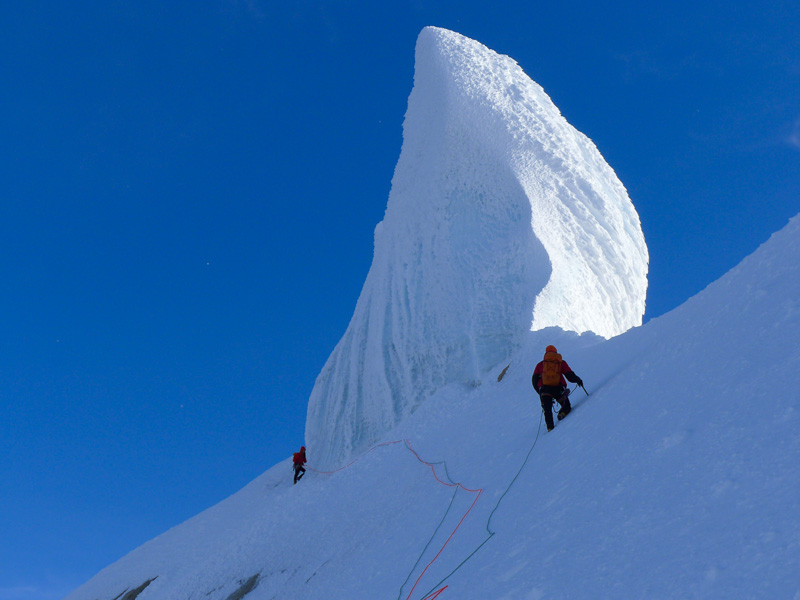 Trym took charge and led us safely the rest of the way to the summit. An interesting mixed pitch was followed by easy terrain, before the stunning summit mushroom. We summited at 19:30 and the spirits were good – as they had been the whole way. Still, we did not spend much time celebrating – we were only half way. There were 1000 metres of abseiling still to go and it was getting dark.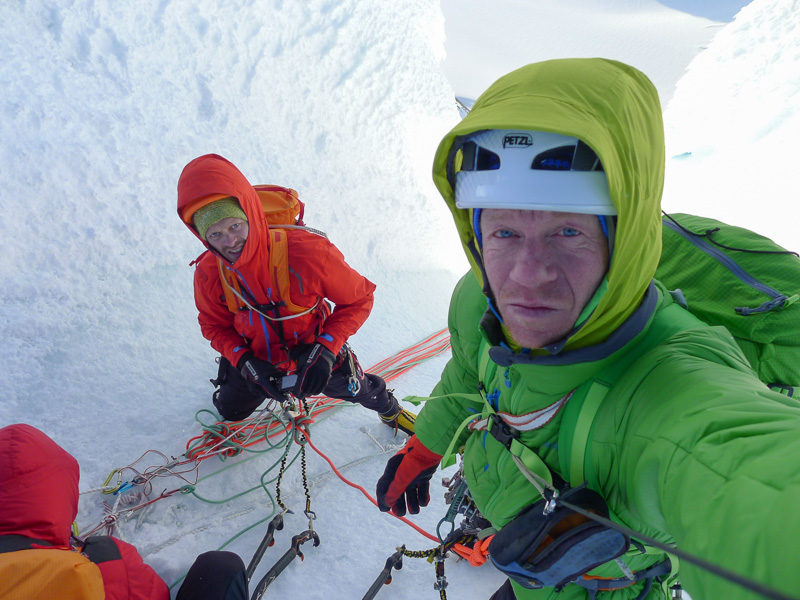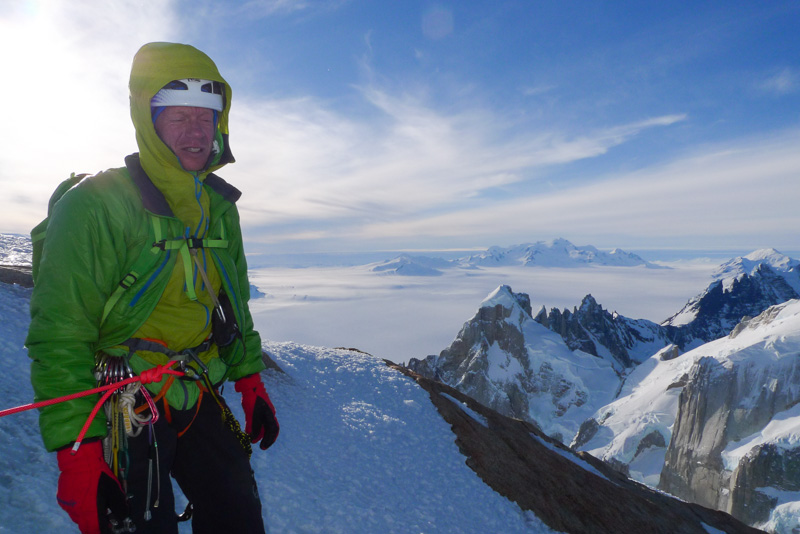 Descending in the dark by head torch is an integrated part of this type of climbing. Nevertheless it is always a bit scary. At this stage you are usually quite tired, while you need to be fully focused to find the best way down and to build solid anchors for abseiling. When pulling down the rope after each abseil, you pray for it not to be caught in a crack or on a rock formation – having to shift into climbing mode again and lead up a difficult pitch to try and free a caught rope, is not what you want at this stage…This is exactly what had happened to me and Bjørn-Eivind last time I descended from the summit of Standhardt; a nice day in the mountains suddenly turned into an epic night…So this time I was extra cautious – choosing to play it safe by doing several shorter rappels in the most critical places, instead of using the full rope.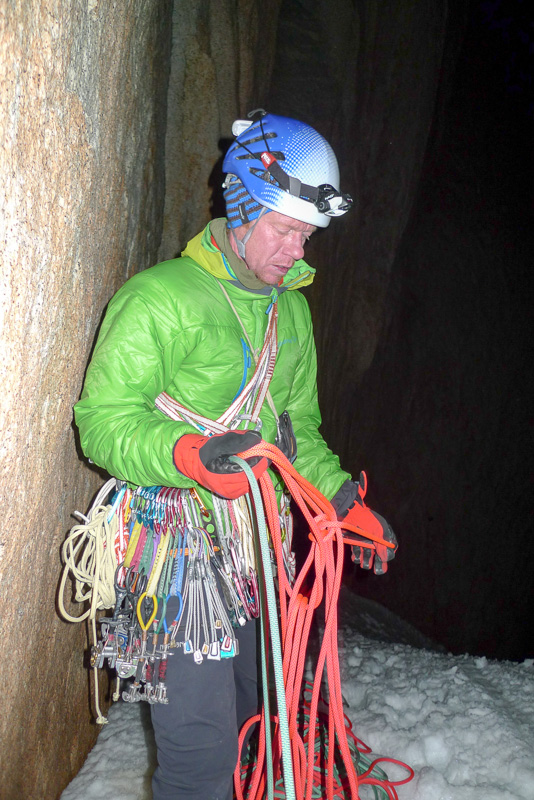 We took our time, avoided any mishaps and reached the foot of the climb in the early morning hours, just as the weather was deteriorating. What started as wet snow on the last few abseils soon turned into heavy rain as we downclimbed the steep upper part of the glacier. We managed to avoid falling into any crevasses in the dark and finally stumbled into our tent at Niponino at 04:00 in the morning, exactly 24 hours after we left it. Pleased with our effort we had some food and a short sleep. At 08:30 we were up again to get out of the place before the weather got really messy. We packed down the tent and stashed most of our gear under a boulder for our next project and left for civilisation. Luckily we had a tailwind down the glacier.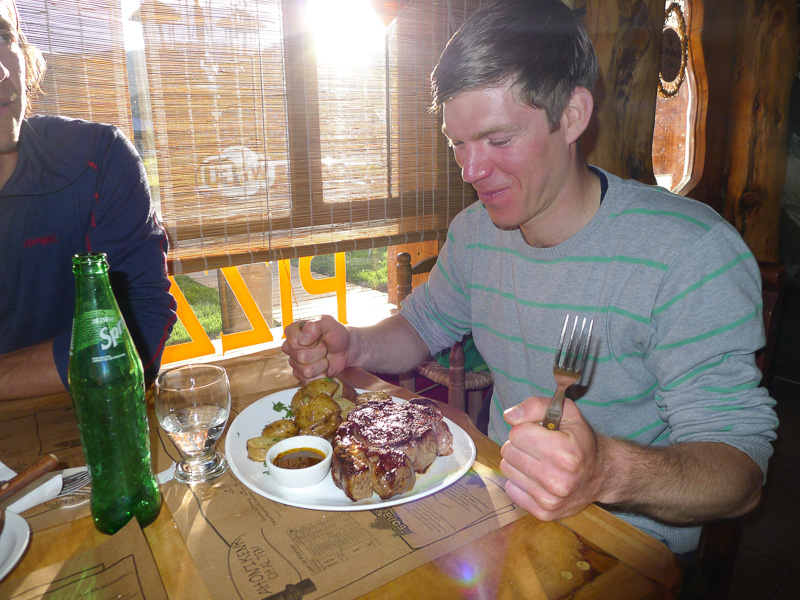 It was a happy team of three hiking back to El Chaltén, looking forward to a dry bed at our good friend Seba's hostel and a big chunk of Argentine steak. We had had a great adventure and done a new route, we were good friends and spirits were high. We worked very well together as a team – and this promised well for our further climbing plans. I also felt somewhat relived. In a way this climb represented an emotional comeback to alpine climbing for me. After the deaths of our close friends and climbing partners, Bjørn-Eivind Årtun and Stein Ivar Gravdal on Kjerag in February 2012, all three of us experienced a setback in our drive and ambitions in the mountains – something that is only natural and quite sane. With the losses of many good friends over the years, climbing has changed, for sure. What used to be a source of pure joy is no longer so pure. Dark clouds are blurring our biggest passion in life; mixed emotions are making climbing life more complicated. Some fundamental questions arise: How can we continue putting such strain of concern on the people that love us? Can we justify continuing our pursuit of conquering the meaningless?...

Climbing at a high level is often a fine line between what is sustainable and what is too risky in the long run. In Patagonia this time I felt we had a sound and "sustainable" approach to our game. But maybe I am just fooling myself? Some of us are good at that…

This had been a brilliant start to our stay in Patagonia. We could not know then that this also would be the climbing highlight of our stay… The weather now turned bad and stayed that way. Trym got sick and stayed in bed almost the rest of the trip. Then, after a week, a 35-hour weather window was announced and Ole and I got ready to try the Californian route on Fitz Roy. Unfortunately Ole got sick the same morning we were leaving, and ended up in bed with a fever for the rest of our stay. But to my great luck there was a Swede and a Dane staying at our hostel that also were on their way to the mountains. When they overheard Ole bailing on me at breakfast and instead climb back to bed, they immediately invited me to come with them and climb the Supercanaleta on Fitz Roy – leaving in half an hour! My pack was all ready and I needed no further convincing – I was keen on climbing! So off I went on a double adventure: new route and new partners.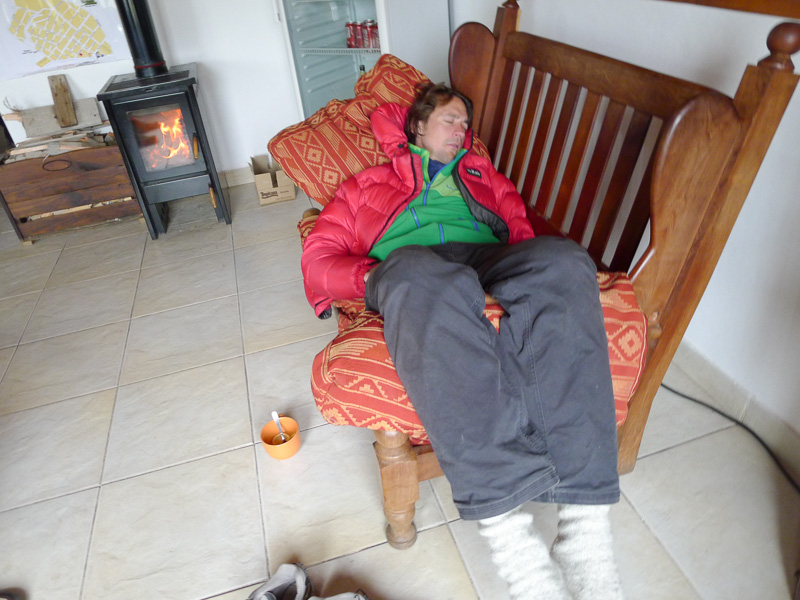 The Swede, the Dane and the Norwegian hiked one long day to get in position on the other side of the mountain and bivouacked at the foot of the climb in surprisingly poor weather. Luckily the weather forecast came true and during the night the sky cleared and gave room for a cold and clear morning.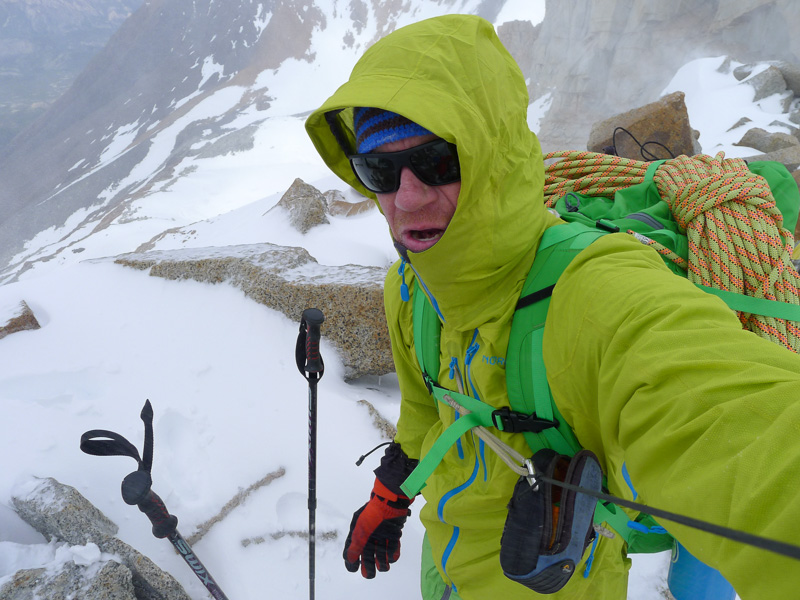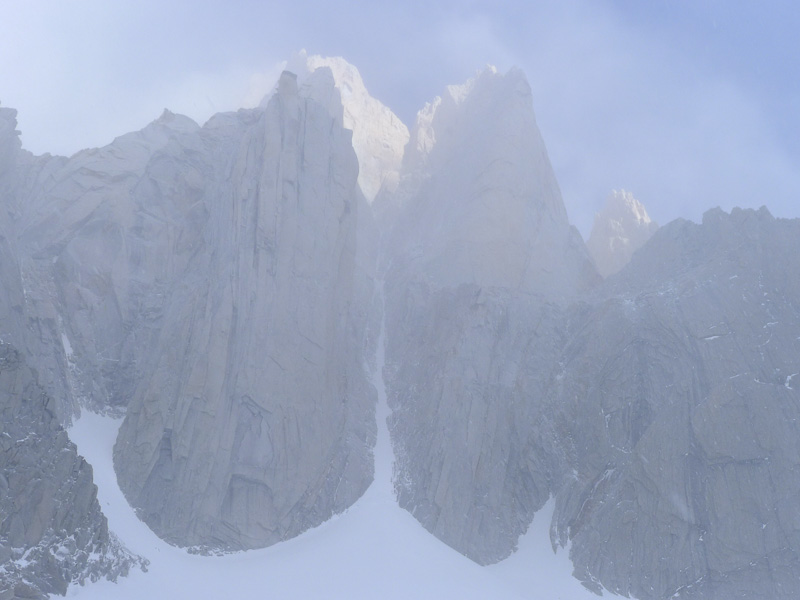 We climbed approximately 1400 stunning metres the next day before the Swede got cold feet, first literary speaking, and then later as a figure of speech…Early in the afternoon he called a halt. He was exhausted. He could not move any more. He was wearing all his clothes and still freezing. He wanted to go down.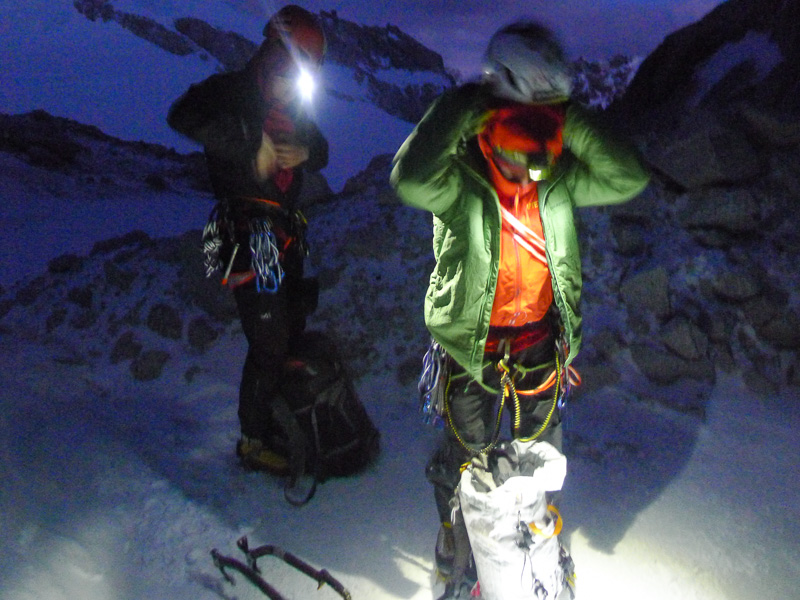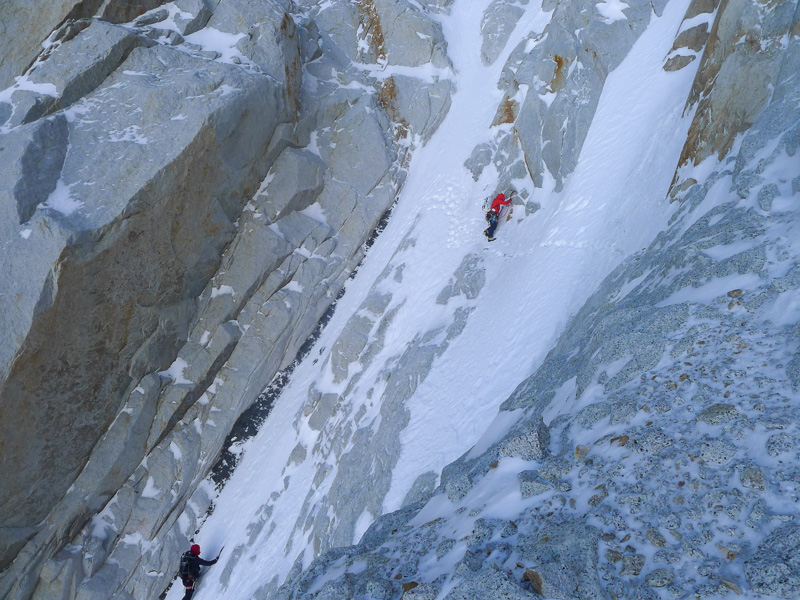 I was dumbstruck. We had 350 metres of beautiful easy climbing to the summit. We were so close to climbing the giant Fitz Roy. This could not be happening? We made some food and gave him a good rest. But he did not recover. He seemed scared of the prospect of spending the night on the mountain.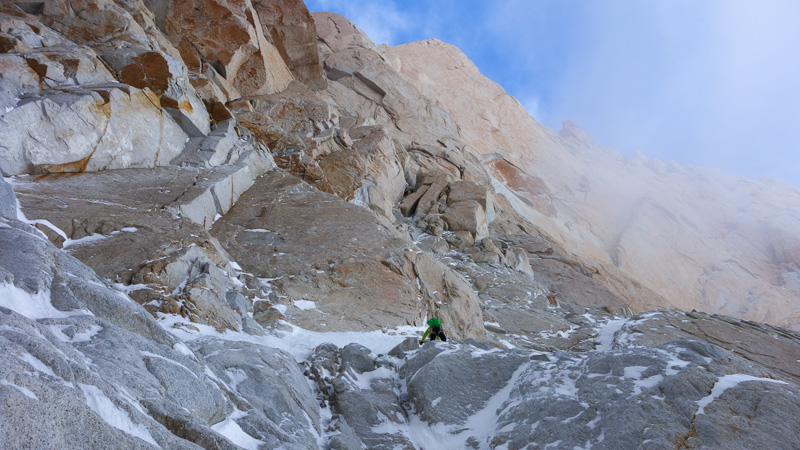 Of course, if we continued we would have to abseil through the night to get down. But was not this part of the plan? Had we not understood each other? We still had time to reach the summit before dark and if we were superfast we would be well into the rappels before dark. Anyway, most of the return would have to be undertaken in the dark –that is a part of this game. But we could also stop if we really needed to wait for daylight or just to have a longer rest; we had brought gear for that. I had an extra down jacket and a bivi bag big enough for the three of us in my backpack; we had a stove and enough food. What was the problem?

He was obviously more physically tired than I imagined and this also inflicted on his mental strength. He was not fit for the climb, neither physically nor mentally. The thought of continuing was just too scary for him, and if he really was as tired as he said and it appeared, it would indeed not be safe for us to drag him higher up the mountain either. It would only bring us all deeper into trouble.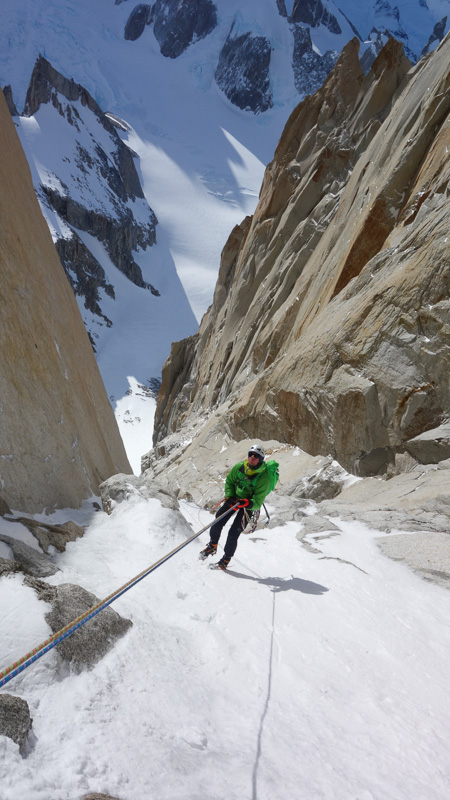 Above us, the sun was shining from a clear blue sky, reflecting in solid deep blue ice beautifully packed in cracks of golden granite – it looked so tempting…But there was no two ways about it. Half-hearted I started rigging the first of almost 30 rappels. We did not talk much; there was not much to be said. I just concentrated on making good belays and getting us safely down. Twelve hours of abseiling later we were safely back at the glacier. I was disappointed but I also felt sorry for the Swede – he was obviously very disappointed with himself and sorry about letting us down. On the long walk home I tried to focus on the fun climbing we had done before we had had to stop, and on the saying that the summit is not the most important, but the journey in itself – but I did not manage to convince myself…For me the journey is the most important, but the best journeys include the summit.

Nevertheless it was a few days of activity in one of the most beautiful mountain regions I can think of, it was good training and valuable gathering of experience. And it sure was a lot better than being stuck at the hostel with two sick friends.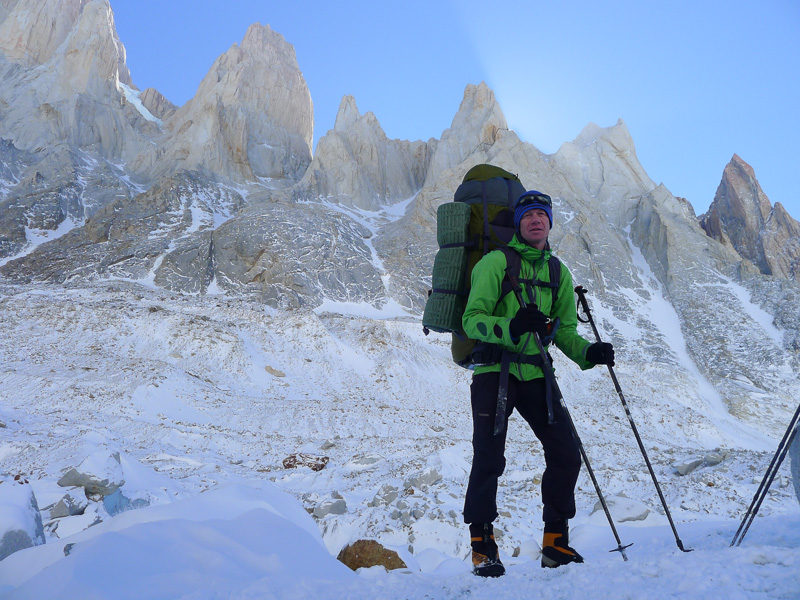 Climbing in Patagonia somehow reminds me of my experiences with surfing. 10 seconds of riding a wave easily justifies two days of paddling around, freezing your balls off and almost getting drowned. In a strange way it's worth it. I guess it is just part our human nature: We are attracted by challenges, and the bigger the challenge the better the feeling when you succeed. Patagonia – we'll be back!