The climbing history in the region goes back to ancient times, when the local farmers took their animals to the top of the steep towers to protect them from invaders and thieves. From the 11th century onwards monks settled on the summits of the otherworldly forest of towers, and today there are still six active monasteries left on top of the towers of Meteora.
The development of modern rock climbing goes back to the late seventies when Dietrich Hasse and his friends started to open more and more routes in the area. Today there are hundreds of climbing routes in Meteora, put up by both local and foreign climbers.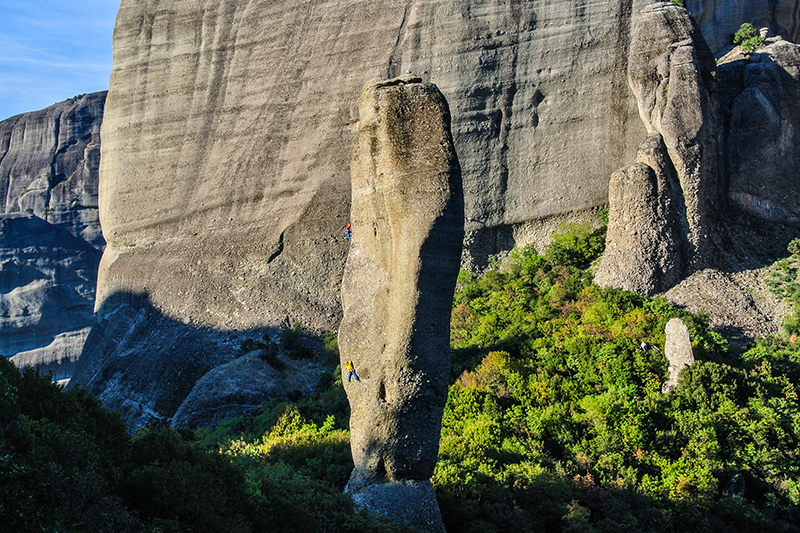 Climbing: The characteristic towers of Meteora are a mix of sandstone and conglomerate filled with rounded pebbles and rocks of all sizes. You climb using these sloping pebbles, or the holes left by them parting, as hand- and footholds. There are routes up to 300m long of all difficulties. All routes are bolted "groud-up" in a minimalistic style typical for the area. Most climbs are technical and delicate face climbs, but there are also pure trad-routes following cracks and chimneys. The feeling of the rock, the mystic atmosphere of the place and the fact that all climbs finish on aM summit, makes it a unique experience.
World class limestone sport climbing can also be found in the surrounding areas, as well as further south on the Peloponnese.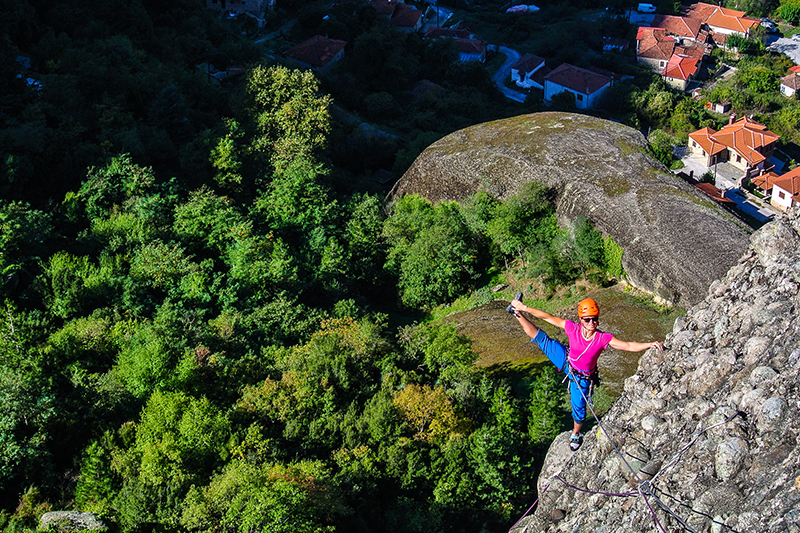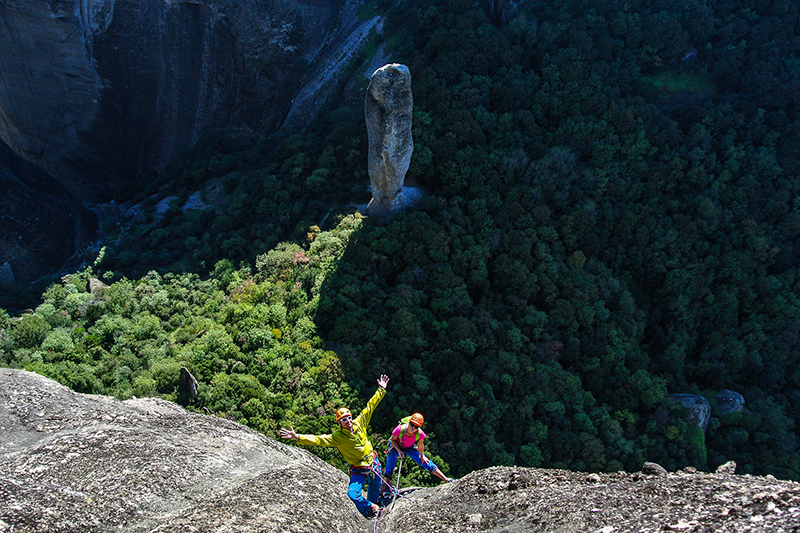 Travel info:Fly to Athens, then either rent a car or take the train to Kalambaka, which is the nearest town. Both options takes about 4h. You do not really need a car in Meteora if you do not mind walking a few kilometers a day. But with a car you also have the option to visit the limestone crags in the region.
Accommodation: Kastraki village (2km from Kalambaka) is located among the towers of Meteora and the best location to stay for climbers. Camping Vrachos is the central point for meeting other climbers, it is spacious and well maintained with modern facilities. There are also numerous B&B and hotels in Kastraki.
Food: You find a good selection of restaurants in both Kastraki and Kalambaka that serve both lunch and dinner. They are small family-owned places who serve local food produced in the Thessaly region, which is famous for it's meet. You'll spot the smoke and delicious smells of the bbq:s along the street, where you'll get the best grilled meet sided by mountain greens and baked feta cheese.
Guides: Mountain Spirit Guides can during certain periods provide climbing guides to take you up the towers of Meteora. See http://www.mountain-spirit-guides.com/meteora-rock-climbing/
Mountain guide Nikos Hadjis at http://www.mountainguide.gr also offers guiding and decades of personal experience from the area.
Guide books: The classic routes are featured in the new guide book for Greece mainland, Greece: The Best Of by Aris Theodoroloulos. This is good enough for your first vacation in Meteora, as sticking to the well travelled routes is recommended in order to climb on solid rock, considering that the protection is minimal on most climbs. For longer visits you might also want to see the two older guide books: Meteora Climbing and Hiking Guide and Meteora Climbing Part II both by Dietrich Hasse and Heinz Lothar Stutte. All of the guide books can be bought in Kastraki at Taverna Paradisos or Vrachos Camping (campingkastraki.gr). The older guide books are maybe out of print and hard to get though.

Limitations: Meteora is a UNESCO World Heritage Site and you can not camp or bivouac among the towers. You should walk among established trails, not light any fires, and obviously no littering! According to an agreement with the Orthodox church climbing is not allowed on any of the towers with monasteries on top. Climbing in Meteora has repeatedly been threatened with prohibition, so visit soon and contribute to the influx and positive reputation of climbing tourists!