Powder, raw fish, «kanpai»!

More powder, hot springs and yet another "kanpai"!

That's Japan for you described in just a few words. And for those of you who haven't recently been spending time in Japan, riding powder, "kanpai" is the Japanese word for "cheers". In other words, Japan doesn't sound like the worst place to check out. Our Japanese ambassador Yuta Watanabe could also give us first-hand information about the snow conditions, and told us that he had never experienced bad snow in Japan. Coming from a guy who logs over 100 days on snowboard each season, we let the statistics speak for themselves.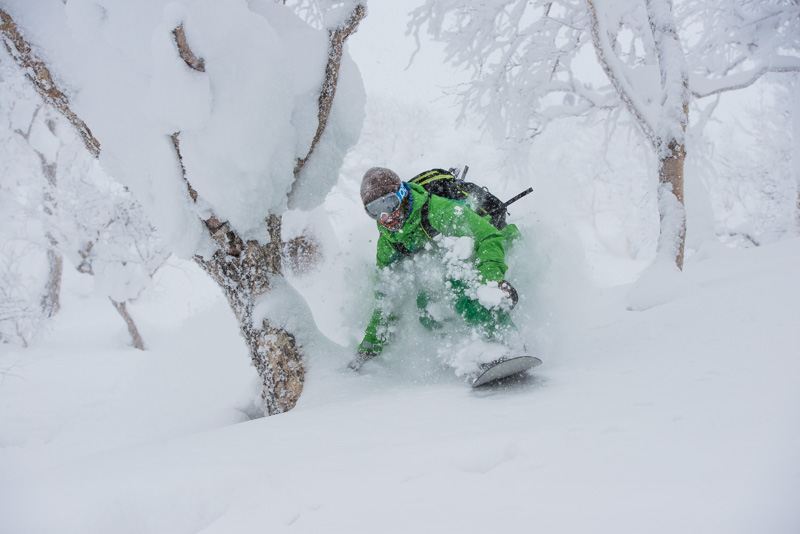 We travelled around the island Hokkaido, starting off with a couple of days in Asahidake, a day in the ski resort; Furano, and the rest of the days in the mountain area with the biggest peaks; Tokachidake. Asahidake is the most accessible ski area, with one gondola taking you up to untouched terrain. The most exciting terrain however is in Tokachidake, but you have to prepare for a couple of hours hiking on snow shoes before reaching the bottomless powder everybody talks about. And it really is bottomless. The landscape is covered by a big white blanket that continuously is refilled with snow from the clouds hanging low over the mountains.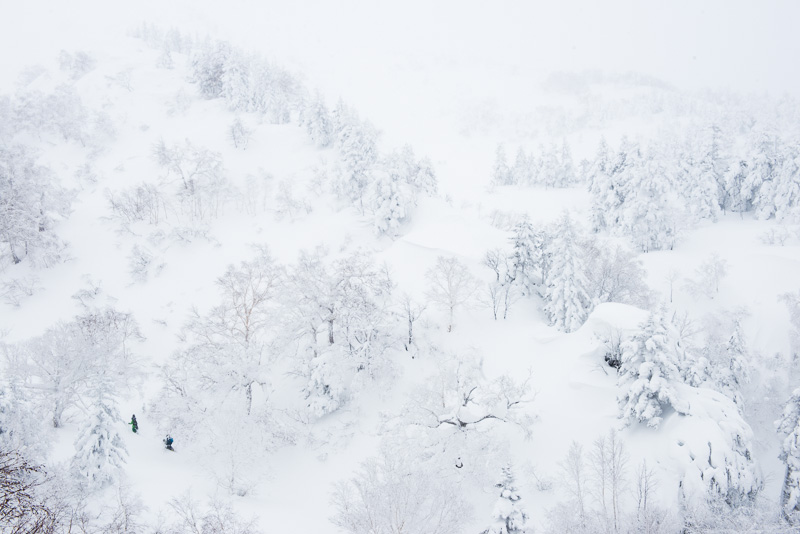 Yuta and Andreas hail from very different cultures, but what they both have in common is the number of days snowbarding throughout the season. Seven years has passed since Andreas last went to Japan, and he is pretty stoked to be back.
- It doesn't stop snowing here and you can ride powder everyday if you like. Another thing that is really cool about Japan is that the conditions are so stable. At the start of the season, when it's very often unreliable other places, the snow conditions here are always good, says Andreas.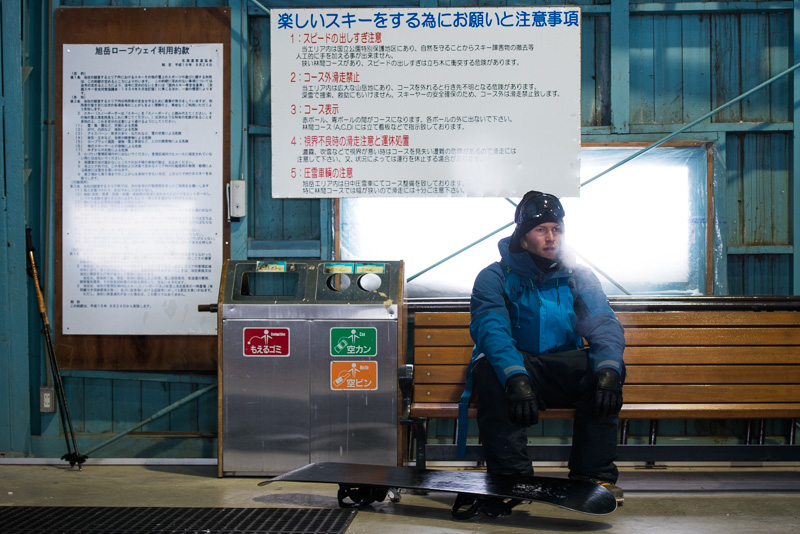 After spending a lot of time in the competition scene earlier, Andreas now spends most of his time travelling the world snowboarding in a slightly different terrain.
- At this point freeriding feels more motivating to me, and it's also something my body appreciates a lot more regarding the soft landings, Andreas explains.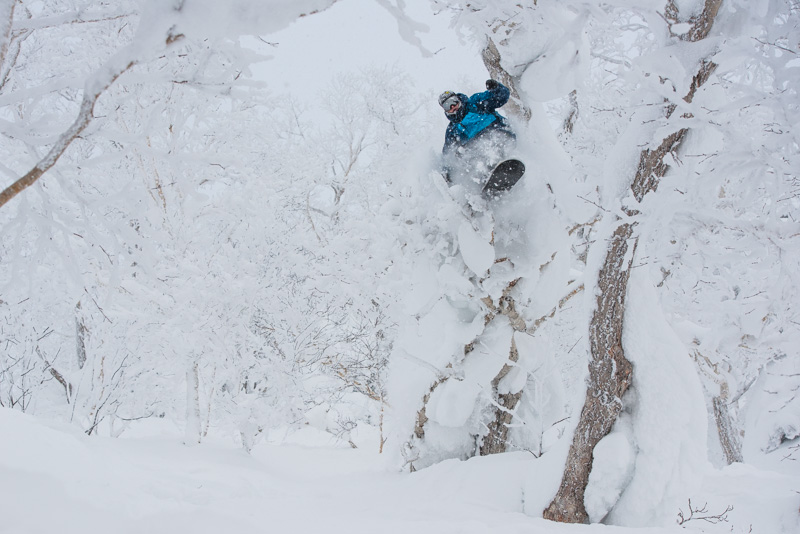 Japan is Yuta's home area, and he tells us that even though powder might be an everyday normality, sunny days however are not. Most of the time it just keeps on snowing. So it was with great pleasure we finally got a taste of the sun the last day of our shooting in Tokachidake. Riding bottomless powder surrounded by beautiful mountains, and seeing everything through a filter of sun really gave us a taste of what Japan has to offer.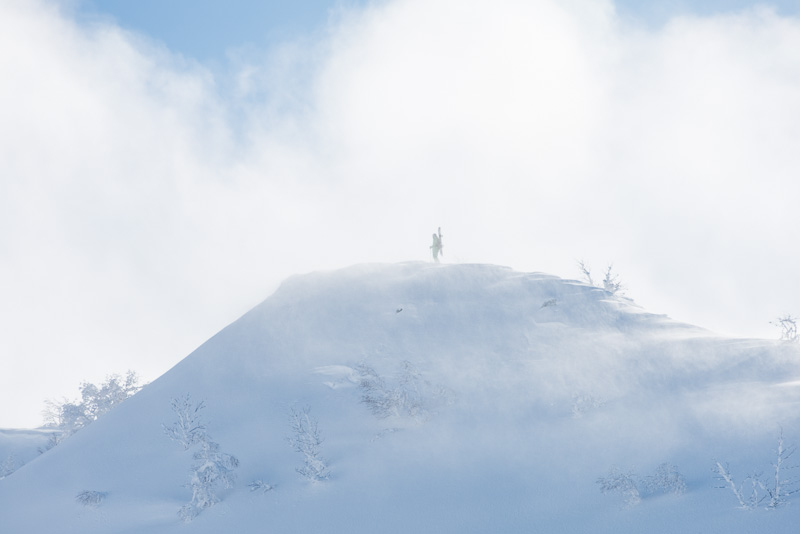 Another subject one can't let go unspoken of when it comes to Japan is the food. What immediately comes to mind is sushi, and if the definition of sushi is raw fish then we had sushi every day. Raw fish in all shapes and sizes, fish guts and fish filets, with rice and without. Every meal we ate can be described as one big mix of sea food, add some tofu and soy sauce and you have a Japanese meal that somehow always ends up tasting amazing. The meals were always enjoyed in very good company, sitting on the floor, before we enrolled our sleeping mats and turned the dining room into a bedroom. The Japanese know how to utilize the space.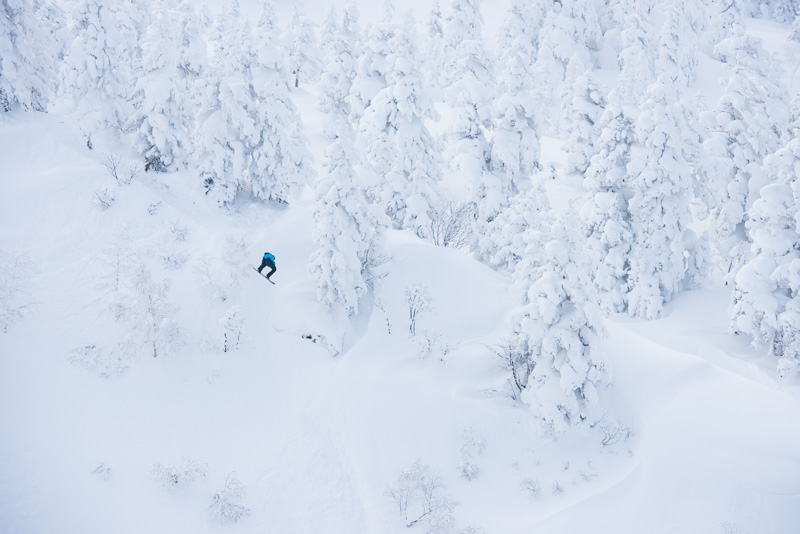 It's hard to think of any negative aspects of Japan. The people, the culture, the food and of course the snow, just makes us want to do it all over again;
powder, raw fish, hot springs and one last "kanpai"!