"For a Swiss boy everything is big. The trucks, the burgers, the coffee and the jumps". Norrøna ambassador Armin Beeli got to experience some of the endless trails he had previously only heard rumors of, during his trip to Canada last fall. Meeting up with photographer Kari Medig, whose home base is Nelson, he got to experience first-hand the diversity and technical trails Nelson has to offer.

After coming to life as a result of the silver rush during the late 19th century, people are rushing to Nelson for another reason today. Having a high percentage of the world's best freeriders as locals, Nelson stands out as one of the more advanced areas for mountain biking.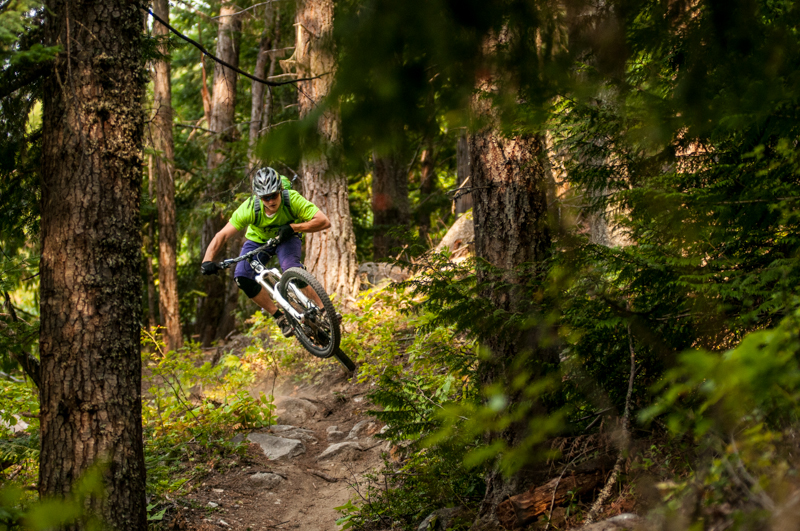 "I knew that a rider with Armin's skills could really flourish here" – Kari Medig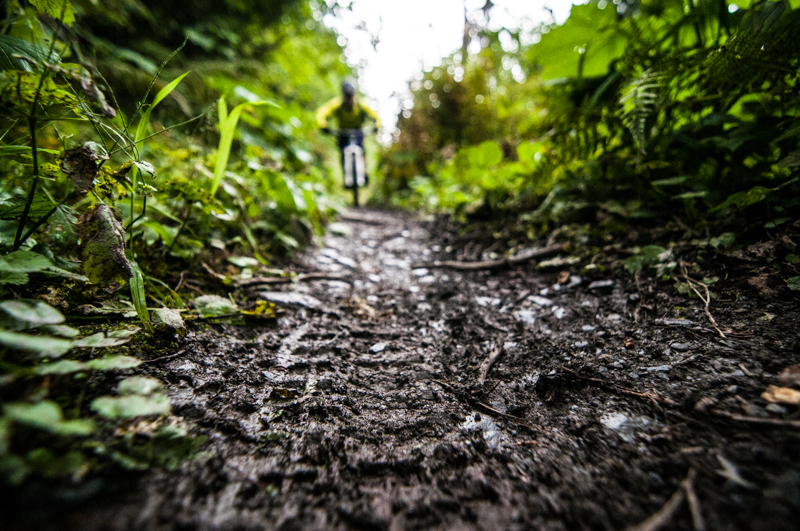 "I didn't know anything about how this place would be during the summer. But I had read the name in some of the big bike magazines, and it had triggered my curiosity" – Armin Beeli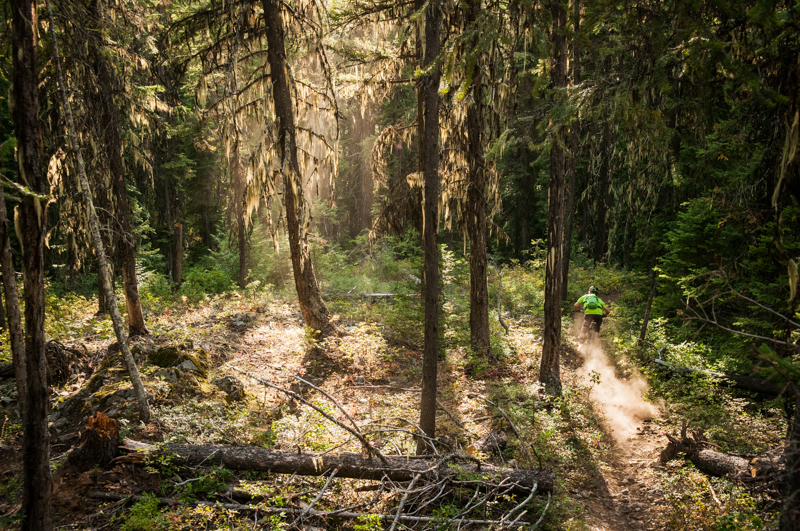 It's the end of August. Kari and Armin are with Mike Kinrade and Matti Barret from Retallack Lodge, about an hour and a half drive from Nelson in the heart of south eastern BC's Selkirk Mountains. Although famous for powder catskiing in winter, the lodge has recently invested in an array of long flowing freeride trails to attract serious mountain bikers in the summer months. Standing on a mountain ridge at sunset with stomachs grumbling, the guys are ready to drop the thousands of feet of flowing singletrack to a cozy dinner and warm bed below. However, the panoramic view of the sunset is definitely worth a couple of minutes gaze towards the horizon, before hitting the trails. The Indian summer breeze is still warm, and the conditions are perfect.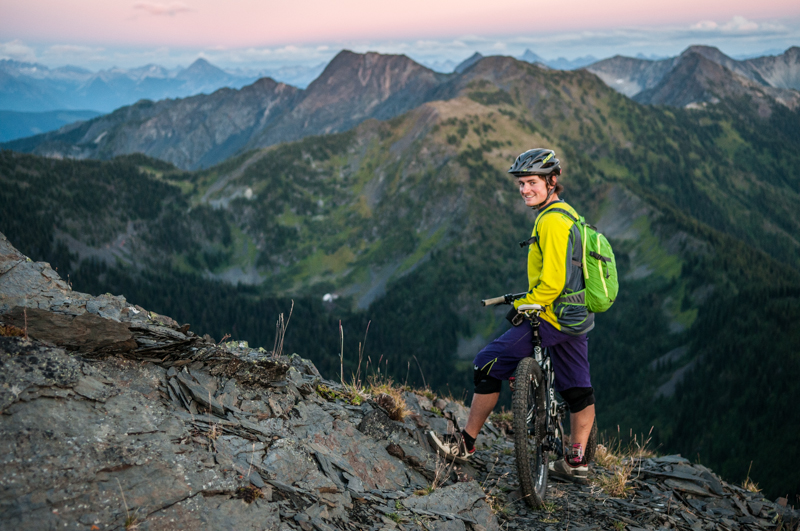 "When I bike, I get this feeling of flowing, and all I'm thinking about is the next turn or jump. I'm completely in the moment", says Armin. "It's also the experience of biking outside in the woods, being in nature, that is appealing. It's important to enjoy what nature gives you, but also be careful and give back. You get to experience the same sunsets, and nice views as if you were hiking, you just add some adrenaline and playfulness to it".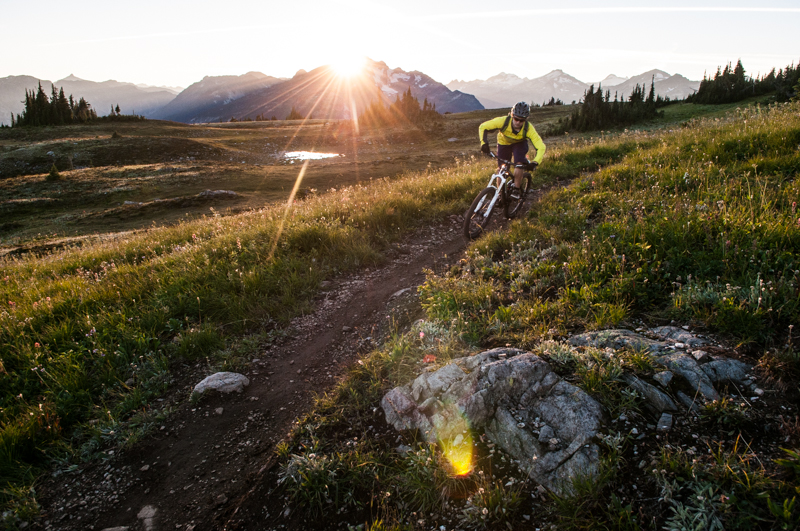 They're dropping in one after the other, almost flying down the trails, following the turns easily, hitting some nice jumps along the way. They're flowing. And it doesn't take long before they're down by the foot of the mountain. Stoked. Present.

Then it's time to round it off with those oh-so-good American sized burgers and a cup of coffe at Oso Negro Coffeeshop.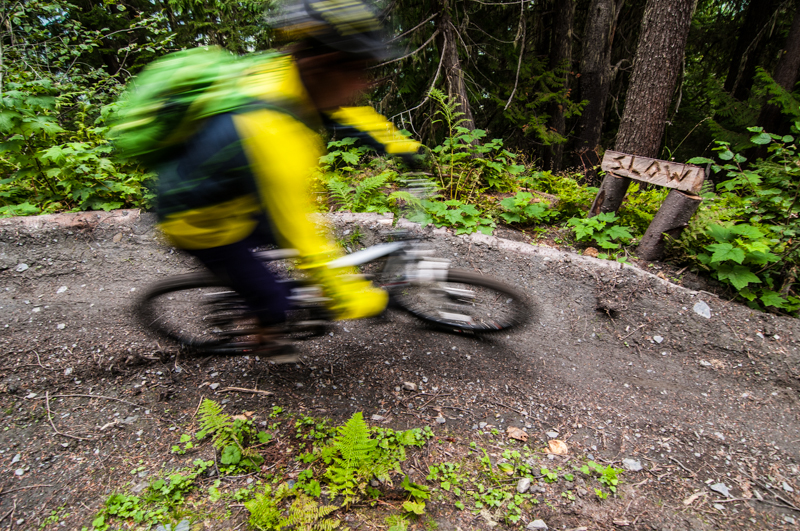 "The look on Armin's face when he saw the scope of nature in Canada and how wild and endless it is here, was priceless. Armin is a logger in Switzerland and I could tell his mind was spinning on figuring out how he could come back, buy a truck, work and ride like a true Canadian lumberjack!" – Kari Medig