Including the clouds. You can watch them in Mother Nature's time-lapse show above you, hurtling from one place to another, travelling by wind. So when the weather forecast said that the wind was going to be storm force, we thought that this would get the clouds to dance. Dance their way across the sky and leave the mountains to us.
Unfortunately, such is the nature of mountains that the highest peaks can often also act like cloud magnets, and even if people in other parts of the region might be getting a glimpse of the sun, the highest peaks usually tend to be wreathed in white. Falketind is one of those peaks. At 2067 metres above sea level, it sticks up like a church spire and attracts all the storm clouds which clearly think that life is better around a mountaintop. We are of the same opinion, but for the moment we are leaving all the fun to the clouds while we stay put in our tent at the foot of the mountain, waiting for better visibility.
There are three of us in a one-man tent. Norrøna ambassador Robert Caspersen has probably camped in worse places on his vertical expeditions around the world. Photographer Sverre Hjørnevik is used to working hand-in-hand with nature, and he knows that we just have to sit it out and wait for the weather to improve. With our packed lunches, tea and chocolate, we have made ourselves comfortable in our little niche. However, four hours later, it has stopped feeling comfortable. Our legs have gone to sleep, and whenever we crack open the zip and peek outside, things are still just as white.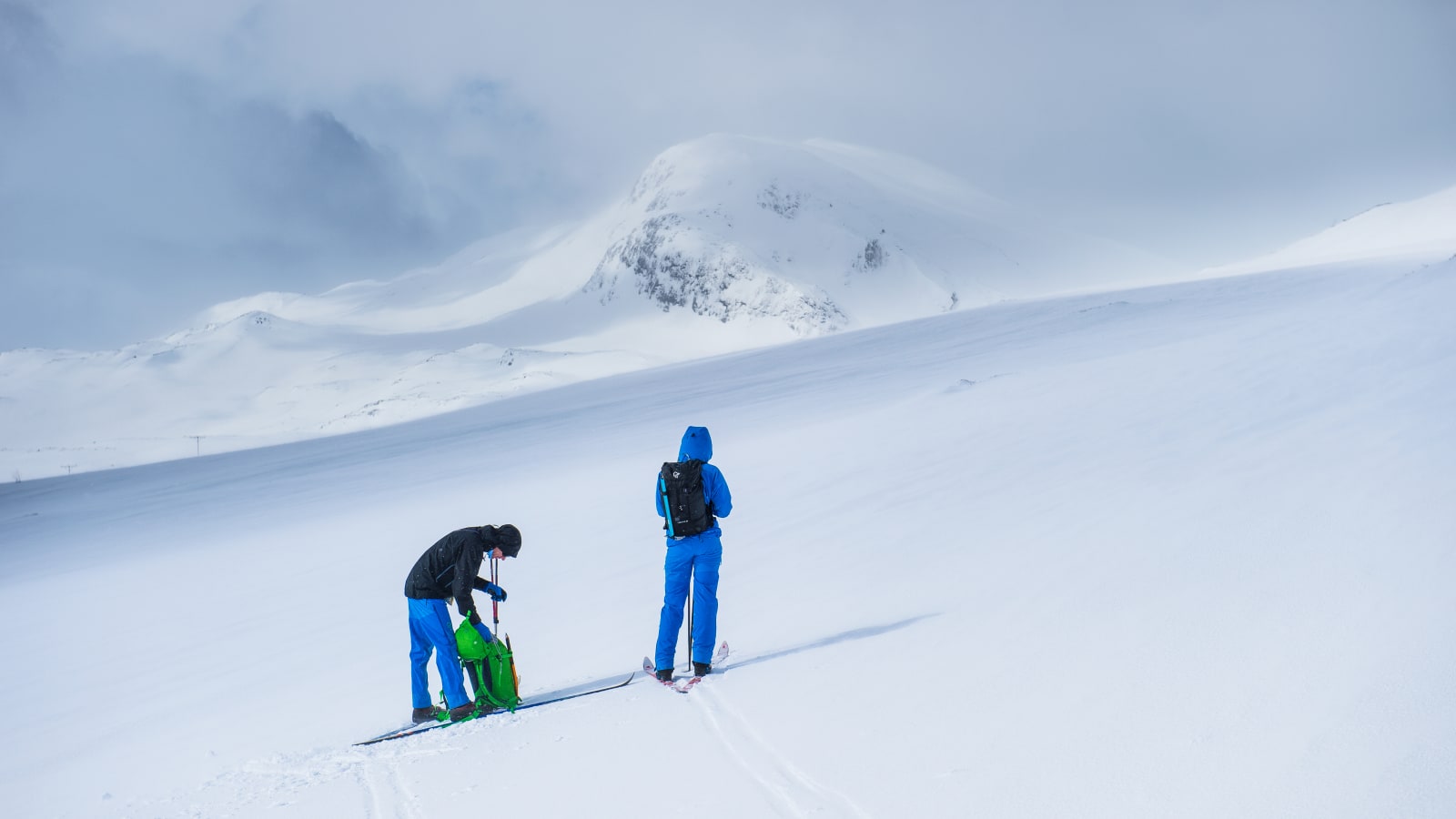 Choice of route
Falketind is a vertiginous mountain, with slopes that are steep in places, which means that you need stable snow conditions for a safe winter ascent. Apart from that, Falketind is a wonderful winter climb. You have to take precautions regarding snow quality, but the glacier itself is often full of snow, which means that crevasses are less likely. It's also safer to cross a glacier on skis, because you're distributing your weight over a larger area, so you won't fall through narrow cracks.
If you want to get right to the top in summer, you can get up and down in a day, because you can drive right up to the foot of the mountain. In winter, there's no way into Koldedalen, and snowmobiling is restricted. The only way to get there is by ski. This means that you have to add quite few extra kilometres onto your route if you are staying in Fondsbu or Eidsbugarden. The alternative is to split the trip into stages and camp at the bottom of the mountain.
There are several alternatives if you are on skis, but we chose the route that goes into the Koldedalen valley and up the Falkbreen glacier, which is also known as Snøggeken. From Koldevatnet lake in front of the mountain, you get straight on with things, with a climb up into the valley that leads to Falkbreen, though after the first steep hill, it's a relatively gradual slope up to the glacier's edge. After this you're rather reliant on the snow quality, but it should be possible to carry on skiing all the way to the pass beside Stølnostinden, where you can cross over to get down onto the Stølnosbreen glacier. Since the glacier has shrunk a bit, you have to do some scrambling to get to the other side, depending on how much snow has fallen. Down on the glacier, you set a course straight for Falketind, which you can see towering above you to the north. Most people do the push for the summit up the north spine of Falketind on foot. Leave your skis by the glacier, put on your crampons and get your ice-axe out before you go any further, because the conditions from now on can vary. The descent more or less follows the same route.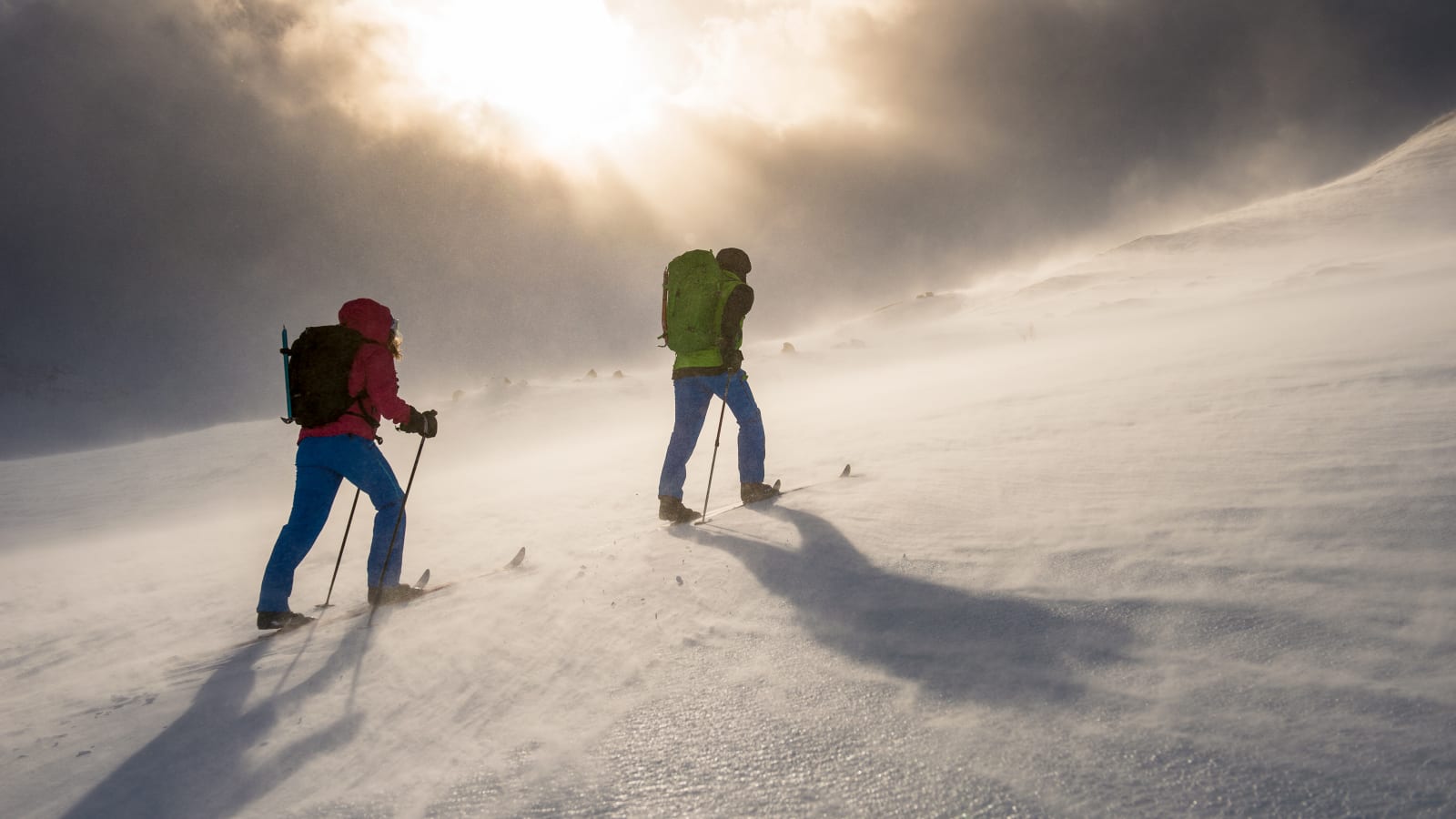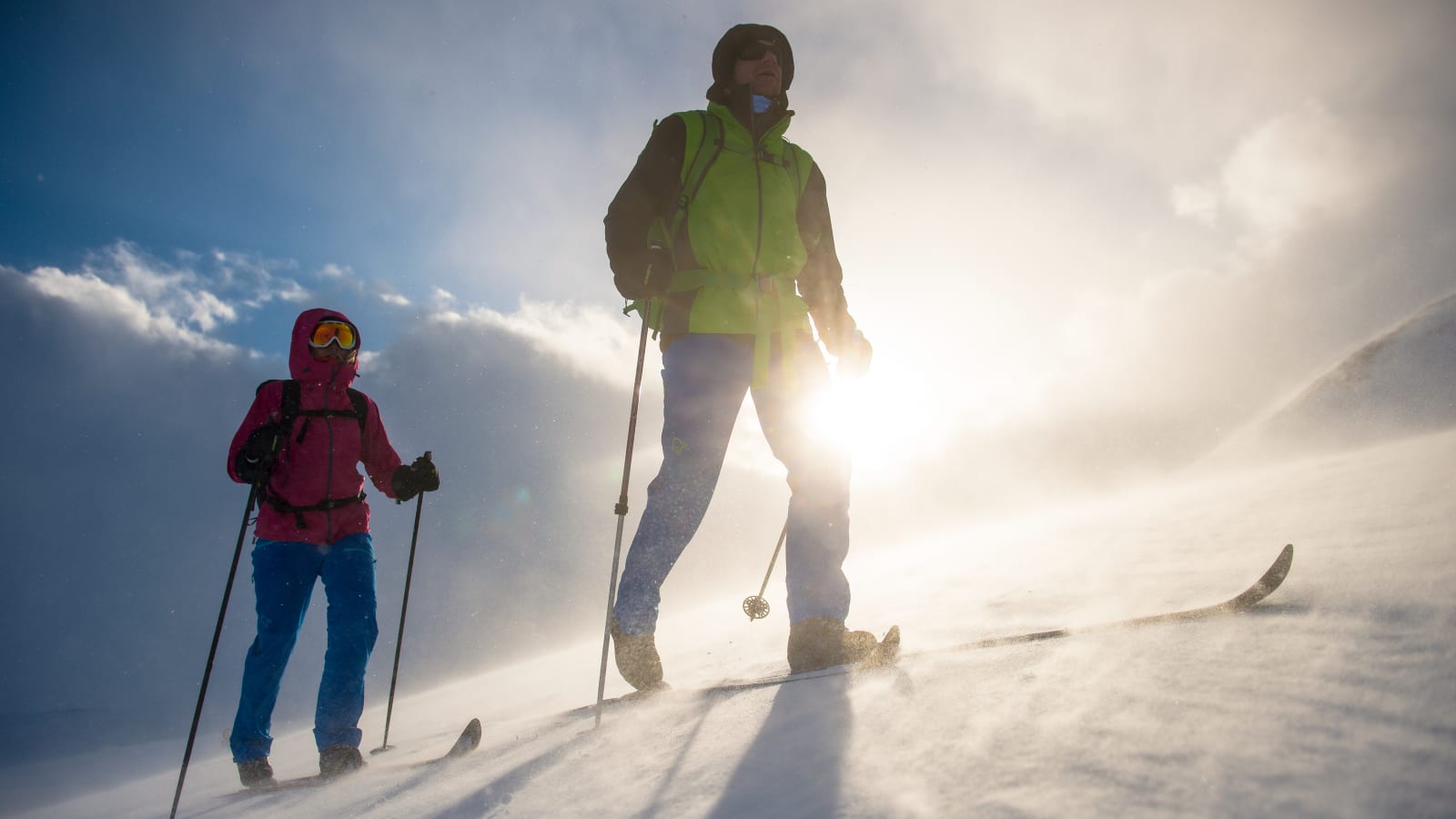 There's no shame in turning back
Back in our tent, we eventually realised that this wasn't the day we would stand on the top of Falketind. The fantastic view over Hurrungane, the feeling of being on an Alpine peak after a long hike, a glacier traverse and a chance to use our skis, ice axes and crampons will have to wait for another time. The weather window never came, and we didn't have much choice; we had to point the tips of our skis homeward.
The wind that had worked against us earlier in the day, when we'd battled our way for 20 kilometres to the foot of the mountain, now gave us a fantastic push home towards Fondsbu, and I thought to myself that the wind can also be a great companion on a day out-
Advice for winter trips
1. If you're out in the winter, it's essential to take plenty of clothing. The weather is generally more unpredictable than the rest of the year, and the temperatures lower. You need thick clothing, but it's better to have two medium-thick jackets, rather than one really thick one. As a Norrøna ambassador and guide, Robert Caspersen says: Layers are what you don't want in snow, but on the body they work well!
2. It's a good idea to take a windproof sheet or a small one-man tent if you are planning a longer day trip. You could be caught out by bad weather, and then protection from the wind would be one of your main concerns.
3. Take enough food. Remember that the body is also working to keep you warm, and needs plenty of fuel.
4. Be careful to avoid frostbite on your face; take a balaclava in case the wind picks up.
5. Spats help to keep your lower legs dry and prevent snow from getting in under your trousers.
6. In winter, wind is your biggest enemy in terms of cold. Rain is less common, so windproof clothing will usually suffice. Windproof softshell clothing provides better insulation than thin waterproof jackets and is often a better choice.
7. Be aware that you may need extra equipment like crampons and an ice axe in exposed places which in summer you could manage on foot. If the snow has turned to ice, conditions become much more demanding.