To put on the right type and amount of clothes before you leave home, is often one of the key factors to how successful your skiing experience is. And while there's a deed in learning by doing, there's no shame in seeking advice along the way. Here's a guide on how to dress to keep that perfect balance between cold and warm while not compromising on movement – the basics of layering.

We recommend our consumers to dress with our 4-layer system to get the optimal comfort when freeriding in all kinds of conditions during the winter.


Base layer (next-to-skin) – the purpose of this layer is to keep you dry. It moves moisture from the skin to the mid-layer outside.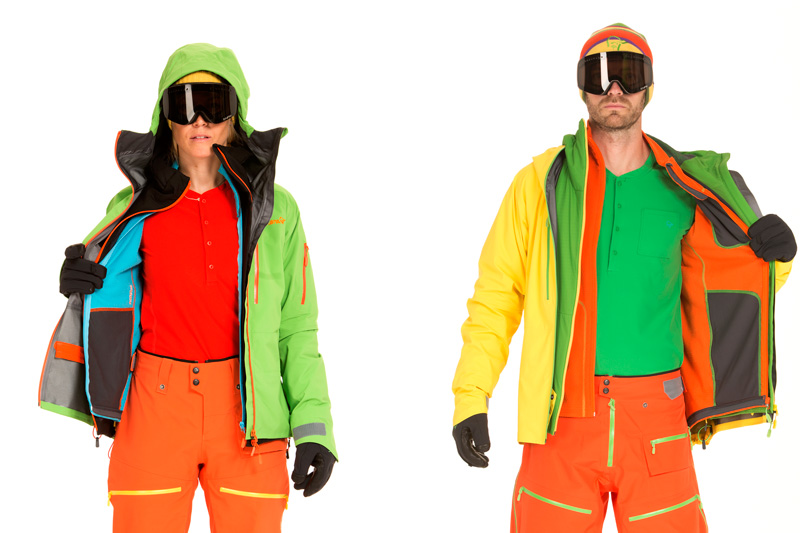 Underwear made of Merino wool or polyester is what we recommend for the base layer. Both of these fibers are able to trap air even when they get wet, which is what keeps you warm. Polyester fibers dry quicker and hold less moisture than merino wool but can feel a little colder in the process. We recommend polyester underwear for higher intensity level. Cotton shirts are a no-go for this layer. Cotton collapses when it gets wet, so you won't get that layer of air you need to stay warm, and it also dries very slowly. We like the narvik tech+ shirt as the base for our own ski adventures.


Mid-layer (between base layer and outer layer) – the purpose of this layer is to keep you warm. You adjust the layer depending on temperature, weather and activity level.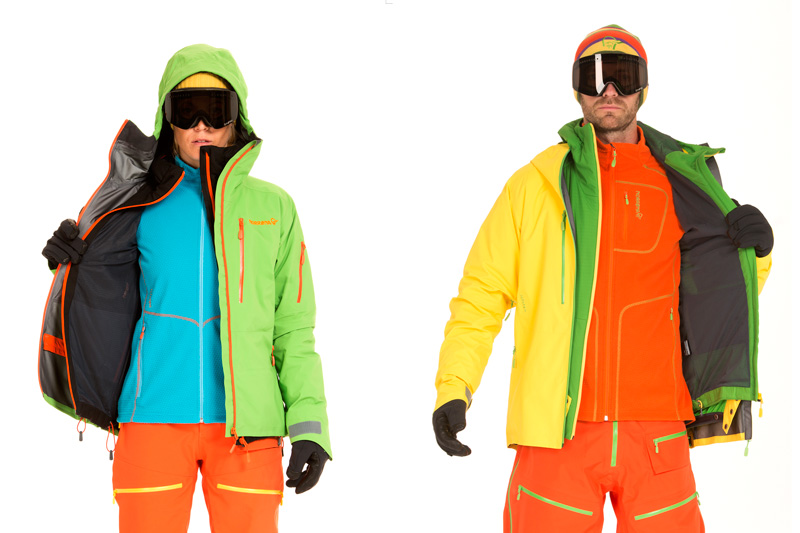 Fleece products made of polyester or wool shirts are recommended as mid-layers. With this layer you select a thickness of the product depending on how cold it's outside. It's important not to put on a jacket that is too warm, as this will make you start sweating at an earlier stage during your activity. You should start out a little colder than you would like to be. The mid-layer should be knitted so it traps as much air as possible. This can be measured on the weight of the product vs. the thickness. Products with good warmth-to-weight-ratio will transport moisture better.


Outer layer – the purpose of this layer is to protect you from the weather, and ventilate out moisture and heat from your body.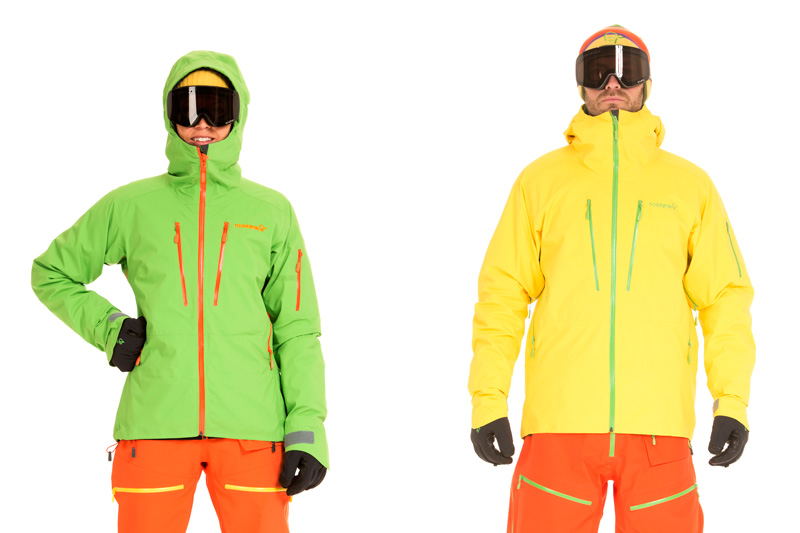 Normally users don't have a lot of different outer layers so you choose one that fits best to match all kinds of conditions. This means that a lot of consumers end up with an outer layer that's waterproof, like Gore-Tex or dri products. These products protect you from rain or snow on the outside, but are still highly breathable and let the sweat and moisture that builds up inside easily be ventilated out. This type of outer layer doesn't give any insulation by itself, but since they are 100% windproof the mid-layer will give enough warmth during activities. It's important with different kinds of ventilation in your outer layer; this makes the product more flexible and it will work better as a year-round jacket. The technical features of the outer layer are also highly important for optimal use. It need to have a well-constructed fit, weather protective hood as well as ventilation options. For rugged freeride skiing we recommend the lofoten Gore-Tex Pro Jacket and the Pro Pant. If you prefer to use the skins and get your sweat on; the lofoten Gore-Tex Active Jacket and lofoten Gore-Tex pants are a more breathable and lightweight alternative.


Insulation layer (outside or inside outer layer) – the purpose of this layer is to protect you against cold peaks during your activities, like when it's extra chill on the peak of a mountain, during breaks or when riding a long chair lift on your way to the top.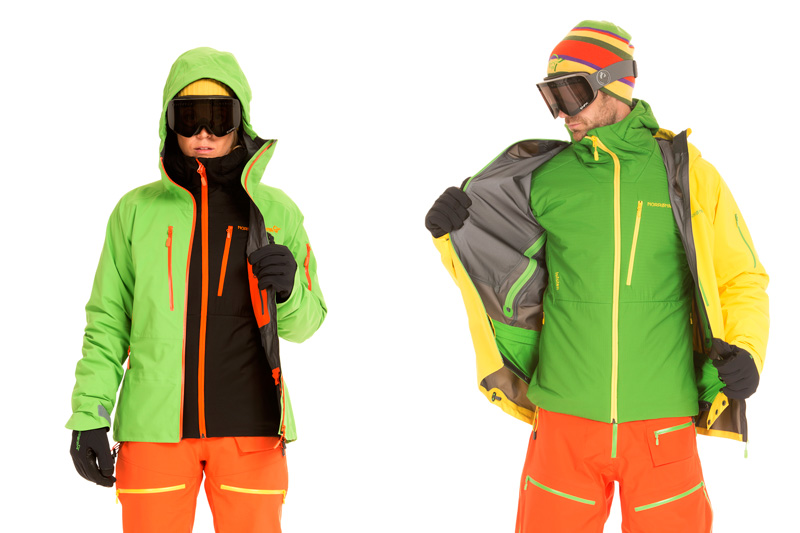 By using this layer you can dress with a thinner mid-layer and then sweat less during your activities. This layer can be light down jackets, PrimaLoft jackets or jackets with the Polartec Alpha insulation. All of these insulations are very packable and gives a high insulation to their weight. The advantage of down is that it is the most packable and gives best warmth-to-weight insulation. The advantage of PrimaLoft is that is insulate good also when wet, and have close to down warmth-to-weight-ratio. The advantage of the Polartec Alfa is that it gives warmth when wet and is highly breathable, so it works better than the others if you use it on the inside of the outer layer and during a higher intensity activity level.
Accessories - Hands, feet and head are important areas for your comfort and exposed areas for freezing. If you dress smart you will be less exposed.
Head – we recommend you use a 100% merino wool beanie (not an acrylic mixture). This secures that you have good weather protection even if you get wet, and always bring an extra beanie in your pack. You choose thickness after the temperature.

Hands – The gloves and mittens should be chosen after the temperature of course, but some general criteria's of selection exists. When you have a pair of gloves and mittens on your hand it should be easy to close your hand. This will make your hands feel warmer. You also need gloves/mittens that breathe well, and you should consider a pair with membrane if you need them to be waterproof.

Feet – Our recommendations here goes for socks only. We recommend dressing your feet in layers like as with the rest of your body. Use a very thin and soft polyester sock directly on your skin. This sock will move moisture away from your foot and also protect against blisters. On top you put a Merino wool mixed sock, which you can adjust for the temperature.


Layering is all about versatility and efficiency, and will prepare you for the ever-changing weather of the mountains as well as activity levels. Hopefully this will contribute to more time spent enjoying the outdoors than thinking about how to dress in the outdoors.