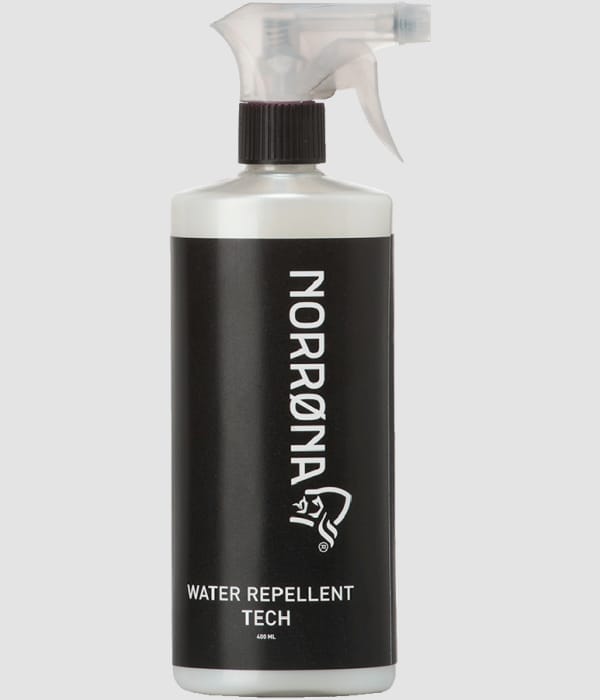 This product is not available in your country
Dieses Produkt erhält die Atmungsaktivität von technischen Textilien und verbessert die wasserabweisenden Eigenschaften der Stoffe. Es ist eine sehr gute, umweltfreundliche Alternative zu anderen auf dem Markt erhältlichen Imprägniermitteln. Für die Verwendung bei Gore-Tex-, Dri- und anderen technischen Geweben geeignet. Anweisungen: Das Kleidungsstück muss sauber und trocken sein. Schütteln Sie die Flasche vor Verwendung kräftig. Besprühen Sie den Artikel so gleichmäßig wie möglich. Lassen Sie die Imprägnierung 15–20 Minuten einwirken. Wischen Sie dann die überschüssige Imprägnierung mit einem feuchten Lappen ab. Trocknen Sie den Artikel mithilfe eines warmen Bügeleisens, warmer Luft, durch Sonnenlicht oder Ähnliches. Befolgen Sie UNBEDINGT die Waschanleitung für das Kleidungsstück. Wenn Sie das Spray nochmals verwenden möchten, entleeren, reinigen und verschließen Sie die Spraydüse. Wird die Imprägnierung nicht gleichmäßig aufgetragen, kann es zu Verfärbungen kommen. Diese können leicht durch Waschen entfernt werden. Das Produkt enthält weder Fluorcarbone und Treibmittel, die zur globalen Erwärmung beitragen, noch FCKWs, die die Ozonschicht zerstören.
Rated

5

out of

5
by
SPOFBOY
from
Fantastic Product
I bought this to waterproof my Norrona Loften, it did a great job, water just beads off no collecting at the seams or folds. Have used this on all my other jackets with the same great results.
Date published: 2017-07-03
Rated

4

out of

5
by
Leifolav
from
Nice
Kjøpte den og impregnerte noen gamle klær, funker fjell. Veldig fornøyd med resultatet. Det eneste som drar ned er at jeg vet ikke hvor mye jeg skal bruke på ett plagg.
Date published: 2018-12-25
Rated

5

out of

5
by
Snorre
from
Jakke og bukse som ny!
Behandlet 5 år gammel velbrukt Falketind skalljakke og bukse med dette etter vask og stryking. Begge plaggene ble som nye og vannet preller umiddelbart av!
Date published: 2018-11-28
Rated

5

out of

5
by
Alverstraumen
from
Meget bra
Kjøpte impregnering spray og meget fornøyd,kan sterkt anbefale
Date published: 2018-11-25
Rated

5

out of

5
by
Ludi
from
Efficient re-waterproofing
I've used this to re-waterproof my Lofoten jacket which takes a regular beating as I wear it any time it's raining out here. After treatment, water is beading and bouncing off my jacket just as it did when I first bought the garment. Very pleased to see I can increase the longevity of my jacket!
Date published: 2018-11-14
Rated

5

out of

5
by
Ellenoggutta
from
Fungerer som forventet
Veldig bra produkt. Min fantastiske 18 år gamle Norønna goretex anorakk ble som ny. Heretter blir det en liten runde med Water repellent Tech hver gang jeg vasker jakken. Jeg elsker god kvalitet!
Date published: 2018-10-25
Rated

5

out of

5
by
Havarderjeg
from
Flott!
Bra vannbeskytter. Virker godt til alle klær som trenger beskyttelse
Date published: 2018-10-18
Rated

4

out of

5
by
Bergenser'n
from
Enkel i bruk
Enkel og grei spray. Vask klærne, sett på «dusj» modus på munnstykket og spray godt og jevnt. Fungerer meget bra, men kunne ha vart lengre.
Date published: 2018-09-28
Hi! Is this usable for the Fjörå shorts & pants? 
Hi, I would only recommend using a water repellent spray on the fjørå Dri products. You can use the spray on regular fabrics to make them more repellent but it might damage the aesthetic of the garment.
Date published: 2018-09-25
Can I use this on my recon jacket?
I've only used it on my goretex jacket and ski pants and it worked really well. I wouldn't want to give the wrong advice, but if your jacket is already water resistant or waterproof it should work 
Date published: 2018-09-24
Hello, can this be used on the Norrona Svalbard Organic Cotton Anorak?
Hi, No but you can use our Water Repellent Natural spray is for cotton garments: https://www.norrona.com/en-GB/products/general-outdoor/water-repellent-natural-400-ml/
Date published: 2018-07-18
Good evening, I tried to add to basket but it doesn't work (I am an european customer) - can you help me? KR, BM
Actually I received an email from Norrona "customer experience" saying that the shipping is restricted to some countries only (France, UK, Scandinavian countries, basically). Quite strange, indeed. Not a good service for southern Europe customers.
Date published: 2018-05-19
Adding this to my cart fails each time (all other products work). I want to add this to a larger order. Can you help?
Hi, This product is only available for purchase in Europe, for shipping reasons. That might be the reason for why you have trouble adding it to your order. Best regards, Jens, Norrøna Fan Support
Date published: 2018-03-02
Hi, when will be this product available again? Best regards, Marko
Hi Marko, This is a product that we will have in stock almost always, although it will be short time periods where we are out of stock. So if this is sold out, please check again after a week. Best regards, Jens, Norrøna Fan Support
Date published: 2018-03-02
Hei! når jeg skal bruke denne på falketind goretex, må plagget være nyvasket og vått? Eller kan det være rent og helt tørt før påføring og ny runde i tørketrommel?
Hei Wish. Takk for ditt spørsmål vedrørende denne impregneringssprayen. Du kan bruke spray etter vask når produktet er tørt, noe som vil si at du henger opp produktet i romtemperatur og lar det lufttørke i noen timer/over natten. Etter sprayen er påført kan produktet legges i tørketrommel for ytterlig tørking. Håper dette svaret var til hjelp, og at du ellers er fornøyd med din falketind gore-tex jacket. Vennlig hilsen, Anette/Norrøna Fan Support
Date published: 2018-01-15
Can we use this product on Falketind PrimaLoft100 Hood Jacket?
Hi Gonos003, Thanks for your question. Technically it is possible to use this tech spray on a synthetic lightweight fabric such as the Falketind primaloft. On the other hand I do agree with "justigoo" that it might limit the loft of the primaloft. I would therefor suggest to use it in case only on critical spots such as hood and shoulders, avoiding the whole surface. Best regards, Jens, Norrøna Fan Support
Date published: 2017-04-24
Kunden haben sich auch angesehen