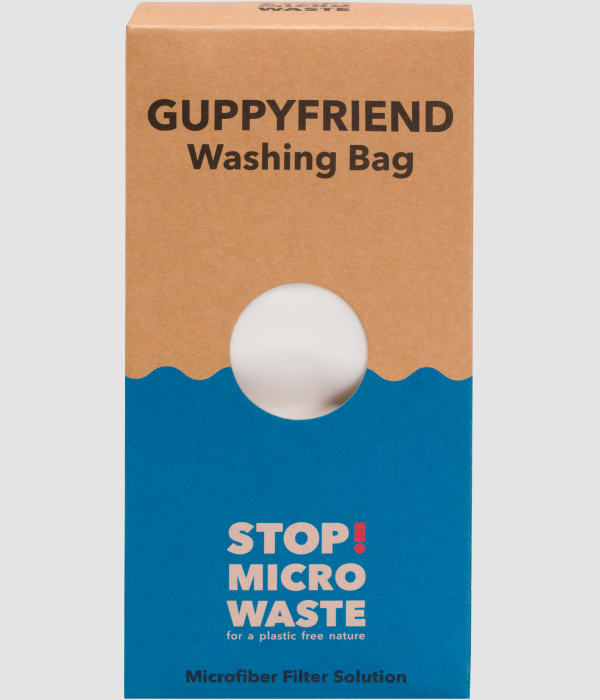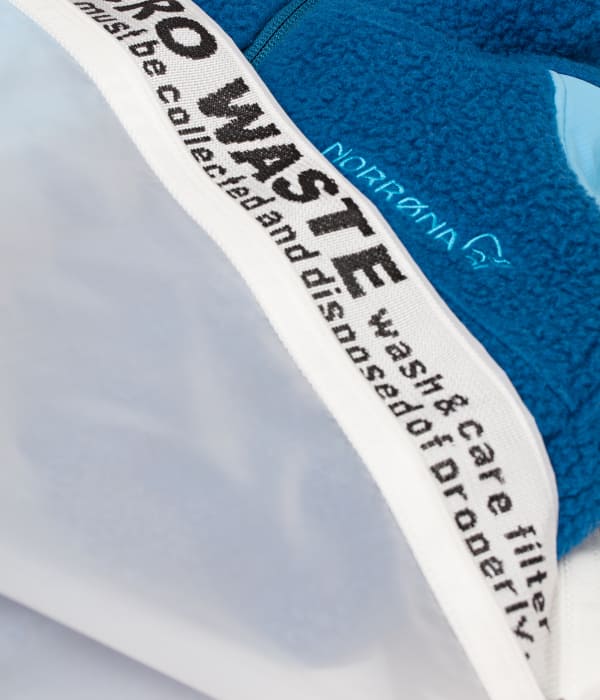 Der Guppyfriend™ Waschbeutel ist eine praktische Lösung, die verhindert, dass synthetische Mikrofasern in Flüsse und Ozeane gelangen. Der Beutel filtert extrem kleine Fasern, die beim Waschen abgehen, und hindert sie daran, in das Meeresökosystem zu gelangen. Nach einer Weile kann man eine Faserkugel herauslösen und im Plastikmüll recyceln. Seine weiche Oberfläche sorgt für weniger Faserverlust, was Ihr Kleidungsstück schützt und so seine Lebensdauer verlängert. Er besteht ausschließlich aus unbehandeltem, ungefärbtem Nylon und enthält keine Zusatzstoffe. Er kann sortenrein recycelt werden. Die Verschmutzung der Ozeane durch Plastikabfälle ist eines der größten Umweltprobleme unserer Zeit, und der Guppyfriend™ ist eine tolle Option für alle, die Plastikemissionen vermeiden und eine umweltfreundliche Lebensweise fördern möchten. Er wird zum Selbstkostenpreis verkauft. Abmessungen: 50x75 cm
Rated

1

von

5
von
Jace6342
aus
Expensive waste of time
Thought this was a good buy help the environment. Used it for 2 months then the zip broke so now have a guppyfriend washing bag that is totally useless a waste of £25.00 plus it increases the amount of washes you have to do so it may save the environment but use twice as much water and detergent. Very disappointed. Wouldn't recommend one
Veröffentlichungsdatum: 2018-12-05
Rated

3

von

5
von
Lindared
aus
A great idea but would benefit from tweaks
I was so excited to order the bag and think/hope that I was doing something about plastic pollution. BUT the bag in a cardboard box arrived in plastic which was disappointing plush fairly bashed which may be more to do with the delivery company than Norrona. I've been using it every washing since for around a month. I find, in a household of 2 adults, that the bag is a little small. I can put a duvet sheet in...but then nothing else leaving the washing machine only half full and me clambering around to find something that cotton to put in with it (harder than I first thought). A few times recently the bag has twisted in the middle mid wash, or the contents have been soaking. After a number of additional spin cycles I ended up taking the contents out putting on 1 spin cycle and that sorted it...but it does seem to defeat the purpose slightly. I've found tiny bits of fluff in the corners o the bag now so it does seem to capture what would end up in the water course which is good. On balance I'm glad I use it...but a few changes would make it better.
Veröffentlichungsdatum: 2018-11-30
Rated

3

von

5
von
keiner
aus
Wirkung fraglich.
Ich habe nun einige Male mit dem Waschbeutel gewaschen, überwiegend Sportbekleidung und keinerlei Abrieb entdecken können. Deshalb ist es schwierig, etwas über die Wirkung zu sagen. Er nimmt viel Platz weg in der Maschine, und wenn die Wirkung gleich Null ist, ist das ärgerlich. Ich benutze in erst mal weiter, mehr so für's Gefühl.
Veröffentlichungsdatum: 2018-11-27
Rated

5

von

5
von
sanban
aus
sehr zu Frieden, Lieferung ohne Probleme
Umweldschonende Produkt. dafür bin ich immer bereit.
Veröffentlichungsdatum: 2018-11-27
Rated

5

von

5
von
Thom
aus
Environmental peace of mind
I bought this after realising that my regular gym kit wash was no doubt releasing microfibres into the environment. After about 5 washes, I extracted a clump of fibres about 1/4 size of a thumb nail from the filter, proving it works. I now use it for any synthetics wash. We all should....!
Veröffentlichungsdatum: 2018-11-16
Rated

5

von

5
von
Hattiee
aus
Great idea. Every home should have one.
Great idea. Everyone should have one. They should be compulsory it you have a washing machine! Could do with a choice of sizes. Do find this just a little snug to fit all the washing in when doing a big load.
Veröffentlichungsdatum: 2018-11-15
Rated

5

von

5
von
HelenJ
aus
Everyone should get one
Everyone should get several in fact great for synthetic materials to ordvent micro plastics entering the water system
Veröffentlichungsdatum: 2018-11-14
Rated

4

von

5
von
Cbear
aus
Helpful and useful product
I am very happy with my product, it is easy to use, however it would be good to be able to put more in the bag however I know this is not how it works as it would probably damage the machine. However it a great to be able to decrease the amount of microfibers going into the ocean which could harm marine species.
Veröffentlichungsdatum: 2018-11-13
Could you point me in the direction of some research that proves this bag does what it says? What proportion of the microfibres is trapped by this? Another solution offers 1/4 to 1/3 - every bit helps but it's not a lot. Would both be better? Thanks
There is an interesting, if not scientific, review of the product on the website myplasticfreelife.com.
Veröffentlichungsdatum: 2018-11-12
Hey, I heard about Guppyfriend and I am looking forward to get one. I am just wondering if the bag itself looses microplastic particles because it is made of nylon. Could you tell me how exactly it works? Thanks a lot.!
Hi, The mesh is made out of monofilaments, which are more like sticks than threads, and thus does not release fibers itself. On rare occasions, depending on the mechanical condition of your washing machine, the binding tape around the bag may release a few fibers. The binding tape's total surface is 0.05m2 and about 100 times smaller than the textiles inside. A washing bag filled with three fleece jackets has an approximate potential fiber-losing surface of 1,9m2 (inside and outside). We are working on alternatives, but we have accepted this compromise at the moment because it extends the overall lifetime of the bag. We constantly test and improve the overall quality of the bag itself and its washing and stability performance.
Veröffentlichungsdatum: 2018-09-12
hello. when will guppyfriend wash bag be avail again for purchase?
Hi Carmen, Now it is available again, but it is a limited stock so get it while you can. More is coming when this is sold out, but it will be a period where we will be sold out of this unfortunately.
Veröffentlichungsdatum: 2018-04-16
How much washing can you fit into the bag by weight? Is it large ebough for s family of four to have just one bag. I don't think we have that many synthetic clothes but I've never really looked until now!
Hi Shelly, Thanks for your question on the washing bag. I am using this bag and are happy with it (family of four). The bag should only be stuffed half full, but it is quite big. And our washing machine is running quite frequently. I would go for one at first, and if you feel a need for another one you can buy one more. Or as I did, buy three and give two away as gifts. It's the perfect gift in my opinion as it is something that it's still a few that has, and it is given away with doing good for the nature. Best regards, Jens, Norrøna Fan Support
Veröffentlichungsdatum: 2018-11-08
Guppyfriend washing bag Hello Is it possible to buy it in Switzerland? Tank for your answer
Hi danial. Thank you for your interest regarding this washing bag. You can purchase this product on our website. You will find it under men/accessories. Best regards, Anette/Norrøna Fan Support
Veröffentlichungsdatum: 2018-01-23
Can this be bought in your stores as well?
Hi Frida, Thanks for asking about where to get the Guppyfriend washing bag for preventing micro plastics into the washing water. This product can also be bought in Norrøna stores. Best regards, Jens, Norrøna Fan Support
Veröffentlichungsdatum: 2017-12-19
Can I have the guppyfriend bag shipped to the uk without any plastic packaging please? Does the bag itself come packaged in plastic? 
Kunden haben sich auch angesehen