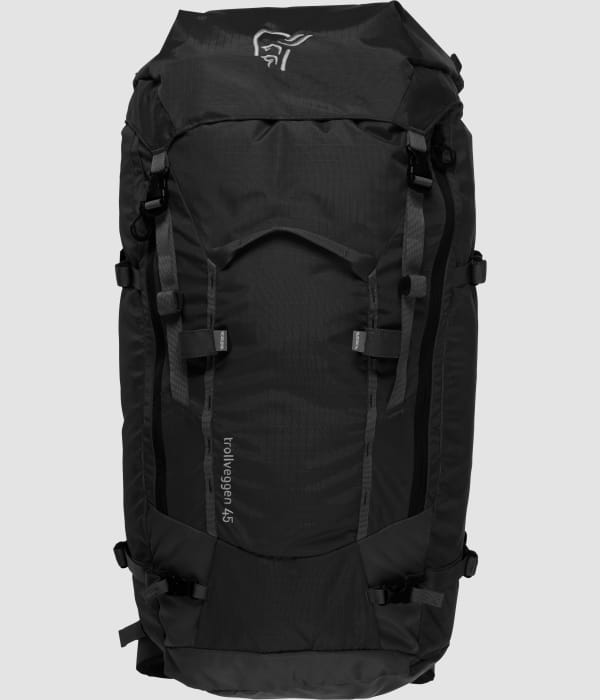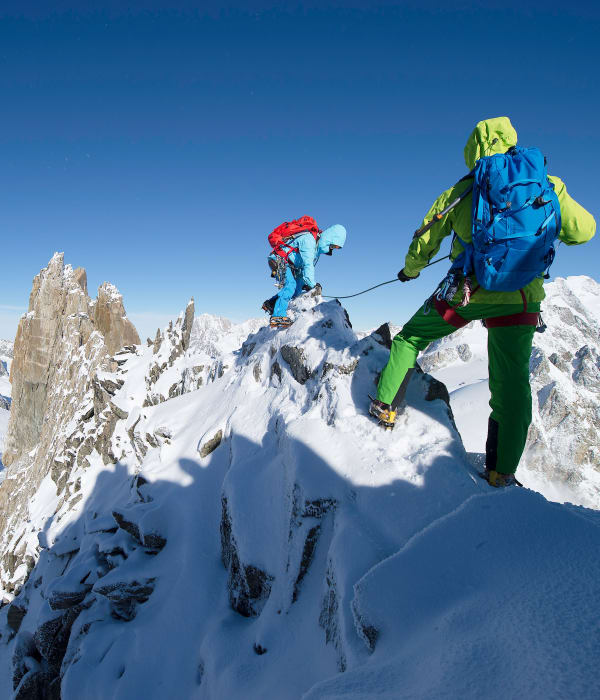 Unser strapazierfähigster Rucksack zum Bergsteigen für Herren, entwickelt für Bewegungen in vertikalen Umgebungen. Das Tragesystem bietet Komfort und Stabilität auch bei hoher Belastung. Rückeneinsatz, Aluminiumstrebe, Hüftgurt und Deckel können auch entfernt werden. Zu den Funktionen gehören ein Reißverschluss-Frontzugang zur Haupttasche, eine separate Fronttasche, ein abnehmbarer Deckel mit Außen- und Innentasche, zwei Eisaxtbefestigungen, zwei Kompressionsgurte auf jeder Seite, Zugschlaufen und ein Trinkfach.
Andere Einsatzbereiche
Bergsteigen
Tiefschneefahren / Snowboarden im Tiefschnee
Klettern
Gletscherwanderung
Trekking
Leistung
3

Wasserdichtheit

Wasserdichtheit

Scale from 1 to 6 where 1 is not waterproof and 6 is waterproof.

5

Haltbarkeit

Haltbarkeit

Scale from 1 to 6 where 1 is fragile products and 6 is the most durable products we have.

4

Leicht

Leicht

Scale from 1 to 6 where 1 is heavy and 6 is among the world's lightest of its kind.
Material
dynamic™

dynamic™ - Unser Tragesystem ohne Aluminiumstangen oder -Rahmen. Wir verwenden diese Systeme bei vielen unserer kleinen Rücksäcke, bei denen Flexibilität ein wichtiger Faktor ist.
Technische Details
Rated

5

out of

5
by
Sebastian1
from
Lätt och bra att bära
Jag köpte denna tidigare i år och har använt den på en flerdagars topptur. Det är en lätt säck som är mycket bra att bära. Blir relativt liten (om du packar lite) men rymmer också ganska mycket. Bra fästen på utsidan som kan hålla exempelvis isyxa, stavar mm
Date published: 2019-04-26
Rated

5

out of

5
by
Sovica
from
Excellent backpack for winter activities
I have it for 2 months now and use it mainly for winter mountaineering. At the first glance this backpack is nothing special but it can surprise you. It is quite enormous backpack - I packed all of my clothes with accessories for a winter hike in it and there was still a lot of space to fill. It has a side zipper with which you can access the main part of backpack and also a smaller zipper on the other side with which you access another pocket on the outer side. Also great features are big top pocket, lower part for ice axes and two main handles - one on the back and one in front to easily move the pack around. V shape of backpack works well regarding comfort carrying. The most weight I carried with it this far was 15kg, backpack can be easily set to comfortably carry such a weight without the bulk filling on the back. Backpack is quality made like expected from Norrona.
Date published: 2019-04-10
Rated

5

out of

5
by
SurreyStu
from
Great Pack
This was my first Norrona purchase and is now my main pack. I've sized down over the years, the manufacturing and fabric are excellent. I like the 'alpine' no side pocket scheme. I use the side access method a lot and it works well. It is easy to adjust and fits my back well. I haven't used a rain cover and all good so far. The two 'grab handles are useful.
Date published: 2019-04-09
Rated

4

out of

5
by
Rom Che G
from
Very well made. Nice fit
I have a bunch of backpack for MTB, trail-running, skiing, hiking etc that one is really well made, fits me well, nice blue color, has a lot of features. I see only the lack of belt pockets for small items.
Date published: 2019-03-16
Rated

4

out of

5
by
Fjellfyr
from
God størrelse
Den har fin størrelse hvis du er av typen som vil ha med seg en del utstyr på dagsturer, eventuelt til en overnatting
Date published: 2019-02-19
Rated

4

out of

5
by
Anonymous
from
Good but not as in picture
Hi I just bought a norrona backpack in Norway XXL and it has all the specifications. I bought it because it was on sale, but it doesn't have the zippers in the front as in this picture? Is there a reason for that. It is the norrona M 45 liter backpack. Thanks!
Date published: 2019-01-04
Rated

5

out of

5
by
Topptur.
from
Bra løsning på sekk
Topp sekk til både ung å gammel, god passform . Anbefales pga størrelse
Date published: 2018-11-06
Rated

5

out of

5
by
mestor
from
Simple yet effective!
I bought this backpack to hike across the alps and to use on multi-day ski touring trips. The bag is super confortable and slim so it does not restrict your arms even when climbing. The layout its super simple yet effective. I was caught under heavy rain in the mountains for ~2hr and the pack hold all the content dry I was amazed. I used for travel and it turns out to be really light and practical, love it!
Date published: 2018-08-20
Can This Backpack hold skis?
Hi, Did not tried it myself but you can use the straps on the side (A-SKIFIX)
Date published: 2019-02-05
Jeg har mistet en bryststropp på sekken min, fikk den i julegave, så garantien er ikke ute. Hva gjør jeg? koster det noe å få reparert sekken?
Hei, Ta kontakt med Customer Experience så kan vi eventuelt sende deg ny: atyourservice@norrona.no
Date published: 2018-10-16
Ene bryststroppa er vekke, hva gjør jeg?
Hei, Ta kontakt med Customer Experience så kan vi sende deg ny: atyourservice@norrona.no
Date published: 2018-10-16
Can you please tell me the actual size in centimeters, depth, height and width?
Hi, I had to stuff it out a bit with some pillows but the sizes are approximately - Depth 28cm, Height 65cm, width 38cm. There was nothing in the lid pocket, which is huge and there was still plenty of room to expand the height by extending the snow baffle/lid. Hope this helps.
Date published: 2018-06-21
Are there any pictures of the functionalities of the pack? The pictures are stylish but not very informative.
You should check out this youtube review of the pack. The features are very clear here.
Date published: 2019-03-01
Hei. Er 1.69 høy(lav) og usikker på om sekken blir for lang for min rygg? Har sett etter noe info ang sekk og rygglengder men finner ikke noe. Hilsen GT.
Hei GTH, Med din høyde på 169 cm skal det nok gå fint med denne sekken, men du kan også vurdere 40L som har litt kortere rygglengde. Den står som damemodell, men det er spiller ingen rolle da de er nesten identiske bortsett fra liter og rygglengde. Mvh. Jens, Norrøna Fan Support
Date published: 2017-03-30
Hej med jer Jeg har lidt ? ang. Trollveggen 45 l. pack. Jeg er 196 høj og er i tvivl om at jeg kan passe sekken. Vh. Jesper
Hei Jesper, Takk for ditt spørsmål om trollveggen 45L ryggsekk. Min kollega er 196 cm og har trollveggen 45L sekken. Det fungerer veldig bra. Med vennlig hilsen, Jens, Norrøna Fan Support
Date published: 2017-03-30
Kunden haben sich auch angesehen