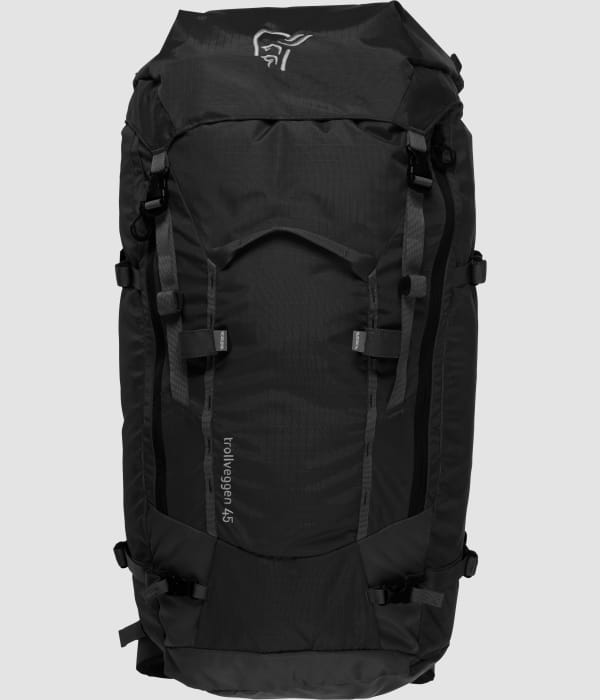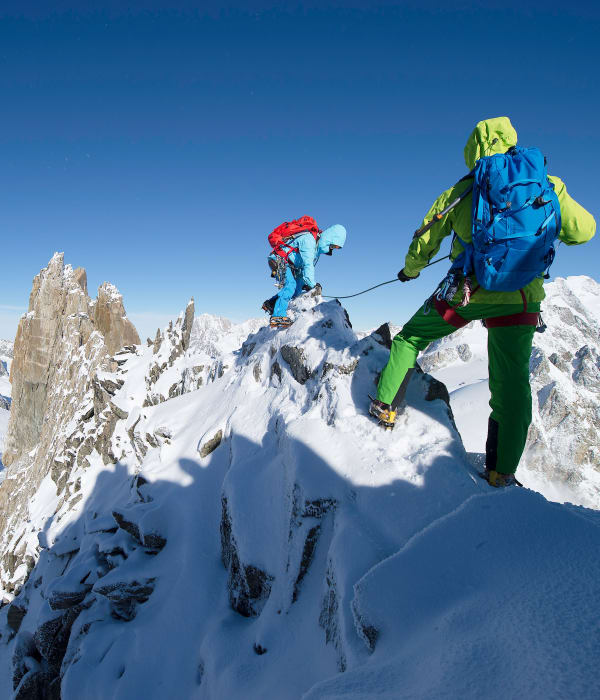 Unser strapazierfähigster Rucksack zum Bergsteigen für Herren, entwickelt für Bewegungen in vertikalen Umgebungen. Das Tragesystem bietet Komfort und Stabilität auch bei hoher Belastung. Rückeneinsatz, Aluminiumstrebe, Hüftgurt und Deckel können auch entfernt werden. Zu den Funktionen gehören ein Reißverschluss-Frontzugang zur Haupttasche, eine separate Fronttasche, ein abnehmbarer Deckel mit Außen- und Innentasche, zwei Eisaxtbefestigungen, zwei Kompressionsgurte auf jeder Seite, Zugschlaufen und ein Trinkfach.
Andere Einsatzbereiche
Bergsteigen
Tiefschneefahren / Snowboarden im Tiefschnee
Klettern
Gletscherwanderung
Trekking
Leistung
3

Wasserdichtheit

Wasserdichtheit

Scale from 1 to 6 where 1 is not waterproof and 6 is waterproof.

5

Haltbarkeit

Haltbarkeit

Scale from 1 to 6 where 1 is fragile products and 6 is the most durable products we have.

4

Leicht

Leicht

Scale from 1 to 6 where 1 is heavy and 6 is among the world's lightest of its kind.
Material
dynamic™

dynamic™ - Unser Tragesystem ohne Aluminiumstangen oder -Rahmen. Wir verwenden diese Systeme bei vielen unserer kleinen Rücksäcke, bei denen Flexibilität ein wichtiger Faktor ist.
Technische Details
Rated

5

von

5
von
Sovica
aus
Excellent backpack for winter activities
I have it for 2 months now and use it mainly for winter mountaineering. At the first glance this backpack is nothing special but it can surprise you. It is quite enormous backpack - I packed all of my clothes with accessories for a winter hike in it and there was still a lot of space to fill. It has a side zipper with which you can access the main part of backpack and also a smaller zipper on the other side with which you access another pocket on the outer side. Also great features are big top pocket, lower part for ice axes and two main handles - one on the back and one in front to easily move the pack around. V shape of backpack works well regarding comfort carrying. The most weight I carried with it this far was 15kg, backpack can be easily set to comfortably carry such a weight without the bulk filling on the back. Backpack is quality made like expected from Norrona.
Veröffentlichungsdatum: 2019-04-10
Rated

5

von

5
von
SurreyStu
aus
Great Pack
This was my first Norrona purchase and is now my main pack. I've sized down over the years, the manufacturing and fabric are excellent. I like the 'alpine' no side pocket scheme. I use the side access method a lot and it works well. It is easy to adjust and fits my back well. I haven't used a rain cover and all good so far. The two 'grab handles are useful.
Veröffentlichungsdatum: 2019-04-09
Rated

4

von

5
von
Rom Che G
aus
Very well made. Nice fit
I have a bunch of backpack for MTB, trail-running, skiing, hiking etc that one is really well made, fits me well, nice blue color, has a lot of features. I see only the lack of belt pockets for small items.
Veröffentlichungsdatum: 2019-03-16
Rated

5

von

5
von
mestor
aus
Simple yet effective!
I bought this backpack to hike across the alps and to use on multi-day ski touring trips. The bag is super confortable and slim so it does not restrict your arms even when climbing. The layout its super simple yet effective. I was caught under heavy rain in the mountains for ~2hr and the pack hold all the content dry I was amazed. I used for travel and it turns out to be really light and practical, love it!
Veröffentlichungsdatum: 2018-08-20
Rated

5

von

5
von
Russ45
aus
Pretty much perfect!
Great capacity, fantastic functional features and incredibly well made. Very comfy with heavy loads too. I also find it a very versatile pack outside of winter mountaineering simply because it is so comfy with a large capacity.
Veröffentlichungsdatum: 2018-06-25
Rated

5

von

5
von
Rosey
aus
Great features right out of the box
I bought this about a month ago. Since then it's been an almost constant companion whether travelling for work, day and overnight trips in the hills. Like all of the other norrona products of bought the build quality is fantastic and it's the small subtle differences that make the difference. If I was to highlight the one negative of the pack is the ice axe / walking pole holders at the front. Great for the axes, but less so for holding your walking poles once you've transitioned. Overall I can live with this as the pros outweigh even my expectations.
Veröffentlichungsdatum: 2017-06-03
Can This Backpack hold skis?
Hi, Did not tried it myself but you can use the straps on the side (A-SKIFIX)
Veröffentlichungsdatum: 2019-02-05
Can you please tell me the actual size in centimeters, depth, height and width?
Hi, I had to stuff it out a bit with some pillows but the sizes are approximately - Depth 28cm, Height 65cm, width 38cm. There was nothing in the lid pocket, which is huge and there was still plenty of room to expand the height by extending the snow baffle/lid. Hope this helps.
Veröffentlichungsdatum: 2018-06-21
Are there any pictures of the functionalities of the pack? The pictures are stylish but not very informative.
You should check out this youtube review of the pack. The features are very clear here.
Veröffentlichungsdatum: 2019-03-01
Kunden haben sich auch angesehen