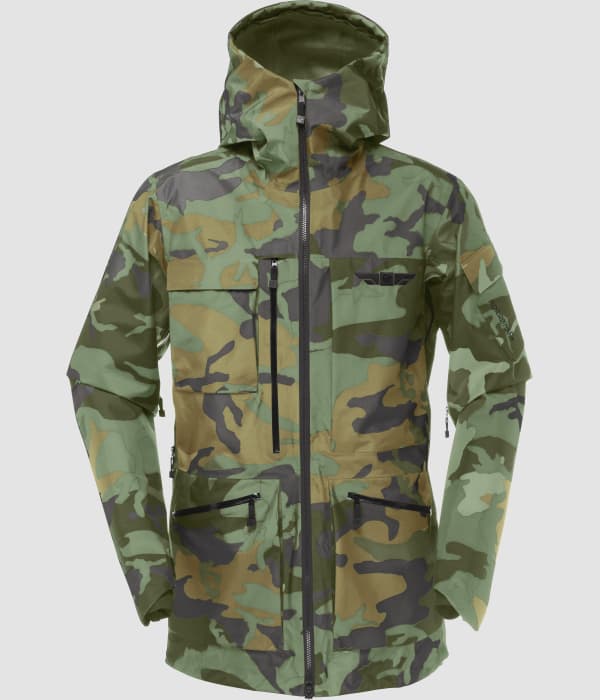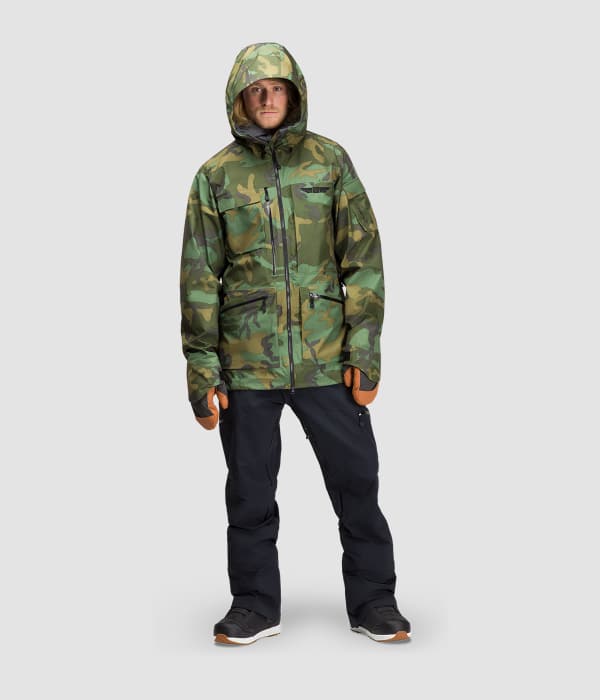 Außergewöhnliche, strapazierfähige, wasserdichte, atmungsaktive und militärisch inspirierte Shell-Jacke in limitierter Edition für Herren für Freeride- und Freestyle-Snowboarding im Tiefschnee. Diese lang geschnittene Ski- und Snowboard-Jacke bietet erstklassigen Schutz vor schwierigen Wetterbedingungen auf dem Berg sowie gute Belüftung und Atmungsaktivität für Touren und Wanderungen. Zu den Details gehören Einschubtaschen mit wärmendem Fleecefutter für die Hände, eine Mesh-Belüftung auf der Brust, Handgamaschen, Unterarmbelüftungen, ein zip- and snap seal Schneefangsystem, eine Funkgeräte-/Schlüsselkartentasche und eine helmkompatible Kapuze gegen Regen und Schnee. Hergestellt aus wasserdichtem und atmungsaktivem Gore-Tex®-Gewebe.
Produziert für
Freeride - Skifahren / Snowboarden
Andere Einsatzbereiche
Tiefschneefahren / Snowboarden im Tiefschnee
Private Nutzung
Leistung
6

Winddichtheit

Winddichtheit

Scale from 1 to 6 where 1 is not windproof and 6 is totally windproof.

6

Wasserdichtheit

Wasserdichtheit

Scale from 1 to 6 where 1 is not waterproof and 6 is waterproof.

1

Isolierung

Isolierung

Scale from 1 to 6 where 1 has no insulating properties and 6 is our warmest insulation products.

4

Atmungsaktivität

Atmungsaktivität

Scale from 1 to 6 where 1 have very little or no breathability and 6 is our most breathable and moisture wicking products.

5

Haltbarkeit

Haltbarkeit

Scale from 1 to 6 where 1 is fragile products and 6 is the most durable products we have.

3

Leicht

Leicht

Scale from 1 to 6 where 1 is heavy and 6 is among the world's lightest of its kind.

1

Elastisch

Elastisch

Scale from 1 to 6 where 1 is not made with stretch materials and 6 is our most flexible products made in super elastic material.
Fußabdruck
Oeko-Tex-zertifiziertes Gewebe

Oeko-Tex-zertifiziertes Gewebe

Oeko-Tex® ist ein weltweit einheitliches, unabhängiges Prüf- und Zertifizierungssystem, mit dem sichergestellt wird, dass die Verwendung von Chemikalien den nationalen und internationalen Vorschriften und Normen entspricht oder diese übertrifft.

Offen gelistete Fabrik

Offen gelistete Fabrik

Dieses Produkt wird in einer Fabrik hergestellt, die auf norrona.com offen aufgeführt ist.

Werk geprüft

Werk geprüft

Dieses Produkt wird in einer Fabrik hergestellt, die von einem unabhängigen Dritten geprüft und von Norrøna begleitet wird.
Material
Dreilagiges GORE-TEX® C-Knit™

Die GORE-TEX® C-KNIT™ Backer-Technologie wurde speziell für Wanderer, Trekking-Begeisterte und Freerider entwickelt und bietet die Strapazierfähigkeit eines dreilagigen Laminats sowie den Look und den Tragekomfort eines weichen Stoffs. Das Ergebnis: äußerst vielseitige, wasserdichte Kleidung für alle Outdoor-Fans, die sich erstklassigen Komfort wünschen, ohne dabei Kompromisse bei der Funktionalität und Widerstandsfähigkeit machen zu müssen. Die Strapazierfähigkeit eines Produkts hängt direkt mit Nachhaltigkeit und maximalem Spaß bei Outdoor-Aktivitäten zusammen. Weitere Informationen finden Sie auf www.goretex.com.

Weitere Informationen finden Sie auf www.goretex.com.

Waschen Gore-Tex und dri Produkte

GORE-TEX®-Kleidung wird durch Waschen nicht geschädigt. Im Gegenteil, das Waschen verlängert sogar die Lebensdauer der Kleidung. Normalerweise wird GORE-TEX®-Kleidung wie folgt gewaschen: Denken Sie daran, alle Reiß- und Klettverschlüsse zu schließen. Waschen Sie die Kleidung bei 40 Grad mit einem milden Waschmittel und ohne Weichspüler oder Klarspüler. Schleudern Sie die Wäsche nicht. Verwenden Sie keine Bleichmittel. Weichspüler, Klarspüler und Bleichmittel können die wasserabweisenden Eigenschaften der Kleidung zerstören (nicht die Membran/Imprägnierung) und die Farbe des Gewebes verändern. Spülen Sie die Kleidung wenn möglich zweimal aus. Verwenden Sie bei Bedarf nach dem Waschen auf der Außenseite der Kleidung wasserabweisendes Spray, um die Wasserdichtigkeit zu optimieren (dies hat keinen Einfluss auf die Wasserdichtigkeit der Kleidung, erleichtert aber das Abperlen des Wassers auf der Außenschicht). Trocknen Sie die Kleidung bei einer niedrigen Einstellung im Trockner, oder bügeln Sie sie bei einer niedrigen Temperatur. Wärme hilft bei der Reaktivierung der Wasserdichtigkeit. Die Kleidung muss vor dem Waschen und vor der Lagerung trocken sein.

Waschen Gore-Tex und dri Produkte
Technische Details
Rated

5

out of

5
by
Raymondpatrickglobal
from
THE most incredible jacket on the planet!!
I bought this on a gut feeling after considering the usual suspects. I wanted something completely outside the box so I ordered this. It's just about everything I've ever wanted in a shell. Huge pockets and a lot of them, but the two chest pocket are asymmetrical which enhance the design/look of the jacket. I love the two hand pockets too, with horizontal zippers.. you never have to worry if you left them unzipped and something will fall out. I'll never buy another jacket without hand gaitor's ever for snowboarding. Genius. The jacket is long, the arms are long and the coverage is just great, you feel completely protected, like no other jacket. A few small suggestions on updating fit below: The hood is deep so you have to cinch down the drawstring to get it away from the sides of the goggles. Also once this is done turning you head side to side you don't have the most flexibility so I'd open it up the neck diameter a hair for better movement. Also it's a bit of a slim fit which most Norrona products seem to be, I'd open up the waist or middle section of the jacket a little bit, say an inch or so just to get a bit more loose feeling. As a snowboarder sitting down it can be a bit snug, I'm a solid 32 inch waist and got a medium, but the lower zip on the main zip definitely helps loosen things up. Overall I'm gonna buy another one in a different color, I got the camo and nothing compares. I hope next years colors rock, I do like the more toned down colors in this line, but still not completely into the blue and tan. I'd like to see some camo pants, but in the Lyngen design or Lofoten, I like the zips on top of the thigh which look cool under the bottom of the jacket. Well done Norrona. I'm going #allnorrona
Date published: 2017-02-11
Rated

5

out of

5
by
Anonymous
from
You Won't Regret It
Wow, perfect ski jacket. Full length coverage in bulletproof GoreTex, all the bells and whistles in a pretty light package. And it looks... amazing. I've had so many people comment on the slopes about it, and I've never seen anyone else wearing it. Be unique & go with the Tamok!
Date published: 2018-09-26
Rated

5

out of

5
by
winson
from
Good jacket
I bought this Jackie one a month ago. This waterproof performance is good, the cut is meticulous, the pocket is practical, very beautiful, I like this jacket very much, I will recommend it to friends.
Date published: 2018-09-14
Rated

5

out of

5
by
Knörz
from
Cool jacket
Waterproof and windproof, cool styling. My son will grab it
Date published: 2018-09-11
Rated

5

out of

5
by
Niko
from
Amazing jacket!
Bought this Norrona Tamok Camo LTD jacket and it's simply spectacular. Have waited something like this for my whole life.
Date published: 2018-05-12
Rated

5

out of

5
by
Swish
from
My go-to jacket
The jacket has a very nice tailored fit to it. The air vents are fantastic. I feel really protected and isolated in the jacket.im 180 and 70kg,size m was perfect , has just enough room for a insulated layer,and a tracker. 9/10
Date published: 2018-05-12
Rated

5

out of

5
by
Anonymous
from
Stylish and Built to Last!
I love this jacket - perfect fit for layering a puffy underneath when its very cold, or just my Lyngen Powerstretch when its warmer. Waterproof, roomy but not sloppy fit, and it looks amazing! I've paired this with the Roldal pants in Sapphire, and people ask me on the slope where I got my gear. I love my Norrona equipment!
Date published: 2017-04-07
Rated

5

out of

5
by
Daniel73
from
Exceptional thought through
Perfect fit, (as top layer a little in the larger side) Super breathable & water proof with all necessary features (adaptable hoody, arm pit zippers with mesh agains snow) Excellent workmanship
Date published: 2017-01-09
Hi, my size is between M and L. What size would you recommend me to buy? I planning to wear mid layer down jacket underneath Tamok 
Hi, I can't give you any guarantees but I think L might fit you the best. Especially if you are layering underneath. It most common to prefer the outer-shell to be a little bigger than than smaller, this is to allow good air-regulation and mobility.
Date published: 2019-01-14
Kunden haben sich auch angesehen