lofoten spare part Bib (M)
lofoten spare part Bib (M)
is rated out of
5
by
3
.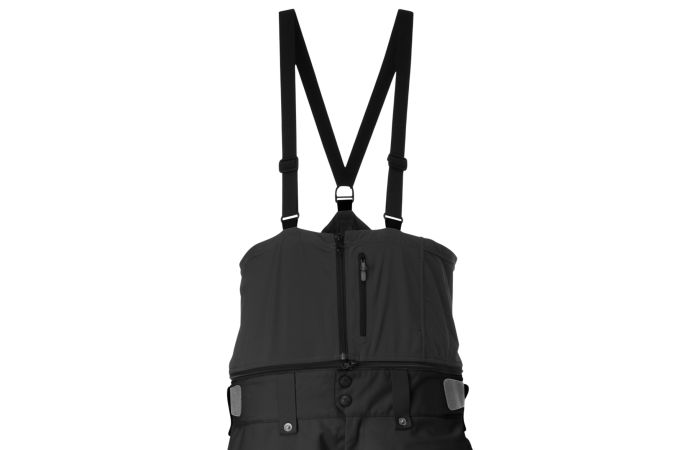 Ersatzteil Hosenlatz für die Gore-Tex-Pro-Hose zum Schutz vor Schnee und für einen sicheren Sitz. Abhängig von der Generation können die Maße bei der gleichen Größe um +/- 2 cm abweichen. Dies ist von vorne sichtbar, hat aber keinen Einfluss auf die Funktion. Dieses Ersatzteil Hosenlatz ist für alle Norrøna-Hosen mit Reißverschluss geeignet. Eventuell passt es nicht perfekt, aber die Funktion ist weiterhin gegeben. Die Reißverschlusslänge des lofoten-Ersatzteil Hosenlatzes beträgt (M) – S: 85 cm M: 91 cm L: 97 cm XL: 103 cm XXL: 109 cm
Dies passt hervorragend zu
USD 600

USD 500

USD 420

USD 300
Rated

2

out of

5
by
Mark
from
Nice product and fast shipping, but not for you if you're tall
I'm got Large size and it has a bit of extra zipper relative to the L Lyngen pants they are matching up to, but that's no problem, it still works fine. Unfortunately, they did not build enough range into the straps for someone 6'2" with normal proportions, so I'll need to do some modifications to add length. For some reason, this spare bib doesn't have near the range of the ones that come on the L Lofoten, which had plenty of range for me.
Date published: 2017-01-03
Rated

5

out of

5
by
Pata
from
Great
My second Bib. The first on lofoten pants (7years wear)no problem, the second on roldal pants are great as well altough I had to buy them separately. With lofoten they came included. The best soluttion on the market. Tried to find simmilar product from other companies but failed doing so. So Thanks Norrona for having my kidneys warm.
Date published: 2016-10-06
Rated

5

out of

5
by
Teague
from
Fantastic
It's fantastic to be able to convert between traditional pants and a bib depending on your mood. Especially important if you're skinnier than average for your height.
Date published: 2016-10-06
Hi  Unfotunately the bib is not on stock now. Can you tell when it will be available next time? Need it for my røldal Gore-Tex PrimaLoft Pants (M). Regards  Chris
Hi Chrizz3400, As you say it is unfortunately out of stock due to high demand on this bib. It will be restocked for next winter season, meaning it will be available for purchase in September 2017. Best regards, Jens, Norrøna Fan Support
Date published: 2017-02-20
Will the new stock fit the Trollveggen Light Pro pants?
Hi Andrew L, Yes, the new stock will fit the Trollveggen Light Pro pants well. It's coming to our webshop around September 2017. Best regards, Jens, Norrøna Fan Support
Date published: 2017-02-20
Will you be stocking more size Medium soon? (To go with this season's Lyngen Hybrid Pants)
Hi SS729, Unfortunately this product will not be restocked before August 2017. It will then come in an updated version but it will still fit your lyngen hybrid pants. Best regards, Jens Norrøna Fan Support
Date published: 2017-01-24
Is this also compatible with the Tamok goretex pant? If Yes, which size do i need for xl Tamok pant? Thanks
I don't know if it is compatible with the Tamok pant. The bib extension was not an available option when I bought my pants, so it was sort of an "after purchase" addition. What I found with matching the Lofotan pant I have is the zipper lengths did not correlate well. I have size L pants and the bib option had to be size XL to match up. The size L was 3+ cm too short. The XL is actually about 1 cm too long, but it works. Not sure if this helps, since I don't have the pant under consideration, but I sure like the way it works for my pants while skiing. By the way, the pants are exceptional products, and I only wish the bib extension would have been an option when I bought the pants originally, as I'm sure they would have matched up perfectly!
Date published: 2016-11-23
Hi, I have Narvik pants from season 15/16 (size M) and would like to attach this product to it. Is it possible and what size should I order?
Hi Ari80, The bib fits the Narvik pants from the 15/16 season. There might be a 1 cm glitch in the front but that is no practical issue. So feel free to purchase it. Best regards, Jens Norrøna Fan Support
Date published: 2016-11-15