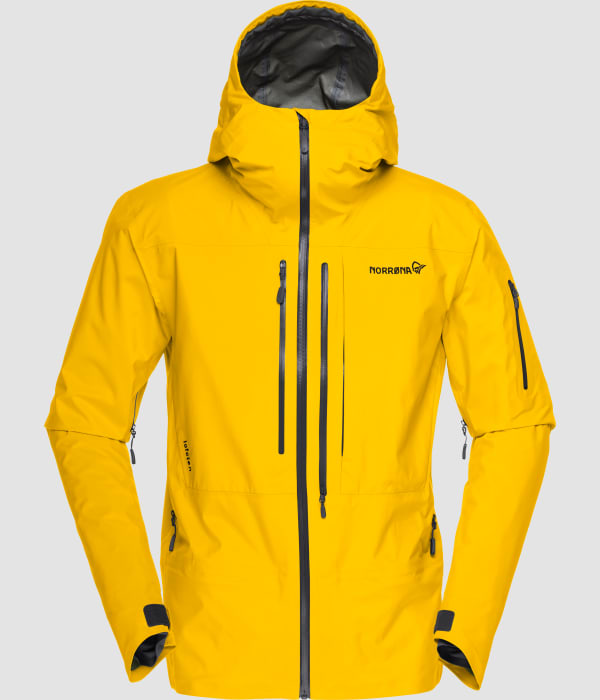 Mit dieser lofoten Gore-Tex Pro Jacke wurde im Jahr 2004 eine hohe Messlatte für eine neue Generation von Skifahrern gesetzt. Sie wurde konzipiert, um alle Ansprüche von Freeridern kompromisslos zu erfüllen, die besonderen Schutz unter anspruchsvollsten Bedingungen im Tiefschnee benötigen.
Im Gegensatz zu der zur damaligen Zeit üblichen Snowboarderkleidung war die Jacke bequemer und verfügte über hohe Napoleontaschen für maximale Zugänglichkeit beim Einsatz von Sicherheitsgeschirr – wichtige Funktionen, die auch bei der heutigen Jacke beibehalten worden sind.
Mit der neuen, nachhaltigen und extrem langlebigen GORE-TEX® Pro Membran ist die Jacke der ideale Begleiter für unwegsames Gelände und extreme Wetterbedingungen.
Das recycelte Gewebe bietet zudem eine noch bessere Atmungsaktivität als die vorherigen Generationen. Die Farben wurden gemäß des neu erdachten Farbspektrums ausgewählt, das 2004 eingeführt wurde. Helle und heitere Farben sorgen für eine gute Sichtbarkeit in den Bergen.
Die Jacke ist die unangefochtene Nummer Eins für alle Freeride-Abenteurer und ein verlässlicher Begleiter für all diejenigen, die langlebige Outdoorbekleidung suchen.
Das Modell ist Größe L (Höhe 188 cm / 6'2 ")
Produziert für
Tiefschneefahren / Snowboarden im Tiefschnee
Andere Einsatzbereiche
Freeride - Skifahren / Snowboarden
Bergsteigen
Skitouren
Leistung
6

Winddichtheit

Winddichtheit

Scale from 1 to 6 where 1 is not windproof and 6 is totally windproof.

6

Wasserdichtheit

Wasserdichtheit

Scale from 1 to 6 where 1 is not waterproof and 6 is waterproof.

1

Isolierung

Isolierung

Scale from 1 to 6 where 1 has no insulating properties and 6 is our warmest insulation products.

4

Atmungsaktivität

Atmungsaktivität

Scale from 1 to 6 where 1 have very little or no breathability and 6 is our most breathable and moisture wicking products.

5

Haltbarkeit

Haltbarkeit

Scale from 1 to 6 where 1 is fragile products and 6 is the most durable products we have.

4

Leicht

Leicht

Scale from 1 to 6 where 1 is heavy and 6 is among the world's lightest of its kind.
Fußabdruck
Recycelte Fasern

Recycelte Fasern

Die synthetischen Fasern dieses Produkts werden zu mehr als 50% recycelt.

Oeko-Tex-zertifiziertes Gewebe

Oeko-Tex-zertifiziertes Gewebe

Oeko-Tex® ist ein weltweit einheitliches, unabhängiges Prüf- und Zertifizierungssystem, mit dem sichergestellt wird, dass die Verwendung von Chemikalien den nationalen und internationalen Vorschriften und Normen entspricht oder diese übertrifft.

Bluesign-zertifizierter Stoff

Bluesign-zertifizierter Stoff

Bluesign® testet und bildet Textilfabriken aus, um schädliche Substanzen aus dem Herstellungsprozess zu entfernen und setzt Kontrollstandards für eine nachhaltige und sichere Produktion.

Offen gelistete Fabrik

Offen gelistete Fabrik

Dieses Produkt wird in einer Fabrik hergestellt, die auf norrona.com offen aufgeführt ist.

Werk geprüft

Werk geprüft

Dieses Produkt wird in einer Fabrik hergestellt, die von einem unabhängigen Dritten geprüft und von Norrøna begleitet wird.
Material
GORE-TEX® Pro

GORE-TEX® Pro - Die GORE-TEX®-Membran verwendet ein gewebtes Futter, um Gewicht und Volumen zu reduzieren, die Feuchtigkeit besser abzuleiten und den Abrieb zu minimieren - und ist dabei langanhaltend wasserdicht. Das ultimative Sturmschutz-Gewebe.

Lesen Sie mehr zu GORE-TEX®
Technische Details
Rated

5

out of

5
by
Anonymous
from
The best shelljacket and the best customer support!
After many years of hard use of this jacket in all kind of adventure activities finally a zipper was worn out. This is the only problem in a long time of hardcore use! The shell has been excellent and the jacket looked like new. However after last skitrip to the French Alpes I visited Norrönas store to change the zipper. I was contacted by headoffice and offered the greatest customer service and a replacement jacket!!! I am deeply impressed off this jacket, the Lofoten trousers and the excellent customer support. Outstanding Norröna
Date published: 2018-03-31
Rated

3

out of

5
by
Anonymous
from
Nice jacket with bad quality
Norrøna Lofoten Used this jacket through the hole winter and spring. Kept me dry and nice. Good airwenting through the armpits, the airwent on the chest is useless, just another zipper to brake. Its better to open the jacket. The hoodie fits nice with or without a helmet. I find the arms a bit too long and the waist a bit to short for snowboarding in resorts, but is ok when ski touring. I prefer pants with bibs when using this jacket to be sure I won't get snow I my back. Think it should be a tougher zipper like norrøna have on both Trollveggen and Recon jacket. After half a year the jacket starts to delaminate, get air bobbles around the arms and the zippers. The velcro on both arms starts to fall off, looks like some bad stitching. This have happened to other norrøna products I had before as well. A friend off mine have the same problems with delaminated goretex layers. Nice jacket for ski touring, but norrøna have to work on their quality and durability on their clothes. Earlier this was what they was known for…
Date published: 2019-08-15
Rated

5

out of

5
by
Annemor
from
Meget god passform. Herlig og sprek fjell/ turjakke
Kjøpt for 6 måneder siden. Særdeles god passform! Passe smal rundt magen og romslig i skulderområdet, så den sitter fint og føles romslig med god bevegelighet for armene. Plass til luft så man ikke fryser. Herlig rødfarge.
Date published: 2019-08-05
Rated

5

out of

5
by
Danilo81
from
Great freeride jacket
The second Norrøna jacket that I bought , the beast freeride items . I skied to Canada , Alaska , Norway in a good and bad conditions and I can tell the Norrona items are perfect in all weather conditions!!
Date published: 2019-07-14
Rated

5

out of

5
by
Lev.
from
Solid design
I've spent a season using this jacket for split-board top-tours. 29 days of use at various conditions from freezing-cold Siberia below -35 degC to melting Switzerland with +12 degC. GoreTex Pro fabric is doing an excellent job as usual providing enough comfort with wind and snow. Specific highlights of this jacked for me: * Rather long sleeves, which allows for a full range of motion. * Long cut on the back: no issues with jacket getting under a backpack's hip-belt or getting to high and expose lower-back during the ride. * Hood: initially I was concerned about hood without separate front adjustment, however it was tested in some wet & windy days and went quite OK. * Underarm zippers: perfect solution for heat-vent + you may access inner pockets or down jacket pocket through them, which is rather useful on snowy days or winter camp. * Connectivity with Lofoten GoreTex pants: flex skirt or direct connection zippers make this combo snow-proof. On top of that, these connection features does not influence comfort of wearing harness or heavy backpack, so it works perfect for glaciers. * Overall fit - it just fit great and does not limit the moves in any way. As desired! Specific low lights: * Durability of hand gaiters: see photo, if the gaiter looks like this after one season I would doubt, that it will survive for 5 intended years. Note, that function and comfort of this gaiters is great, no concerns about that. But not the durability. * Chest-pocket on the left side is made not in-line with a torso fabric, but rather stepping out. Possibly it was done to increase its inner volume, but a downside is that wet snow tends to accumulate in this fabric gap, melting, dipping, wetting the gloves, likely not getting through the jacket fabric... yet. * Shoulder pocket has a stretchy holder for skipass, which is good for skipass, but rather annoying if you want to put anything else like menthol drops or so in this pocket without taking off the gloves. * Front meshed ventilation is nice, but I did not notice its contribution much. Good that its zipper works in an opposite direction with chest-pocket zippers, but still messed it up a couple of times and opened a pocket instead of adjusting the vent. Thus, in my mind it adds complexity and unnecessary overload with zippers in the chest area, rather than considerable functionality. Overall, I'm happy with a jacket, and even it is not as "loaded minimalistic" as expected, I still enjoy it and looking forward for upcoming adventures while wearing it.
Date published: 2019-06-17
Rated

5

out of

5
by
Simonebon2
from
perfect in every way
confortable, a breathable armor against the bad weather, but you can move freely with it on! best jacket ever!
Date published: 2019-04-15
Rated

5

out of

5
by
Annemor
from
Fantastisk passform med god plass til armbevegelser og frisk rødfarge
Kjøpt for 1 mnd siden. Herlig passform. God luftig plass i skulder området så man kan bevege armene fritt uten motstand og man holder seg varm (plass til luft). Samtidig er passformen kroppsnær rundt hofte og midje. Veldig fornøyd! Frisk og varig rødfarge! I like!!
Date published: 2019-04-09
Rated

5

out of

5
by
Fauskeværingen
from
Nydelig skijakke!
Alt jeg eier av uteklær og fritidsklær er stort sett fra Norrøna, og denne jakken skuffer heller ikke! Utrolig lett og behagelig på kroppen, fint design med flotte detaljer. jakken føles gjennomført ut og sitter som et skudd!
Date published: 2019-03-31
posso sapere se la giacca lofoten goretex pro e la lofoten goretex active sono praticamente uguali,cambia solo la menbrana per traspirabilità e peso ? hanno la ghetta interna per la neve entrambe ? per uso sci alpinismo freeride meglio active o pro ?
Ciao, grazie per la vostra richiesta Sì, è vero. peso inferiore e membrana più sottile sulla giacca lofoten gore-tex light pro
Date published: 2019-03-29
Hei, hvordan passer Lofoten til sti sykkel bruk
Da er jakken kjøpt inn. Takk for svar!
Date published: 2019-03-27
Is there any differences between the 2018/19 jacket other than colors? Is it a new GoreTex? Fit is the same??
The jackets are made with the new, sustainable and extremely durable GORE-TEX® Pro membrane. The fit is the same, it is a great jacket, I highly recommend it.
Date published: 2018-12-20
Since I'm 1m95 but only have a chest circumference of 93cm, i'm wondering if a Large or X-Large which are closer to my length won't be baggy and a Medium won't be to short. What do you advice?
Hi all, thanks for all the response, eventually i went for the Large, length wise it's good, and for me it's not to baggy and i have room left for layers, so i'm happy. Thanks again!
Date published: 2018-12-12
Is it a 3 layers jacket ? Thank you
Hi yes i would say it is a 2 to 3 layer jacket. Had a week in Austria and had 2 layers on. Kept dry and didn't get cold.
Date published: 2018-12-31
I'm unsure of sizing as I'm 180 cm and 80 Kg, normal build (for Jackets I normally use size 48 and pants 32) - should I go for Medium or Small (as need room for layers as well)
Size small is the one I went for. I'm the same size - slightly tight on the waist but perfect elsewhere. I love this make. I ski 25 weeks the year and it's by far the best made. 
Date published: 2018-11-26
Hello - Are all the pockets waterproof? I read a review that said the front pockets leak in rainy conditions.
I have bought and used this jacket for skiing. I think it will take some pretty heavy rain before the contents of your front pockets become wet. Quality of material and craftmanship of this jacket is excellent.
Date published: 2017-11-25
What is the denier of the fabric?
Hi Justinb650! The denier for the lofoten Gore-tex Pro jacket is 40D and in recycled Nylon. Hope this was helpful information for you. Best regards, Anette/Norrøna Fan Support
Date published: 2019-03-05
Kunden haben sich auch angesehen