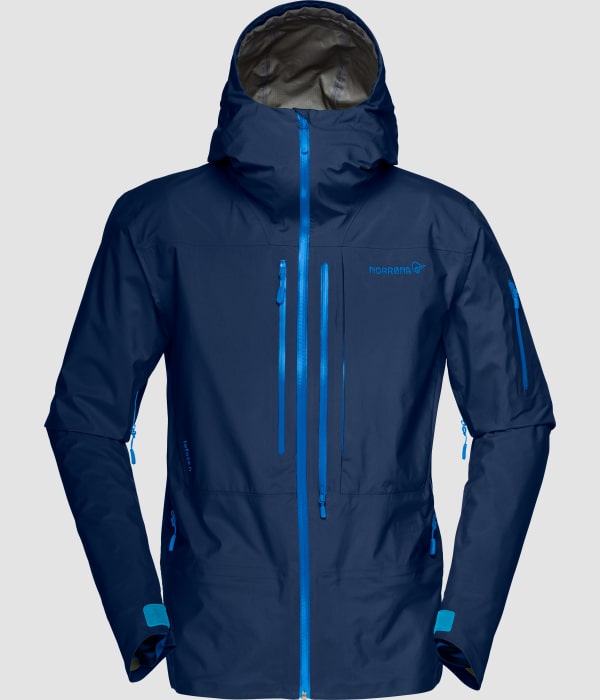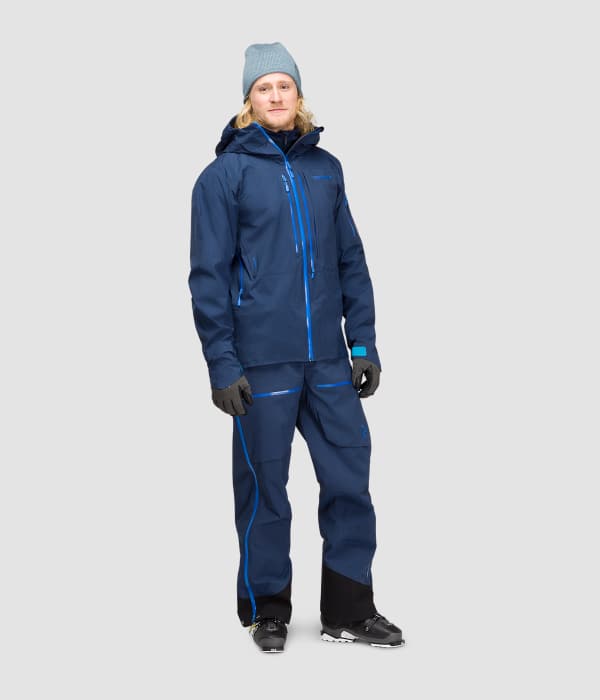 Mit dieser lofoten Gore-Tex Pro Jacke wurde im Jahr 2004 eine hohe Messlatte für eine neue Generation von Skifahrern gesetzt. Sie wurde konzipiert, um alle Ansprüche von Freeridern kompromisslos zu erfüllen, die besonderen Schutz unter anspruchsvollsten Bedingungen im Tiefschnee benötigen.
Im Gegensatz zu der zur damaligen Zeit üblichen Snowboarderkleidung war die Jacke bequemer und verfügte über hohe Napoleontaschen für maximale Zugänglichkeit beim Einsatz von Sicherheitsgeschirr – wichtige Funktionen, die auch bei der heutigen Jacke beibehalten worden sind.
Mit der neuen, nachhaltigen und extrem langlebigen GORE-TEX® Pro Membran ist die Jacke der ideale Begleiter für unwegsames Gelände und extreme Wetterbedingungen.
Das recycelte Gewebe bietet zudem eine noch bessere Atmungsaktivität als die vorherigen Generationen. Die Farben wurden gemäß des neu erdachten Farbspektrums ausgewählt, das 2004 eingeführt wurde. Helle und heitere Farben sorgen für eine gute Sichtbarkeit in den Bergen.
Die Jacke ist die unangefochtene Nummer Eins für alle Freeride-Abenteurer und ein verlässlicher Begleiter für all diejenigen, die langlebige Outdoorbekleidung suchen.
Produziert für
Tiefschneefahren / Snowboarden im Tiefschnee
Andere Einsatzbereiche
Freeride - Skifahren / Snowboarden
Bergsteigen
Skitouren
Leistung
6

Winddichtheit

Winddichtheit

Scale from 1 to 6 where 1 is not windproof and 6 is totally windproof.

6

Wasserdichtheit

Wasserdichtheit

Scale from 1 to 6 where 1 is not waterproof and 6 is waterproof.

1

Isolierung

Isolierung

Scale from 1 to 6 where 1 has no insulating properties and 6 is our warmest insulation products.

4

Atmungsaktivität

Atmungsaktivität

Scale from 1 to 6 where 1 have very little or no breathability and 6 is our most breathable and moisture wicking products.

5

Haltbarkeit

Haltbarkeit

Scale from 1 to 6 where 1 is fragile products and 6 is the most durable products we have.

4

Leicht

Leicht

Scale from 1 to 6 where 1 is heavy and 6 is among the world's lightest of its kind.
Fußabdruck
Recycelte Fasern

Recycelte Fasern

Die synthetischen Fasern dieses Produkts werden zu mehr als 50% recycelt.

Oeko-Tex-zertifiziertes Gewebe

Oeko-Tex-zertifiziertes Gewebe

Oeko-Tex® ist ein weltweit einheitliches, unabhängiges Prüf- und Zertifizierungssystem, mit dem sichergestellt wird, dass die Verwendung von Chemikalien den nationalen und internationalen Vorschriften und Normen entspricht oder diese übertrifft.

Bluesign-zertifizierter Stoff

Bluesign-zertifizierter Stoff

Bluesign® testet und bildet Textilfabriken aus, um schädliche Substanzen aus dem Herstellungsprozess zu entfernen und setzt Kontrollstandards für eine nachhaltige und sichere Produktion.

Offen gelistete Fabrik

Offen gelistete Fabrik

Dieses Produkt wird in einer Fabrik hergestellt, die auf norrona.com offen aufgeführt ist.

Werk geprüft

Werk geprüft

Dieses Produkt wird in einer Fabrik hergestellt, die von einem unabhängigen Dritten geprüft und von Norrøna begleitet wird.
Material
GORE-TEX® Pro

GORE-TEX® Pro - Die GORE-TEX®-Membran verwendet ein gewebtes Futter, um Gewicht und Volumen zu reduzieren, die Feuchtigkeit besser abzuleiten und den Abrieb zu minimieren - und ist dabei langanhaltend wasserdicht. Das ultimative Sturmschutz-Gewebe.

Lesen Sie mehr zu GORE-TEX®
Technische Details
Rated

5

out of

5
by
Anonymous
from
The best shelljacket and the best customer support!
After many years of hard use of this jacket in all kind of adventure activities finally a zipper was worn out. This is the only problem in a long time of hardcore use! The shell has been excellent and the jacket looked like new. However after last skitrip to the French Alpes I visited Norrönas store to change the zipper. I was contacted by headoffice and offered the greatest customer service and a replacement jacket!!! I am deeply impressed off this jacket, the Lofoten trousers and the excellent customer support. Outstanding Norröna
Date published: 2018-03-31
Rated

5

out of

5
by
Pacoftv
from
Exactly what I need it
I bought Lofoten gore Tex pro jacket, as well same brand pants and bitihorn hoodie before 2-3 months ago, but had no chance to use it. Last two weeks I had a couple of opportunities to visit the mountain for ski tpuring, snowkiting and some hiking. I've been really pleased from my apparel. Not cold, no sweating , very comfortable, enough pockets for telephone, nose naps, sunglasses,docs and all headwear. In addition want to admit that the colors were even better,than I saw them in the webpage. My overal perception and feeling is truly satisfying. Great stuff!,!!!
Date published: 2018-12-09
Rated

5

out of

5
by
Himln
from
Fantastisk allsidig jakke
Jeg erstattet denne nye blå med min gamle svarte Lofoten jakke som jeg har faktisk så å si brukt opp. Skulle ikke tro det var mulig at en så slitesterk og god jakke ble «oppbrukt», men jeg bruker den jo til »alt» Er så fornøyd med dette produktet og det er definitivt beste jakken jeg har hatt! Bruker den på toppturer, vinter og sommer, reinsdyrjakt, rypejakt hele høsten, i alpinløypene og på turer til alpene og gleder meg allerede til å bruke den sammen med min nye Lofoten bukse en uke i Østerrike på telemark selvssgt!
Date published: 2018-12-06
Rated

5

out of

5
by
Anonymous
from
Amazing all round Jacket
Can only say good things about this jacket. Light but strong, perfect waterproofness, very flexible and good fit.
Date published: 2018-12-02
Rated

5

out of

5
by
reklawwerdna
from
Extremely hard wearing, highly waterproof Gore-Tex jacket
This is the second lofoten gore-Tex pro jacket I have purchased. I also got a second set of pro-trousers to go with it. A stylish jacket that has been the reliable outer-shell I use for alpine skiing and randoneé. I have had other brands before, but since using this, I haven't gone back. High quality zippers, well thought through pocket locations, an efficient powder-skirt and an extra covering for the hands. I have never got wet in this, despite skiing in torrential rain and deep heavy powder. It has a great venting area and in the colder ski-days with wind-chill, effective layering makes this a great wind-proof barrier that helps keep me warm. If you are a serious all-weather skier/ ski-tourer, I highly recommend this jacket.
Date published: 2018-12-01
Rated

5

out of

5
by
Morwol56
from
Funksjonell!
Perfekt passform, gode løsninger med stramming både nederst og rundt hetta.
Date published: 2018-11-30
Rated

5

out of

5
by
Black_Rabbit
from
The best option on the market
The last 7 or 8 years i have been wearing a Lofoten gtx pro jacket. I have used them for everything they are designed to do. And a lot they are not designed to do. everything from hiking, mountaineering, hunting, fishing, forestry work etc. My experience is that they hold up remarkably well. i'm 2 meters so i need a jacket that is not to short in the arms or waist and the XL fit me perfectly. i'm 86kg
Date published: 2018-11-09
Rated

5

out of

5
by
ningning
from
Lever opp til forventningene
Kjøpte denne etter at min Lofoten jakke gjennom 10 år var klar for å pensjoneres. Føltes litt uvant med mer moderne materialer, men jeg står igjen veldig fornøyd.
Date published: 2018-11-05
Since I'm 1m95 but only have a chest circumference of 93cm, i'm wondering if a Large or X-Large which are closer to my length won't be baggy and a Medium won't be to short. What do you advice?
Hi all, thanks for all the response, eventually i went for the Large, length wise it's good, and for me it's not to baggy and i have room left for layers, so i'm happy. Thanks again!
Date published: 2018-12-12
Is it a 3 layers jacket ? Thank you
Hi yes i would say it is a 2 to 3 layer jacket. Had a week in Austria and had 2 layers on. Kept dry and didn't get cold.
Date published: 2018-12-12
I'm unsure of sizing as I'm 180 cm and 80 Kg, normal build (for Jackets I normally use size 48 and pants 32) - should I go for Medium or Small (as need room for layers as well)
Size small is the one I went for. I'm the same size - slightly tight on the waist but perfect elsewhere. I love this make. I ski 25 weeks the year and it's by far the best made. 
Date published: 2018-11-26
Hello - Are all the pockets waterproof? I read a review that said the front pockets leak in rainy conditions.
I have bought and used this jacket for skiing. I think it will take some pretty heavy rain before the contents of your front pockets become wet. Quality of material and craftmanship of this jacket is excellent.
Date published: 2017-11-25
What is the denier of the fabric?
Hi Justinb650! The denier for the lofoten Gore-tex Pro jacket is 40D and in recycled Nylon. Hope this was helpful information for you. Best regards, Anette/Norrøna Fan Support
Date published: 2018-03-24
Will there come new colours? If so, when?
Hello Hesjedal, There will be new colors in the FW18/19 collection, which will launch fall 2018. Best regards, Alexander - Norrøna Fan Support
Date published: 2017-11-21
I'm trying to figure out sizing since I fall between the S & M sizes. I'm ~183-184 cms but only 68kgs. Any advice?
Hello Klaus, I'm 1.78 cm. and 70 kg. and I usually always wear a size small. This jacket is quite long, which is typical for most of our skiing jackets. The centre front length measures 58.5 cm. for a size small, while size medium is 60.3 cm. Since you are a fair bit taller than me, I would recommend you a size medium jacket, so the jacket doesn't end up being too short in the front. I hope my advices were helpful, if you need more help I can look up other measurements of the jackets as well if you need. Best regards, Alexander - Norrøna Fan Support
Date published: 2018-11-19
Hei Hvorfor lager dere ikke Lofoten Gore-tex Pro buksene i svart? Det hadde blitt så mye enklere å finne en matchende farge kombinasjon, uten å se ut som et tivoli.
Hei Blade Runner, Det er et poeng med å være godt synlig og derfor har vi mest sterke farger i lofoten kolleksjonen som er designet for storfjells- og frikjøring. Vi har hatt lofoten Gore-Tex pro buksen i svart tidligere, men ikke denne sesongen. For å lettere kunne matche fargene kan du velge enten jakken eller buksen i en litt dempet farge sånn som Ocean Swell Blue. Ev vurdere tamok eller røldal buksene. MVH, Sara / Norrøna Fan Support
Date published: 2017-08-17
Kunden haben sich auch angesehen