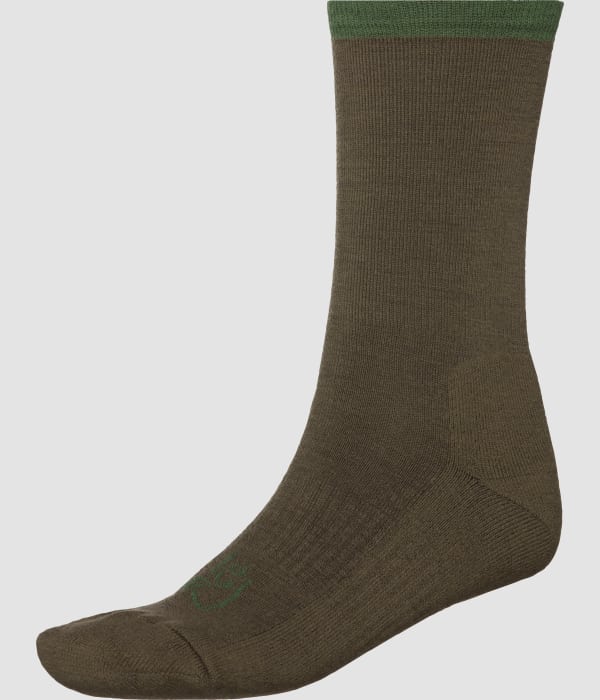 Die mitteldicken finnskogen Socken aus Merinowolle wurden für die Jagd entwickelt. Diese erstklassigen Wollsocken passen in höhere Jagdstiefel und bestehen aus einem warmen und angenehm zu tragenden Wollmix. Sie sorgen für eine hervorragende Temperaturregulierung und halten Ihre Füße bei Kälte schön warm. Wolle ist von Natur aus resistent gegen mikrobakterielles Wachstum und Geruchsbildung. . Die Socken bestehen aus zurückverfolgbarer, Mulesing-freier Wolle.
Andere Einsatzbereiche
Bergjagd
Outdoor - Verwendung jeder Art
Trekking
Leistung
4

Isolierung

Isolierung

Scale from 1 to 6 where 1 has no insulating properties and 6 is our warmest insulation products.

4

Atmungsaktivität

Atmungsaktivität

Scale from 1 to 6 where 1 have very little or no breathability and 6 is our most breathable and moisture wicking products.

5

Haltbarkeit

Haltbarkeit

Scale from 1 to 6 where 1 is fragile products and 6 is the most durable products we have.

4

Leicht

Leicht

Scale from 1 to 6 where 1 is heavy and 6 is among the world's lightest of its kind.

3

Elastisch

Elastisch

Scale from 1 to 6 where 1 is not made with stretch materials and 6 is our most flexible products made in super elastic material.

4

Feuchtigkeitsregulierung

Feuchtigkeitsregulierung

Scale from 1 to 6 where 1 has bad moisture transportation and 6 has great moisture transportation.
Material
Merinowollmischung

Der Hauptbestandteil ist Merinowolle, die dem Global Organic Textile-Standard (GOTS) entspricht. Hinzu kommt Polyamid zur Verstärkung und Elasthan für die Dehnbarkeit.
Rated

4

out of

5
by
Massi
from
good socks
I found the socks immediately very comfortable and of good quality, after a few hours of use I could see that they are warmer than I expected. Odor resistance was good. Perhaps less soft than I imagined but certainly very durable
Date published: 2019-06-18
Rated

4

out of

5
by
Ant0n
from
Warm, comfy and durable socks
Have been using this socks for a couple of months and I'm really satisfied. They're perfect for hiking in a great variety of temperatures, maybe not the coldest or the warmest days - but great in between. Good fit and they seem to stay that way, even after days of use. I would have preferred at different color on the "L" and "R", which tells you which sock is left and which is right.
Date published: 2019-06-18
Rated

5

out of

5
by
bronko
from
Go to socks
I got These socks a few months ago and i realy like them a lot. For my feet they fit just great. No slipping but not to tight but put them on and feel comfy. With mine Therese ist some pilling but there ist nothing negative for me with that - i blame it in the merino.
Date published: 2019-06-13
Rated

3

out of

5
by
VeikkaG
from
Good pair of socks
The socks were really nice and worked well in different temperatures. Only problem was that the sock was too wide from the toes for me.
Date published: 2019-06-07
Rated

5

out of

5
by
Madeleine96
from
Crazy warm!
I got to try these through the loyalty program and I love them! I have always had trouble finding socks that keep my feet warm in the cold winter and these do just that! They keep my feet warm for hours and stay nice and dry. I'm going to buy more pairs when it gets colder again
Date published: 2019-06-06
Rated

5

out of

5
by
Hannah059
from
Amazing Warmth to Weight Ratio!!
These socks look and feel like quality! They are extremely soft, comfortable, and feel like a lightweight sock with the performance of a medium-heavy sock! My favorite to wear in the Fall and Winter. Of course, these socks have all the wonderful qualities of merino wool and I like that they are sustainably made and mule sing free. Very pleased with this purchase and highly recommend!
Date published: 2019-06-06
Rated

4

out of

5
by
Kaisa_
from
Nice, comfortable and warm socks
I liked how the socks fit and stay in place in every shoes and even after being in use for days and days. The socks are warm but not too thick so they work great for example running when the temperatures are freezing. The socks are warm even if they get wet, and dry quickly.
Date published: 2019-06-05
Rated

4

out of

5
by
Misterjad
from
Warm and fitted
Got the chance to use this stock during last winter ! It will give you warmth when you need it (sometimes too much when spring comes !)
Date published: 2019-06-05
Kunden haben sich auch angesehen