AGE: 85
HOME: Oslo
OCCUPATION: Retiree
FAVORITE PASSTIME Waking in the Oslomarka forests
NORRØNA AMBASSADOR SINCE: 1929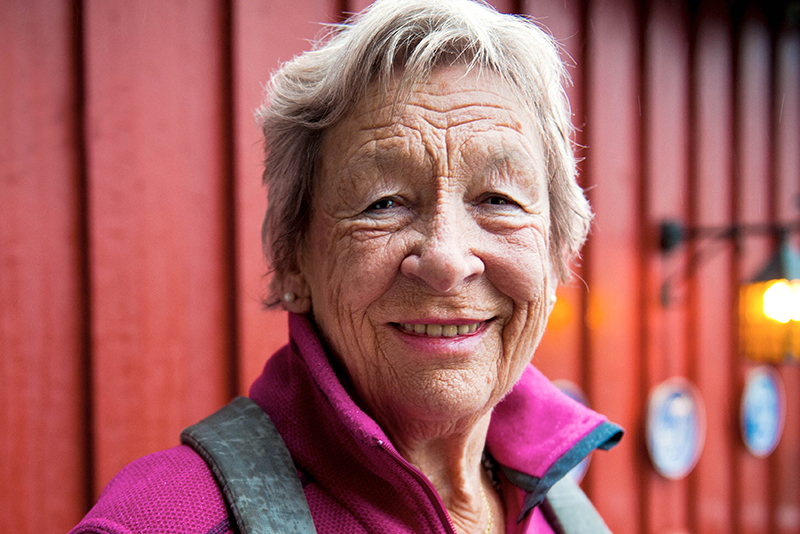 A SPRIGHTLY WOMAN sits in a green sofa on Oslo's west side. Her name is Inger Bjerke and she is the daughter of Norrøna founder Jørgen Jørgensen (1880-1960). "Norrøna was founded in 1929, but the story begins far earlier," she says. "My father, Jørgen Jørgensen, wasn't heir to anything. He wasn't going to inherit any farm. But, at that time, there was a demand for saddle makers. After all, horses were the main means of transport, so father trained as a saddle maker and worked as one for a number of years. And he got married in 1908. He was unbelievably nice. He was also unbelievably determined. By the way, would you like cream in your coffee?"
WHEN THE FIRST WORLD WAR ended in 1918, saddle maker Jørgen Jørgensen wanted to try something new. Together with a man named Einar Bredesen, he started the tiny sports equipment maker Polar, based at the address Markveien 34 in Oslo.
They worked together to produce backpacks, sleeping bags and various other outdoor equipment. "But it didn't take long before my father wanted to start for himself," recalls Inger. "The planning of Norrøna started in 1928, and on April 29, 1929 my father founded the company that is still operating today. Two seamstresses from Polar - Solveig Olsen and Ingrid Ramstad – switched to the new company. My father wasn't exactly a big outdoorsman, but he understood the need for outdoor equipment. Ok. Ok. He'd go cross country skiing every Sunday in the winter, but he didn't go on high mountain expeditions.
THE 1930s WERE TOUGH YEARS. Running a business was no laughing matter, but Jørgen Jørgensen pulled it off. Inger remembers that Norrøna's backpacks cost nine kroner at that time. And she remembers that her father supplied a variety of products to the soldiers engaged in The Winter War in Finland in 1939. During the Second World War, Norrøna produced backpacks, sleeping bags, fanny packs and tents for the private market. "And we were among the first to be good at repairs. During the war, no one ever threw anything away. All equipment could be repaired and used some more," recalls Inger. "In addition, it's been said that Norrøna's warehouse was used by the Norwegian Resistance for meetings during the World War II occupation. But that was something only my father knew about."
JUST AFTER WWII, the Oslo Sportslager sporting goods store started selling Norrøna products. That store is still one of the largest Norrøna dealers. And, in 1948, the legendary salesman Hans Beck joined the company. "He worked for Norrøna all the way until 1984," says Inger."He was an amazing guy. During the 1932 Lake Placid Olympics, he took silver in the big hill ski jump. And he could sell anything, anytime."
INGER SAYS Norrøna's motto has always been "we produce quality." She fetches her own Norrøna daypack as proof. It was made sometime in the 1950s and has been used weekly ever since. "The best part is that is still works fine," says Inger. "I used it on a forest hike on Sunday." Inger is not, however, entirely satisfied with the changes theNorrøna logo has undergone in recent years. "Honestly, the logo you're now using is a bit small. The familiar and much loved Viking has almost disappeared, and I don't think much of that," she says.
We ask who Norrøna's main competition was in the old days, say the 1930s. The answer was instantaneous, and it was a rival Norwegian company. "It was Bergans. Always Bergans. Those people never give up. I've been tired of Bergans for 80 years."