Monte Paynter, a soft-spoken Canadian skier spent the day giving ski lessons to a dozen locals on the snowy slopes above a small village in the Lahual region. To mark the special occasion, the group hauled their ancient ski equipment, along with a cast-iron two-burner stove to the top of what is referred to as the Shitti slopes in the local dialect. Above the Shitti slopes loomed the Shitti glacier which leads into the Shitti river below. The Shitti bridge spans the river. Positioned at the top of the slope, full of instant noodle soup and too much chang (the local homebrew), the villagers stood side by side, awaiting their lesson. Most of them wore jeans, their feet attached to skis from a distant era's rental shop. One man's knit socks were the only padding in tired ski boot shells with no liners. There were limitations to their equipment, but they didn't care, they wanted to learn. So Monte Paynter taught the Shitti skiers how to ski. It was winter 2009.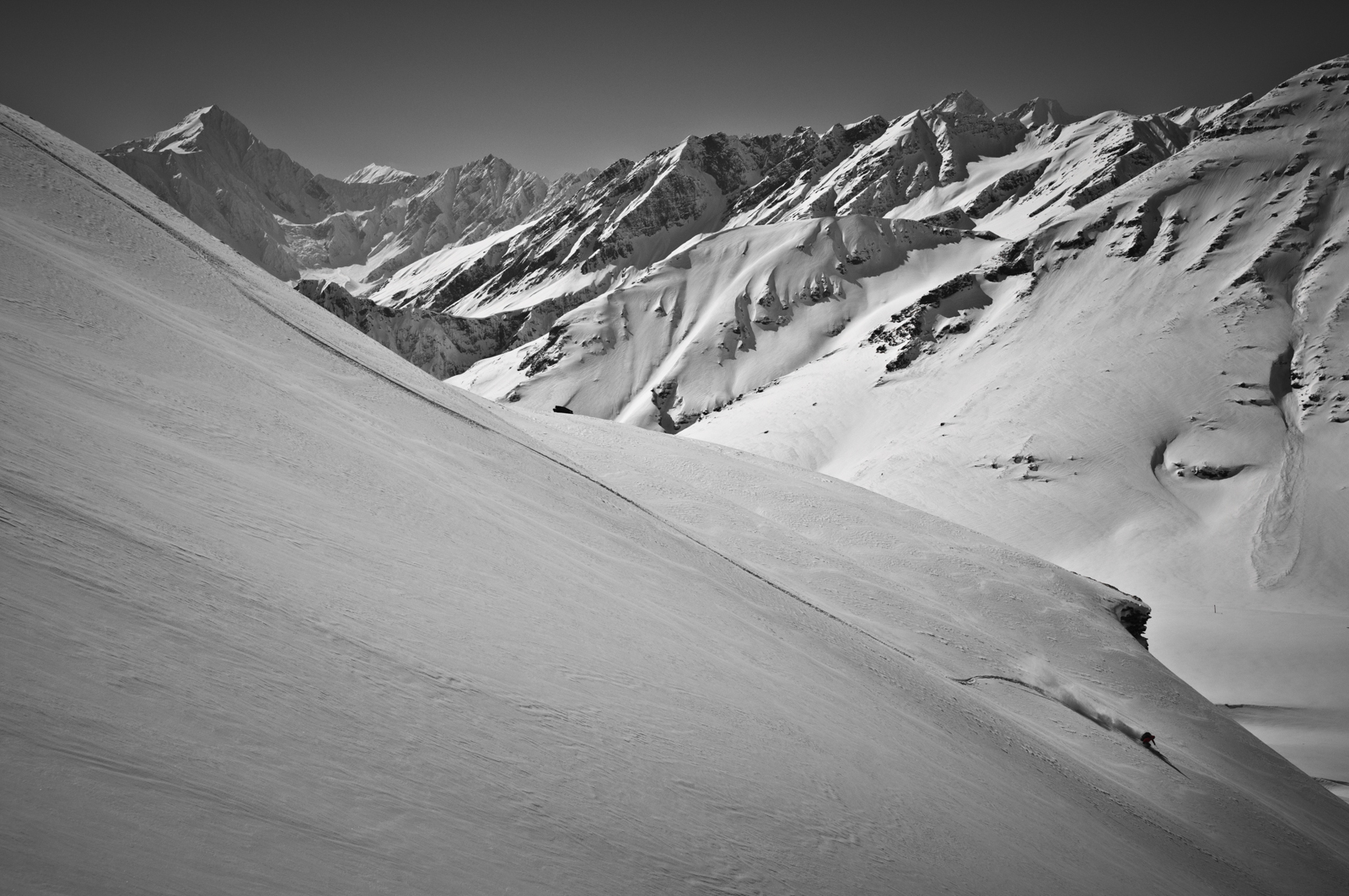 Three years later, Monte Paynter rips off his skins on the top of Rhotang Ri. Even at a lofty altitude of 5 000 meters, the peak is dwarfed by the mountains that jut from the earth in jagged folds around it. To the south is Hanuman Tibba, a 6 000 meter peak that looms over Manali ; the commercial hub and gateway to the Indian Himalaya. To the north is the prominent Gepang Goh, the holy mountain with a Matterhorn-esque look. On its summit, a deity is believed to protect the fragile inhabitants of the tiny villages far below. But these are just two in an ocean of peaks and glaciers, most named, others just a number on a map, that fade away into nearby Kashmir, Tibet and Nepal to make the most imposing mark on Earth : the Himalaya.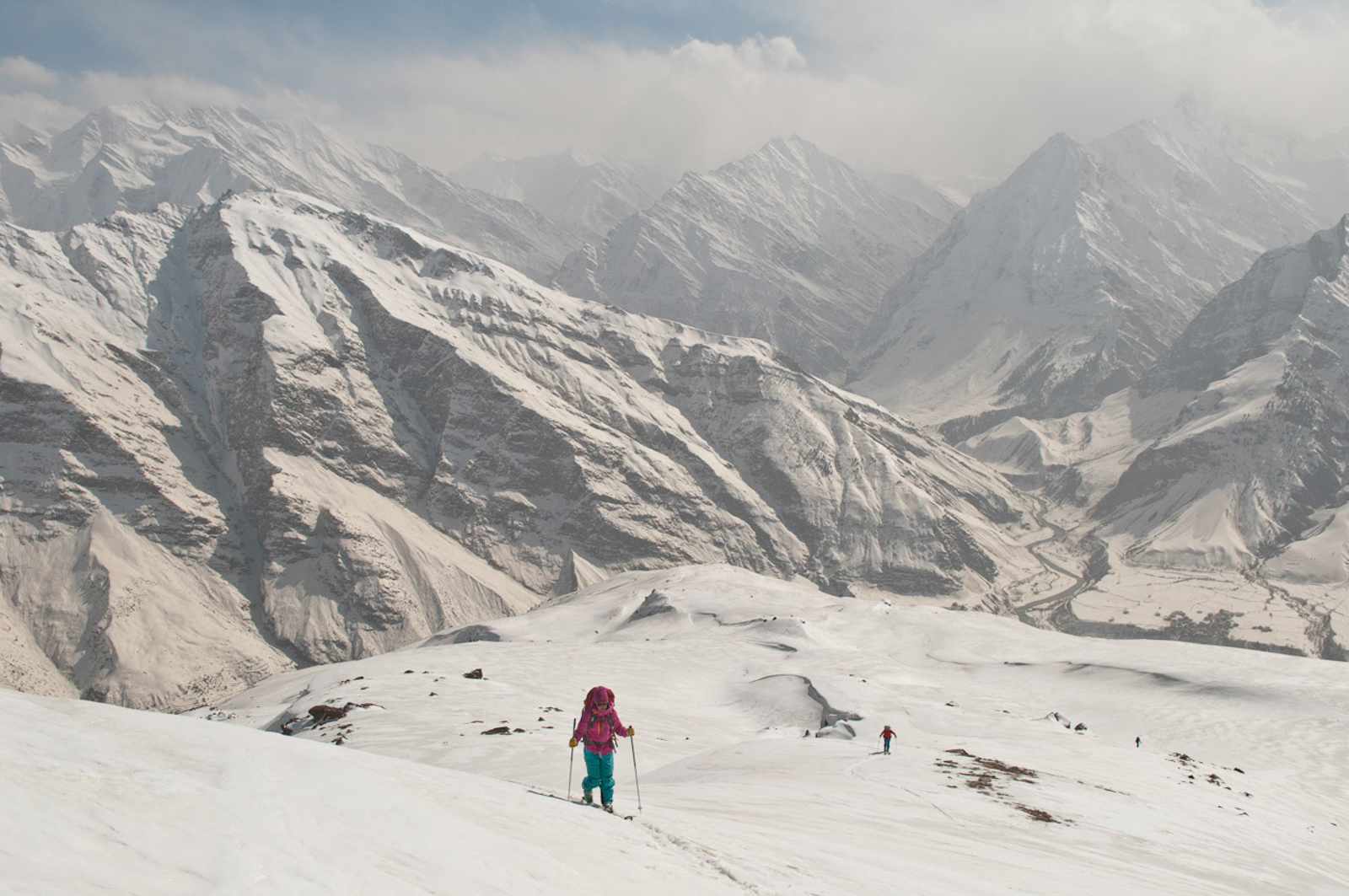 Monte swats at the 40 degree slope with a ski pole above a perfect bowl. He rolls a black Tibetan bead in his fingers that has been around his neck for 20 years. "They say it protects against avalanches," he says. So far so good. Before long, his skis arc effortlessly downwards through the powder snow, a fine mist of ice crystals, backlit like a wake behind him. He disappears over a rise and appears seconds later, a tiny speck 1 000 meters below on Rhotang Pass. Two lines glide past a giant stupa, a Bhuddist structure believed to hold the remains of Bhuddha himself, placed in spiritually significant spots such as passes and peaktops. Hundreds of colourful flags string from its top, tattered threadbare by thousands of storms, spreading Bhuddist mantras to wherever the wind takes them.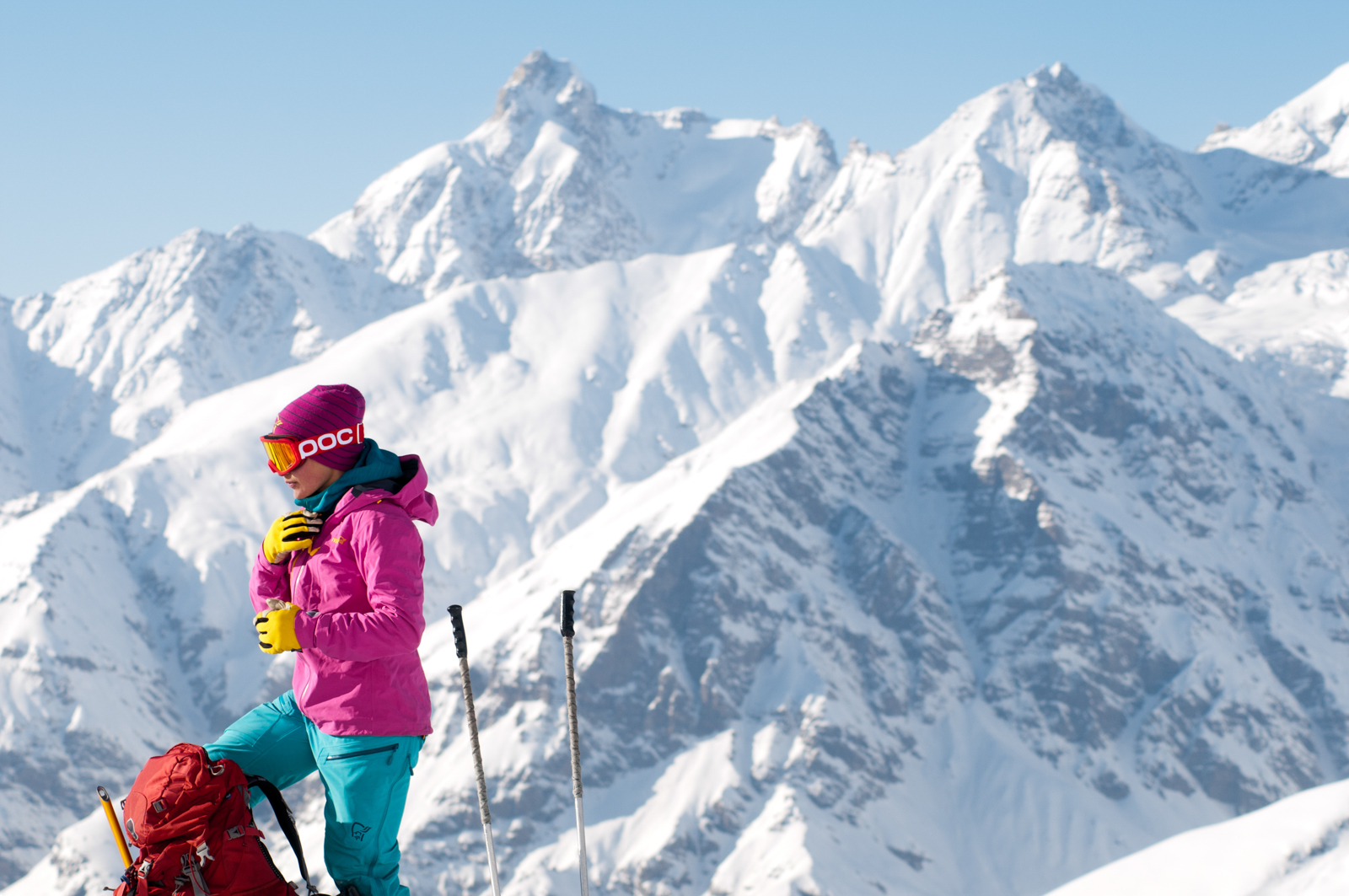 At 3 900 meters, the Rhotang Pass, means "pile of bones" because of the countless number of people who die navigating its icy slopes in the winter. Separating Manali from the remote Chandra Valley to the north, the pass is buried under 3 metres of snow from November to May, cutting off the region's hearty Lahauli residents from the rest of the area's civilization.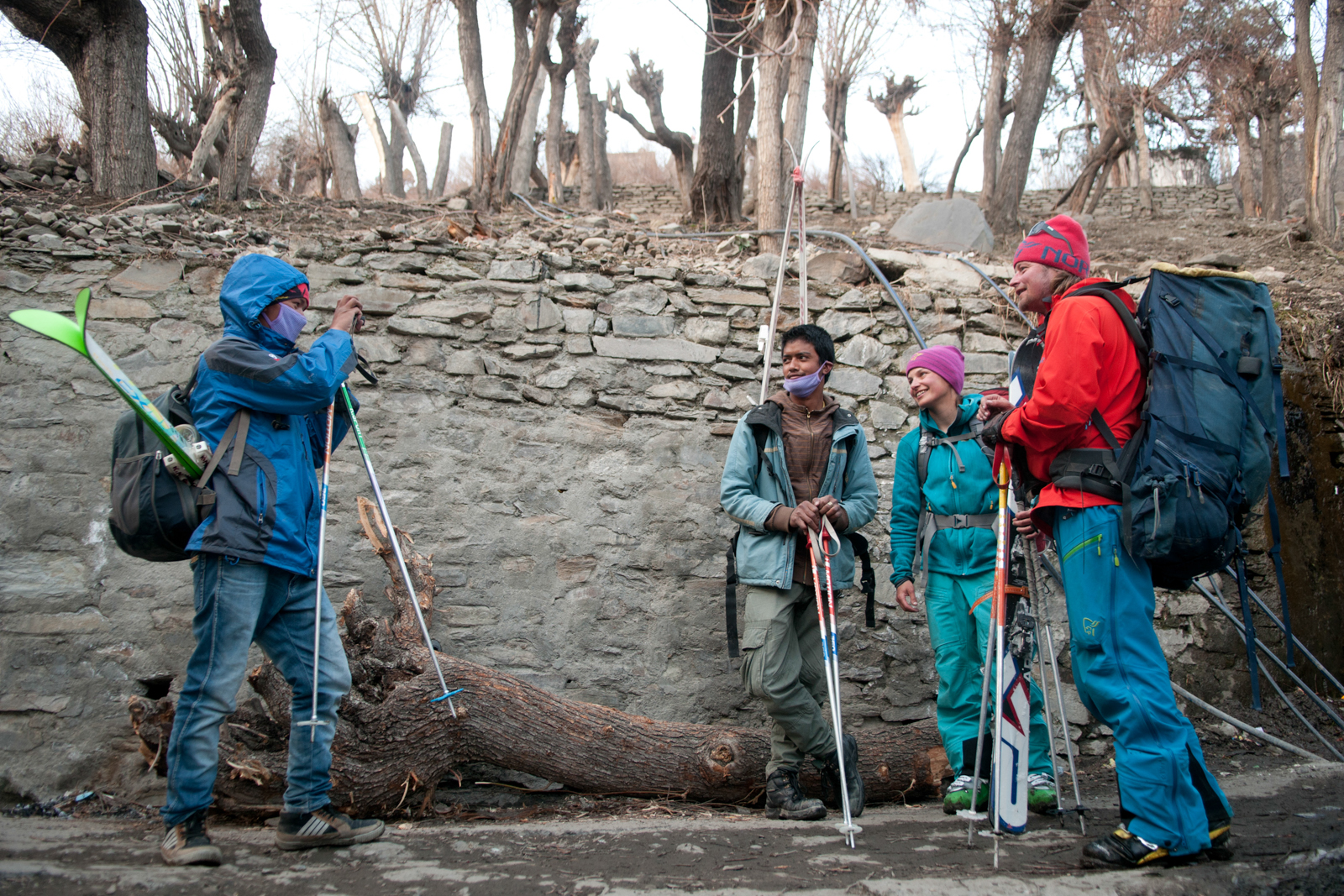 Paynter, aged 39, was raised in Kimberley BC, a small mountain town in Canada's Purcell mountains where his upbringing consisted of one thing : skiing. As comfortable in couloirs on local peaks as speeding between gates, to say that Paynter is a talented skier is an understatement. Whether it was alpine skis or telemark, powder snow or spring ice, it didn't matter : Paynter always went fast and always looked smooth. His talent turned to legend during his twenties when he entered the Canadian Telemark Championships on a whim, against dozens of 'serious' skin-suit clad members of Canada's National Telemark team. The next day, the cover of the Kimberley Daily Bulletin read "Paynter Wins Nationals", above a full-page picture of Monte careening tightly around a gate. In the photo he wears a pair of jeans and an oil-stained gore-tex jacket. He would be crowned the Canadian Telemark Champion four more times after that, subsequently with the help of a skin suit, and travel the world racing on the world cup circuit.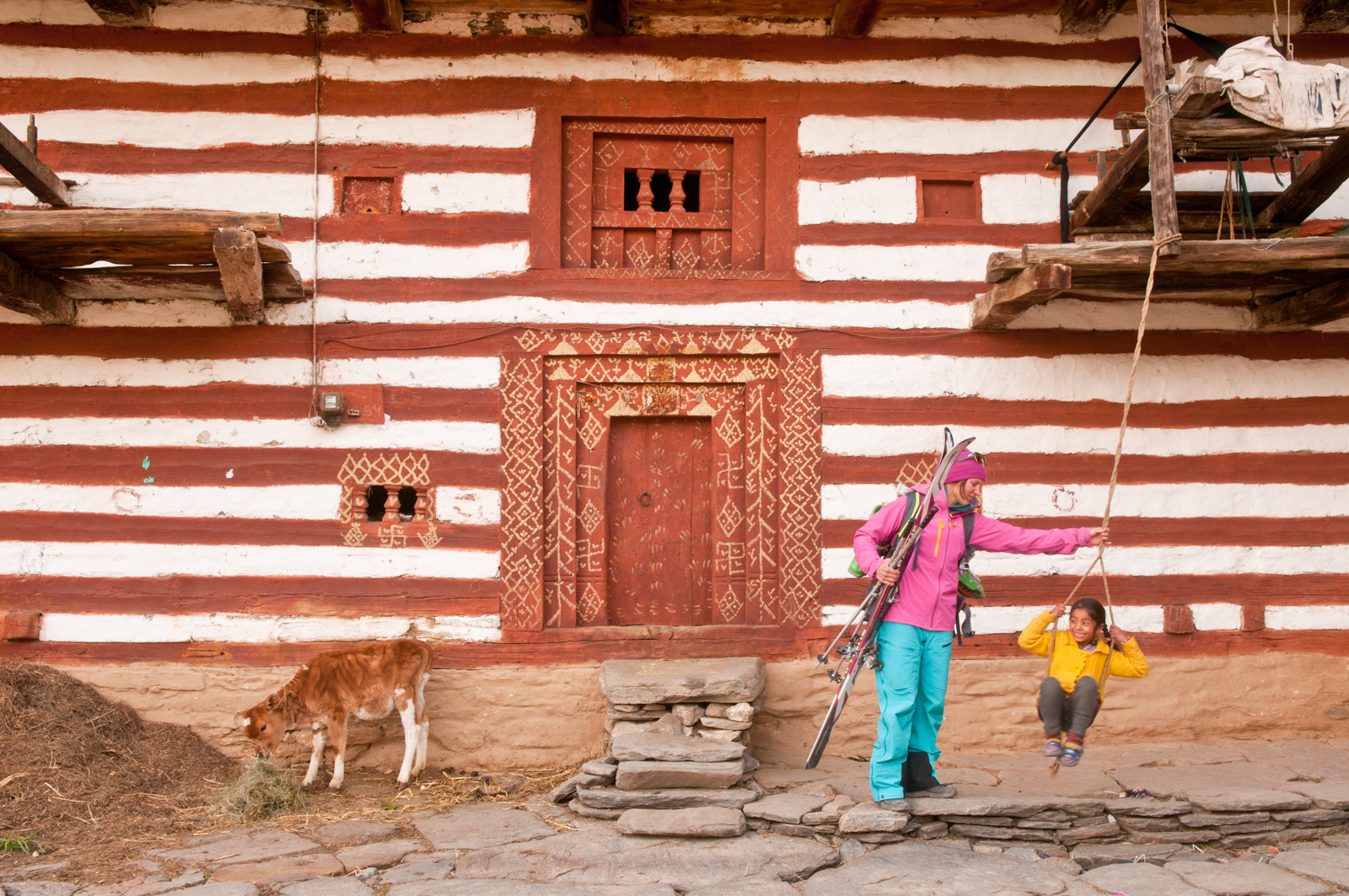 "Maybe 6 or 7?" In typical understatement, Paynter isn't sure how many times he's come to ski tour in India. But he is sure that he loves it. He's quick to point out it's not just the great skiing. Paynter values his relationship with the locals. Whether it's donating old probes and shovels on each visit, giving villagers ski lessons, or teaching the youngsters about the dangers of avalanches, Monte nurtures his relationship with them whenever he can. His old Indian cell phone brims with nearly every person he's met from the various villages over the years. He seems perpetually on the phone to a local farmer or lama, checking in, laughing, asking them what the snow is like.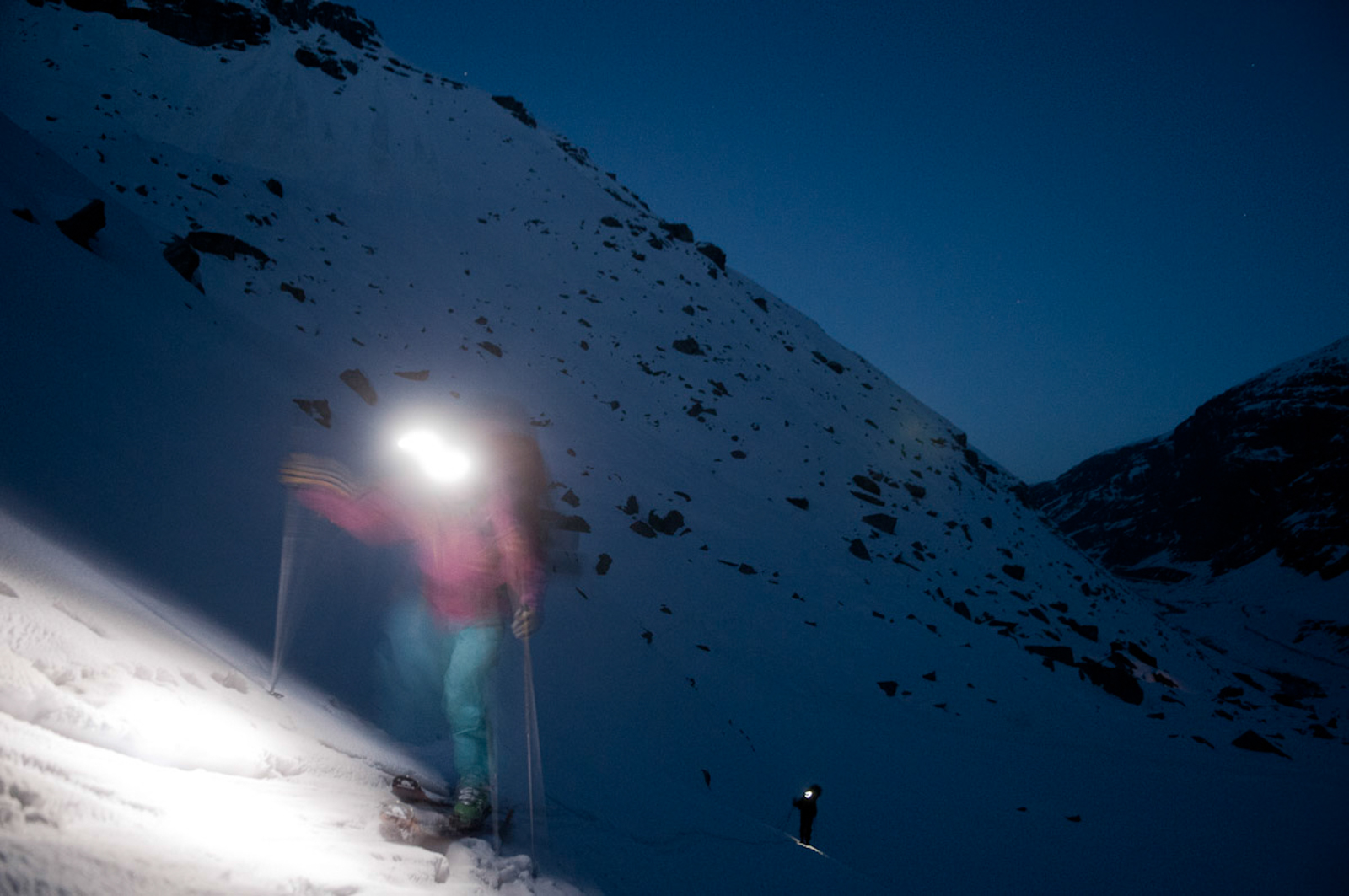 It's 5 am and Monte is on the phone again, and we are waiting for two young Indian skiers named Anchul and Naresh. We're on the steps of a Bhuddist monastery in a small village called Kardang. We arrived here a couple days earlier via a harrowing jeep ride on the freshly plowed road. The driver ran the gauntlet through the tunnel of snow, it's edges cut out by cat operators who risked their lives in the tight valley during the spring break up. On one corner near Keylong our jeep was half buried by an avalanche. Being the only ones with shovels, a terrifying hour was spent digging out the vehicle, one eye on the crumbling slope above.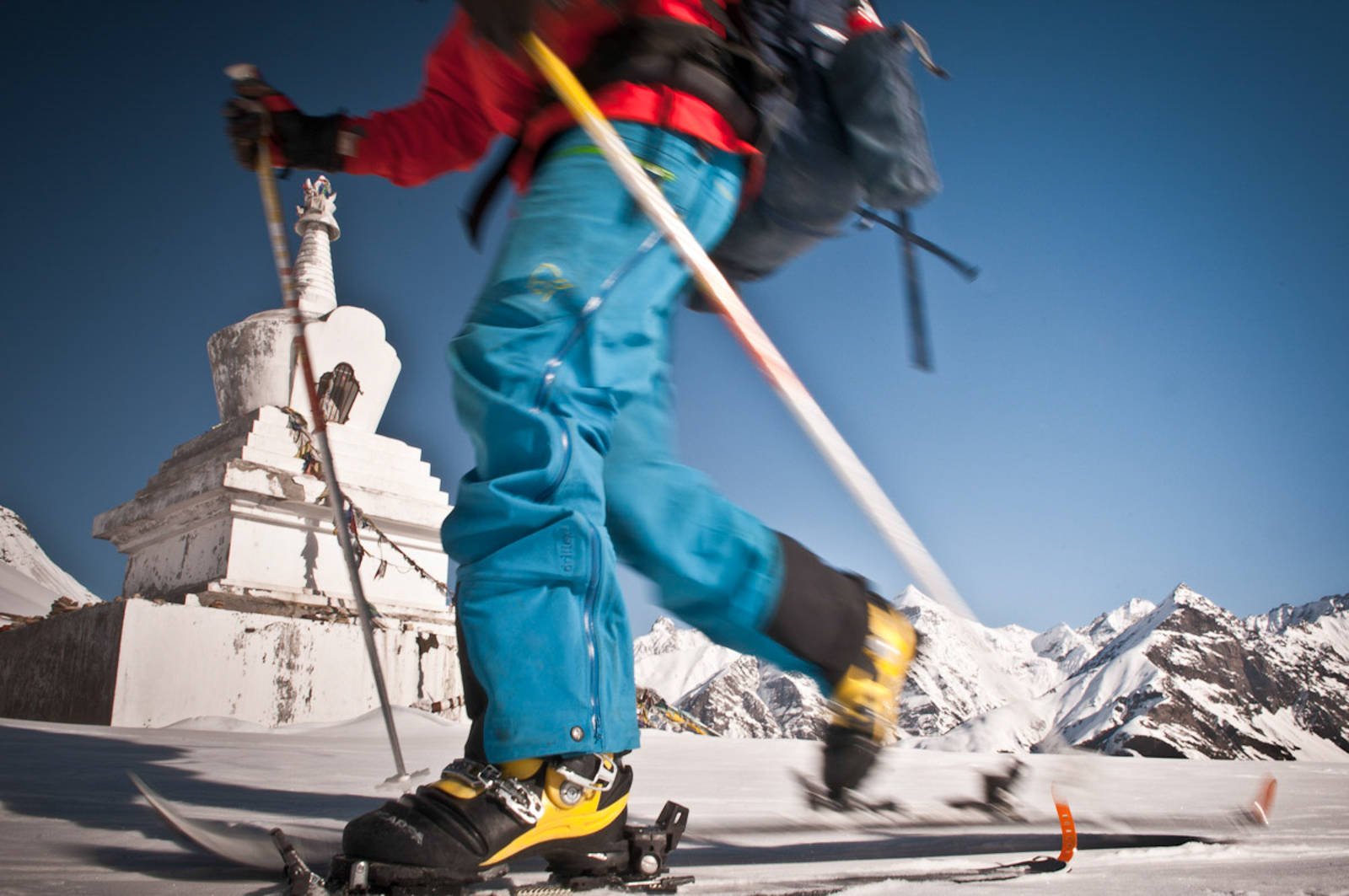 "Oh, that monastery..." Monte speaks into his phone to Anchul. In a land where Bhudda guides its inhabitant's spiritual path, monasteries are everywhere. Being specific is important. We climb the slope to the larger monastery, a tinge of blue starting to infiltrate the sky. Upon finding our friends we start the climb in the predawn. While our ski crampons dig into the spring crust, Anchul and Naresh have a different approach. With their running shoes, and ski boots inside school backpacks, they are a peculiar sight. It takes us 5 hours to crest the 4 700 m pass, its stupa and prayer flags welcome us along with a heartstopping view of Shikar Beh's hanging glacier dangling above Gondla village below. The local skiers are particularly proud of their feat. They are the first local skiers ever to crest Chakrasamvara Pass on skis. Their cellular phones ring vigorously as friends and family, many of whom were able to watch our ascent from their homes in Keylong, congratulate them.
But it is time to ski. Monte leads the charge with massive arcing turns. Our Indian friends try to catch their new idol in what can best be described as a modified tuck and a snow plow, wearing jeans and boots that remind me of a beer commercial from the 70s. It's not a pretty sight, but it is endearing. The Bollywood version of a sport we know so well. In an hour we're drinking chai in the village below.
Facts
Welcome to Indian Himalaya
General
The main hub to base skiing and gathering supplies in the central Indian Himalaya is Manali (pop. 30 000, alt. 1 950 m) in the Kullu district of Himachal Pradesh. From here you can do day trips up the numerous side valleys that radiate from the central Kullu Valley, as well as access the local,
very small ski hill in Solang Village, popular with Indian tourists. Manali is also the access point to unpopulated Rhotang Pass (3 978m) and beyond. On the north side of Rhotang Pass in the Lahaul District, there are numerous villages along the Manali-Leh highway that are suitable to base single day and multi-day ski trips.
Travel
The best way to reach Manali is by the 14-hour bus ride from India's capital, Delhi. Most accommodations in Delhi can arrange a ticket on a semi-sleeper luxury bus for about 800 rupees (about $15 US). There are also 1 or 2 flights a day from Delhi to the village of Kullu (40 km from Manali) on Kingfisher Airlines (www.flykingfisher.com) and Air India (www.airindia.in). Once in Manali, the only way to get closer to the slopes is to hire a local jeep. For those with more of a budget, Himachal Heli Adventures (www.himachal.com) operate two helicopters
based in Manali. Contact them for details on pricing and availability.
Accommodation
Manali has hundreds of hotels and lodges, with prices ranging from dirt-cheap to five star. Be wary of various Indian festivals and holidays as the region is a very popular destination for Indian tourists and can fill up quickly. The village of Solang 15 km north of Manali is smaller, but is closer to popular day trip ski tours and can be an excellent place to be on big powder days as there is tree skiing right out your door. If your destination is Rohtang Pass, all multi-day ski touring equipment is necessary, including a tent or some form of portable shelter.
Skiing
Season is January to late April. The area around Manali has countless options for skiing north of the town in Solang Valley as well as up side valleys that radiate from the central Kullu Valley. One popular option for a day trip is Patalsu (4 470m) which has great tree skiing on its lower slopes. Access is via Solang Nala, a 15 km drive north of Manali. Rohtang Pass is arguably the best destination for skiing in the region with an annual winter snow pack of 3 meters. It's a 1-2 day ski from where the plow stops. Winter camping equipment required. Great objectives here include Bhundarli (4 210m), Rohtang Chute (4 190m), Dashaur Peak (4 695m).
Guides and books


Himachal Heli Adventures (www.himachal.com)

The definitive guide to skiing in the Manali region is "Ski Touring India's Kullu Valley" by C.R. Spooner (alpinetouring.com)