OKAY: The EU doesn't exist, and there are no extreme sports. No one has said, "Either you are with us or you're with the terrorists." E-mail is science fiction, the Internet is mumbojumbo and no one has ever burned a CD at home. Arne Næss Sr. is not dead, Arne Næss Jr. is not dead, and neither is King Olav. No one talks about reality TV, no one works as a chat hostess and no one's ever heard of an iPod. What hadn't happened yet is still in the future. Got that?
They call it mountain climbing, the year is 1985, and no Norwegian has ever set foot onthe top of Mount Everest. "The camera had frozen. I remember thinking: Great, now I don't have to mess with it."
Stein P. Aasheim recalls the moment he reached the summit. "I had a Sony Walkman with a microphone at my throat. The recording was for a programme we were going to make for Norwegian TV." On the recording:
"Only three metres to go till I reach the top."
Breathing. Panting. Footsteps in the snow. Breathing. Footsteps in the snow. After a very long delay: "Now . . . it's only . . . a metre and a half . . . to the top."
WHAT WAS HE DOING THERE? It did not begin, as you might believe, in Jotunheimen, at a pub in Oslo or in Aconcagua. It began on a Pacific island in 1978. It began with an idea that Arne Næss Jr. had. From "Drømmen om Everest" ("The Dream of Everest"), the book he wrote afterward: I, too, want a dream.
He was a financier, he had a family, he had achieved the goals he'd set for himself. But that wasn't enough. There was still Everest. Næss checked the licenses: At that time only one team per season was permitted to occupy a route on Everest. The next opening was 1985 -- seven years into the future. Næss swung into action, did push-ups, began to climb again. He ran up and down the stairwells of bank towers in the City of London. "If small muscles are a requirement to reach the top, my chances are pretty good".In 1979, for the practice, he planned an expedition to Numbur (6,951 m elevation). For this he had to put together a team, and his uncle put him in touch with Nils Faarlund. The result was a legendary failure in Norwegian expedition history.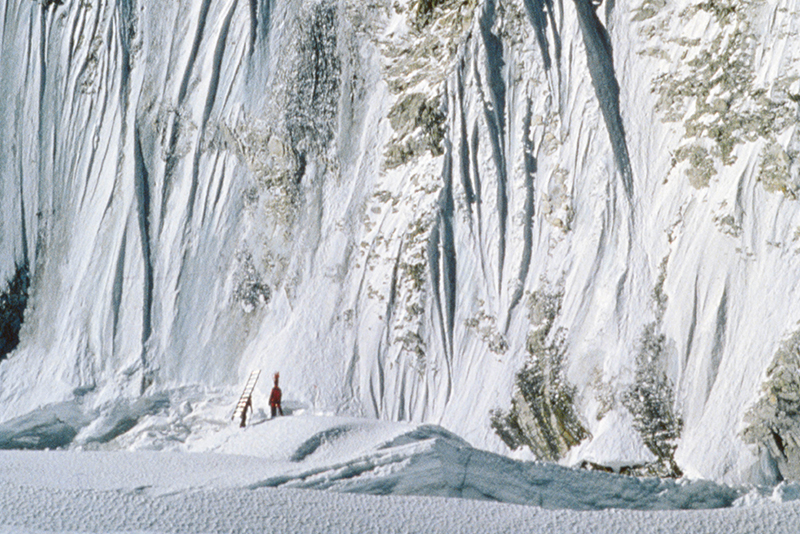 "THERE WAS nothing but conflict. It was a social experiment that should have been studied under a microscope by sociologists," recalls Ralph Høibakk, then the managing director of Tandberg Data and today a professor at Narvik University College. He had known Næss Jr. since secondary school, and they resumed their friendship on Numbur. As Høibakk says in Næss's book: For Arne, the world is a sports arena where he has been selected as the master. For Nils, it is a garden he has been entrusted to care for. No one made it to the top. Many climbers travelled home in rancour. Arne Næss understood that he would have to think carefully about how he assembled the Everest team.
"When we got back to Kathmandu after Numbur, Arne Næss Jr. and Ralph Høibakk asked me if I'd like to go with them to Everest," says Ola Einang, who today is an outdoor recreation instructor at Volda University College. Einang had gone to Numbur because he knew Faarlund and Old Arne. He had to think about Everest, and didn't give an answer right away.
"I've never been sure it's justifiable to use so many resources going for a walk," says
Einang.
When the Norwegian Everest expedition got under way, there were 10 tonnes of equipment, scores of porters and 34 Sherpas.
EINANG WAS PART OF IT. So was Odd Eliassen. Stein P. Aasheim joined the team and eventually became chief planner. For equipment advice, he calls Chris Bonington, who has made several previous attempts at Everest. Bonington, or Sir Christian as he is titled today, would say things like, "You'll need this, you'll need that." Until one day he began saying, "We'll need this, we'll need that." He was going. Næss. Høibakk. Eliassen. Einang. Aasheim. Bonington. The team was not complete.
What could they do? They assembled 20 or 30 of the best climbers in Norway at an Alpine Club meeting at Høibakk's home. Today you might compare it with an audition for a reality-TV survivor show. Those who came were given a questionnaire to fill out anonymously. Who in Norway was best suited for the expedition?
Who would they prefer as trip mates?
TOP TEAM: Odd Eliassen. Bjørn Myrer Lund. Håvard Nesheim. Finn Dæhlie. Hans Christian Doseth. The latter two die on their way down from Trango in 1984 and are not replaced. The 34 Sherpas and the porters along with a smattering of prominent Norwegian businessman and a reporter for the newspaper VG all find their way to the base camp.Among the expedition's participants, only one of the Norwegians had ever been there before. And he had promised himself never to try again. In 1971, Odd Eliassen had been part of a United Nations-sponsored expedition of climbers from 11 countries. "After that, I said 'Never again'," recalls Eliassen. "I was there when we had to leave Harsh, an Indian climber, for dead up above Camp 2. He had lost his gloves, frozen his hands and been unable to open the carabiner on a fixed rope. It was storming like crazy, but we managed to climb up to him. But we had to leave him there. He was unconscious and we had to leave in order to save ourselves. He died April 18. He had two twins at home." Fourteen years later – to the day – Eliassen is back on the mountain. Since Næss's climbers
have the route to themselves they have used the past six weeks putting all sorts of fixed ropes and ladders into place. Dangerous work. As Næss writes:"It's like making a trail in the sand. The ice transports itself about a metre per day".The men feared one stretch of icefall in particular. They nicknamed it the Atom Bomb Area.
"What an awful place," says Eliassen. "You must never stop there to pee, or to look around. You keep moving as fast as your heart will beat."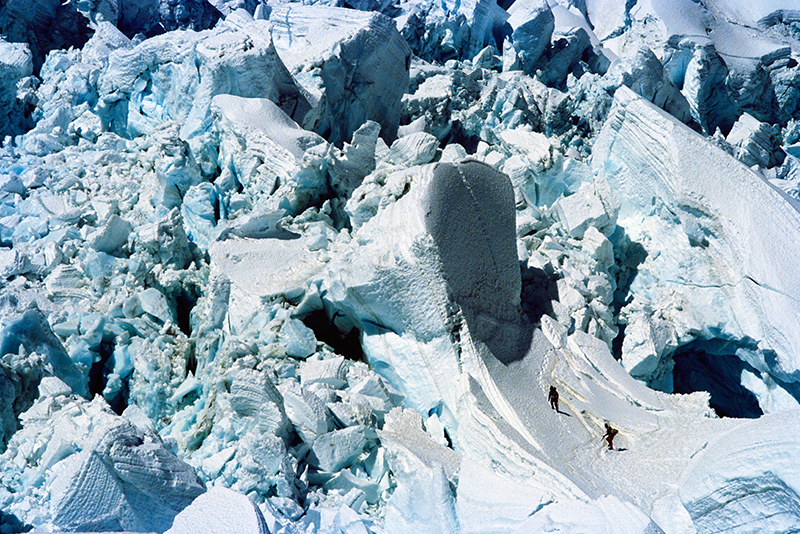 WHILE WORK AT THE ICEFALL continues, friendships began to form at Base Camp. Chris Bonington remembers: "Harvard was the expedition joker, and when Arne very kindly suggested that everyone speak English at meal times (that was the kind of leader he was, always sensitive to the needs of individuals), Harvard suggested that I should learn a Norwegian phrase every day and should start with, "Sokk Halbeter". I've probably spelt it wrong. Anyway he told me that this meant, "I am very hungry." I only learnt its true meaning at the end of the expedition".
IN THE FIRST SUMMIT TEAM are Ralph Høibakk, Ola Einang and Håvard Nesheim. The weather is fine as they depart from the last camp. "One of my crampons loosened right away, on one of the steep ice fields high on the mountain," says Høibakk. "I considered that extremely threatening – having to stand on one leg to get it back on. To fall now would mean serious injury at minimum, and probably death." They climb far up the mountain. "It was an intense day. Suddenly the wind picked up. We turned back at 8,750. It felt terrible. I was crestfallen." In retrospect he is satisfied with the decision to turn. They survive. When the wind begins to blow, they couldn't even stand. "I learned that I was able to do what I said I was going to do: That if I thought it was right to go back, I would go back."
THE TEAMS are assembled by Næss. Myrer Lund, Eliassen and Bonington are in Team 2. On April 20, the night before their assault on the summit, Eliassen and Myrer Lund share half a Valium in the tent. "Everyone gets worried at 8,000 m," says Myrer Lund. There are no gauges on the oxygen tanks, and during the final upward push Eliassen can't stop doing the math in his head. How much do they have left? On April 21, they stop just shy of the Hillary Step. Eliassen is convinced they will run out of oxygen on the return. "Damn it, we're not turning yet," says Myrer Lund, and takes the lead. On the morning of 21 April 1985, they become the first Scandinavians to reach the summit of Mount Everest, with Chris Bonington on their heels.
"What have I learned? Patience. More than ever," Myrer Lund says today.
After reaching the top they raise Næss on the radio, who says:
"You have to come on down now so we can get off this goddamn mountain."
"No," replies Odd Eliassen, "you have to get up here."

THE TEAM'S SUCCESS created a dilemma for Næss. "At that time," recalls Einang, "an expedition in the Himalayas was considered successful if one man reached the top. Bonington actually wanted to break off the expedition after the first team made it up. He thought we would get no sympathy in the international climbing community if an accident were to happen with the second team." But Næss has other plans. "If I hadn't had the urge for personal achievement, I would never have put the expedition
together". Næss and Aasheim make a push but have to break it off due to poor weather. Continuing means taking the dangerous path through the open icefall. Finally it is decided that the rest of the climbers, except for Einang, who is sick, will try for the top all at once. At the rear will be Dick Bass, who has given poker lessons at Base Camp. "He was one of the first trophy hunters," says Myrer Lund. Bass paid Næss $75,000 to climb on the Norwegian team's license and use its equipment. "That was the start of the new Everest era," says Aasheim. "The fact that he bought his way onto our team helped open the eyes of the Nepalese authorities. Instead of selling a license to one expedition, which then sold spots on the team to others, they could sell more licenses themselves." "We were lucky," says Einang. "We were among the last people to experience Everest before all the commercialization. In 2005, I was in Nepal and received an offer to go in to Base Camp. I said no – I had no desire to." Everyone, Bass included, make it to the summit. And they come safely down again too. Bass is thus the first man to conquer the Seven Summits. The Norwegians and the Sherpas parade down from Base Camp to Namche. "There was a legendary party," recalls Myrer Lund. "Arne Næss plunged horizontally through the door. The Sherpas performed a special dance, but the dance the Norwegians put on afterward -- it can't be described." The Sherpas throw themselves into it nonetheless. Unique friendships have grown during the expedition, not only among the Norwegians but between the European team members and the Sherpas. Odd Eliassen, who today is a builder, remembers that the host begged them to stop. "I was the only one there who seemed to understand what could happen," he recalls. "That floor was not built for 30 or 40 men in rhythmic movement." "WHEN WE GOT HOME there were two shocks awaiting us," says Einang. "First, there was a red carpet and brass band at Fornebu airport. And second, everyone wanted to talk to me." The expedition had received massive attention. "I remember the newspaper headlines," Aasheim says. "It was 'Norway against Everest!'" As Næss writes: "King Olav [. . .] became our royal patron and lifted the expedition's status from a private initiative to a national conquest".
There were two reasons everyone wanted to talk to Einang.
1. He was the only climber who had not reached the top.
2. In his own words: "Odd Eliassen and I were doing maintenance on the trail through the icefall. My stomach was very poor. And suddenly everything began to roar around us -- a big avalanche coming down the western ridge. I dived behind an ice block with my bare ass in the air. What I didn't know was that the newspaper reporter at Base Camp heard about that. So when I got home everybody knew I'd been on the ountain with my ass out."

KITE RUNNER. All this is in 1985 -- a quarter-century ago.
"The time that's passed since then is almost as long as the time from when Hilary and
Tenzing reached the top to when we were there," says Aasheim, who often thinks of his Everest experience when he hears about the climbing feats of others.
"I know how small the margins can be," he says. "During the last 100 metres I can remember
thinking: If I lose a mitten now I don't know how I'll manage to get my backpack off
and find my reserve mittens. That's a small margin. Nothing can go wrong."
Somehow, he managed to cover that final one and a half metres.
"I remember that I had an idea for setting a world record," he says. "I had bought a kite at
Ikea for something like 49 kroner and I carried it up with me. I could imagine the picture: A
man flying a kite on the highest mountain in the world. But when we got up there, there
wasn't the slightest breeze. It fell right down."
AND "SOKKE HALBETER"? By e-mail: The expression is the north Norwegian command
"Søkk i hælvete".
Got to hell, that is.
Norrøna sponsered The Norwegian Everest Expedition in 1985 with clothing and
equipment.