"They've gone to arrest the dog," jokes Gary, a thirtysomething local from the north Canadian hamlet of Qikiqtarjuaq. I limp beside him down a gravel road towards the Nurse's Station. My calf throbs where a white husky, minutes earlier, had clamped and punctured. Not the kind of welcome to Baffin Island I had hoped for.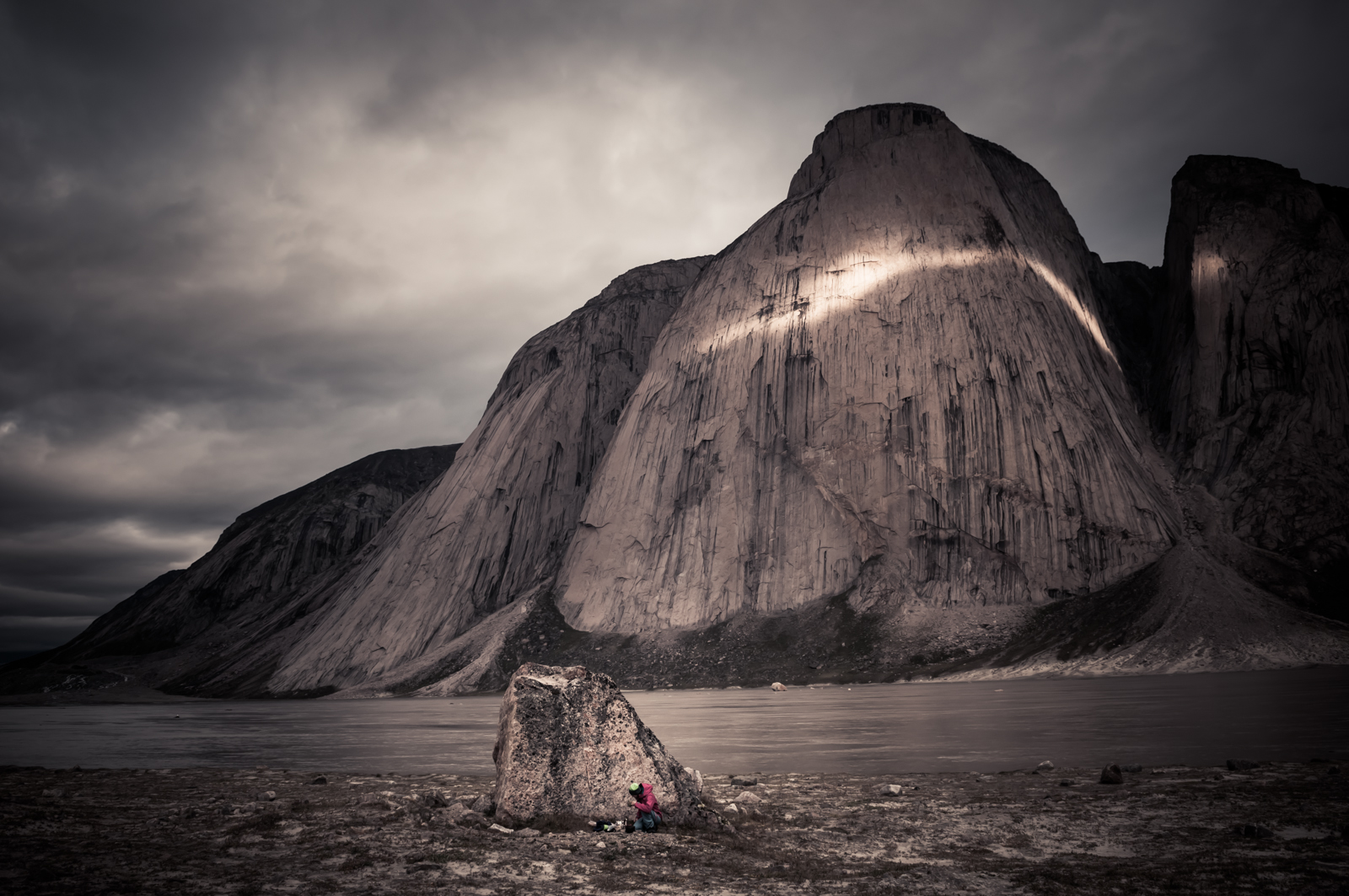 Three friends and I are here to hike through Akshayuk Pass in Nunavut's Auyuittuq National Park. The 97 km journey will take us from the North Pangnirtung Fjord to the Pangnirtung Fjord across the Arctic Circle with a few side trips up and onto the Penny Ice Cap's glacial fingers. Surrounded by ice, this unique land bridge is home to many sheer-faced granite walls, such as Mount Asgard. Ever since landing eyes on this mountain, infamously known as the flat-topped peak James Bond launches himself from in The Spy Who Loved Me, I knew I had to venture to this remote corner of the world. The mountains here burst from valley bottom and line the surrounding glaciers with a toothy grin.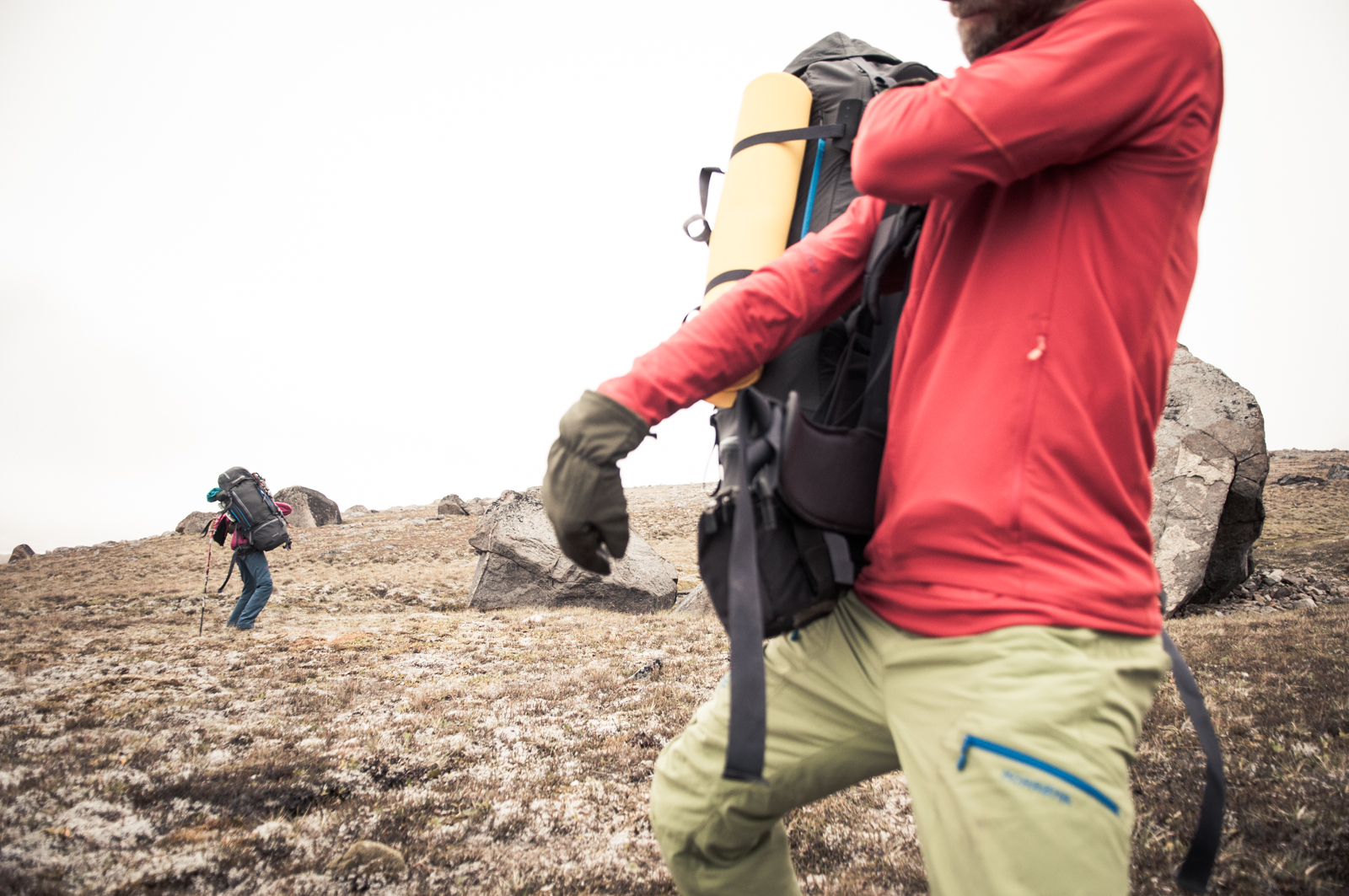 While patching me up, the nurse confirms that the dog will serve time : ten days in rabies quarantine. "Check-in on your radio in a couple days," she advises, almost too chirpily. Behind her, a rabies awareness poster shows an open-fanged fox leering towards the camera. Half an hour later, we are bundled on a boat zipping 85km towards the northern trailhead of the park. With 12 days of food, 10 rounds of polar bear deterrent, and 1 dose of dog bite antibiotics, we are finally set. I sink into my seat and watch icebergs glide by. Chunks calved into the ocean float by like ice cubes in a curacao martini. I take a moment to sip the upcoming adventure. Except, it's getting late. I look at the clock : eight-thirty and dusk has started to pink the mountains. Parks Canada recommends hiking at least 5 km from the coast before setting up camp to avoid the polar bears that prowl coastlines hunting for seals.
"Keep your eyes peeled," our boat driver Billy Arnaquq warns as he turns down the fjord nearing our drop-off, "I accidentally hit one once while it was swimming."
We are in the midst of deciding whether or not to hustle inland in semi-darkness when from the bow of the boat someone yells, "Bear!"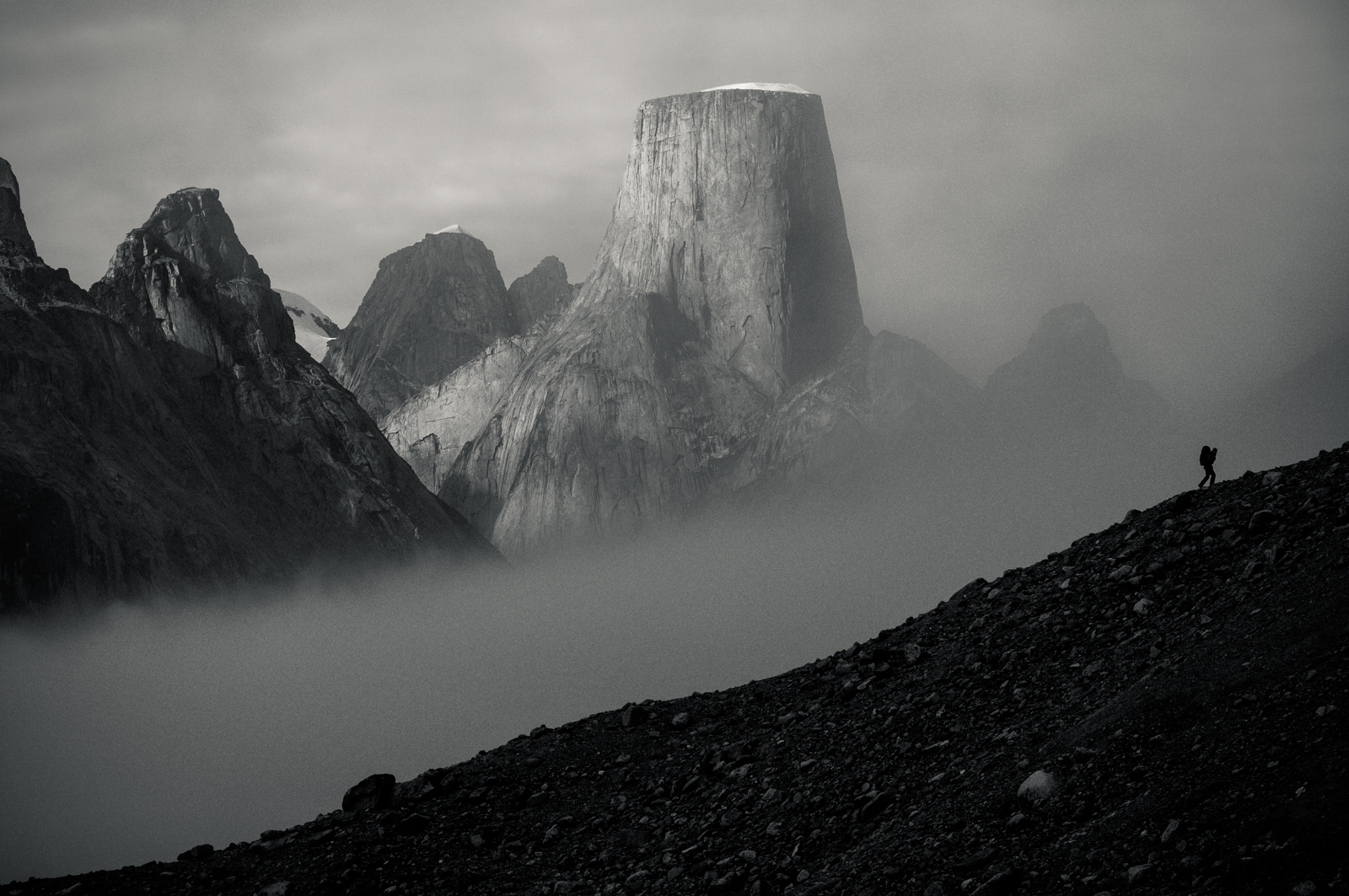 The white animal lumbers over rocks, huffing and grunting, stressed by our presence. We float by, conversations frozen, awed by the bear's ability to effortlessly run and climb over the unstable terrain.
"We call them nanuk," Billy tells us as the bear turns towards the boat sniffing the air.
He smiles knowingly, "maybe you should stay in the shelter tonight?"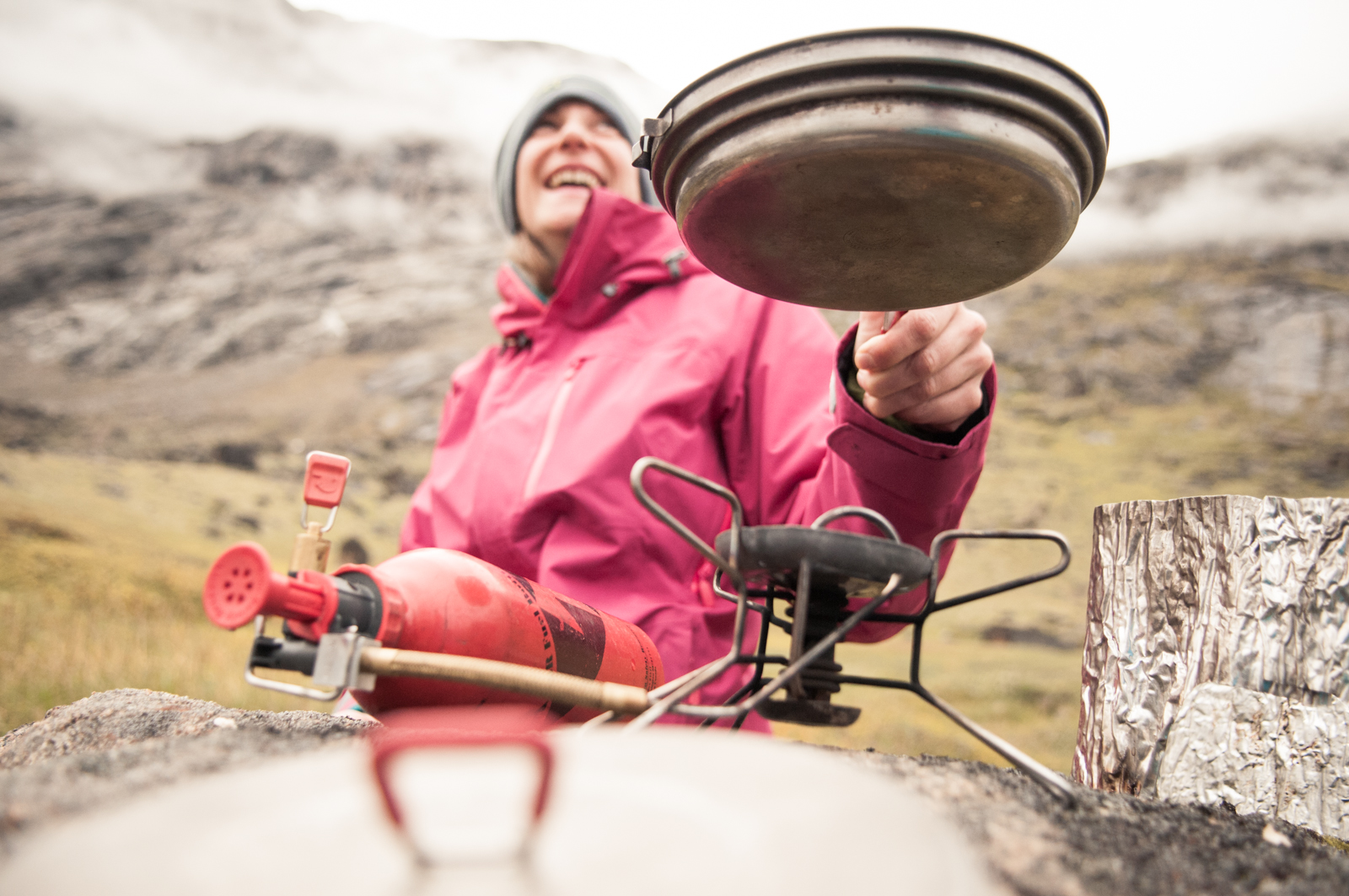 There are eight emergency shelters located throughout the national park. The park brochure states they are to be used only "for inclement weather including high winds, and particularly, polar bear attacks." With one set of tooth marks already on my leg, a rapidly setting sun, and a nanuk prowling nearby, we graciously accept the park's offer to spend our first night tucked into the robustly built mini-hut. We heave on our packs and hike towards the popsicle orange A-frame, glancing occasionally over our shoulders for bears. After dinner, I wander to the shore. Seal bones and a splintered wooden sled, bleached and symbolic of the past, are illuminated by my headlamp. The Inuit have occupied this land for over a thousand years. In winter, when the sea is frozen, the traditional travel corridor of Akshayuk Pass is a day's commute by snowmobile or dog-sled between the towns of Pangnirtung and Qikiqtarjuaq. In summer, one to two weeks allows plenty of time to walk leisurely through the impossibly picturesque landscape. But we are warned about two things : supersonic winds that shred unprotected tents into nylon confetti, and river crossings that have, on occasion, claimed hikers' lives with their fast and frigid flows. Cautions aside, we are easily drawn into the valley. The wide, open tundra pulls us south. Our boots meander over hummocks and the ground bounces underfoot as though stepping on a spring-filled mattress. Yet even with strict rations our food-filled packs keep us from striding too quickly. We take slow rebounding steps, plodding through the river-carved pass.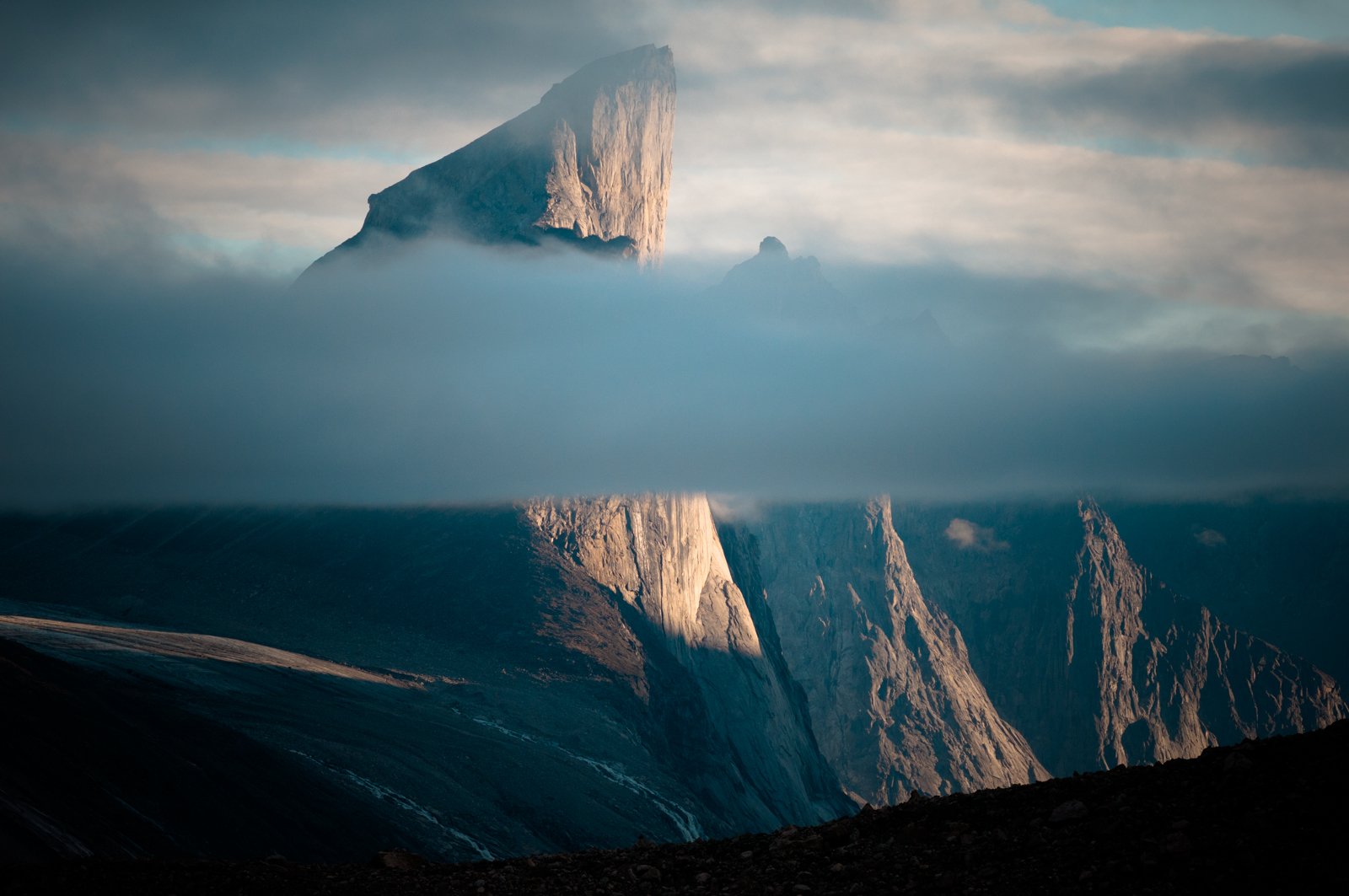 We arrive at our first creek late in the afternoon with a decision to make. At the end of a surprisingly warm day, the braided river spills over the bank, and boulders the size of walrus skulls tumble deep beneath the surface. In the Inuit language of Inuktitut, the park's name Auyuittuq means the land that never melts. But even with a chilly headwind, the surrounding glaciers have been melting and feeding the creeks, generously, all day. The four of us stand at the bank, humbled by nature, and decide to set up an early camp to let the coolness of night ease the surge. The night wind howls, and despite solid anchors the tent fabric flaps like a trapped bird. Rockslides echo from one side of the valley to the other and the river churns clumsily over itself. Tonight, nothing in this valley is still. The entire corridor feels as though it is in flux, shifting under its own topography. I drift back to sleep and dream about narwhales.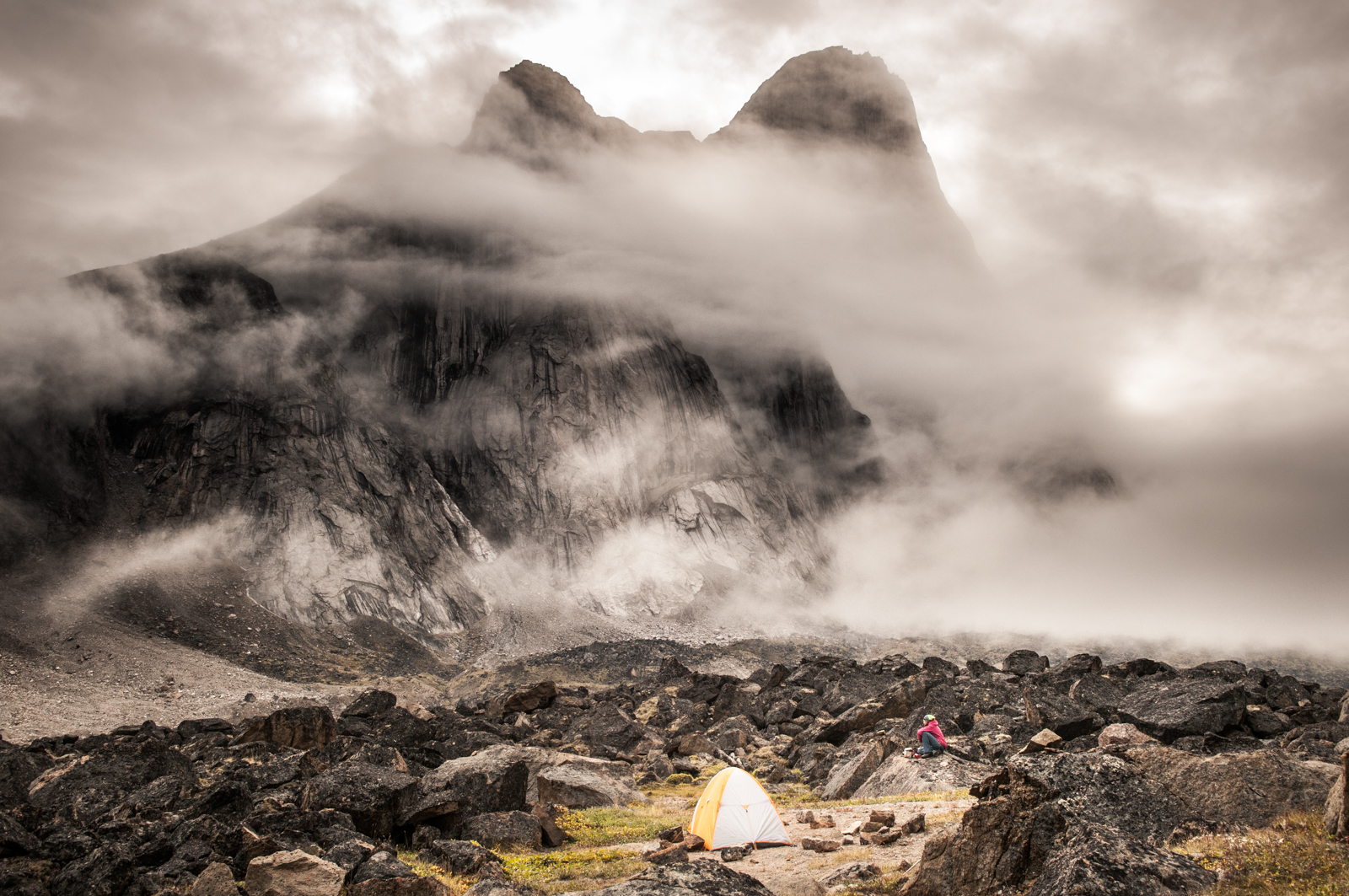 We are blessed with mild temperatures, windless skies, and mist-shrouded vistas of mountains named after Norse gods : Thor, Asgard, Loki, and Odin. For climbers and mountaineers this area is a jackpot for potential first ascents. Travelling south, the valley walls close in as though the gods themselves decided to pull up the drawbridge and let us humbly pass by. At first glance, Mt. Asgard (Sivanitirutingvak in Inuktitut) seems to be part of a magic trick the sky is playing with fog. But sure enough, the cylindrical towers are flat as pancakes with a dollop of snow resting on the twin-peaked top. Charismatically tall and making an angular swoop into the clouds, Thor Peak (known as Qaisualuk), keeps us visually clutched for days. While eating lunch beneath its precipitous west face, the 1250 metre stretch above us lingers in my throat. It is believably "the longest uninterrupted cliff face in the world." We climb onto dry glaciers and watch turquoise glacial streams carve smooth lines through the ice. We wander over the tundra looking for caribou antlers and wild blueberries. In search of hidden valleys, we pull ourselves up mossy hillsides and feel compressed under a waterfall that has obviously been made for giants. It is hiker's paradise.
A day before our hike began, I met an old Inuit woman. She was skinning a seal with a shell-shaped knife, an ulu, on the porch of her house. Her eyes were milky with age and she asked what we were up to in the Arctic. I told her our plans to hike through Akshayuk Pass. She gestured in the general southern direction with her head and told me, "That would be nice. To hike from here to there."
With her knife still moving she half-smiled and said, "But I can't come, I just had knee surgery."
As we stride towards the low tide line, our designated pick-up spot on the southern coast, I think of her. We travelled thousands of miles by car, plane, and boat to venture by foot through her backyard. Splitting the last of our chocolate rations, an unspoken sense of accomplishment settles mildly between us. On a quest to find something bigger than our own small selves, there is no question we found it in Canada's Arctic.
Facts
Welcome to Baffin Island
Where
Akshayuk Pass is located in Auyuittuq National Park. The park is located on the
southeast corner of Baffin Island in the territory of Nunavut, Canada.
What
A 97 km remote backpacking adventure – fjord to fjord – through a traditional Inuit travel corridor, with side excursions to the surrounding glaciers and waterfalls.
Travel
Fly : Qikiqtarjuaq from Iqaluit on First Air (www.firstair.ca) or Canadian North
(www.canadiannorth.com). On the return, fly out of Pangnirtung to Iqaluit. Boat : Qikiqtarjuaq to the trailhead at the North Pangnirtung Fiord. Arrange for a water taxi pick-up from the Overlord shelter to Pangnirtung.
Accomodation
Qikiqtarjuaq :
Siku Hotel (1-867-927-8111)
Tulugak Co-op Hotel (1-888-866-6784)
Free Campground (Call Hamlet Office regarding polar bear risk: 1-867-927-8832)
Home stays can also be arranged through the Hamlet Office.

Pangnirtung :
Auyuittuq Lodge (1-867-473-8955)
Kilabuk Lodge (1-867-473-8229)
Pisuktinu Tunngavik Campground (Call Hamlet Office : 1-867-473-8953)
Home Stays (Call Angmarlik Interpretive Centre : 1-867-473-8737)
Equipment

Regular hiking / mountaineering equipment Plus : GPS and Satellite Phone (Spots do not work very well in the park). Hiking or Ski Poles (for stability on the river crossings). River Crossing Footwear (such as Neoprene Booties)
Guide

For an up-to-date list of local outfitters and licensed guiding companies contact:
Angmarlik Interpretive Centre (1-867-473-8737)
Parks Canada - Nunavut Office (1-867-975-4673)
Guide books

Baffin Island : Climbing, Trekking and Skiing by Mark Synnott (Rocky Mountain Books)
More info

Nunavut Tourism: www.nunavuttourism.com
Parks Canada: www.pc.gc.ca/eng/pn-np/nu/auyuittuq/index.aspx