Currently a PhD student at Chalmers University of Technology in Gothenburg, he has found the perfect balance between work and biking – a passion that has grown throughout the years.
- There was never just this one single time or event that made me decide that biking was what I wanted to pursue. Instead, biking gradually evolved to become the center of my entire life, I think mostly because it provides all the best things in life; friends, smiles, exploring, adrenaline.
So what drives you?
- I've always had the mentality that when I found something that I enjoy, I go in for it with 100% effort. It could have been anything but many of my interests tend to fade away after some time. However, biking might be the only thing that has been immune to such fading interest and I've been inherently driven to become a better biker for more than 15 years.
He believes mountain biking is pushing the limits in many different ways; the limits of how far you can go with just a bike as your mean, the limits of the terrain you can conquer, the limits of speed, the limits of human physical capacity.
On a regular day, Jon spends most of his time researching and teaching at the university but as soon as he is off its time to hit the trails in the local woods. Even though his life seems pretty planned, Jon has a quite different answer when we ask about his life ten years from now.
- It's funny how when people are asked that type of question, they tend to tell you about their perfect plan in which every piece of the puzzle that is called life just happens to come together perfectly. I've stopped planning. Simply because life never turns out the way you plan anyway. Life throws you a curve ball sometimes and unexpected opportunities can arise at any time. I try to live in the now but be prepared for whatever lies in the future.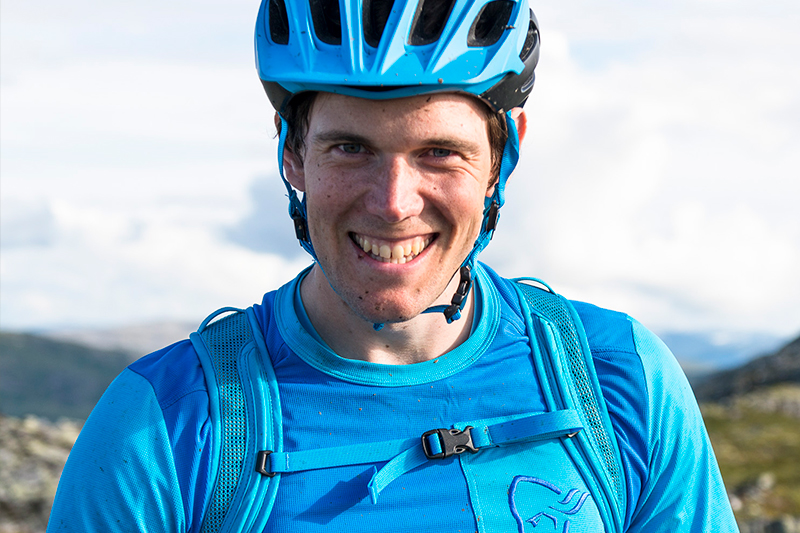 Name: Jon Bokrantz
Hometown: Gothenburg, Sweden
Sport: Mountain biking
Favorite place: Queenstown, NZ. The perfect combination of welcoming and caring people, stunning nature, extraordinary trails and an amazing bike scene. A bit more close to home; Norweigan mountains such as Nesbyen, Hafjell, and Sogndal.
Favorite products: My go-to combo is the fjørå lightweight jersey and Fjørå flex1 shorts. For casual wear, there's no better thing than the bitihorn Powerstretch Hoodie.