He´s always been passionate about sports and there has never been any doubt about which lifestyle he wanted to pursue.
- To me skiing is freedom. You can go in so many different directions - there are no boundaries (well, maybe only a few). It doesn't matter if I'm in the park or riding off-piste, I always try to stay true to my style in any terrain.
Armin's convinced that this is the key to success among extreme sport athletes.
- People are at such a high level regarding equipment, so it's all about personal style - how you ride and carry yourself.
So what drives you?
- Nature! It is so different and amazing. There are numerous ways to use, ride and explore it, especially here where I live. I´m open-minded and easily inspired by my surroundings.
Apart from nature, people who embrace their lifestyle and show passion through what they do is one of his biggest inspirations.
- It doesn't really matter what level they're on; I´m inspired by people who go outside and live their passion. And I'm really impressed if they manage to have a somewhat "normal" life next to that.
Just like most people, a typical day in Armin's life starts just before the sun rises and includes a full day of work. But as soon as the clock turns 6, Armin speeds home, grabs his bike or skis and heads out to do what he loves the most.
In ten years he sees himself happily married with an awesome beard and a heavy collection of great experiences and funny stories.
- And of course I´m still out riding and showing the kids some cool old school tricks.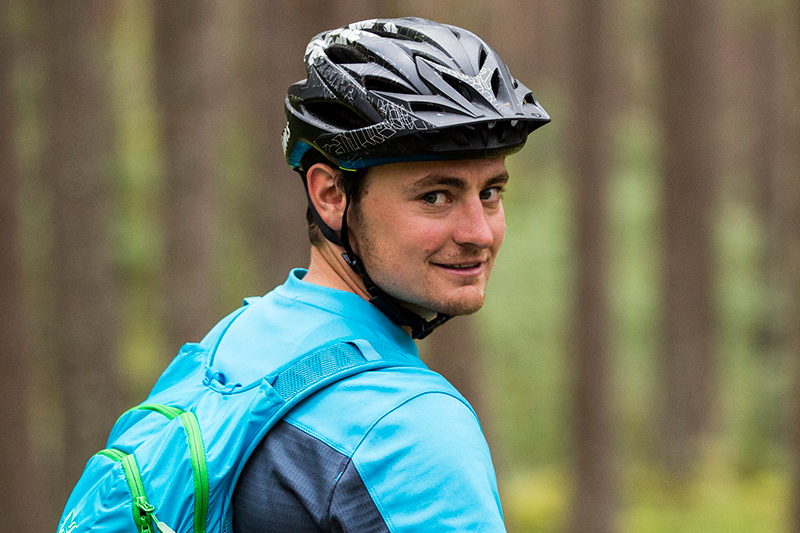 Name: Armin Beeli
Born: 1991
Sport: Biking and skiing
Favorite place: My home town! It allows me to do all of my favorite activities and it doesn`t really matter what weather we have or which season it is. There's always an outdoor adventure awaiting you.
Favorite products:
fjøra is exactly what I need for biking in Switzerland
lofoten for touring and ice climbing
tamok for BC shredding in the resort
/29 is my style all the way!